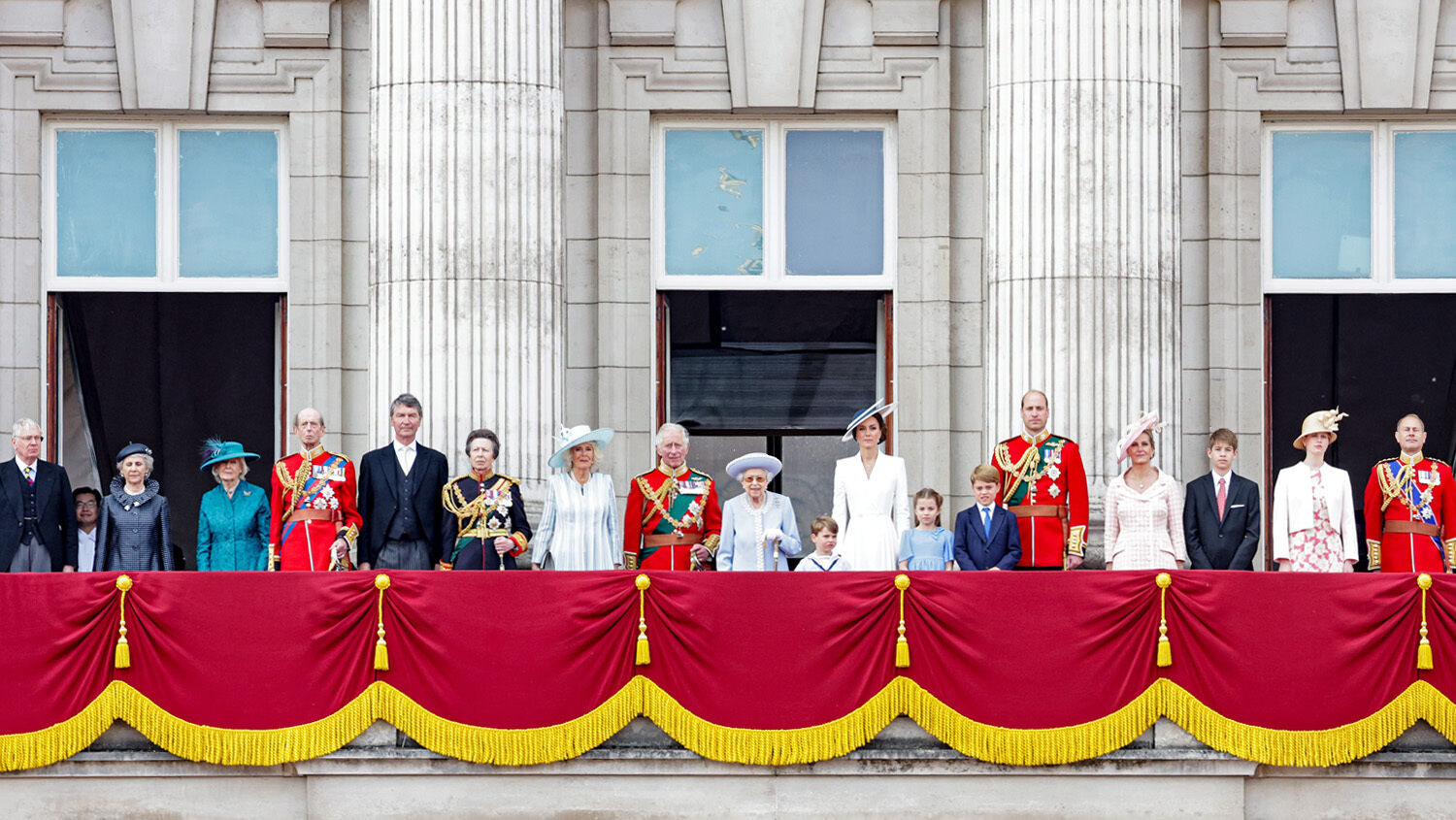 The Platinum Jubilee: The Commonwealth's 'Last Gasp of Joy and Splendor'?
Will the Commonwealth nations soon abandon the monarchy?
"The British people are sorely depressed. … Unemployment and inflation are at a near all time high. Times in England are bad. People are discouraged. What could pick up their spirits right now more than such a display of glorious pomp and ceremony at so happy an occasion …?" One might think this was a description of Queen Elizabeth ii's Platinum Jubilee, held June 2 to 5. But it was actually the coverage by Herbert W. Armstrong, editor in chief of our predecessor magazine the Plain Truth, for the wedding of Prince Charles and Princess Diana on July 29, 1981. A global audience of roughly 750 million people tuned in to watch the royal wedding. Royalty from all around the world were invited to the occasion. It was, as Mr. Armstrong wrote, "grand and glorious."
Mr. Armstrong also saw at the time that Britain's problems—especially its economic woes—were starting to take their toll. He called the royal wedding "Britain's last gasp of joy and splendor."
You could call the Platinum Jubilee the British monarchy's "last gasp of joy and splendor." The Queen is 96 years old and close to the end of her reign. In the last few years, familial and political earthquakes have rocked the monarchy. The duke and duchess of Sussex, Harry and Meghan, gave a damning appraisal of the royal family in an interview with Oprah Winfrey in March 2021, claiming the institution was racist. The next month, the Queen lost her husband and consort, Prince Philip. In November, Barbados removed the Queen as head of state and became a republic. There is also the prolonged scandal of Prince Andrew and Virginia Giuffre.
Surrounded by all this, the weekend of celebration and fanfare was a much-needed respite for the royal family.
But a "last gasp" implies there won't be any more breaths of fresh air coming. And there are troubling signs that the monarchy's biggest shakeups are yet to come. These harbingers are coming from the Commonwealth.
Australia elected a new prime minister, Anthony Albanese, last month. Albanese is a longtime advocate of Australia rejecting the monarchy and becoming a republic.
Australia, as a Commonwealth nation, shares Queen Elizabeth ii as head of state with Great Britain and other countries. Albanese commended the Queen's service during the Platinum Jubilee. "In so many ways Queen Elizabeth transcends barriers," he wrote on his website. "Even many Australians who do not hold with the principle of monarchy feel regard for her. You can be a republican, as I am, and still have the deepest respect for the Queen. She has done her duty with fidelity, integrity, humanity and, as she sometimes lets slip, a sly sense of humor."
But this doesn't mean Canberra isn't already making preparations to jettison the crown. On May 31, the London Times reported that Albanese appointed Sydney Member of Parliament Matt Thistlewaite "assistant minister for the republic." The immediate purpose for the ministry will be to educate Australians on republicanism rather then stage a referendum. Yet having a referendum on removing Queen Elizabeth (or whoever is on the throne at the time) as head of state is the intended end of the ministry.
It's not only Albanese's government that supports republicanism. In the week after Albanese became prime minister, Chairman Peter FitzSimons of the Australian Republic Movement stated donors gave his organization a$100,000 (us$70,035).
Canada, another Commonwealth nation, is also growing in republican sentiment. It would be more difficult to remove the monarchy in Canada. Constitutional changes need the approval of the Canadian Parliament and all 10 provinces. When asked by reporters if Canada would soon consider becoming a republic, Canadian Prime Minister Justin Trudeau stated: "When I hear from Canadians about the things they're preoccupied about, and the things they want their governments to work on, it's not about constitutional change."
Yet Angus Reid, a prominent Canadian polling firm, released this headline on April 21: "The Queen at 96: Canadians Support Growing Monarchy Abolition Movement, Would Pursue After Elizabeth II Dies." Angus Reid polled 1,607 Canadians on if it would be the right decision for Canada to sever ties with the monarchy. Fifty-eight percent of respondents said yes, while 33 percent weren't sure. Only 8 percent said it would be the wrong decision. Meanwhile 54 percent of Canadians have an unfavorable opinion of Prince Charles, Elizabeth's heir apparent. Fifty percent said the royal family is "no longer relevant at all" to them personally.
Even if becoming a republic is too difficult, the monarchy's presence in Canada could still be marginalized. Trudeau's government has already minimized monarchist symbolism in Ottawa. The trend could accelerate after the Queen dies.
One may wonder: What's the big deal? The monarchy isn't headquartered in either Canberra or Ottawa. It's normal for nations to have a domestic head of state. From a purely materialistic perspective, it isn't a big deal.
But the British throne is no ordinary throne. The monarchy gave Britons, Australians, Canadians and others a connection to a heritage far older than any of their countries. It's a heritage connecting them—and the world—to a far more spectacular legacy than most realize.
"Why is that throne so unique?" Trumpet editor in chief Gerald Flurry asked in his February 2022 article "Threatening the Crown That Binds Britain." "Today most historians trace the English monarchy back about 1,200 years to King Egbert. But in the 1800s, during the time of Queen Victoria, historians, and possibly the Queen herself, traced the British throne back nearly 3,000 years to King David of Israel! The British throne traces back to the throne of Israel, King David and God!"
In 2 Samuel 7:12-16, God promised King David that his throne would "be established for ever." Jeremiah 33:17 says that "David shall never lack a man to sit on the throne of the house of Israel" (New King James Version). God promised that David's descendants would always be ruling over the people of Israel. Biblical and secular history prove that the British are descended from the ancient Israelites. And the British monarchy was a fulfillment of God's promise to David. (Please request a free copy of Herbert W. Armstrong's book The United States and Britain in Prophecy to learn more.)
Because of its connection to King David, the British monarchy has been blessed tremendously for centuries. But to whom much is given, much is required. And the British monarchy has been betraying its covenant. God describes David's throne as a "light" (1 Kings 11:36) pointing a dark world to God. The British monarchy used to be a light for Britain and the Commonwealth. But in recent decades the monarchy has been tolerating and even supporting society's rejection of God and His standards. One only has to look at the "pop concert" atmosphere of the Platinum Jubilee to see this illustrated.
As the royal family gets further and further from God, more and more curses set in. The current moods in Australia and Canada may show what some of those curses could be.
"Barbados just renounced the monarchy on Nov. 1, 2021," Mr. Flurry wrote. "It remains part of the Commonwealth but has made itself a republic and removed the Queen as its head of state. [It] is possible this could happen in one or more of the larger nations that have been connected to the throne for more than 200 years." The "larger nations" Mr. Flurry referred to include Australia and Canada.
An old history professor of mine once told me that, with the loss of the British Empire, Britain today is a "small island getting smaller." As more and more Commonwealth realms decide to become republics, Britain's monarchy is becoming a small throne getting smaller. The Platinum Jubilee may have been the crown's "last gasp of joy and splendor" more than some realize.
What does the near future hold for David's throne?
Current circumstances may make the future look bleak. But God's promise to David is unbreakable. And He has already taken steps to not only preserve David's throne, but make it thrive as never before.
The Trumpet offers a free book by Mr. Flurry titled The New Throne of David. It explains what's in store for the British monarchy and David's throne. As the British royal family continues to sink deeper into problems, The New Throne of David shows how there is still hope for the light of David's throne. Request your free copy today. Also please read Mr. Flurry's article "Threatening the Crown That Binds Britain."