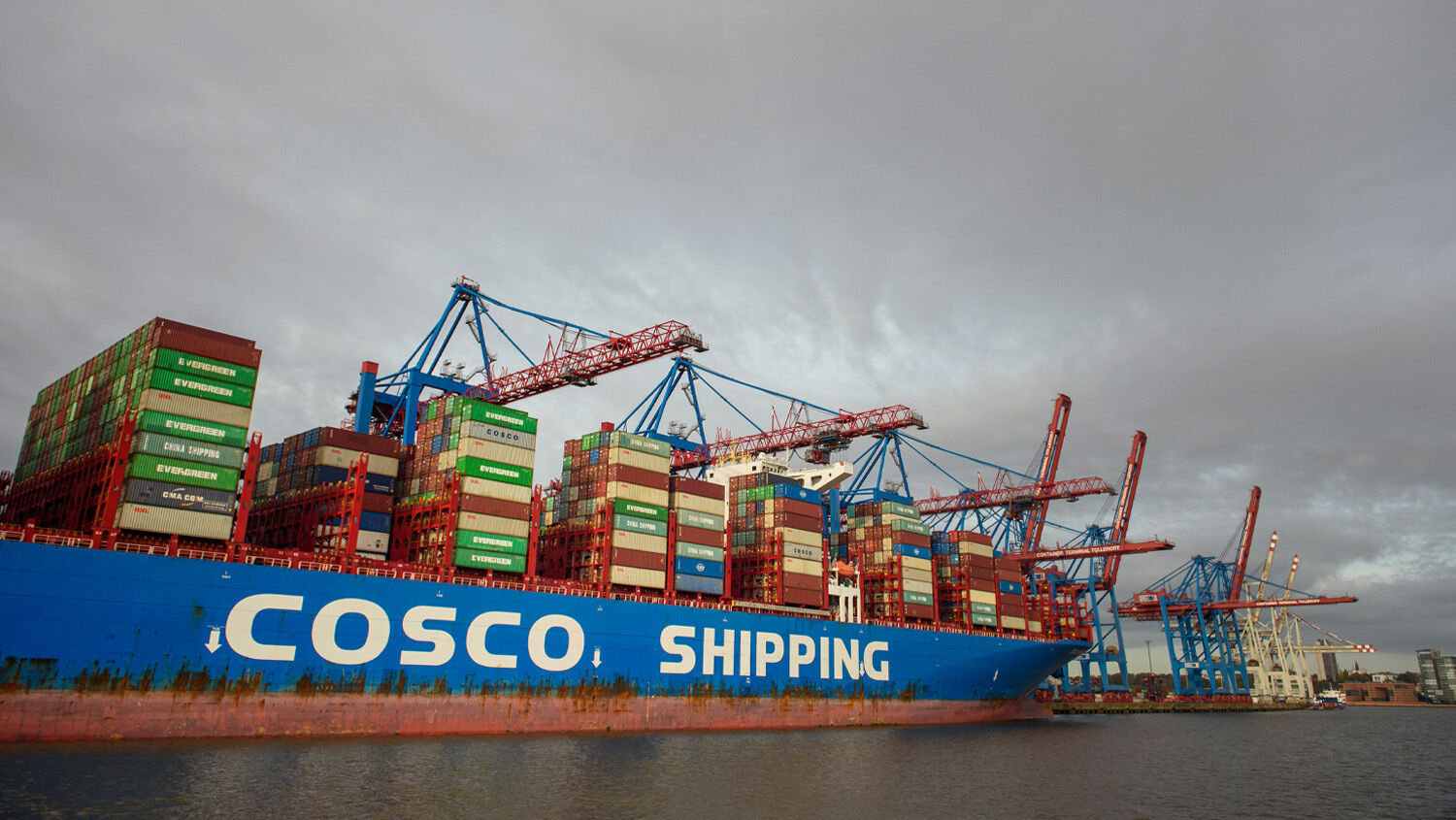 China's Militarized Civilian Ships Are a 'Threat to Trade'
China's militarization of civilian vessels, takeover of ports around the world, and overall dominance of global shipping would allow it to choke international commerce in the event of war, a December 26 report by the Belgian Royal Higher Institute for Defense said.
"[T]here is a growing politicization and militarization of China's civilian maritime sector," the report noted, drawing on data from Chinese government documents. The documents show policies now requiring all Chinese-flagged ships to be constructed to military specifications, including making them capable of transporting People's Liberation Army troops and tanks.
"Each Chinese ship is a ship of war," the report's author, Prof. Jonathan Holslag, told the Times.
This is particularly alarming given the fact that China now builds 41 percent of all vessels, making it the world's largest shipbuilder.
Meanwhile, China is boosting its holdings over vital ports around the world, mainly through the state-owned maritime companies China Ocean Shipping Co. (cosco) and China Merchants Group, as well as the state-influenced CK Hutchison Holdings Ltd.
Through these, the Chinese Communist Party has established considerable influence over the ports in Germany's Hamburg, Greece's Piraeus, France's Le Havre, Belgium's Zeebrugge and Antwerp, Britain's Thameside and Felixstowe, Djibouti's Obock, Pakistan's Gwadar, the Suez Canal, the Panama Canal and many others.
China's goal with buying power over these vital ports, according to cosco chairman Xu Lirong, is to establish "control over the entire supply chain." And in pursuit of that ambitious goal, cosco must increasingly "take control of major transportation hubs and channels."
The report also shows that China now controls nearly a third of all maritime trade, including 12 percent of crude oil tankers, 13 percent of total liquefied natural gas shipments and 18 percent of all container transports. "China has vast maritime power," Holslag said, and "considers maritime power as an important building block of its national power and crucial for its national economic security." He added: "Contrary to other countries, most of its maritime assets are controlled by the state."
Holslag's main conclusion in the report was that "it is crucial for Europe's security and prosperity to critically evaluate this vulnerability." But Bible prophecy shows that it is actually the United States and Britain that will be the main victims of China's tightening grip over global shipping—and that Europe will actually ally with China against the English-speaking nations.
Some 2,700 years ago, God inspired the Prophet Isaiah to write about a vast trade bloc that would be formed in our lifetimes, called in Isaiah 23:3 a "mart of nations."
Verse 1 of the chapter states that a lead nation in this trade bloc will be "Chittim"—an ancient name referring to China. Trumpet editor in chief Gerald Flurry explains in his booklet Isaiah's End-Time Vision, "Kittim is synonymous with the Chittim of Isaiah's prophecy. … After their migration through Central Asia, the Kittim made their appearance in modern-day northeastern China and Mongolia under the name of Khitan in the fourth century a.d."
Isaiah 23 names "Tyre" as the other leading power in this "mart of nations." Mr. Flurry explains that this city represents "the commercial center" of modern Europe. He writes: "The spiritual center of the [modern European] Holy Roman Empire is called Babylon in your Bible (Revelation 17:5; 18:1-3). But here in Isaiah, the Bible refers to Tyre (and its allies Zidon, etc) as the commercial center of this European power. By understanding the spiritual and the commercial powers, you can understand what a colossus is rising in Europe."
A companion passage in Ezekiel 27 mentions ancient names referring to modern Russia, Japan and other nations, showing that they too will be part of this massive trade alliance.
"The Bible contains many prophecies of that European power attacking America—and many other prophecies of America being besieged," Mr. Flurry writes. He explains that this besiegement will be accomplished by the mart of nations. "All of them are going to besiege America, Britain and the Jewish nation," he writes.
"China and the giants of Asia," he writes, will form a "brief alliance" with the European bloc. He continues:
Should Europe, the resurrected Holy Roman Empire, find a way to take advantage—even for a moment—of key resources and strategic holdings of China, Russia and Japan, it would have more than enough power to besiege the Anglo-Saxon nations …. This is why Isaiah's prophecy of an end-time 'mart of nations' that includes both European and Asian powers is so intriguing. And why the trend of collusion between these two great economic blocs is worth watching.
The importance of China's militarization of civilian vessels, takeover of ports and growing dominance of global shipping is revealed in these Bible prophecies. To learn more, order your free copy of Isaiah's End-Time Vision.