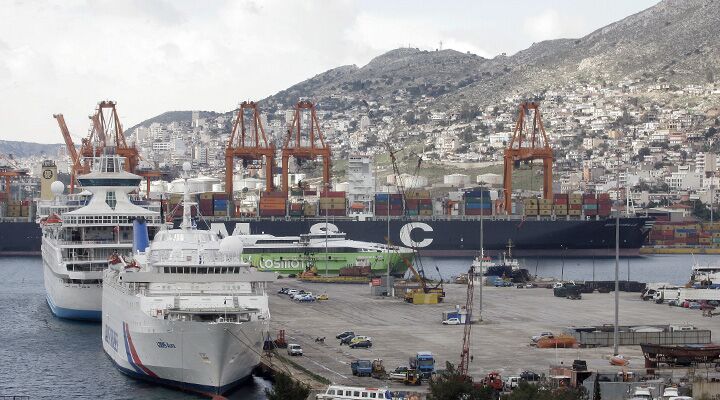 China Establishes Its Silk Road in Greece by Purchasing the Port of Piraeus
A 'once-in-a-thousand-year opportunity' for China to open a gateway to Europe.
In October 2009, government-owned China Ocean Shipping Company (cosco) took over one of two piers in the Port of Piraeus from its Greek authorities. Since then, cosco worked to increase the annual container volume nearly 10-fold. Finally, after waiting seven years, Beijing's One Belt, One Road (obor) initiative took a step further when cosco purchased full control of the Port of Piraeus on April 8.
obor is Chinese President Xi Jinping's ambitious strategic initiative to build a modern-day version of the ancient "Silk Road"—a network of trade routes that connected cultures running from Southeast Asia to the Mediterranean. Xi revealed its two major components in 2013: the land-based Silk Road Economic Belt and the sea-based 21st-century Maritime Silk Road.
The Chinese ambassador to Greece, Zou Xiaoli, hailed the port deal as a "once-in-a-thousand-year opportunity" for China and Greece to jump-start trade and development. cosco settled on a $416 million deal for control of the port and also promised to invest a future $395 million.
To the cash-strapped Greek government, the deal means funds in a difficult time with the hope of future rail infrastructure and port investments. But to China, its potential is much greater. The Chinese government regards the Port of Piraeus as the main entry point for Chinese exports into Southern, Eastern and Central Europe, given its strategic position and proximity to the Suez Canal. It is one of the fastest-growing ports in the world (thanks, in part, to cosco's productivity), and more than 80 percent of trade between China and the European Union is maritime.
"This privatization makes Greece a gateway for Asian products to enter Europe, strengthens the economy, and boosts the country's strategic importance in the region," said Stergios Pitsiorlas, chairman of the Hellenic Republic Asset Development Fund.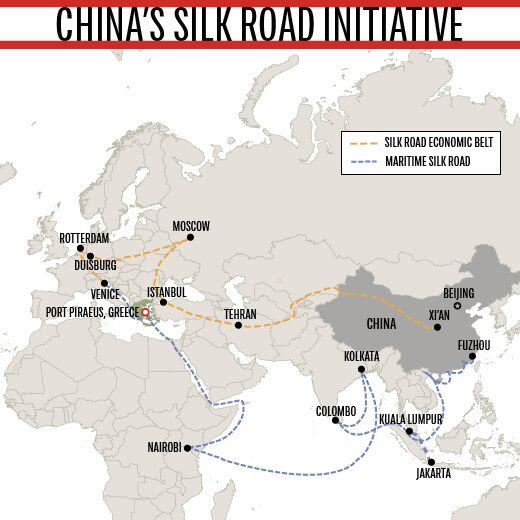 While Xi's Maritime Silk Road is already well established, with well-used shipping routes between Asia and Europe, the Silk Road Economic Belt's train routes have not yet entered the high-speed phase. Fortunately for the Chinese, both initiatives tend to work hand in glove. "Chinese port and railway programs are closely linked and tend to stimulate each other," said Frans-Paul van der Putten, a China expert at the Netherlands Institute for International Relations. He continued in a report on China's Silk Road published in 2015:
For instance, new ports in South Asia and East Africa make the building of new railways that extend from these ports into the interior more attractive and feasible. This dynamic also exists with regard to Piraeus. The successful growth of the Piraeus container port led by cosco has created a basis—and a need—for improved railway infrastructure leading from Piraeus into the Balkans and Central Europe.
Since late 2013, China has been working on high-speed railways to connect Greece to other Eastern European countries. Ten days after the Piraeus Port deal, Serbia launched a project to modernize its train line to Greece through Chinese manufacturer crrc Zhuzhou.
China's nuts-and-bolts approach to stimulate trade relationships contrasts with the United States. While America is still the EU's largest trading partner (China is fast approaching), it has been looking to big, multilateral trade accords like the Trans-Pacific Partnership and Transatlantic Trade and Investment Partnership to boost its influence in Europe and Asia. China, instead, has been more hands on: building train lines, buying ports, and updating infrastructure of countries along its Silk Road.
One of the many trends the Trumpet follows is that of the growing economic relationship between Europe and China, and we expect their trade alliance to strengthen further. You can find out the details of that trade relationship in a column by the late Ron Fraser "The Great Mart."