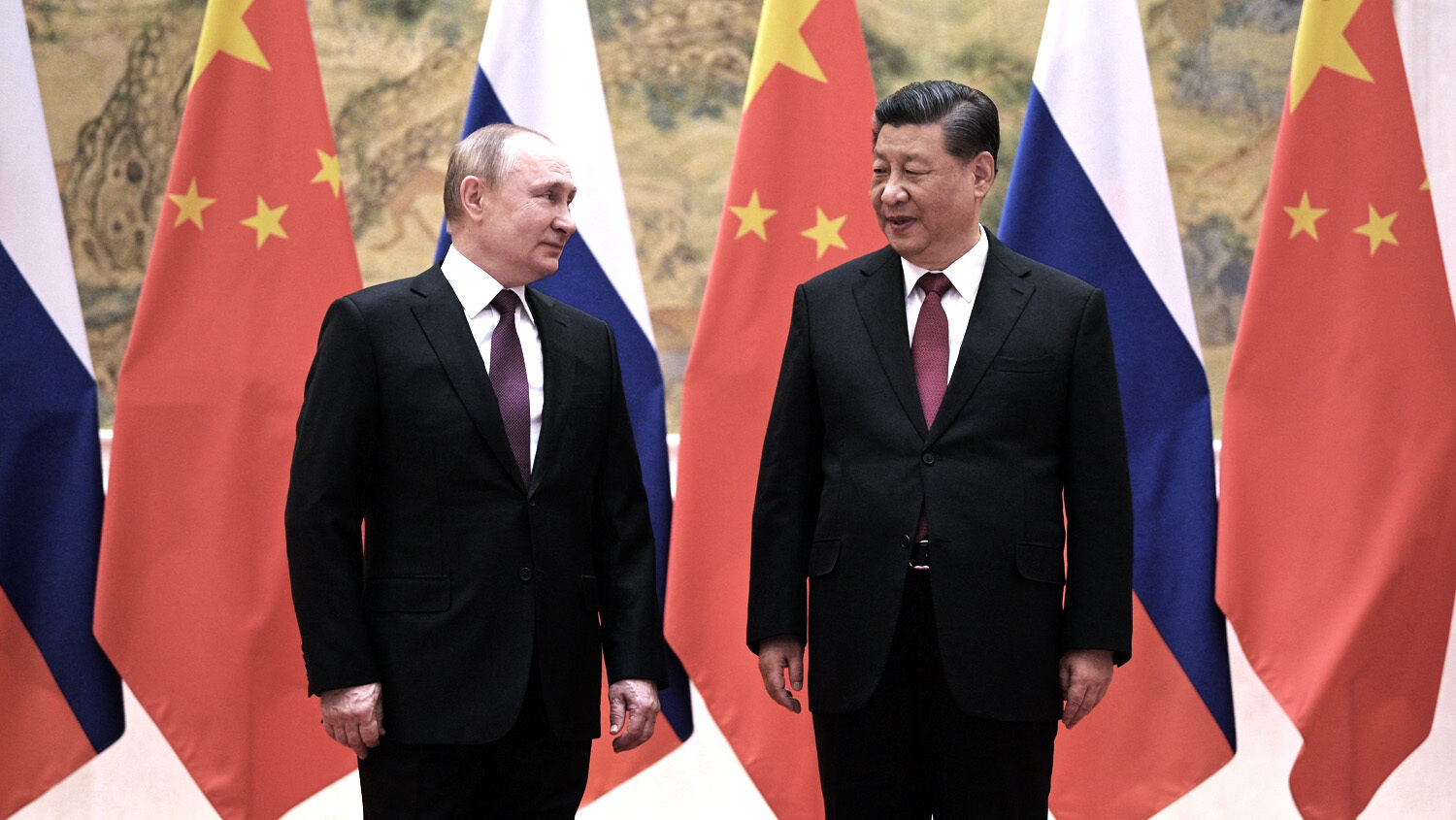 Xi Reemerges on World Stage With Putin—to Confront U.S. Dominance
'When nuclear-armed powers show such solidarity in wartime, what does this mean for the world? I tell you, it is woe to the world!'
Chinese General Secretary Xi Jinping and Russian President Vladimir Putin met in Uzbekistan on September 15, marking the first time the two have convened in person since Russia dramatically escalated its war of aggression on Ukraine in late February.
The trip is Xi's first visit outside of China in almost 1,000 days, and is intended as a signal to the world of the enduring strength of the Russia-China axis—despite the war.
Putin started the meeting by thanking Xi for his backing, even while much of the world seeks to isolate Russia over the violence it has unleashed on a peaceful nation. "We highly appreciate the balanced position of our Chinese friends in connection with the Ukrainian crisis," he said in a televised statement.
Putin lambasted the "unipolar" global order that America leads, and said Russia and China have united against it. "We jointly stand for the formation of a just, democratic and multipolar world order based on international law and the central role of the [United Nations], and not on some rules that someone has come up with and is trying to impose on others, without even explaining what it's about," he said. "In general, I must say that the attempts to create a unipolar world have recently acquired an absolutely ugly shape and are absolutely unacceptable for the vast majority of states on the planet."
Chinese state media did not publish an immediate statement about the summit. But Russia's tass outlet said that in Xi's initial remarks, he told Putin: "In the face of the colossal changes of our time on a global scale, unprecedented in recent history, we are ready to team up with our Russian colleagues to set an example of a responsible world power and to play a leading role in putting a rapidly changing world on the track of sustainable and positive development."
The last time the two strongmen met face to face was in early February, when they declared a partnership with "no limits" that they have cultivated between their nations. Since the invasion of Ukraine, Xi has sought to avoid flagrant violations of U.S. sanctions by refraining from directly assisting Russia's war. But he has made clear that he stands behind Moscow by boosting Russia-China trade, providing diplomatic backing in the UN, and even joining Russian war games that placed Chinese soldiers shoulder-to-shoulder with Putin's troops—maybe some of the same troops that have committed unspeakable atrocities in Ukraine.
In terms of statements of support, the clearest so far came on September 9 when Li Zhanshu, the third-ranking official in the Chinese Communist Party, met with officials in Moscow to prepare for the Putin-Xi summit. Li pledged China's "understanding and full support" for the war. "Given the circumstances," he told Kremlin officials, "Russia has taken necessary measures. China understands, and we are coordinating on various aspects." Li also parroted Russian propaganda, saying Putin was made to wage the war because "the U.S. and nato forced themselves directly to Russia's doorway."
China's ongoing support for Russia, despite the war, has surprised some analysts. But it is an outcome Bible prophecy told us to expect.
Revelation 16:12 foretells of a multinational Asian alliance that will arise in the modern era, called "the kings of the east." Bible passages provide many details about this colossus, including that it will field an army of a jaw-dropping 200 million men and will play a lead role in nuclear World War iii (Revelation 9:16; Matthew 24:21-22; Daniel 11:44-12:1).
Based on Ezekiel 38 and 39, Trumpet editor in chief Gerald Flurry has said that Russia will be at the head of this Asian power bloc, with China as its primary partner, and that the two are already fulfilling the early stages of these prophecies. In 2014, after China publicly backed Russia's annexation of Ukraine's Crimean Peninsula, Mr. Flurry said the support was "a stunning fulfillment of a biblical prophecy!"
He wrote: "Actually we have been proclaiming for over 50 years that Russia, China and other Asian nations would ally themselves in the end time. And we are in that end time now."
At the start of this year's escalation of the war and Xi's demonstrations of ongoing support for Russia, Mr. Flurry wrote: "When nuclear-armed powers show such solidarity in wartime, what does this mean for the world? I tell you, it is woe to the world! … This crisis is far from over."
To understand more about what the Bible says on the topic of the Russia-China alliance and its role in end-time affairs, order your free copy of Russia and China in Prophecy.