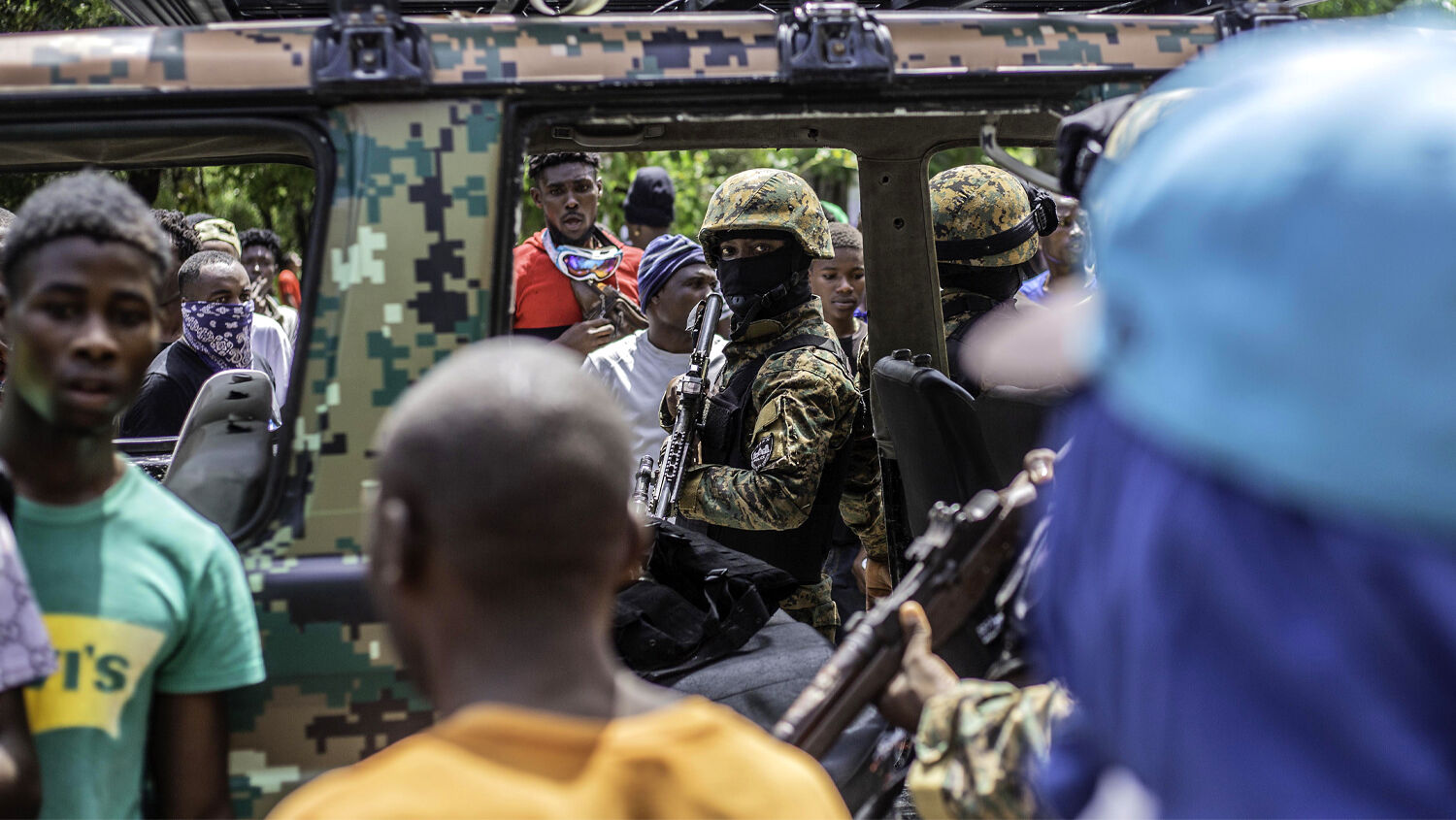 What Is Happening in Haiti?
A complicated country in the Caribbean just got a lot more complicated.
Gunmen murdered Haitian President Jovenel Moïse in Port-au-Prince, Haiti's capital, on July 7. In the middle of the night, assassins entered the president's private residence and tied up his security personnel. About 1 a.m., the gunmen fired 12 bullets into Moïse, one of them directly through his forehead. First Lady Martine Moïse was critically injured.
In Haiti, the president controls the military, foreign affairs and policing. The prime minister, normally the head of the legislature, controls everything else. Mr. Moïse had been Haiti's president since 2017. He won the most votes in the 2015 presidential election, but lacked a majority. He later won the 2016 runoff election. His political opponents claimed his term started after the first election; Moïse said it started after the second. The two sides disagree on whether his term would end in 2021 or 2022. Meanwhile, he dissolved most of Parliament in 2020 and ruled by decree with an appointed prime minister.
Moïse had many enemies. In February, he told the United Nations Security Council seven attempts were made by oligarchs to oust him from power.
Now he's dead.
Witnesses reported one of the gunmen yelled in English that he was affiliated with the United States Drug Enforcement Agency. Other gunmen spoke to each other in Spanish.
The gunmen fled after the attack, but some died in a shootout. Others hid in the Taiwanese Embassy before being arrested; others are still at large.
Aside from two Haitian-Americans, almost all the gunmen were from Colombia. Colombia's decades-long wars with drug cartels and rebel groups give its soldiers a fierce reputation. Colombian ex-soldiers are often sought after by private security firms. One of the mercenaries was a Colombian "expert lancer," a distinction similar to the U.S. Army Rangers. The Colombians apparently had been in Haiti for three months.
Who was the mastermind behind the attack?
Haitian authorities arrested Dr. Christian Emmanuel Sanon, a 63-year-old doctor and minister of religion who splits his time between Haiti and Florida. According to Michel Plancher, a civil engineering professor from Port-au-Prince's Quisqueya University, Sanon claimed to have divinely inspired political aspirations. Plancher met with Sanon in June. "He said that he was sent by God," said Plancher. "He was sent on a mission of God to replace Moïse. He said the president would be resigning soon—he didn't say why."
Dr. Sanon is virtually unknown to the Haitian business and political establishment. "I never heard of this Sanon before," said prominent Haitian-American businessman Georges Sami Saati. "Nobody ever heard of him."
On his return to Haiti in June, Sanon hired for his protection Florida-based ctu Security, which employed the Colombian mercenaries. ctu Security is owned by Venezuelan expat Antonio Enmanuel Intriago Valera. According to the Washington Post, Sanon had an arrangement with Valera and Florida-based financier Walter Veintemilla. Veintemilla would bankroll Dr. Sanon and Valera would protect him; once in power, Dr. Sanon would pay his backers through the country's resources.
But according to the New York Times, one of the Haitian-American "translators" claims that the "mastermind" was "a foreigner named 'Mike' who spoke Spanish and English."
There is another interesting connection to the United States: Several of the conspirators worked for the U.S. government. One of them, codenamed "Whiskey," was an informant for the U.S. Drug Enforcement Agency. Another was an informant for the Federal Bureau of Investigation. The U.S. government gave the Haitian authorities information that led to the apprehension of two suspects. Some of the Colombian soldiers were trained by the U.S. military.
There is also the question of why none of Moïse's security guards were injured or fired at. Was some sort of deal in place? Was it an inside job? The chief of Haiti's presidential guard was apprehended, although it is unknown if he faces charges yet.
To make a complicated mess even more complicated, there is the issue of succession. It's not as clear-cut as it would be in most countries.
Claude Joseph, the interim prime minister Moïse appointed in April, quickly proclaimed himself president. Moïse had appointed Ariel Henry to replace Joseph as interim prime minister two days before the assassination, but Joseph claims Henry wasn't inaugurated yet. This would technically mean Joseph was still prime minister, ergo his claim to power. Henry disputes this. Meanwhile, the 10 senators left in Haiti's legislature appointed the senate president, Joseph Lambert, as president of the country.
This means three different men are claiming the presidency. Chief Justice of the Supreme Court René Sylvestre died of covid-19 last month and was never replaced. He would have been the man in the best position to arbitrate. Elections were scheduled for September, but nobody knows how they will turn out with the assassination.
What's in store for Haiti?
Haiti traditionally is close to America. The Haitian government has called for Washington to send troops. President Joe Biden has so far denied its request. With all the involvement the U.S. has had in Haiti in recent years—from President Bill Clinton sending troops in the 1990s to President Barack Obama sending in the military in the 2010s—the Pentagon has had enough.
So who will Haiti turn to?
There are a variety of options. The Venezuelan connections with ctu Security are interesting, but at this point, they're circumstantial at best. Cuba, Haiti's neighbor, has historically helped it out in disasters by sending doctors. But Cuba is having its own problems quelling protests, so it may be too busy dealing with problems at home.
An interesting one to watch is China. Haiti is only one of 15 countries that recognizes the legitimacy of Taiwan. Beijing has been pressuring countries one by one to break relations with Taiwan. It did so with São Tomé and Príncipe in 2016, El Salvador in 2018, the Solomon Islands in 2019, and with other countries. China is notorious for offering massive financial loans in exchange for favors. A desperate Haiti might feel compelled to give in. China was quick to extend its tentacles into Afghanistan after the U.S. announced its withdrawal from the country. The Afghan example could show what is in store for Haiti.
Another country to watch is France. Haiti is a former French colony. France, through its territories in the Caribbean and South America, has sizable influence in the region. When another former French colony, Lebanon, suffered the effects of a blast that tore up Beirut last year, French President Emmanuel Macron visited and became the most popular man in the country. Paris has since been meddling in Lebanon's governance openly. The French government could do something similar in Haiti.
The Haitian crisis opens up a significant opportunity for outside powers to establish a presence on America's doorstep.
Why is this important?
Trumpet contributors Jeremiah Jacques and Andrew Miiller wrote in their March 2019 article "Preparing to Storm America's Castle":
Major news sources pay little attention to this region, but the Caribbean is vital to U.S. security. This sea not only connects the East Coast with the Pacific Ocean via the Panama Canal, it guards the mouth of the Gulf of Mexico. Half of America's seaborne trade passes through the Gulf. So a foreign power that controls the Caribbean could cripple the U.S. economy by restricting its access to oceanic shipping. …

As shocking as this scenario sounds, the Bible reveals that enemies will seize control of the world's most strategic maritime choke points and lay siege to the United States. America is going to lose access to the Panama Canal, the Straits of Florida, the Windward Passage, the Yucatan Channel and many other shipping lanes that its people rely on for food, electronic components, oil, raw materials and other goods.

The results will be devastating.
To learn more, please read "Preparing to Storm America's Castle."