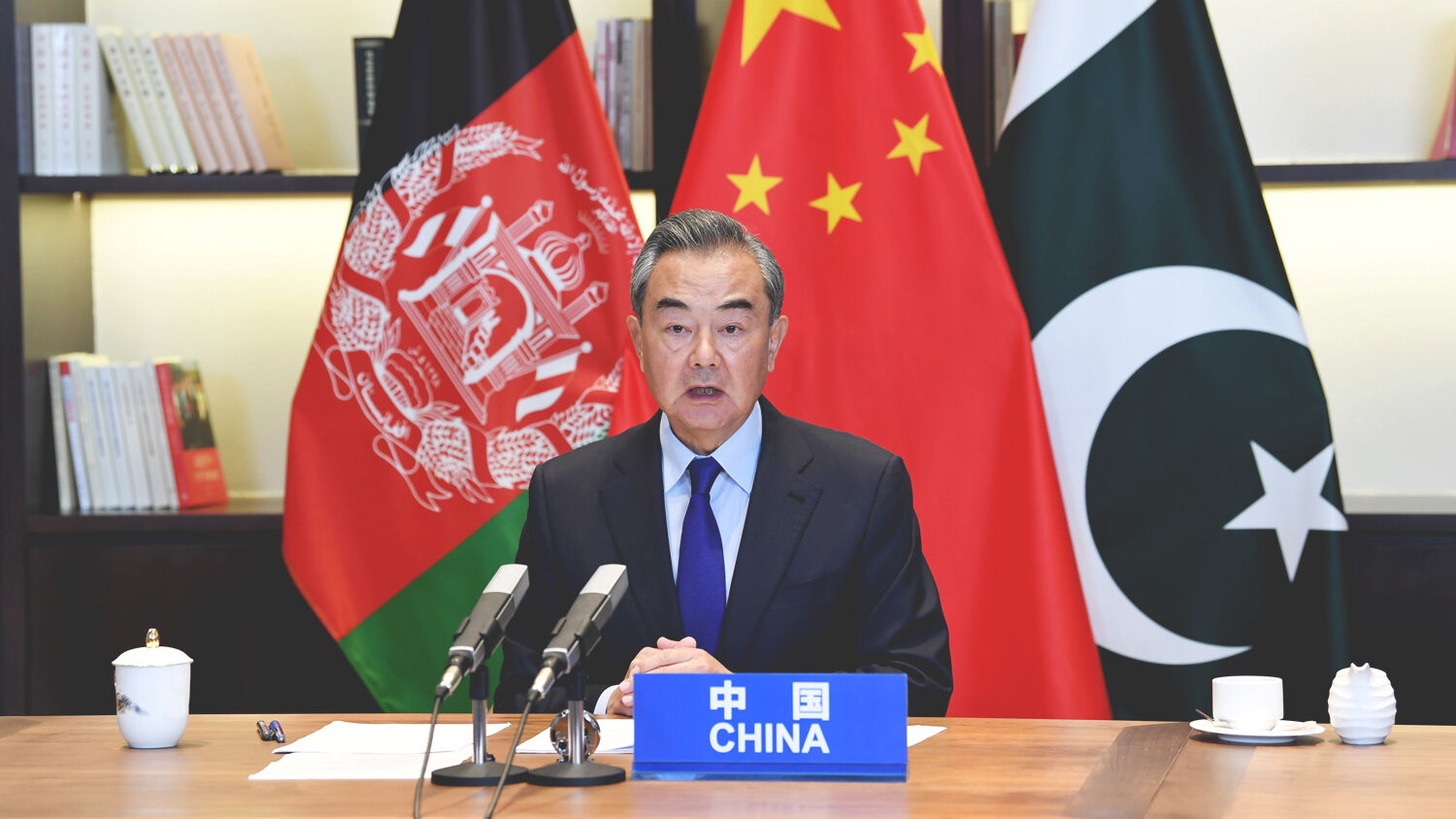 China Moving Into Afghanistan as U.S. Moves Out
What is behind China's deepening foothold in Central Asia?
China announced on June 3 that it plans a major expansion of its Belt and Road Initiative into Afghanistan, as the United States withdraws its forces from the battle-torn country.
Chinese Foreign Minister Wang Yi said during talks with the foreign ministers of Afghanistan and Pakistan that after two decades of deployment, America aims to pull its remaining 3,000 soldiers out of Afghanistan by September. This U.S. withdrawal, he said, grants the Afghan people an opportunity to "truly control their own destiny."
Wang and other Chinese Communist Party officials are convincing the Afghans to use this new opportunity to allow China deeper influence in the nation. "The three sides agreed to deepen the cooperation in bri [the Belt and Road Initiative], supporting the substantial expansion of it to Afghanistan, and enhance the level of interconnection between the three countries," Wang said.
The colossal bri project is designed to bind the world to China by building vast networks of roads, railways and ports in nations across Asia, the Middle East, Africa and Europe. It consists of a land-based economic "belt" that will include six corridors linking East and West, and a maritime "road" of ports that will stretch from the South China Sea to Africa's east coast.
During the conference, Wang drew attention to one of these six corridors: the China-Pakistan Economic Corridor (cpec). Launched in 2013, the cpec is a collection of bri roads, railways and energy pipelines that span from the China-Pakistan border to Pakistan's Gwadar Port on the Arabian Sea. For China, this is not just a crucial crossroad where the "belt" meets the "road"; it is also an invaluable safeguard against one of China's perennial fears: a potential U.S. naval blockade in the South China Sea. Before China built the cpec, such a blockade would have posed an existential threat to China. But now China has an alternative route established for importing goods—particularly the Middle Eastern oil and gas on which it heavily depends.
And now China intends to graft Afghanistan into cpec.
Wang said: "We can expand China-Pakistan Economic Corridor (cpec) cooperation to Afghanistan and improve the level of trade cooperation and interconnection between Afghanistan and other countries in the region."
China has long criticized the U.S. presence in Afghanistan. But its state-run Global Times made clear last month that China fears that America's withdrawal from the nation could lead to major instability, which could threaten parts of the Belt and Road Initiative. "[T]he pullout could leave chaotic situations and the region could become a breeding ground for 'three evils,' … terrorism, separatism and religious extremism."
China is concerned that an increase in these "evils" could lead to attacks on its cpec infrastructure, and that the chaos could spill across the border into China itself.
By establishing a deeper foothold in Afghanistan, the Chinese will be positioned to address such security concerns and to safeguard the Belt and Road.
The Trumpet monitors China's progress on the Belt and Road Initiative because of the project's biblically prophetic significance. Isaiah 23 warns of a "mart of nations" that will form in modern times and operate as a mighty economic partnership. At the helm of the "mart of nations" will be a country Isaiah calls Chittim, an ancient name for modern-day China. Also at the helm will be Tyre, a city that represents the commercial center of modern Europe.
Isaiah 23 says these two economic powers will become partners and will control global commerce for a short time. Deuteronomy 28:52 makes clear that this trade partnership will operate at America's expense.
Trumpet editor in chief Gerald Flurry explains the details of this economic "mart" in his booklet Isaiah's End-Time Vision:
The Bible contains many prophecies of that European power attacking America—and many other prophecies of America being besieged.

That is where China and the giants of Asia enter the picture. When the [European power] attacks North America, there will be no help or sympathy from Asia.
Instead, Asian nations such as China will assist in carrying out the attack. Mr. Flurry says the fact that "China has come to possess most of the world's strategic sea gates" shows that "there may be a brief alliance between the German-led Holy Roman Empire and certain Asian powers …. Should Europe, the resurrected Holy Roman Empire, find a way to take advantage—even for a moment—of key resources and strategic holdings of China, Russia and Japan, it would have more than enough power to besiege the Anglo-Saxon nations …."
The significance of China's growing presence in Afghanistan is revealed in these Bible prophecies.
This trend points to some catastrophic times ahead for America and some of its allies. But the chaos will be immediately followed by the most prosperous and peaceful age in mankind's history. Mr. Flurry writes: "[W]hat a dynamic market of nations it is. All of them are going to besiege America, Britain and the Jewish nation. … But that trading partnership won't last long. Soon they will clash, just before Jesus Christ returns and destroys both of them" (ibid).
China's increasing presence in Central Asia and beyond is leading to the most hope-filled event in history. It will launch an age of peace and prosperity for the Chinese, Afghans, Pakistanis, Americans and all other peoples. To understand the details of these prophecies and the hope that lies at their heart, order your free copy of Isaiah's End-Time Vision.