Fires, Floods, Droughts—and the Year of the Environmentalist
As weather disasters intensify, so does the deadly climate change deception.
Fires, Floods, Droughts—and the Year of the Environmentalist
As weather disasters intensify, so does the deadly climate change deception.
Weather disasters around the world made headlines in 2019 and continue to do so in 2020. From drought in Africa and Australia, fires in California and Australia, and floods in Europe, Asia, the United States and Africa, recent cataclysms are some of the worst on record.
The catastrophes have brought increasing vehemence of the proponents of environmentalism and climate protection. 2019 saw the rapid rise in voices blaming mankind's industrial activity for the weather problems.
Two things are undeniable: Weather-related disasters have been cataclysmic, and man is responsible. But are man's industrial practices the main cause?
'Unprecedented' Wildfires
In 2019, Australia and California were devastated by alarmingly intense wildfires. In California, several destructive fires broke out beginning in October. Hundreds of thousands of people were evacuated from their homes, San Francisco and Los Angeles issued air quality alerts because of the thick smoke, and power was cut to more than 1.8 million people to limit the spread of wildfires.
These fires led California Governor Gavin Newsom to declare a state of emergency on October 27. In Sonoma County, more than 30,000 acres burned and nearly 200,000 people were evacuated.
Earlier in 2019, fires in Northern California destroyed over 150,000 acres of land and killed 85 people. In total, over 6,800 fires were recorded in the state, across an estimated 250,000 acres of land. Since 2017, the California Department of Forestry and Fire Protection has spent roughly $1.4 billion in fire suppression costs. Over $25 billion have been spent on damages.
On the other side of the world, bushfires in Australia have burned over 13 million acres of land, a significant increase over the 700,000 acres burned over the previous five years. At least 18 people have died in the fires since September, and authorities are concerned that this number will rise. According to Angela Burford of the Rural Fire Service, the devastation is "unprecedented" because Australia is "only halfway through the [dry] season."
The largest fire to date is in Gosper's Mountain, New South Wales, and covers over 1 million acres of land. Conditions are expected to worsen with no rainfall forecast until the end of January.
Queensland firefighters have been battling flames for more than six months. Kevin Reading, acting chief superintendent of the Queensland Fire and Emergency Services, says he "hasn't seen a season like it."
As of December 23, over 829 houses have been destroyed in New South Wales, 86 homes and 500 outbuildings in South Australia, and 28 homes and 58 outbuildings in Queensland, as well as significant devastation in Tasmania, Western Australia and Victoria. The only "absolute miracle" right now is that more lives have not been lost, according to Adelaide Hills Premier Steven Marshalls.
Australia is devastated by bushfires every year, but rarely to this scale. Fires in 1974 burned across a slightly larger area but mostly affected the remote grasslands in far-west New South Wales that had become overgrown due to above-average rainfall.
The current fires, however, are mostly located in populated regions and are fueled by the country's record-breaking drought. Soil moisture is at a historic low, and the first eight months of 2019 saw record-low rainfall.
As David Bowman, director of the Fire Center at the University of Tasmania, told the Guardian, the most unusual aspect of these fires is their sheer size. He said, "The geographic range, and the fact it is occurring all at once, is what makes it unprecedented." He went on to say: "There has never been a situation where there has been a fire from southern Queensland, right through nsw, into Gippsland, in the Adelaide Hills, near Perth and on the east coast of Tasmania" (emphasis added throughout).
Australia's fires are so terrible because of the nation's record-breaking drought—but there are places where the drought problem is even worse.
Severe Drought
In Southern Africa, 2019 brought the worst drought in a century. The biggest casualty is the drying up of one of the seven natural wonders of the world: Victoria Falls.
The Zambezi River, which feeds Victoria Falls and borders Zambia and Zimbabwe, is losing 437 million cubic meters per second through evaporation. According to the Zambezi River Authority, the water level is at the lowest it's been in 25 years.
Dominic Nyambe, a local shopkeeper, told Reuters that the falls have never been this bad. "In previous years," he said, "when it gets dry, it's not to this extent. This [is] our first experience of seeing it like this."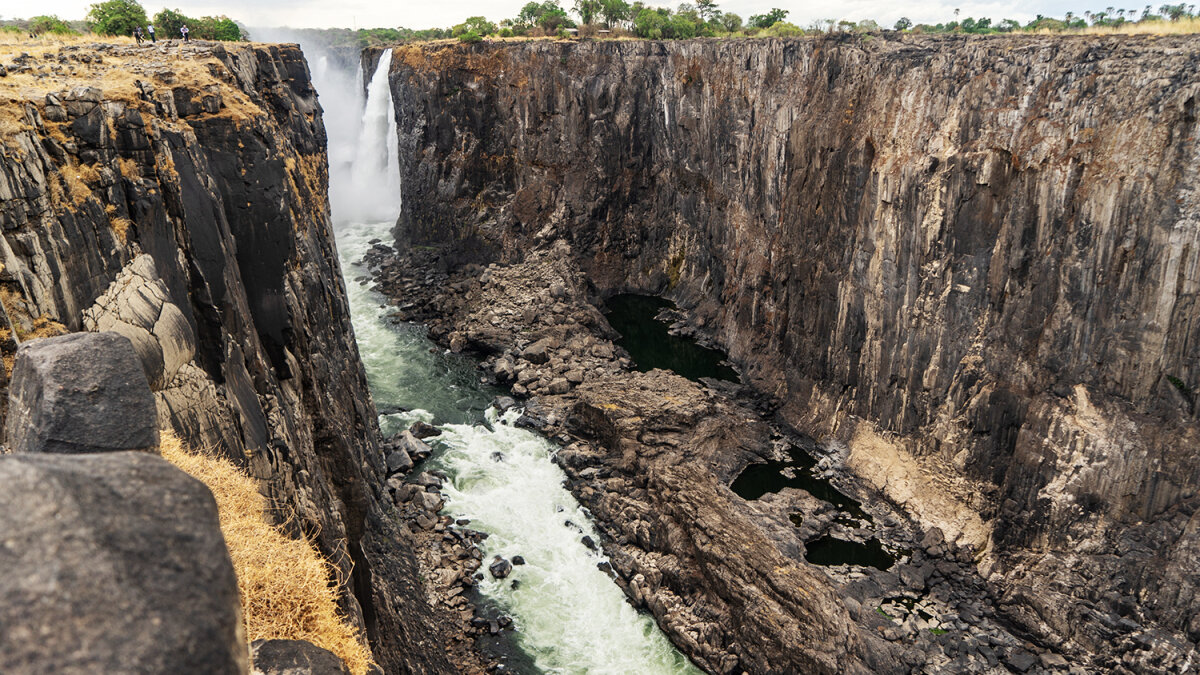 All across Southern Africa, populations are reeling from the devastating drought and its impact. According to the United Nations, 45 million people face food and water crises because of the drought, a significant increase on recent years.
In Zimbabwe's second-largest city of Bulawayo, residents are forced to flush toilets only at mandated times or risk paying a fine. In Zambia, crops have been destroyed and families are on the brink of starvation. Namibia has seen over 30,000 drought-related livestock deaths since April.
One major result of the water shortages is the consequent power outages. The hydro-electric power plants have increasingly dwindling water supplies, leaving many residents without power for longer and longer periods of time. South Africa's electricity woes are worsening, while Zimbabweans usually only have electricity between 11 p.m. and 5 a.m.
With such severe drought devastating sub-Saharan Africa, it is ironic that other areas of the world have been impacted by near relentless flooding.
Record Flooding
Indonesia's capital, Jakarta, suffered its worst rainfall in 24 years on December 31. At least 21 people have died from the consequent flooding and landslides, with over 60,000 reportedly missing. The heavy rainfall is expected to continue.
The Meteorology, Climatology and Geophysics Agency declared, "The rain falling on New Year's Eve … is not ordinary rain."
In November, Venice, Italy, suffered its highest tide in nearly 50 years, with the resultant floods damaging centuries-old buildings and structures. Toto Bergamo Rossi, director of the Venetian Heritage Cultural Foundation, said, "I've been living here for more than 50 years and never seen anything like that." Worse still, the city is anticipating more intense floods this month to add to the $1.1 billion of damage already inflicted.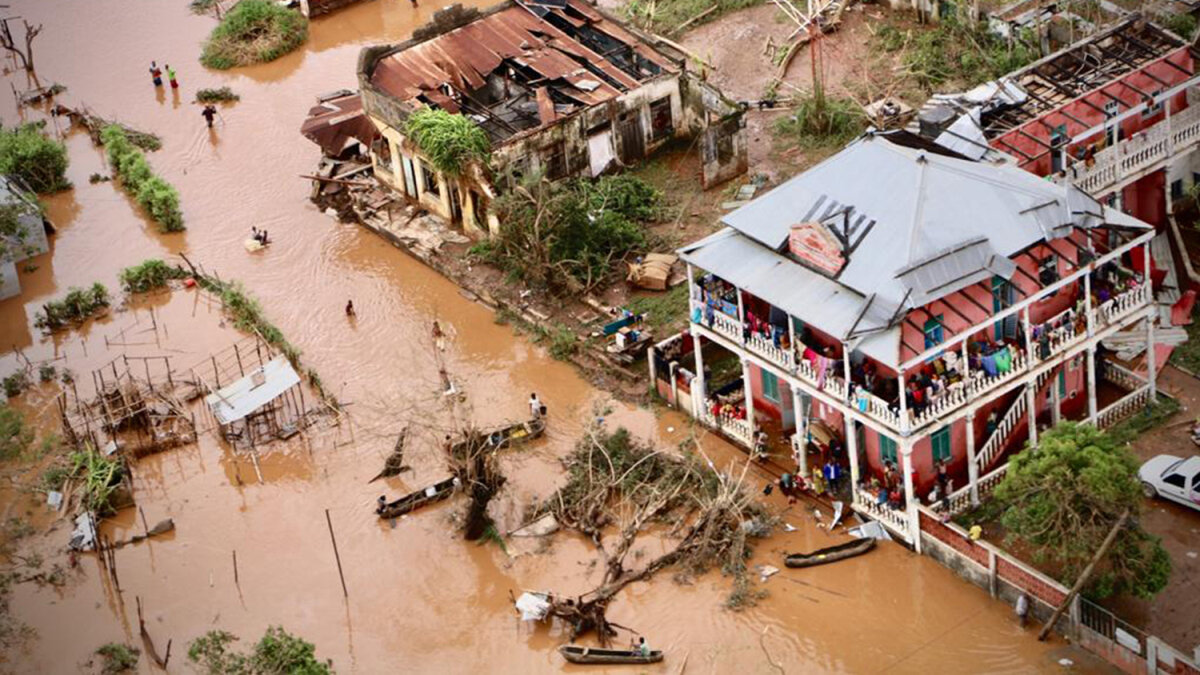 In March 2019, Cyclone Idai struck Southeast Africa, displacing 600,000 people and killing over 1,000 others. Widespread flooding in Iran displaced half a million individuals. A month later, Cyclone Fani hit India and Bangladesh, displacing 3.4 million.
According to UN Children's Fund, Hurricane Dorian, which overwhelmed the Bahamas at the beginning of September, killed at least 50 people and displaced 14,000. The Category 5 hurricane was the strongest ever to strike the Bahamas.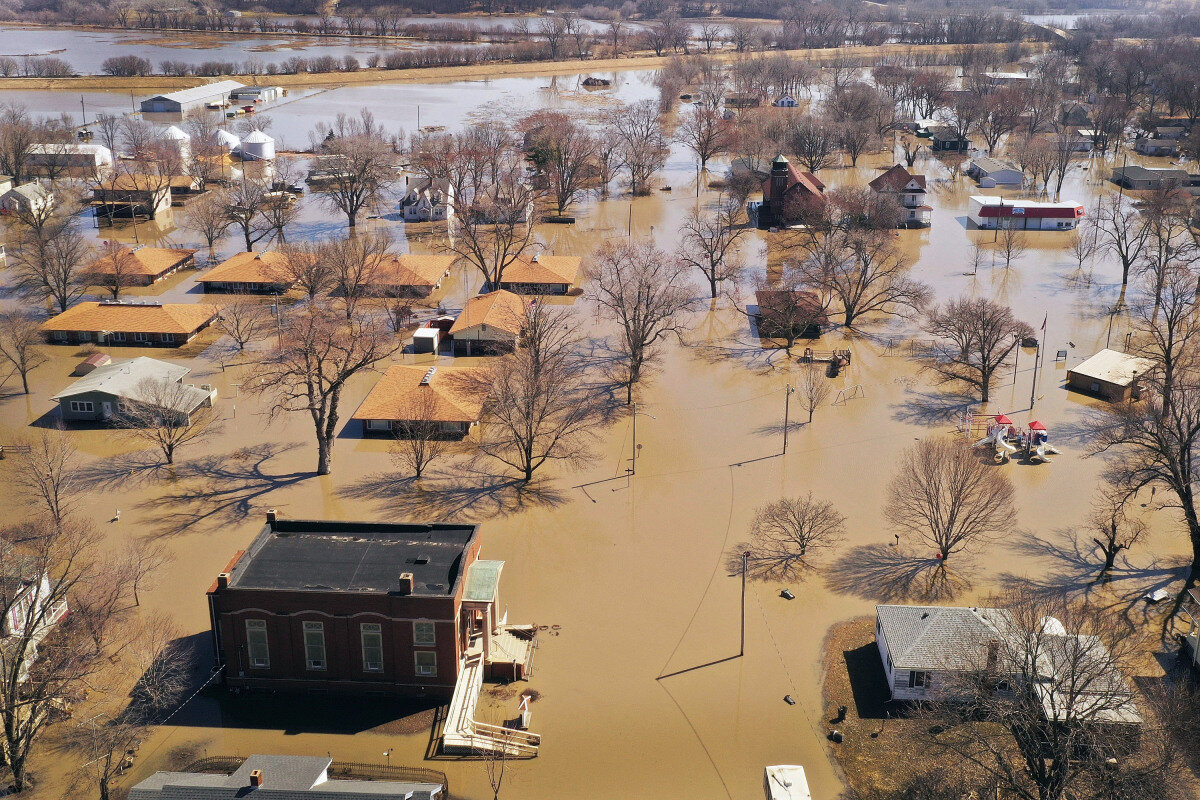 Meanwhile, the Midwest and Southern United States were inundated by flooding, affecting about 14 million people in the 11 states that border the Missouri, Mississippi and Arkansas river systems.
According to the National Oceanic and Atmospheric Administration, the U.S. endured its wettest 12 months since record-keeping began in 1895, with May 2019 being the second-wettest month on record. Referring to this phenomenon, Bryan Tuma of Nebraska's Emergency Management Agency said, "I would describe it as biblical."
With all these storms, floods, droughts and fires, it is clear that man is in unchartered territory. And with the tumultuous weather disasters, there has been an increase in demand for action against the near ubiquitously agreed cause: man-made climate change.
The Rise of Environmentalism
Climate activists have been sounding the alarm since before 1975, when American scientist Wallace Broecker coined the phrase "global warming" in a scientific paper. In the years that followed, many regional and international conferences were held to create agreements, such as the Kyoto Protocol, aimed at globalizing the effort to reduce greenhouse emissions.
Today's environmentalism almost universally attributes global warming as the cause of weather disasters: The Guardian says the climate crisis is lengthening the fire season in Australia; Zambian President Edgar Lungu said Victoria Falls is a reminder of what climate change is doing to the environment; the Wall Street Journal claims deforestation is driving global warming and the droughts in Southern Africa; Venice Mayor Luigi Brugnaro tweeted that the floods are "the result of climate change."
The universal acceptance of this cause has been epitomized by the popularity of such activists as Greta Thunberg and U.S. Congresswoman Alexandria Ocasio-Cortez.
"People are going to die if we don't start addressing climate change ASAP. It's not enough to think it's 'important.' We must make it urgent."
Alexandria Ocasio-Cortez
Recently crowned the youngest-ever Time magazine's person of the year, Thunberg made headlines all over the world as the 16-year-old climate activist led young people to protest outside government buildings, confronting adults and governments over inaction against climate change.
"Greta Thunberg led the way," Guardian columnist Jonathan Freedland wrote. "Children skipping classes to take the moral lead is an indictment of adult complacency."
Ocasio-Cortez enjoyed a similarly rapid rise, championing her Green New Deal and saying, "People are going to die if we don't start addressing climate change asap. It's not enough to think it's 'important.' We must make it urgent."
As a result of these protests, together with the abundance of scientific "proof," more people than ever before view anthropogenic climate change as the real issue. According to a 2018 Pew survey, 59 percent of Americans believe global warming is a "major threat" to the well-being of the country. The majority of people in 23 of the 26 surveyed countries see it as a major threat, with 13 of those countries viewing climate change as the top threat ahead of North Korea's nuclear weapons program, terrorism and cyberattacks. The climate change crusade is making an immense impact.
The Real Diagnosis
As universally accepted as it is, climate change is not the problem. Our booklet Why 'Natural' Disasters? explains:
When climatic disasters occur, the usual political and media response is to blame the trend on "climate change." The worse the disaster, the louder the calls for taking action against climate change by addressing the supposed man-made causes, such as carbon emissions and the use of fossil fuels.

This view about "climate change" has taken hold of millions of minds around the world. It is often presented as if it is irrefutable scientific fact. The truth, though, is that it is an ideology, and it will negatively affect every single person who falls for it!
Human activity does cause weather-related problems. The environment is harmed by the industrial release of synthetic compounds, the replacement of forests with cities and asphalt, and the gaseous release from the exhaust of cars, planes and trains. But there is another far more significant reason for these disasters, and it is spiritual in nature.
This mainstream and almost universally accepted threat of climate change is a deadly deception! The idea that greenhouse emissions are primarily responsible for all these terrible disasters is the exact opposite of what God says.
Many often ask why God allows such disasters to strike. Some believe that disasters themselves are proof that there is no God. However, as that booklet states, "One reason God sends storms is for correction. Yes, sometimes God bathes the earth with gentle rain to show His loving concern and mercy—and other times God uses the weather to correct people! Do you believe in that God?"
God clearly outlines the cause and the effect: Disobedience to His commandments is the cause, and droughts, fires and floods are the effect!
The Bible shows that God has power over the rain, He can "dry up all the rivers," and He has control over storms (Nahum 1:3; Job 38:28; Amos 4:7). How God exercises this power, however, is dependent on mankind's obedience or disobedience to His laws.
Notice Leviticus 26:3-4: "If ye walk in my statutes, and keep my commandments, and do them; Then I will give you rain in due season, and the land shall yield her increase, and the trees of the field shall yield their fruit." However, God warns in verses 14, 19 and 20: "But if ye will not hearken unto me, and will not do all these commandments …. I will make your heaven as iron, and your earth as brass … your land shall not yield her increase, neither shall the trees of the land yield their fruits."
God clearly outlines the cause and the effect: Disobedience to His commandments is the cause, and droughts, fires and floods are the effect!
The climate change theorists wholly attribute the weather disasters we experience to man's mismanagement of the planet. To be sure, God does command mankind to be good stewards of His creation; He considers its defilement a sin (Jeremiah 2:7; Revelation 11:18). However, far worse to Him are the practices of climate change proponents: homosexuality, abortion, fornication, pornography, violent crimes, drug abuse and other transgressions of His law of love.
The danger in the climate change deception is that it blinds mankind to these sins as the real cause of all these disasters, which makes it impossible to identify the only effective solution: repentance.
2 Chronicles 7:14 states, "If my people, which are called by my name, shall humble themselves, and pray, and seek my face, and turn from their wicked ways; then will I hear from heaven, and will forgive their sin, and will heal their land." This is a promise from God.
In "The Unseen Consequences of Climate Change," Trumpet managing editor Joel Hilliker wrote:
When you understand that "natural" disasters represent our Creator reaching out to us to try to correct us and guide us back into a relationship with Him, the real tragedy of "climate change" becomes clear. Rather than seeing God and accepting His correction, they are being moved to anger, stirred to protest and revolt and castigate their leaders. They are throwing their emotional support behind misguided leftist causes and being overtaken by passionate self-righteous indignation that is weakening and fraying society.
Satan has promoted climate change to mask the true cause of "natural" disasters.
Even as weather disasters in 2019 displaced record numbers of people, destroyed vast swaths of land, and caused more devastation than most people have seen in their lifetimes, there is a way of escape. Bible prophecy shows that as man's sins and transgressions worsen, so will the natural disasters God uses to correct us. But His Word also shows us how to avoid these disasters.
Climate change is a misdiagnosis that offers ineffective solutions to these disasters. The Bible, however, shows us the true cause for these disasters and the real solution to the problem. Read our free booklet Why 'Natural' Disasters? to gain a full understanding of the real cause and the real solution.
Catastrophic nature-related phenomena are forcing their way into the headlines with troubling frequency. Are earthquakes, tornadoes, tsunamis, super-storms, floods, droughts and wildfires actually increasing? If so, is it merely coincidence—or is there a cause? Both religion and science struggle to answer. But there is an answer—and it gives profound and even inspiring meaning to these seemingly random disasters! You need to understand!