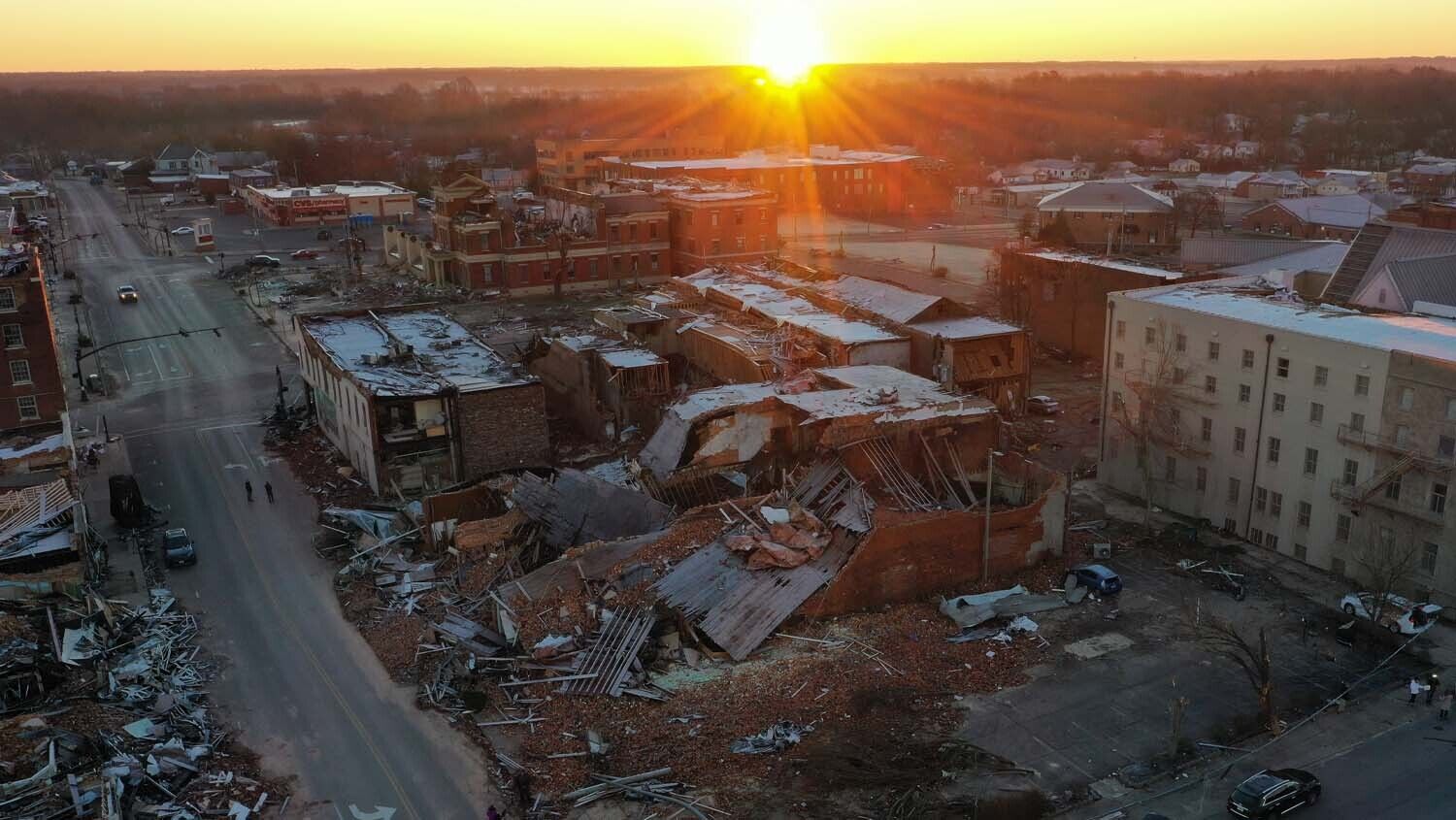 Plague of Tornadoes Devastates America's Heartland
Another somber tragedy strikes a struggling nation.
A string of tornadoes tore through six American states between December 10 and 11. The worst-affected state was Kentucky, where at least 64 people have died. The actual death toll in Kentucky could be as high as 100. The main group of tornadoes formed in Arkansas and moved northeast. Other states afflicted over the weekend include Tennessee, Illinois and Missouri. Hundreds of thousands of people from states as far away as Michigan and Ohio also faced power outages. Over 30 individual storms have been counted.
Wes Fowler, a Mayfield, Kentucky, pastor, said: "I could hear people screaming, cries for help. I couldn't tell where they were, where it was coming from. Power lines down, buildings down, debris in the street; it resembled what I think a war zone would look like."
Six people died when an Amazon warehouse in Edwardsville, Illinois, was hit. The tornado ripped off the warehouse's roof and toppled two of its 40-foot-tall concrete walls. In Arkansas, a tornado struck the city of Monette, leveling a local nursing home; one elderly man died. Meanwhile, according to the Wall Street Journal, four people have died in Tennessee.
Kentucky Gov. Andy Beshear gave a press conference on December 12. "I believe this will ultimately be the longest tornado in, certainly U.S., history," he said. "From the point to when it finally picked back up, over 220 miles, 200 of them are in my state with our people that have suffered from it."
Most tornadoes travel only about 3 to 4 miles. Tornadoes that travel over 25 miles account for less than 1 percent of all United States tornadoes. A tornado traveling over 200 miles is exceptional. The National Weather Services is checking to see if Mayfield was struck by one continuous tornado or several tornadoes spawned from the same storm. If it's one tornado, it could pass the record for the longest-traveling tornado—a 1925 tornado that traveled 219 miles.
Governor Beshear continued: "The National Guard has been deployed. We have over 300 guardsmen that are active; they are out in our communities. They are doing everything from going door-to-door. Though, in many of these communities, we don't have doors anymore; they're going rubble to rubble."
Crises like this are potent demonstrations of the destructive power of nature. The level of destruction in cities like Mayfield has been compared to that of a war zone. What battalions thousands-strong could achieve after days of sending bullets and rockets to the other side, a weather system achieved in a night. Scores of lives were snuffed out overnight. Entire cities have been reduced to rubble.
It's times like this when many start asking big questions: Why did this happen? What do we do now? Where was God in all of this?
Often, when these kinds of disasters strike, public officials give statements like, Our thoughts and prayers are with the affected. Yet it's pretty clear that the "thoughts and prayers" of many aren't being answered. 2020 set the U.S. record for weather disasters, with 22 hitting America (compared to 16 in 2017). 2021 has not beaten this record, but that doesn't mean it hasn't been bad. At the start of the year, a winter storm knocked out power in Texas. Utah underwent a drought this spring. The Pacific Northwest was also hit with a record heatwave this summer. 2021 brought California severe drought and flooding simultaneously.
What's going on?
"I wish I understood why we've gotten hit with the pandemic, a historic ice storm, flooding, and now the worst tornado in our history, all in a span of 19 months," Governor Beshear said.
God reveals in His Word that He is the one ultimately in control of the weather. "[T]he Lord hath his way in the whirlwind and in the storm, and the clouds are the dust of his feet. He rebuketh the sea, and maketh it dry, and drieth up all the rivers …. The mountains quake at him, and the hills melt, and the earth is burned at his presence …" (Nahum 1:3-5).
But why does God allow "the whirlwind" and "the storm" to strike in the first place?
And why does America seem to get hit with the brunt of these disasters? Because America has forsaken God.
In Leviticus 26 and Deuteronomy 28, God promised the Israelites certain blessings for obedience. "I will give you rain in due season," He says in Leviticus 26:4. "I will look on you favorably and make you fruitful, multiply you and confirm My covenant with you" (verse 9; New King James Version). Deuteronomy 28:12 states that God would provide Israel the "good treasure" of the weather.
But these blessings weren't just for an ancient people. As late theologian Herbert W. Armstrong proved in his book The United States and Britain in Prophecy, the people of the United States are descended from the ancient Israelites (request your free copy for proof).
In the same chapters, God promised curses for disobedience. These include weather disasters. "… I will make your heaven as iron, and your earth as brass," reads Leviticus 26:19. "The Lord shall make the rain of thy land powder and dust: from heaven shall it come down upon thee, until thou be destroyed" (Deuteronomy 28:24).
America today is steeped in sin. God's law commands, "Thou shalt not commit adultery" (Exodus 20:14), yet the pornography industry makes about $13 billion in revenue annually in America. God commands, "Thou shalt not steal" (verse 15), yet 2020 saw about $838 million-worth of property stolen. God's law protects the rights of the unborn (see Exodus 21:22-23), yet the number of babies that have been aborted in America since 1973 is over 10 times the number of Jews murdered by the Nazis in the Holocaust.
Until America turns to God and obeys His law, the weather disasters will continue.
But weather disasters shouldn't be viewed as God venting His anger on puny mortals. God doesn't curse America—or any nation—out of spite and vindictiveness. God's ultimate purpose is for mankind to get to know Him. "… As I live, saith the Lord God, I have no pleasure in the death of the wicked; but that the wicked turn from his way and live: turn ye, turn ye from your evil ways; for why will ye die, O house of Israel?" (Ezekiel 33:11). Hebrews 12 compares God's punishment to a father disciplining his child (verse 6).
"Whenever God begins working with someone, He begins by humbling that individual," states our booklet Why 'Natural' Disasters? "As it says in Proverbs 15:33, 'The fear of the Lord is the instruction of wisdom; and before honour is humility.' God wants to give each of us phenomenal honor—but the humility, rooted in a deep respect for the Creator, must come first. The curses God imposed upon Adam and his seed were intended to teach this lesson. The suffering that saturates this present world, cut off from God, is intended to teach this lesson."
A weather crisis—especially one of such magnitude like the Kentucky tornado—is a tragedy. But amid all the suffering and despair, there is great hope. It is a hope that everybody needs. It is a hope that can change lives. And it is a hope that God wants to give every human on the planet.
To learn more, please request a free copy of Why 'Natural' Disasters?