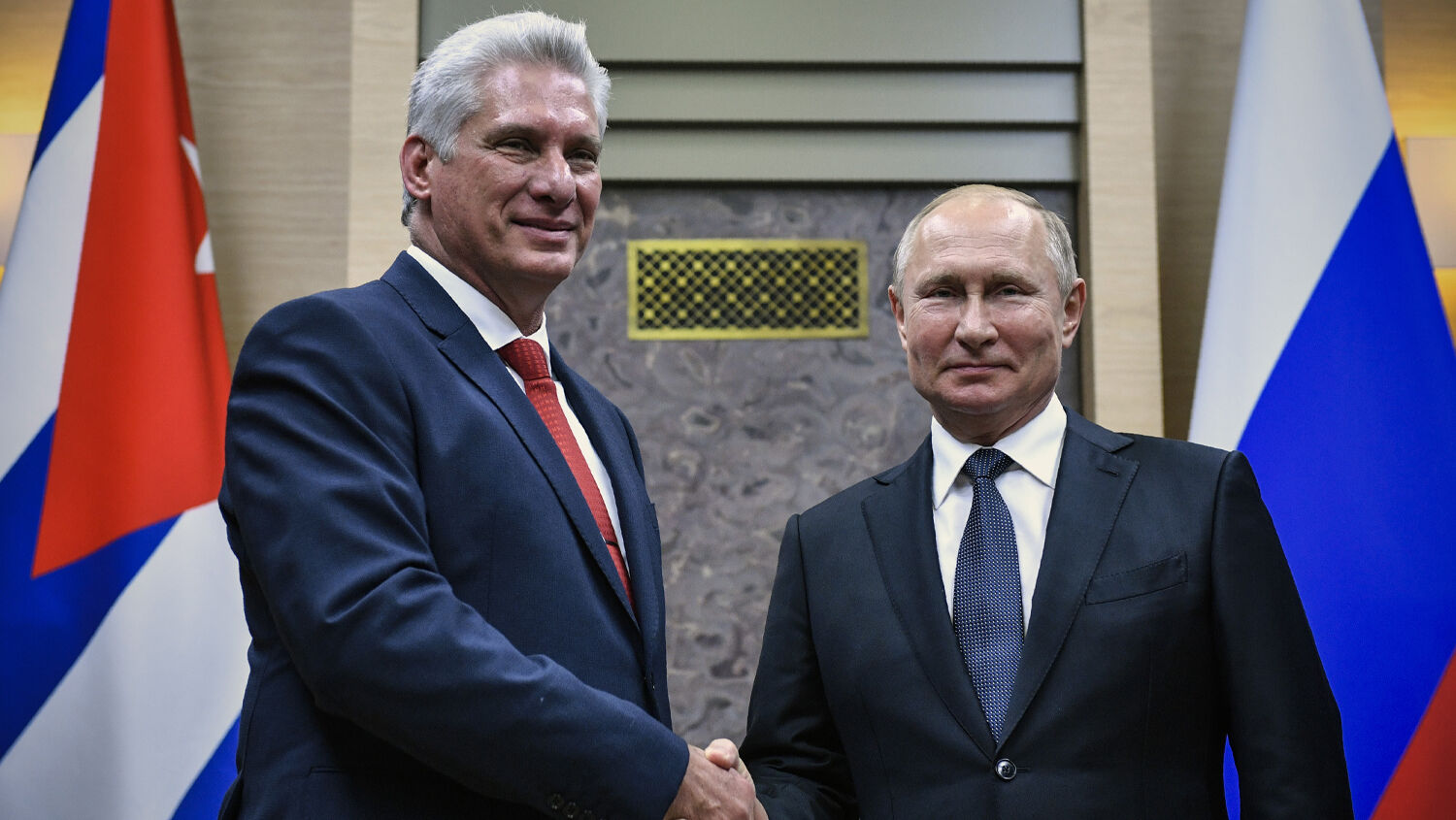 Putin Courts New Cuban Regime
'It is said that Cuba is not a priority for the United States.' Well, it certainly is for Russia.
Russian President Vladimir Putin telephoned new Cuban leader Miguel Díaz-Canel on April 20 to discuss ways to strengthen the two nations' "strategic partnership," according to a statement by Russia's Foreign Ministry. The call came just one day after Raúl Castro handed power over to Díaz-Canel, and it shows Putin's determination to pull Cuba ever deeper into Russia's orbit.
"I had a fraternal telephone conversation with esteemed President Putin," Díaz-Canel posted on his Twitter account. "I received his warm congratulations and we ratified the mutual will to continue progressing in our political, economic and commercial relations."
The Kremlin published an earlier statement congratulating the new first secretary of the Communist Party of Cuba and proclaiming Russia's eagerness to "develop constructive bilateral dialogue and mutually beneficial cooperation" between the two sides.
Cuba officially established diplomatic ties with Russia following its revolution in 1959. Through Raúl Castro, and his brother Fidel before him, Communist Cuba has been aligned with Russia ever since, particularly against the United States. This alignment was most notable during the Cuban Missile Crisis of 1962, when the Soviet Union placed nuclear missiles in Cuba—just 90 miles from U.S. shores.
The collapse of the Soviet Union was disastrous for Cuba, and it emerged owing Moscow $35 billion. But Putin forgave 90 percent of that debt in 2014, and has intensified efforts in the years since to deepen Russian influence on the island.
Today, Russia and Cuba share intelligence training, engage in tourism, and conduct bilateral trade worth upward of $500 million a year. But most important are their military ties: In recent years, Russia has docked its warships in Havana's harbor and has given Cuba $50 million to purchase Russian military equipment and modernize Cuba's domestic defense companies.
Clearly, Cuba is a high priority for Vladimir Putin.
His focus on the island is part of his broader strategy for Latin America, which aims to deepen Russian influence in Venezuela and Nicaragua. In Venezuela, his military and economic backing has been instrumental in propping up the regime of dictator Nicolás Maduro. In Nicaragua, 90 percent of weapons imports are from Russia as Moscow helps to modernize the nation's military.
Putin's deepening influence in these three Latin American nations places Russia in a position to pose a direct threat to the U.S., as it did during the Cuban Missile Crisis. But this time, we expect it to happen differently.
Cuba, Nicaragua and Venezuela surround the Caribbean Sea, a vital hub of America's economic activity. The Trumpet discussed the dangers of Russia's deepening influence around this region—as well as China's—in a March 2019 article titled "Preparing to Storm America's Castle." We wrote:
[T]he Caribbean is vital to U.S. security. This sea not only connects the East Coast with the Pacific Ocean via the Panama Canal, it guards the mouth of the Gulf of Mexico. Half of America's seaborne trade passes through the Gulf. So a foreign power that controls the Caribbean could cripple the U.S. economy by restricting its access to oceanic shipping.

This geographic reality is why Russia and China want to challenge U.S. dominance in the Caribbean. These aspiring superpowers are forging alliances with socialist governments in Cuba, Nicaragua and Venezuela. If these Latin dictatorships become staging grounds for Russia and China, a coalition of nations could potentially cut off U.S. access to the Panama Canal and seal off the Straits of Florida and the Yucatán Channel.
As alarming as this "cut off" sounds, Bible prophecy reveals that it will soon be reality.
The Prophet Isaiah records a prophecy about a coming economic siege on the United States carried out by a powerful, multinational trade alliance. In chapter 23, he lists two of the main members as "Chittim" and "Tyre" (verse 1). Chittim, in Bible prophecy, refers to China, which, like Russia, is increasing its influence in Latin America. Meanwhile Tyre refers to the economic powerhouse that is a German-led Europe. And a related prophecy in Ezekiel 27 identifies Meshech and Tubal, which are ancient names for modern Russia, as another important member of this multinational alliance.
And prophecy makes clear that this colossal alliance will eventually use its power directly against America.
Trumpet editor in chief Gerald Flurry explains in his booklet Isaiah's End-Time Vision:
With a German-led Europe possessing great maritime power, North America will be surrounded on the east by Europe and the south by Latin America. The Bible contains many prophecies of that European power attacking America—and many other prophecies of America being besieged. …

Should Europe … find a way to take advantage—even for a moment—of key resources and strategic holdings of China, Russia and Japan, it would have more than enough power to besiege the Anglo-Saxon nations and enslave them.

This is why Isaiah's prophecy of an end-time "mart of nations" that includes both European and Asian powers is so intriguing. And why the trend of collusion between these two great economic blocs is worth watching.
Russia has increasing influence in Cuba, Venezuela and Nicaragua. And these Communist-leaning countries hold very little love for America.
In his first address as a leader, Díaz-Canel said, "It is said that Cuba is not a priority for the United States. … That begs the question why then are there laws … with the objective to attack and to try and control the destiny of Cuba."
Cuba certainly is a priority for Russia, and seems to be becoming a higher one since the island's leadership transition. Putin's phone call to Díaz-Canel might seem like standard diplomacy, but it is one more move that is helping to create the conditions for the fulfillment of critical Bible prophecies. Follow the Trumpet to keep track of the developments in Latin America and the world. And request your free copy of Isaiah's End-Time Vision to fully understand how trends now underway will affect your life.