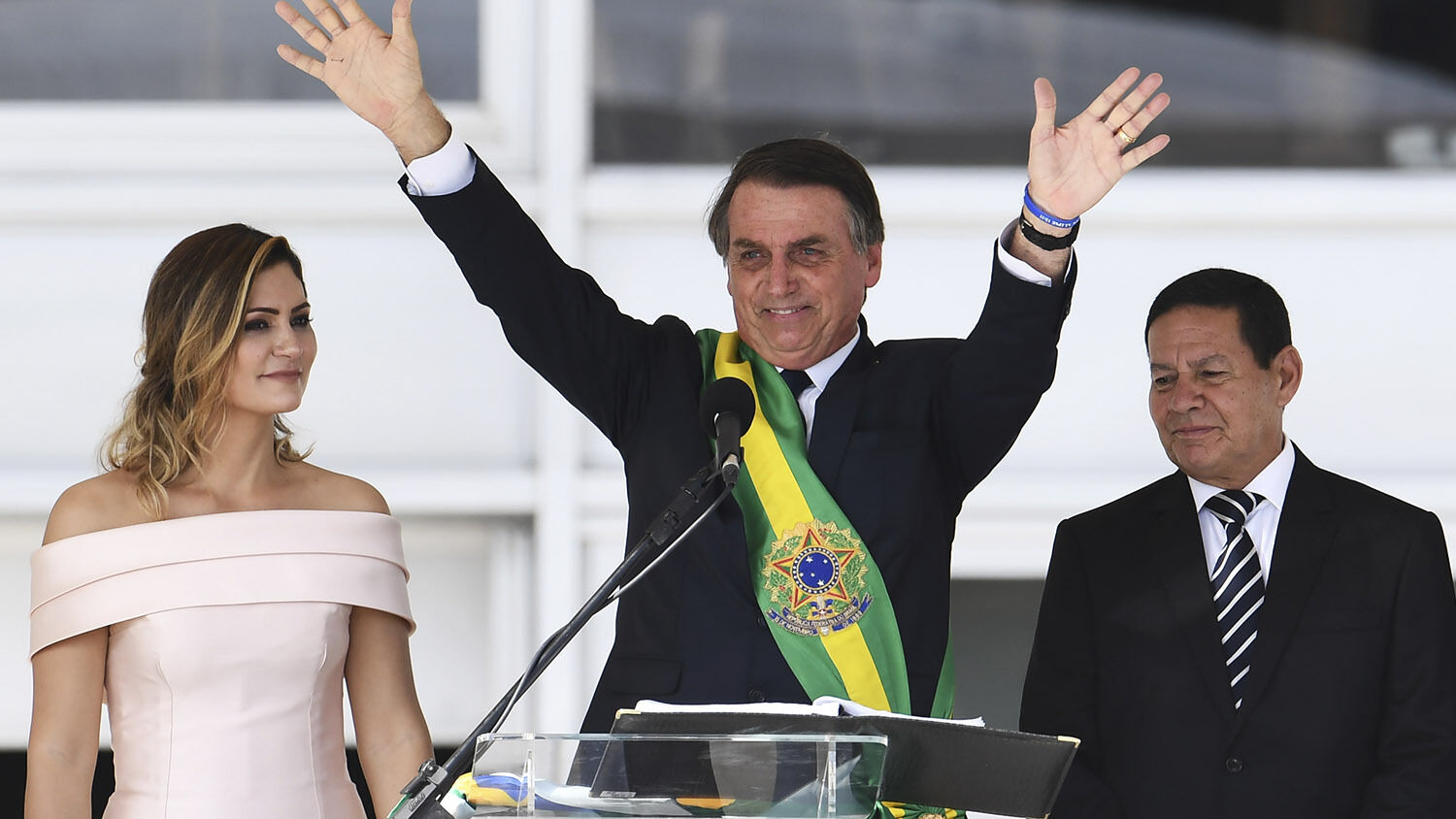 2019: Germany Eyes Brazil
Brazil's new government presents Germany with a field ripe for harvest.
Germany's Ministry for Economic Affairs and Energy has big plans for Brazil in 2019. The newly inaugurated Brazilian government has greatly improved the mood for European investors. Germany in particular (Brazil's most important European trading partner) expects the partnership to flourish and outlined its market development program to seize its opportunity.
The European Union is Brazil's second-largest trading partner, accounting for 18.3 percent of its total trade. Germany and Brazil are the leading economies of their respective continents. Together they are leading two massive trade blocs to unite, which will cause world trade to realign.
Brazil is the world's eighth-largest economy and the overall largest economy in Latin America. It is rich in natural resources, such as rare earth elements, iron ore, precious metals, uranium, natural gas, oil and timber.
But the country also faces major challenges, such as a security deficit, a lack of infrastructure, and other developmental difficulties. About 75 percent of Brazilians perceive the security situation as bad or very bad. Their fears are valid. Brazil has one of the highest murder rates in the world. Many Brazilians in the private and business sectors are investing increasingly in security services.
This overall trend has motivated the newly inaugurated president, Jair Messias Bolsonaro, to center his policies on security and investment. Only days into office, he has set course to massively strengthen and empower Brazil's police and security forces.
Considering his country's rich and largely unexploited resources, he said that he wants to trade with the "whole world." He has especially indicated his desire to turn Brazil away from Chinese influence and back to the West.
Many fear that Brazil is drifting into a military dictatorship and becoming a chief offender of environmental policies. But Germany sees an unprecedented opportunity to invest and exploit Brazil's resources.
Brazil's Crisis, Germany's Chance
After Bolsonaro's election in October, Andreas Renschler, chairman of the Latin American Committee of German Business, spoke of a "new beginning" for Brazil. Concerning the worldwide criticism facing the newly elected government, he said one should "not be irritated by nervousness" (Trumpet translation throughout). Germany and its economy should rather "use the upcoming restart for the opportunities it offers." While China, the U.S. and Russia have recently made headway in Latin America, Renscher believes that the new government gives Europe another chance in the race for Brazil's resources.
Like Renschner, Germany's government has decided to largely ignore the criticism and seize the opportunity. In "Civil Security Technologies and Services in Brazil," the Economics Ministry pointed to the various positive developments Brazil's new government will provide. The paper states that the new beginning offers:
Facilitated investment and trading conditions for foreign companies, as well as upcoming reforms for market liberalization
Increases in government spending on public safety; modernization of the police, infrastructure and fire protection
Regular performance of major events
Brazil's estimated economic growth of 2.5 percent in 2019
With Bolsonaro at its head, Brazil's large economy has potential to vastly increase. But to do this successfully, the new president needs trustworthy allies.
Brazil: A Perfect Fit for Germany
Brazil's new government is a perfect fit for Germany. What Brazil is offering in 2019 can be seen as a double win for Germany. Brazil's increased security demand is an open door for expert German security companies and investment firms to market their services. Germany's and Europe's need for natural resources can in turn be filled by Brazil's increased exports.
Thus Brazil is a field ready to be harvested, and Germany is preparing the threshing tools to reap the fruits.
Germany and the European Union have worked since 2000 on a trade deal with the mercosur trade bloc consisting of Argentina, Brazil, Paraguay and Uruguay. With Brazil's newly inaugurated government, the EU hopes to finalize the deal in 2019. A breakthrough in this trade deal would mark Europe's biggest victory yet in its pursuit to center world trade around its markets.
Germany has also taken note of Brazil's large demand for security technologies. The changing political landscape in Brazil is allowing Germany to take action as never before. Thus Germany's Economic Ministry charged the German-Brazilian Chamber of Commerce in Rio de Janeiro to draw up a program that would give German business opportunities to connect with the Brazilian market.
The resulting market development program gives German companies in the civil security branch the opportunity to explore Latin America's greatest market in early April. On a five-day trip, business representatives will be informed in professional conferences about the growing market. And they will have the opportunity to directly build business relations.
The German-Portuguese speaking team of the chamber of commerce accompanies the business representatives in their endeavors, providing them with the best opportunity to connect to the booming market. This will give German companies not only a good overview of the market but also "lay the foundation for future business relations."
An Unparalleled Prophesied Economic Siege
For decades, the Trumpet and its predecessor the Plain Truth magazine have prophesied of this coming alliance. Europe has always been interested in forging close cooperation with Latin America. But China's, Russia's and the United States' influence in the region had diminished Europe's prospects significantly.
But this did not stop Plain Truth editor in chief Herbert W. Armstrong from predicting that Latin America would fall into Europe's basket—to the detriment of the U.S. The May 1962 Plain Truth boldly declared that "the United States is going to be left out in the cold as two gigantic trade blocs, Europe and Latin America, mesh together and begin calling the shots in world commerce."
While the U.S. may also benefit from Bolsonaro's new government in the short term, Europe is keen to separate the two economies. Bible prophecy says that it will succeed. Mr. Armstrong pointed to two factors that would bring the two blocs together: religion and language.
Brazil's national language is Portuguese, and its religion is largely Catholic. Brazil has more Roman Catholics than any nation on the planet. Europe is using these similarities to closely ally the two continents, just as it did during the time of the Holy Roman Empire. The October 1957 Plain Truth stated, "Latin American nations will join in with the European revival of the old Roman Empire …."
Our booklet He Was Right explains why Europe's alliance with Brazil will cause other relations to "slip rapidly into oblivion." (To order your free copy, click here.)
This coming alliance and its implications for America have been prophesied in the Bible. Europe is no longer seeking a trade agreement with the U.S. but rather seeks to center the world's trade around its own markets. This was prophesied in Isaiah 23 and Ezekiel 27. The specifics of these prophecies are explained in our article "The Great 'Mart of Nations,'" by theTrumpet.com managing editor Brad Macdonald.
Today, we see the emerging partnership that destines Europe, rather than the U.S., to take advantage of Latin America's resources.
In Deuteronomy 28, the Bible outlines some of the devastating consequences this will have for America. Verse 53 gives a glimpse into the upcoming conditions: "And thou shalt eat the fruit of thine own body, the flesh of thy sons and of thy daughters, which the Lord thy God hath given thee, in the siege, and in the straitness, wherewith thine enemies shall distress thee."
"The siege" refers to an economic siege, which is being prepared by Europe.
Europe follows a specific strategy in its trade policies. Europe is in the process of forging an alliance with Latin America, Africa, Russia, Japan and other economic power blocs for a single purpose: to bring down America.
This economic siege will not be successful unless Europe draws Latin America fully into its camp. Located to its south, Latin America can be viewed as the United States' emergency breadbasket. But these ties are about to be cut, and the Bible prophesies that the consequences will be devastating.
Ezekiel 5 also prophesies of "the days of the siege" (verse 2). This prophecy shows that in addition to widespread hunger, Europe's economic siege against the U.S. will result in domestic violence and riots.
Bible prophecy gives us a detailed glimpse into where today's world events are heading. But every single prophecy also culminates in great hope. Deuteronomy, Ezekiel and Isaiah all prophesy of a wonderful future beyond this economic siege. There is hope for every person caught in the coming suffering. The Bible reveals that there is great hope and protection for those who heed this warning today. This warning, the hope, the promise for protection, and the wonderful future that lies ahead are all explained in our free book Ezekiel: The End-Time Prophet, by Trumpet editor in chief Gerald Flurry.