The Great 'Mart of Nations'
This is a slightly updated version of an article that originally appeared in 2012.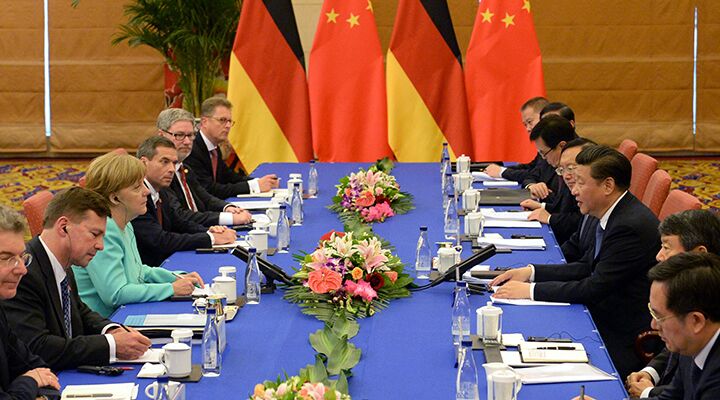 The Great 'Mart of Nations'
This is a slightly updated version of an article that originally appeared in 2012.
Do you believe in the predictive power of Bible prophecy?
Seven years ago, Trumpet editor in chief Gerald Flurry forecast the formation of a brief alliance between a German-led European Union and major Asian powers, based primarily on trade and commerce. Mr. Flurry's forecast was based on a prophecy in the biblical book of Isaiah.
Last year, China proposed the launch of the Asian Infrastructure Investment Bank (aiib)—a new, Chinese-run international bank specifically designed to challenge U.S. global economic leadership. America tried to convince other nations not to join. But it failed—even with its closest allies. Germany is now set to become the fourth-largest shareholder in the aiib. Germany is also being offered one of the bank's five vice president positions, according to a list of proposed nominees.
What is now unfolding is just the scenario the Prophet Isaiah described would happen in the end time. This demonstrates yet again the pinpoint accuracy of the Bible's forecasts, as well as God's power to bring those prophecies to pass—and the urgency of our times.
Strategically, China welcomes a strong Europe to counter America. And unlike America, a German-led Europe has no military bases or direct military interest in Asia, so China doesn't consider a militarized, politically strong Europe a threat.
Isaiah's prophecy is marching toward fulfillment. It links with parallel prophecies in Ezekiel and Revelation to clearly depict the interdependent relationship developing between Germany and China. And it reveals the startling outcome.
Chapters 22 and 23 of Isaiah identify these two great markets in a few different ways. In Isaiah 23:1, China is called by its ancient name, Chittim. The same verse calls the German-dominated European Union by the term used to describe a major economic power extant at the time the prophecy was written: ancient Tyre.
In this prophecy, the great northern trading power of today (of which Tyre is used as a type) is shown in relationship to China, the sea (verses 2, 4, 11), oceans ("great waters," verse 3) and ships (verses 1 and 14) and mentioned in relation to seaborne merchant traffic (verse 8)—all within the context of a great international market.
Isaiah 23:13 mentions "the Chaldeans" and "the Assyrian." Prophetically, these terms refer to a great end-time European power, a union of church and state, led by Germany, whose biblical identity is Assyria, or Asshur.
An associated prophecy in Ezekiel 27:1-6 again uses maritime terms in association with merchants enacting trade via the sea between Tyrus (called "the king of the north" in Daniel 11) and the Ashurites (Germany) in association with Chittim (China). The theme continues in relation to the main subject, Tyrus, a type of the prophesied king of the north, in verses 8-9, 12 and 22-25.
Nations mentioned in verse 21 are in the context of trade with Tyrus. Still others, especially Greece (Javan), now a virtual vassal state of the German-led EU, and Russia (Meshech and Tubal), hugely exposed to EU debt and greatly dependent on German exports, are also mentioned in verses 13 and 15. Japan and Southeast Asia (Togarmah) are also brought into the equation in verse 14.
This all bespeaks a massive trading power having open access to sea gates for global trade and a powerful linkage with China at the prophesied "latter days" (Daniel 10:14).
Taken in context, the prophecies of Isaiah 23 and Ezekiel 27 align perfectly with those of Revelation 13:16-17 and Revelation 18. These all point specifically to the current interdependence of the world's two major trading blocs: the German-dominated EU and China.
Look at how this prophecy is being fulfilled today. The facts are astonishing. From 2005 to 2015, total EU exports to China climbed from $59 billion up to $193 billion. During the same period, EU imports from China more than doubled, soaring from $182 billion to $395 billion. And Germany accounted for 45 percent of Europe's exports to China, and 28 percent of EU imports from China. In 2014, China opened its first European chamber of commerce in Berlin, in hopes of further promoting economic relations and investment in Europe. In 2015, Germany's trade with China totaled $177 billion. If current trends persist, China will become the biggest single destination for German exports by 2020.
Perhaps some mock us for letting Bible prophecy inform our analysis of world events. But it's getting harder and harder to deny the facts: Germany is the unchecked leader of Europe; Europe is transforming into a German-designed creation; and relations between Germany, China and Russia are getting healthier and stronger!