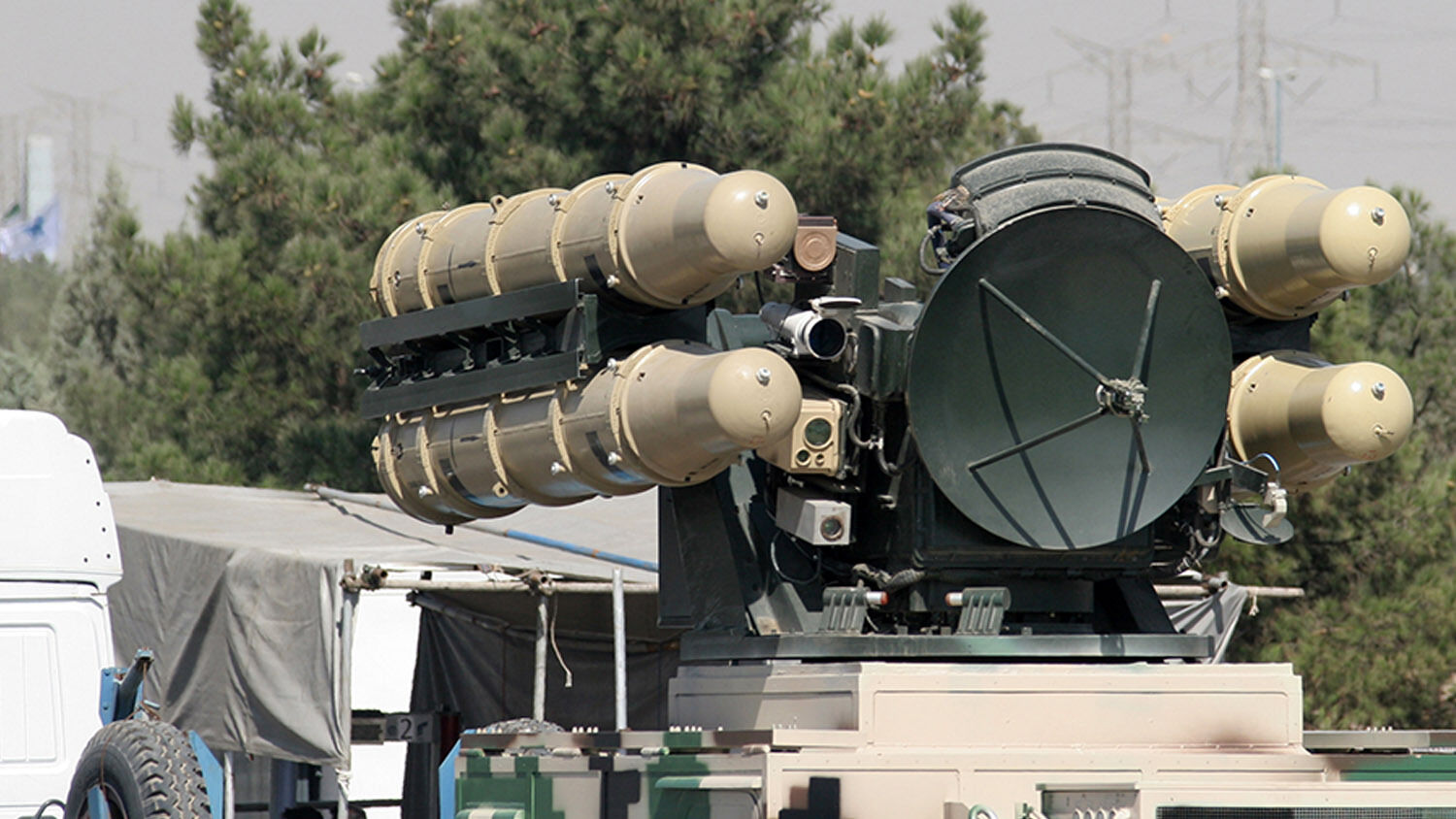 Has the United States Provoked the Monster in Iran?
Iranian missiles can now reach parts of Europe and carry multiple warheads.
United States Secretary of State Mike Pompeo accused the Iranian regime of recently testing a medium-range ballistic missile capable of "carrying multiple warheads" and able to strike "anywhere" in the Middle East and even parts of Europe. Pompeo's December 1 press statement did not say when the test occurred, only that it had "just" happened.
"Iran's missile testing and missile proliferation is growing," he declared. "We condemn these activities, and call upon Iran to cease immediately all activities related to ballistic missiles designed to be capable of delivering nuclear weapons."
The next day, Brig. Gen. Abolfazl Shekarchi, spokesman for Iran's armed forces, responded that Iran will "continue to both develop and test missiles."
The test violated a United Nations Security Council resolution that says Iran must stop "any activity related to ballistic missiles designed to be capable of delivering nuclear weapons, including launches using such ballistic missile technology."
U.S. national security adviser John Bolton stated on social media that Iran's ballistic missile test was behavior that "cannot be tolerated."
"Iran says its missile program is purely defensive," Reuters reported, "but has threatened to disrupt oil shipments through the Strait of Hormuz in the Gulf if the United States tries to strangle Iranian oil exports." The Iranian regime said U.S. bases in Afghanistan, the United Arab Emirates and Qatar, and U.S. aircraft carriers in the Persian Gulf, were within range of its missiles. The rhetoric and Iran's actions reveal the Islamic republic's true intentions.
U.S. President Donald Trump, realizing the flaws in the Joint Comprehensive Plan of Action, a plan implemented in 2016 to curb Iran's nuclear development, backed out of it in May, and reimposed all sanctions in November. Under the Trump administration, the U.S. is finally standing up to Iranian aggression. In doing so, America is provoking a monster.
Rising Tensions Embolden Iran
The U.S. reinstated its first batch of sanctions against Iran last August. The following month, Iran's Islamic Revolutionary Guards Corps (irgc) fired seven Fateh-110 ballistic missiles deep into Iraqi territory. State media reporters were invited days in advance to watch the display of power. In October, the irgc conducted another strike, launching six ballistic missiles into eastern Syria.
These missile strikes were remarkable for their drastically improved accuracy. Now equipped with "active seeker" technology, Iran could strike the exact building it targets. Hezbollah, Iran's terrorist proxy in Lebanon, claims it has recently acquired this same guided missile technology, probably from Iran via a Fars Air Qeshm Boeing 747, which was tracked by the U.S.
Another notable feature of these two attacks is that they were conducted by the irgc itself. Usually Iran makes such attacks through its proxies. But this time, Iran wanted the world to see what it is capable of. The Jerusalem Post wrote:
At the moment, what is taking place is something of a "phony war": missile strikes against peripheral targets, grandiose threats from the irgc leadership, supplying of militias with this or that weapon system.

If Tehran begins to feel that its interests are truly threatened, however, this period is likely to come to an end.
Since the second round of U.S. sanctions targeting Iran's crucial oil and shipping sectors were reinstated in November, Iran has pushed back even harder.
Recent reports state that Iran is far closer to developing a nuclear bomb than previously realized. David Albright, a physicist who runs the Institute for Science and International Security in Washington, D.C., says Iran could develop a nuclear bomb in as little as seven months to a year if it chooses to do so.
A weapons shipment bound for Hamas in the Gaza Strip was recently seized and found to be carrying Kornet missiles and precision-guided missile technology. Most recently, Iran celebrated the launch of a new class of destroyers that it claims has stealth capabilities.
All of this occurred after the U.S. began reimposing sanctions against Iran in August. Under the Obama administration, Iran was used to getting what it wanted. Now that the U.S. is under a new administration, that has changed, yet Iran wants to keep its trajectory as a rising power.
But Europe is beginning to show signs of concern over Iran's new missile capabilities. The Guardian reported: "France and the UK have echoed warnings by Donald Trump's administration that Iran may be in breach of United Nations obligations." United Kingdom Foreign Secretary Jeremy Hunt said he was "deeply concerned" and believes "Iran's destabilizing missile program and determination" should be stopped.
Bible prophecy indicates that all this conflict is leading to a clash of civilizations between Europe and Iran.
Iran's 'Push'
Daniel 11:40 states, "And at the time of the end shall the king of the south push at him: and the king of the north shall come against him like a whirlwind, with chariots, and with horsemen, and with many ships; and he shall enter into the countries, and shall overflow and pass over."
The United States isn't mentioned in this equation. The Bible says Iran's push will be against Europe.
Trumpet editor in chief Gerald Flurry has identified radical Islam, led by Iran, as "the king of the south" described in the book of Daniel. He has also described Iran's nuclear ambitions and its ballistic missile development as aspects of its "push" against a European empire. (Request your free copy of The King of the South to learn more.) In that booklet, Mr. Flurry writes:
The king of the south, or Iran, is going to "push at him"—that is, the king of the north (the European Union). Gesenius' Hebrew-Chaldee Lexicon says the word push means "to strike—used of horned animals," or "to push with the horn." …

Iran is extremely radical—the king over radical Islam. Where is this nation's pushiness leading? To war! Just as it has in the past. It's leading to terrifying war with weapons of mass destruction.
Despite—and perhaps partially because of—the economic sanctions, Iran continues to ship weapons to terrorist groups, bulk up its military, and test ballistic missiles. And this is leading to war!
Iran's government-controlled Tasnim News Agency claimed: "[A]ll the arteries of oil transport—from Bab el-Mandeb strait to Suez Canal and the Strait of Hormuz—are under Iranian control, by means of Syria, Yemen and Bahrain, and within range of Iranian missiles." Fars News Agency quoted Amirali Hajizadeh, head of the irgc's aerospace division, as saying, "We have managed to make land-to-sea ballistic, not cruise, missiles that can hit any vessel or ship from 700 kilometers."
Iran can use its increasingly accurate ballistic missiles to target oil tankers passing through the sea-gates it dominates. Iran has threatened to close off the Strait of Hormuz. Europe cannot afford to let that happen because it relies on oil from the Middle East.
Gesenius' Lexicon says the word "whirlwind" in Daniel 11:40 is "used of the commotion of a storm or a tempest; to sweep away in a storm." Europe is going to throw everything it has at Iranian-led radical Islam and utterly defeat it!
But all this drama begins with a push from Iran.
For more information on Europe's whirlwind attack against Iran, please request your free copy of Germany's Secret Strategy to Destroy Iran.