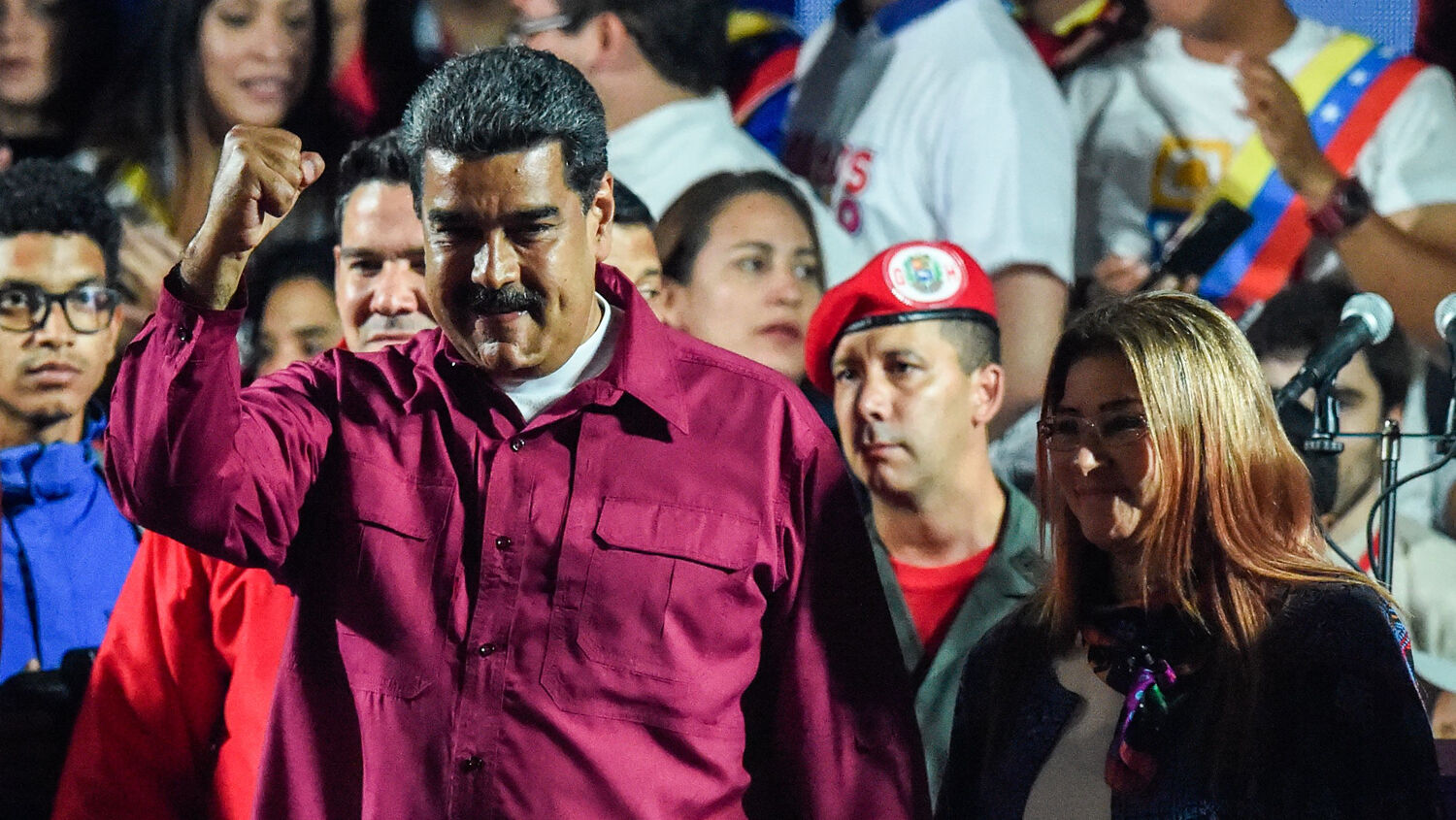 Why Venezuela's Sham Election Matters
A dubious election in a failed democracy could be an opportunity other nations use to their advantage.
In national elections in Venezuela on May 20, Nicolás Maduro's failing socialist regime won over three times the support of his closest challenger. Many nations condemned the election results as fraudulent, but Maduro appears to be using it to lock in his authoritarian rule over the struggling country.
Since its economic meltdown in 2016, Venezuela has suffered the terrible consequences of its failed socialist economic policies. Widespread poverty, food and electricity shortages, overwhelming inflation, government corruption, media restriction and repression and cases of police brutality are just some of the hardships the people of Venezuela have endured.
Add to this list of injustices the May 20 presidential election.
Maduro, the political successor of Hugo Chávez, tilted the balance of the election in his favor. According to Reuters, election boards were controlled by Maduro loyalists. "The electoral authorities banned the largest opposition political parties from taking part in the election, and key politicians were barred from running," the New York Times reported. "Brutal repression of antigovernment protests, and the arrests of many activists and leaders also weakened the opposition. Electoral authorities also moved up the election to May, although it is traditionally held in December, allowing little time for the opposition to organize and campaign. They even eliminated the requirement that voters dip a finger in indelible ink, which is used to keep people from voting more than once."
In addition, for those who did come out to vote, the government offered "prizes" (boxes of food). Small portions of powdered milk and pasta enticed some impoverished Venezuelans to the polls, but voter turnout was historically low, partially due to Maduro's opposition calling for a boycott of the election in protest against Maduro.
The official report from the election authorities showed that 46 percent of eligible voters came to the polls compared to the 80 percent turnout at the 2013 election that resulted in Maduro taking the presidency. The opposition claims that the real numbers may have been closer to 32 percent.
Most of the Western world decried Maduro's unfair and undemocratic practices, including the Office of the United Nations High Commissioner for Human Rights, the United States and the European Union. The Lima Group—which includes Canada, Argentina, Mexico, Brazil, Chile, Colombia, Panama, Paraguay, St. Lucia, Guyana, Peru, Honduras, Guatemala and Costa Rica—refused to recognize the election's legitimacy.
U.S. Secretary of State Mike Pompeo said, "The United States stands with democratic nations in support of the Venezuelan people and will take swift economic and diplomatic actions to support the restoration of their democracy." President Donald Trump followed up by signing an executive order banning U.S. citizens and businesses from buying off any debts that the Venezuelan government could use to subsidize its failing regime. Since Venezuela holds some of the world's largest oil reserves, this action is largely aimed at the state-run oil company Petróleos de Venezuela. Venezuelan economist Angel Alvarado says these sanctions are intended to prevent Maduro from being able to "consolidate an autocracy."
The U.S. has a strong interest in what happens in Venezuela. As the Trumpet noted earlier this year, the humanitarian crisis in that country now rivals the humanitarian crisis in Syria, in terms of millions of refugees spilling into neighboring countries. Terrorist activity is a real concern, as the government has armed some militia groups. Venezuela's geographic location on the northern coast of South America makes turmoil there a threat to the United States, which lies across the Caribbean Sea and Gulf of Mexico. In the early 20th century, in fact, Kaiser Wilhelm ii formulated plans to invade the U.S. by first gaining a foothold in Venezuela. Theodore Roosevelt quickly chased him away.
Economic meltdown, humanitarian crises, terrorism, and/or foreign intervention in Venezuela have the potential to seriously affect the U.S.
Interestingly, other nations celebrated Maduro's reelection. He received congratulations from supporters in some Latin American nations. And strong support emerged from notable nations abroad, including Russia and China.
Instead of condemning the Maduro regime, Russian President Vladimir Putin applauded the election results. Russia's deputy foreign minister said that "imposing sanctions on Venezuela will not help resolve the crisis in the country."
Venezuela is languishing economically, and this unpopular election result will only worsen matters. Russia is poised to take advantage. Alexandra Ulmer reported for Reuters that, in order to keep Maduro's government afloat, Russia has lent it $17 billion. At least $6 billion has come from Russia's state-owned oil company Rosneft. As payment for these loans, Russia will gain crude oil assets in Venezuela.
While the Venezuelan regime receives Russian loans as a lifeline, Russia is feeding off the socialist state. As of 2016, Venezuela produces about 2.37 million barrels of oil per day. It is a member of the Organization of Petroleum Exporting Countries (opec), contributing just over 7 percent of the organization's total production. Russia has shown itself willing to work with opec countries, including Iran.
China also has a vested interest in the Latin American region—even more so than Russia. According to David Dollar, a senior fellow at Brookings Institution, China has pledged to invest $500 billion in trade and half that amount in direct investment. Over the past several years, China has seriously challenged U.S. trade in Latin America.
Regime instability in developing countries presents opportunities for foreign powers to take advantage. Russia has already done that in Venezuela, and China has its own foothold in the region. However, Asia's involvement in Latin America is currently just economic. There is another world power that has its eyes on Latin America with even greater goals in mind.
Europe has far stronger, deeper ties to Latin America than Asia does. As detailed in our free booklet He Was Right, Latin America's dominant religion, Catholicism, strongly connects it with Europe. Combined with the influence ethnic Germans and German businesses have in the continent, this gives Europe the opportunity to wield greater influence in the region.
Whatever Asian or European powers do in Latin America, it will affect the United States. Just as the Cuban Missile Crisis demonstrated how foreign military presence so near to the U.S. could threaten its safety, foreign economic presence in Venezuela, around the Caribbean and elsewhere in Latin America could affect America's future.
The Bible prophesies of a trade alliance in the end time that will do significant economic damage to the United States. (To learn about the economic alliance that will temporarily form against the U.S., read our article "The Great Mart of Nations.")
Whatever happens next, expect more foreign efforts to seek greater influence in Venezuela. Look at what happened in Syria. When a regime starts to crumble, it can be an invitation for others to move in. The current regime is turning to Russia to help it stay afloat. Europe has shown that it is eager to get involved if this regime falls. Herbert W. Armstrong prophesied that foreign powers would use Latin America as part of their siege on the United States. Watch what happens in Venezuela to see whether Asian and European interests and activity there coalesce in a temporary anti-American strategy.