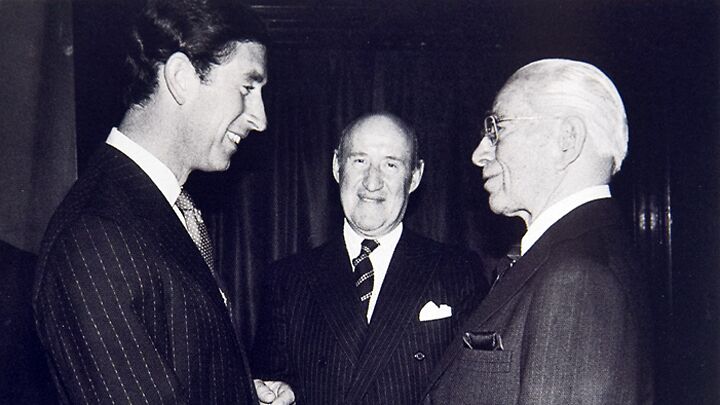 Herbert W. Armstrong Hosted Fundraising Dinner Honoring Prince Charles
Sophia Loren, Cary Grant, Dean Martin, and Ronald Reagan joined the Prince of Wales.
On the evening of Oct. 29, 1977, the Ambassador International Cultural Foundation conducted a cocktail party in honor of heir to Britain's royal throne, Prince Charles. The event was held at the Hilton Hotel in Beverly Hills, California.
Approximately 350 people attended the cocktail party, and 950 the dinner that followed. This fundraiser was in support of Los Angeles based St. John's Hospital and Health Center Foundation. The event reportedly raised over $150,000 in charitable donations.
At this time, Mr. Armstrong was recuperating in Tucson, Arizona as a result of total heart failure following an arduous worldwide trip culminating in him contracting flu like symptoms while in West Africa. As such, he authorized representatives from AICF and Ambassador College attend the event in his stead.
The Nov. 7, edition of The Worldwide News reported, "Besides' Prince Charles, many entertainers, including Sophia Loren, Cary Grant, Lee Majors, Farrah Fawcet-Majors, Dean Martin and Art Linkletter, attended, as well as Los Angeles Mayor Tom Bradley and former California Gov. Ronald Reagan and others."
Such regular interaction with royalty began nine years prior in 1968, when King Leopold of Belgium requested to meet Mr. Armstrong. That meeting began a history of building bridges of friendship with world leaders, and supporting cooperative projects with the aim of "helping people help themselves." One of the first such projects was an archaeological excavation at Jerusalem's Temple Mount in association with the Hebrew University and Israel Exploration Society.
Mr. Armstrong continued such charitable humanitarianism by establishing mobile schools to educate Thailand's mountain people, and worldwide expeditions in support of King Leopold III Foundation. These initiatives led to the formalization of a new and necessary dimension of the international work he led.
Writing to Worldwide Church of God members and supporters on June. 5, 1975, Mr. Armstrong announced, "Some weeks ago I authorized the formation of a new FOUNDATION—named the Ambassador International Cultural Foundation [AICF]. It is non-profit, dedicated to serving humanity worldwide. It has become a necessary adjunct to this new worldwide dimension of getting Christ's TRUE gospel to the nations through heads of government."
Established in March that year, the foundation received "added prestige, credibility and favor" as the non-religious organization was "met with GREAT AND FAVORABLE RESPONSE," he wrote. AICF was nonsectarian and legally independent of both Ambassador College and the Worldwide Church of God.
The charitable and humanitarian efforts of Prince Charles and Herbert Armstrong would combine again on July. 19, 1982, in England attending an event at London's Royal Opera House. So impressed was the Prince at this interaction with Mr. Armstrong in person, that he organized a more private meeting days later on the 22nd. In addition, both the Prince and Princess enjoyed tea with the internationally recognized ambassador for world peace on May. 16, 1983, at the Rothschild Estate, in Exbury Gardens.
AICF was so beloved and internationally respected by world's leaders that upon the death of its founder in January 1986 their messages of condolence called with a collective voice from all corners of the globe for the legacy and work of this honored ambassador for world peace to be continued.
Tragically, those appointed by Mr. Armstrong to perpetuate his humanitarian efforts to extend goodwill and promote world peace among all nations ignored the request of emperors, kings, presidents, prime ministers, sundry ambassadors, diplomats and high government officials to continue this legacy. After closing the Ambassador College campus and seeking to profit from the sale of the college's assets, Herbert Armstrong's successors even threatened to bulldoze the campus jewel, the "Carnegie Hall of the West," renowned Ambassador Auditorium. The early '90s saw the AICF crumble to defunct status and with it the plea of world leaders to see it continue.
However, there was one man who dreamed of reviving the foundation's legacy and honoring the collective call of heads of world governments and other influential leaders to continue the good works of AICF. In December 1989, Gerald Flurry founded the Philadelphia Church of God in Edmond, Oklahoma, serving the spiritual needs of those who sought to hold fast to the truth. He restored all the basic Church doctrines as proven and taught by Mr. Armstrong. In 2001, he founded what has since become known as Herbert W. Armstrong College in Edmond, Oklahoma. That same year he additionally began a new adjunct as the successor to AICF.
Armstrong Foundation's dedicated efforts across the past two decades involving various countries and cultures are proof of honoring the request of emperors, kings, queens, princes, presidents and prime ministers, along with a myriad of dignitaries from around the globe who met and worked with Herbert Armstrong and the foundation during his life. Through these efforts, the Foundation continues its contribution toward bringing about understanding between all peoples in the march forward to soon-coming world peace.
Request your free copy of the prospectus of Armstrong Foundation to learn more about its humanitarian work and how you can lend your support to its ongoing works and activities.