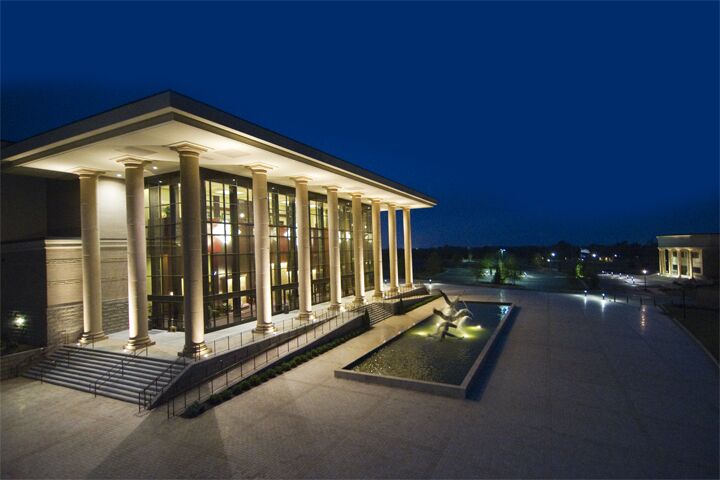 Why Gerald Flurry Founded Armstrong International Cultural Foundation
Reviving the humanitarian organization established by Herbert W. Armstrong promoting world peace.
In 1968, King Leopold of Belgium requested to meet Herbert Armstrong. That meeting began a history of Mr. Armstrong building bridges of friendship with world leaders and supporting cooperative projects with the aim of "helping people help themselves." One of the first such projects was an archaeological excavation at Jerusalem's Temple Mount in association with the Hebrew University and Israel Exploration Society.
Additionally, around this time mobile schools were established to educate Thailand's mountain people, and worldwide expeditions were conducted by the King Leopold iii Foundation. These initiatives led to the establishment of a new and necessary dimension of the worldwide work Herbert Armstrong led.
Writing to Church members on June 5, 1975, Mr. Armstrong announced, "Some weeks ago I authorized the formation of a new foundation—named the Ambassador International Cultural Foundation [aicf]. It is non-profit, dedicated to serving humanity worldwide. It has become a necessary adjunct to this new worldwide dimension of getting Christ's true gospel to the nations through heads of government."
Established in March that year, the foundation received "added prestige, credibility and favor" as the non-religious organization was "met with great and favorable response," he wrote. aicf was nonsectarian and legally independent of both Ambassador College and the Worldwide Church of God.
As a tool of the aicf, Mr. Armstrong engineered and authorized production of a new bi-monthly magazine titled Human Potential. This limited-circulation publication was intended for royalty, presidents, prime ministers, government officials and dignitaries with whom the aicf had established strong ties. These ties extended to all corners of the globe, from Britain and Europe to the Mideast, Africa, Asia, and North and South America.
Human Potential's content was altogether different from the Church's mass-circulation international newsmagazine, the Plain Truth, and its Christian-living-focused Good News magazine. Its content addressed the purpose for man, his incredible potential, and how peace will come to Earth. "It will reveal what science cannot, what religion has not, what education doesn't teach. It will have a larger size page, fully-illustrated, in full-color," Mr. Armstrong added.
Human Potential was financed in a similar fashion as the famed and notable National Geographic. It was not funded by the tithes and offerings of Church members sent to support ministerial services, pastoral operations, the World Tomorrow television program and the Plain Truth and Good News, but rather by tax-deductible paid memberships of aicf supporters.
By Oct. 29, 1976, Mr. Armstrong announced to co-workers a name change for aicf's periodical for world leaders: Quest Magazine. The publisher of Sports Illustrated and the Smithsonian, along with the editor of Time, Life and Harper's Magazine, were hired to increase the quality and circulation of the foundation's flagship publication.
In addition to Mr. Armstrong's goodwill visits with world leaders, aicf supported "activities ranging from benefits for handicapped children to major cultural events; from agricultural research to hospitals; from archaeological excavations to parks for children" (Plain Truth, February 1979). These broad horizons of humanitarianism included the use of Ambassador Auditorium in Pasadena, California, hosting cultural programs, international exhibitions, nationally televised music specials and archaeological exhibits.
aicf was so beloved and internationally respected by the world's leaders that upon the death of Mr. Armstrong in January 1986 their messages of condolence called with a collective voice from all corners of the globe for the legacy and work of this honored ambassador for world peace to be continued.
Tragically, those appointed by Mr. Armstrong to perpetuate his humanitarian efforts to extend goodwill and promote world peace among all nations ignored the request of emperors, kings, presidents, prime ministers, sundry ambassadors, diplomats and high government officials to continue Mr. Armstrong's legacy. After closing the Ambassador College campus and seeking to profit from the sale of the college's assets, Herbert Armstrong's successors even threatened to bulldoze the campus jewel, the "Carnegie Hall of the West," renowned Ambassador Auditorium. The early '90s saw the aicf crumble to defunct status and with it the plea of world leaders to see it continue.
However, there was one man who dreamed of reviving the foundation's legacy and honoring the collective call of leaders of world governments and other influential leaders to continue the good works of aicf. In December 1989, Gerald Flurry founded the Philadelphia Church of God in Edmond, Oklahoma, serving the spiritual needs of those who sought to hold fast to the truth. He restored all the basic Church doctrines as proven and taught by Mr. Armstrong. In 2001 he founded what has since become known as Herbert W. Armstrong College in Edmond, Oklahoma. That same year he additionally founded the Philadelphia Foundation as the successor to the former foundation established by Mr. Armstrong.
In 1996, those who should have, yet who refused, to perpetuate aicf along with all aspects of Mr. Armstrong's labor, sued Mr. Flurry and this publication's sponsor, taking them to court in an effort to stop the publication and free distribution of Herbert Armstrong's master work, Mystery of the Ages. As recounted in Stephen Flurry's exposé of that court case, Raising the Ruins, those who should have continued the work of aicf following Herbert Armstrong's death actually worked in a concerted effort as their avowed "Christian duty" to silence and bury all memory and honor of the legacy and work of Mr. Armstrong. In 1998, during the midst of this battle, Gerald Flurry revived the aicf's performing arts concert series as established by Mr. Armstrong, then housed in Ambassador Auditorium, in 1974. In 2008, Mr. Flurry broke ground for Armstrong Auditorium, the successor to Ambassador Auditorium, to become the home of the Armstrong International Cultural Foundation concert series.
In 2003, the Worldwide Church of God, ironically founded by Mr. Armstrong but now controlled by his critics, ceded copyright of 18 essential works of his to Mr. Flurry and the Philadelphia Church of God. Request your free copy of Raising the Ruins to learn more of this epic victory.
The following year, in 2004, the Armstrong International Cultural Foundation obtained the crown jewels of Ambassador Auditorium—a 9-foot Hamburg Steinway concert-grand piano and two Baccarat crystal candelabra commissioned by the shah of Iran to celebrate the 2,500th anniversary of the Persian Empire—all to be housed in Armstrong Auditorium upon its grand opening in September 2010.
Today, the $25 million Armstrong Auditorium hosts one of the finest performing arts concert series in the world. aicf has been revived, acknowledging the heartfelt pleas of this world's leaders to continue the humanitarian work of Mr. Armstrong.
"Greetings, friends! What is the Armstrong International Cultural Foundation?" writes Mr. Flurry in the foundation's prospectus, received by its thousands of global supporters. "We are an international humanitarian organization dedicated to serving the cultural and educational needs of people everywhere. The concept behind all of the foundation's goals and activities is twofold: 1) that man is a unique being, possessing vast mental, physical and spiritual potentials—the development of which should be aided and encouraged, and 2) that it is the responsibility of all men to attend to and care for the needs of their fellow men, a precept professed by the vast majority of religions of the world—appropriately summed up in three biblical words: 'Love thy neighbor.' Out of this understanding we seek to aid and support projects around the world without respect to race or religion."
Following its humble beginning back in 1996, the revived, reborn and refreshed aicf under Mr. Flurry's direction first set about to serve the Mideast kingdom of Jordan by collaborating with the Al-Hussein Society (ahs), perpetuating the support Mr. Armstrong gave it.
Initially established in 1971 to assist King Hussein's government in running orphanages, eight years later the ahs became focused on specific contribution of services for rehabilitation and education to citizens facing physical challenges.
The Armstrong International Cultural Foundation then lent support to the Petra National Trust, with its vision and mission of conserving, preserving and sustaining the historic city and joined in supporting its "projects and programs to safeguard and maintain site significance and integrity for Jordan and the world."
Currently, the foundation supports various activities in Israel such as maintaining the Liberty Bell Park in the center of Jerusalem, which was a special project originally undertaken by famed Jerusalem Mayor Teddy Kollek and Mr. Armstrong. Additionally, the foundation has strengthened bonds with the city's mayor, officials of government, education, media, archaeology and those engaged in humanitarian efforts. For more about this historic collaboration, request a free copy of A Warm Friend of Israel, which chronicles the long and storied friendship between the leaders and citizens of Israel and Mr. Armstrong.
The revival of this partnership through the Armstrong International Cultural Foundation has most notably been evidenced by the exclusive premier exhibit at Armstrong Auditorium of historic finds from the palace of King David, discovered by acclaimed Israeli archaeologist Eilat Mazar, granddaughter of Dr. Benjamin Mazar. Evidence of the legacy of Dr. Mazar's long friendship and cooperation with Mr. Armstrong and aicf is now being perpetuated via the connection between Dr. Eilat Mazar and the Armstrong International Cultural Foundation. The unique world premiere display of the seals of the ancient Prophet Jeremiah's captors, as recounted in Jeremiah 38, at Armstrong Auditorium attests to this. Some of the most significant artifacts ever discovered in Jerusalem remain on display through October 16 this year in Armstrong Auditorium, America's newest and finest performing arts facility.
Armstrong International Cultural Foundation founder and chairman Gerald Flurry's dedicated efforts across the past two decades involving various countries and cultures are proof that he is honoring the request of emperors, kings, queens, princes, presidents and prime ministers, along with a myriad of dignitaries from around the globe who met and worked with Herbert Armstrong and the foundation during his life. Through these efforts, the Armstrong International Cultural Foundation continues its contribution toward bringing about understanding between all peoples in the march forward to soon-coming world peace.
Request your free copy of the prospectus of Armstrong International Cultural Foundation to learn more about its humanitarian work and how you can lend your support to its ongoing works and activities.
To read more articles by this author, click here.