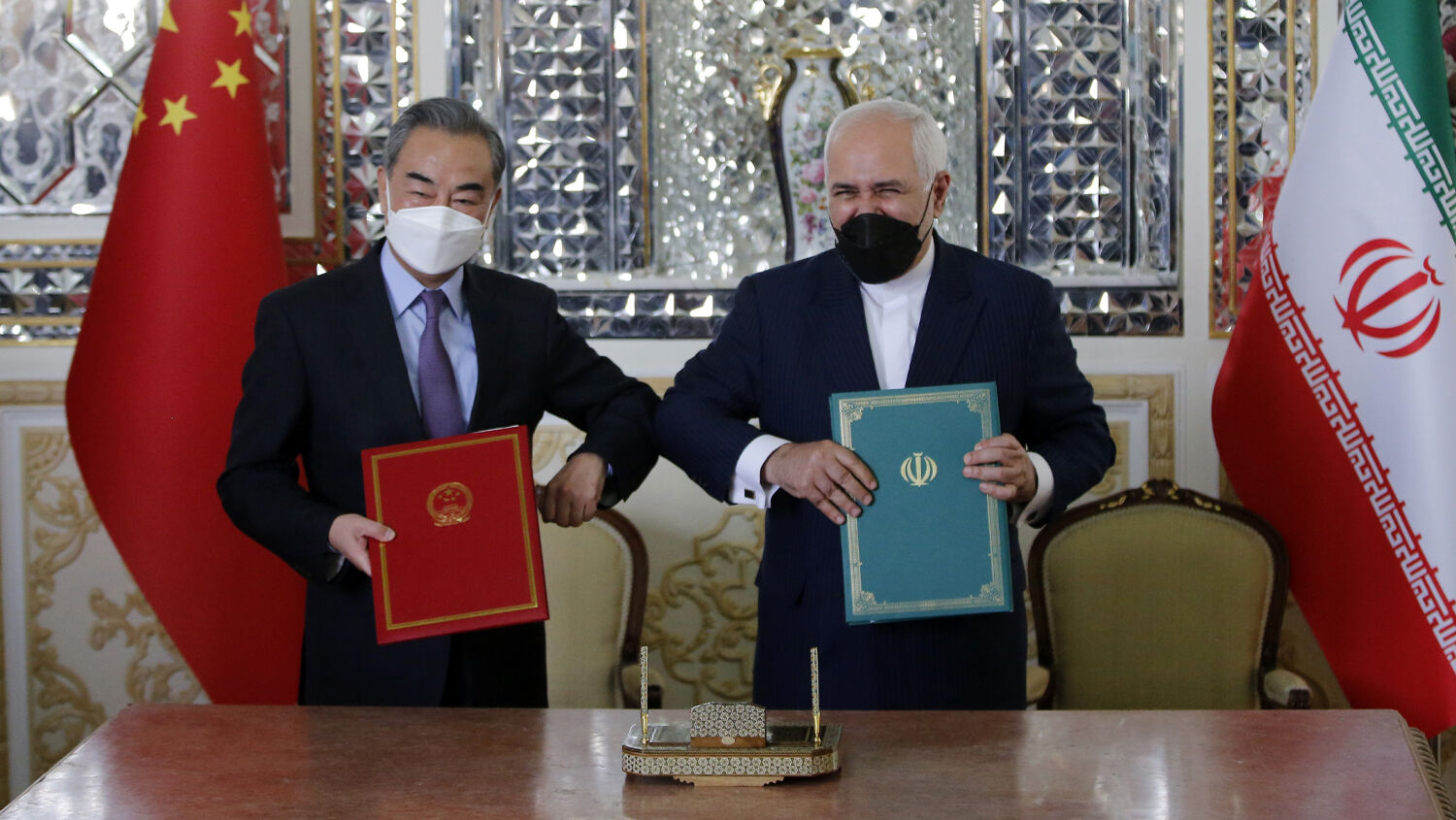 China Promises Iran $400 Billion in New Deal
America's enemies are teaming up with each other.
The Chinese and Iranian governments agreed on a monumental trade deal on March 27. The deal, organized by the Chinese and Iranian foreign ministers in Tehran, involves China investing $400 billion in Iran over 25 years. China would invest the money in everything from infrastructure to health care to banking. Iran's end of the bargain is that it would export oil to China at a significant discount. The deal was first announced in 2016 with Chinese President Xi Jinping's visit to Iran.
According to the Wall Street Journal, China would also invest in Iran's nuclear infrastructure. Another component of the deal includes "transfer of military technology."
China is the world's second-largest economy and has been trying to expand its influence through investing heavily in Third World countries. China also faces sanctions due to its genocide against the Uyghurs, its encroachment of Hong Kong autonomy, and its sponsorship of nuclear North Korea. Meanwhile, the United States has been trying to economically isolate Iran in order to snuff out Tehran's controversial nuclear program.
So, the motives for Iran and China to trade with each other are clear. The enemy of their enemy is their friend.
The deal also includes provisions to set up a Chinese-Iranian bank. A way to trade with China directly, bypassing U.S.-controlled financial institutions, could give Iran an economic lifeline. It also allows its aggressive nuclear and military programs to be funded without U.S. sanctions being removed.
China has been heavily increasing its oil imports from Iran, as well as Venezuela, another American enemy, since the Biden administration took office. Many interpret this as Xi testing the waters to see how far he can provoke Joe Biden.
Ever since taking office, Mr. Biden has been desperate to return to the 2015 Iran nuclear deal that the Trump administration pulled out of. Evidence suggests he even went as far as try to undermine the Abraham Accords between Israel and the United Arab Emirates to placate Iran. Iran has said that, while it would like a deal, it isn't desperate to have one. It demands U.S. sanctions be removed before it returns to the negotiating table. American sanctions were removed as a part of the 2015 accord; now, Iran wants them gone as a condition to start negotiating.
The latest deal between Iran and China will make Tehran even less desperate for a return to the nuclear deal. It will not only get Iran's economy up and running, but further its nuclear program, as well as its destabilizing activities around the world. The deal will make Iran stronger than ever. And it may pressure America to offer even more at the negotiating table.
And the oil that China will receive is only one of Beijing's benefits. Iran is the world's number one state sponsor of terrorism. The world's second-largest economy is now bankrolling it—along with Venezuela, North Korea, Cuba and other threats to world stability. Beijing is fast becoming the premier global sponsor of autocracy and opposition to America. You could say China is taking the place that the Soviet Union used to hold.
China can threaten America with financing its enemies if Washington doesn't give trade offers agreeable to Beijing.
The Trumpet has written much about the rise of both China and Iran. Both are mentioned prominently in Bible prophecy. For example, Daniel 11:40-43 refer to a "king of the south" that has a "pushy," provocative foreign policy and whose tentacles extend into countries like Egypt, Libya and Ethiopia. This empire eventually provokes World War iii. We have been writing for decades that the king of the south is radical Islam, led by Iran. (For proof, please request our free booklet The King of the South.)
China, meanwhile, is referenced in the book of Revelation. Revelation 16:12 references a power bloc called the "kings of the east," meaning east of the Holy Land. Revelation 9:16 states that this power bloc's army will contain 200 million men. The damage this army does to Earth is so catastrophic, God calls it a "woe" (Revelation 8:13; 9:12-16). While several major countries will form this power bloc, China will be one of the main players. (For proof, please request our free booklet Russia and China in Prophecy.)
America, as the leader of the free world, has always had its enemies. But those enemies historically have been divided. Russia and China used to squabble with each other almost as much as they did with America. Saddam Hussein's Iraq and Ayatollah Khomeini's Iran went to war with each other, as did Communist Vietnam and Cambodia. In the aftermath of the Iranian Revolution, Khomeini famously mailed a letter to Soviet General Secretary Mikhail Gorbachev, where he condemned Marxism and asked Mr. Gorbachev to convert to Islam. What's behind Tehran's change of heart with cooperating with Communists now?
America is facing an increasingly hostile world where many other nations are working together to bring it down. To learn more, please read "The Global Ambition to Destroy America and Its President." Also request free copies of The King of the South and Russia and China in Prophecy to learn where Iran and China fit into this global effort.