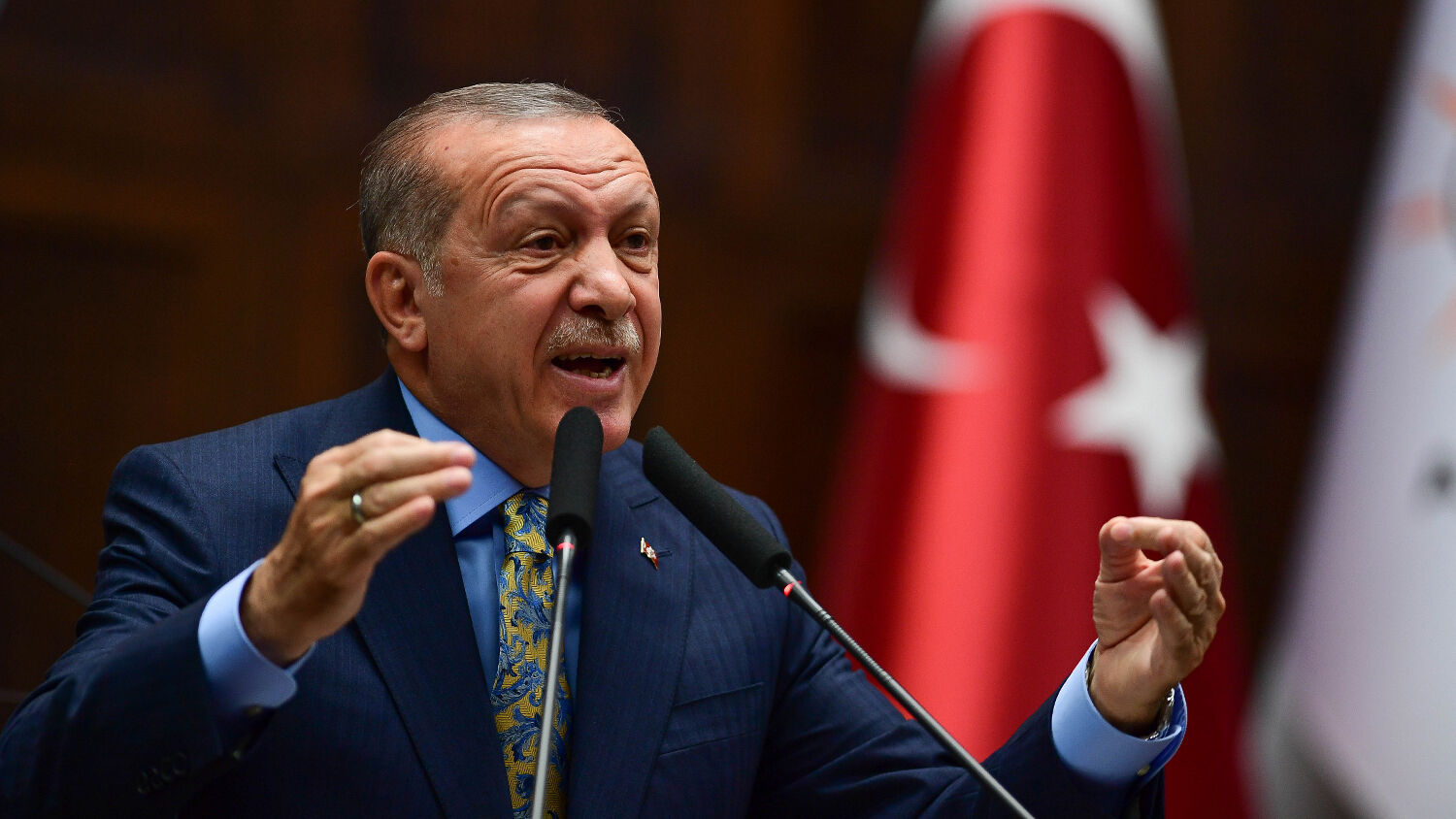 Recep Tayyip Erdoğan: A Turkish Delight for the West?
What's behind the Turkish president's Western charm offensive?
Turkey is a flourishing democracy committed to secularism and the North Atlantic Treaty Organization. Or, at least, that's the narrative Turkish state-run media often touts.
Under strongman President Recep Tayyip Erdoğan, Turkey has betrayed many of the values that made it unique in the Middle East. He has converted the Hagia Sophia from a museum to a mosque. He has purged Turkey's military of constitutional loyalists. He has reorganized Turkey's political system, allowing him to rule until 2029 (he's been in power since 2003). He frequently makes anti-Semitic comments against Israel and has historically supported the Muslim Brotherhood in Egypt. He has thrown countless independent journalists in jail, making him one of the worst offenders for press repression. Reporters Without Borders ranked Erdoğan's Turkey 154th in its 2020 World Press Freedom Index. That's a lower rank than Russia, Venezuela and Pakistan, but a three-point improvement over its 2019 ranking. He even recently had a military standoff with fellow nato members Greece and France.
But lately, Erdoğan has been backtracking on his previous comments and actions. He's been making statements—and even actions—that suggest he wants to be on friendlier terms with the West.
For example, Turkey has made many overtures to Israel. In January, Ankara announced the reestablishment of the Turkish embassy at Tel Aviv, which it had suspended in 2018. Both Turkey and Israel supported Azerbaijan in the recent Nagorno-Karabakh War with Armenia. Erdoğan said in December that he "would like to bring [Turkish-Israeli] ties to a better point."
Turkey has also extended an olive branch to America. On March 15, Erdoğan wrote an op-ed for Bloomberg in which he proclaimed his commitment to "creating a political system … capable of representing all Syrians" to answer "the Syrian people's demand for human dignity." In the article, he called on the West to back and support Turkey's offensive in Syria. This was ahead of a March 23 meeting between top American and Turkish diplomats.
Erdoğan recently unveiled his new "Human Rights Action Plan." It's a reform package where he pledges to increase the transparency and independence of the Turkish judiciary as well as safeguard certain freedoms like the right to a fair trial and freedom of speech.
He is also sending many friendly overtures to Egyptian President Abdel Fattah al-Sisi.
Turkey traditionally supports the Muslim Brotherhood, which turned Egypt into an Islamist state during the Arab Spring. Sisi, as general over the Egyptian military, staged a coup against the Muslim Brotherhood in 2013. Since then, Erdoğan has sponsored Egypt's Muslim Brotherhood exiles. There hasn't been any diplomatic contact between Ankara and Cairo since the coup.
This changed as of this month. Al Jazeera reported March 12 that Turkish and Egyptian diplomats are meeting again. The contact is "both at the level of intelligence and foreign ministries," said Turkish Foreign Minister Mevlüt Çavuşoğlu.
Ankara has even ordered El-Sharq tv, Watan tv and Mekameleen, Turkish television stations associated with the Muslim Brotherhood, to stop airing all political content painting the Egyptian government in a bad light. A supporter of the Egyptian opposition in Turkey said "all options are on the table, including leaving Istanbul and moving to another country if rules are imposed on us that we cannot accept."
Turkey's foreign policy has typically aligned more with that of Russia and Iran. Dictators generally don't about-face on their policies out of altruism.
So what's going on?
First off, Turkey has been getting in the way of Russia in both Syria and Libya. Russia (and Iran) supports the government of Syrian dictator Bashar Assad. Turkey sponsors the Syrian rebels. In Libya, Turkey backed the United Nations-recognized Government of National Accord. Russia backed the Libyan National Army rebel group. Russian President Vladimir Putin apparently snubbed Turkey during the Nagorno-Karabakh War. While Ankara wanted to send peacekeepers to Nagorno-Karabakh, Moscow arranged an agreement where there would be no Turkish boots on the ground. Russia, meanwhile, has roughly 2,000 peacekeepers in the area.
Second, Turkey's shunning of the West is threatening its economy. After Ankara purchased a Russian missile system in December, the United States, under Donald Trump, imposed economic sanctions. U.S. Secretary of State Antony Blinken has hinted there might be more to come. The European Union has also threatened sanctions on Turkey's tourism industry due to Ankara's and Brussels's conflicting foreign policies. Tourism is a vital economic sector for Turkey.
Israel and Egypt are two of America's most valued and trusted partners in the Middle East. Cozying up to Jerusalem and Cairo may be Erdoğan's way of placating Washington and Brussels.
Does this mean Turkey is back in the Western camp?
Again, dictators don't about-face on their policies out of altruism.
Erdoğan hasn't disavowed his Islamist leanings. He hasn't given up on his attempt to pull Syria into his sphere of influence. He hasn't stopped his persecution of the Kurds, both inside and outside of Turkey. But he is seeing that Turkey's current path isn't working, and he is trying to bring Turkey back to power and prosperity.
Will the West buy it?
It may surprise many to learn the Bible has a lot to say about what is going on in Turkey today. The Turks are the modern descendants of the patriarch Esau, grandson of Abraham, son of Isaac, and brother of Jacob. (For proof, read "Is Turkey in the Bible?") The descendants of Jacob became, among other peoples, the United States, Britain and the State of Israel. (Please read The United States and Britain in Prophecy, by Herbert W. Armstrong, for proof.) God promised to Abraham and Isaac that their descendants would be blessed with national prosperity and greatness (Genesis 22:16-18).
Esau, Isaac's firstborn, was supposed to receive the birthright promise. But fatigued from a hard day, he sold his birthright to his brother, Jacob, for a bowl of soup (Genesis 25:29-34). Later, when Isaac was old and blind, he wished to bless Esau's descendants with national blessings. Jacob impersonated his brother and took the blessing for himself (Genesis 27).
Fast-forward millennia later, and the United States and Britain have grown into superpowers, controlling world politics, economics and culture for two centuries. The Israelis meanwhile were given possession of the Holy Land. Turkey ruled a mighty empire—the Ottoman Empire—in its day. But it lost its empire while fighting the British (as supported by America) in World War i. Part of its losses included the land that became the State of Israel after World War ii.
The descendants of Esau, also called Edom or the Edomites, have been bitter over not gaining the birthright blessings, losing what imperial power they had, and especially losing control of the Holy Land and Jerusalem.
The Turks aren't letting this go just because of a struggling economy.
The book of Obadiah is a prophecy concerning modern-day Edom (verse 1). It prophesies that Edom will commit "violence against [his] brother Jacob" (verse 10). Specifically, Obadiah says that Edom "stoodest on the other side, in the day that the strangers carried away captive his [Jacob's] forces, and foreigners entered into his gates, and cast lots upon Jerusalem, even thou wast as one of them. … Neither shouldest thou have stood in the crossway, to cut off those of his that did escape; neither shouldest thou have delivered up those of his that did remain in the day of distress" (verses 11, 14).
This is speaking of a soon-coming time when America, Britain and Israel are conquered by a rising European power (to learn more, request a free copy of The Holy Roman Empire in Prophecy). Obadiah states that Turkey will be allied with Europe when the war against Jacob takes place. But the implication is that the descendants of Jacob have a measure of trust in Turkey and expect the Turks to protect, or at least hide, them.
Turkey instead betrays his brother.
This implies that, up until that point, the Turks are seen as a friend to the West.
Truly, as Trumpet editor in chief Gerald Flurry said in a Key of David television program, this is "one of the most ominous prophecies in all of the Bible."
To learn more about modern Turkey's current direction and where it is leading, please read our articles "Exiled Journalist: Beware Turkey's Authoritarian Shift" and "Recep Tayyip Erdoğan: Self-Serving Sultan."