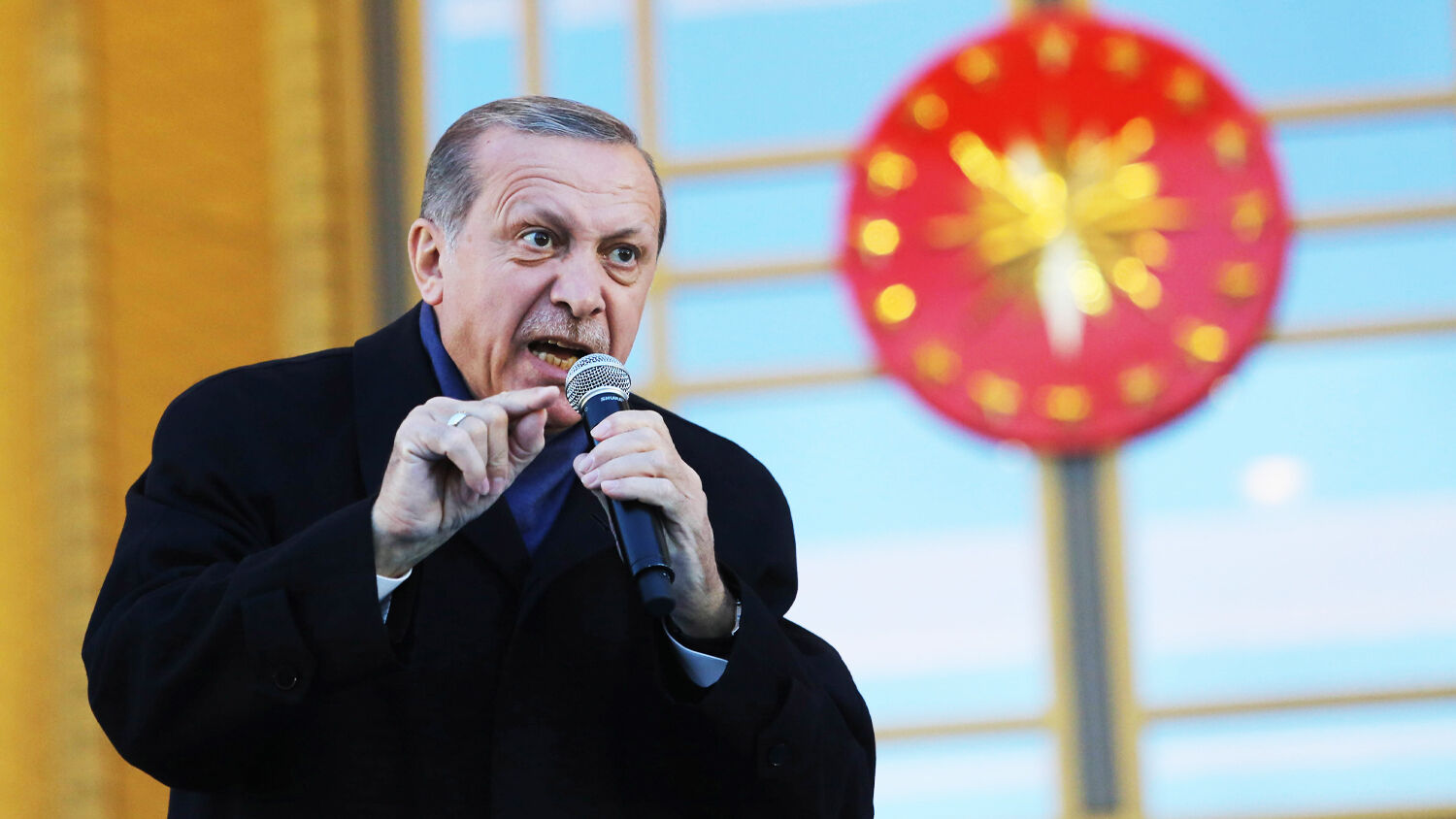 Why Does Turkey Want to Befriend Israel?
Can Israelis trust President Erdoğan?
Turkey announced it will reestablish its embassy at Tel Aviv, Israel, Al-Monitor reported last month. Turkish President Recep Tayyip Erdoğan reportedly chose Ufuk Ulutas, a veteran diplomat and Hebrew speaker, to fill the post. This comes soon after several historic normalization agreements between Israel and several Arab states.
Turkey was the first Muslim country to recognize Israel's sovereignty in 1949. Since then, Turkey had generally friendly relations with Israel. But this changed with the rise of Erdoğan, a strongman and Islamist who has ruled the country since 2003. Israel and Turkey never formally severed their political relations. However, Turkey expelled Israel's ambassador and recalled its own from Tel Aviv in 2018. This was in response to Israel cracking down on Palestinian protests after the United States moved its embassy to Jerusalem.
Yet Erdoğan has recently increased in something he is not particularly known for: pro-Israeli rhetoric.
"We are having issues with people at the top level. If there were no issues at the top level, our ties could have been very different," Erdoğan said on December 25. "We would like to bring our ties to a better point."
Mesnut Casin, the president's foreign affairs adviser, was even more optimistic, stating:
If Israel comes one step, Turkey maybe can come two steps. … If we see a green light, Turkey will open the embassy again and return our ambassador. Maybe in March, we can restore full diplomatic relations again. Why not? … Establishing peace and security is very important to Israel and Turkey. … [W]e don't want another accident with Israel.
Turkey and Israel both assisted Azerbaijan in its recent war in Nagorno-Karabakh. The Azerbaijani government reportedly encouraged Turkey to improve its relations with Israel. Representatives of Azerbaijani President Ilham Aliyev reportedly told the Israeli government that Erdoğan supported normalization. Aliyev said Erdoğan previously was egged on by anti-Israel advisers who have since been dismissed.
Are Turkish-Israeli relations about to improve? What is going on here?
First, consider the timing. The international community is anticipating a change in direction from the United States under a Biden presidency. Erdoğan and United States President Donald Trump have had their issues, but relations between their two countries have been mostly good. Biden is expected to have a less favorable opinion of Turkey under Erdoğan. Currying favor with America's ally Israel might be Erdoğan's way to cozy up to Joe Biden.
In other words, it could be an attempt to reduce punishment for causing problems, such as purchasing Russian defense systems.
Erdoğan's decades of anti-Israel rhetoric also can't be forgotten just yet.
Erdoğan made himself among the most vocal of supporters for Palestinian statehood. He is a major sponsor of both Hamas and the Muslim Brotherhood (which also alienates Israel's most important Arab partner, Egypt).
Because of the 2018 unrest that preceded Erdoğan recalling his ambassador, he called for "a national mourning of three days," ordered Turkish flags to be lowered, and even claimed then that "the state of Israel has practiced terrorism since its establishment."
Last October, he was even more provocative. He said (emphasis added throughout) "in this city [of Jerusalem] that we had to leave in tears during the First World War, it is still possible to come across traces of the Ottoman resistance. So Jerusalem is our city, a city from us."
Ottoman Turks previously ruled over the Holy Land for hundreds of years before losing the area to the British at the end of World War i. Erdoğan seems bitter about that, even though Israel has been established there as a sovereign state for decades now.
This is a clue that indicates Israelis should not put their trust in Turkey. But we don't have to parse Erdoğan's words to know for sure. One source predicts that Turkey will stab Israel in the back in the near future. That source is the Holy Bible.
The Bible doesn't mention the "Turkish people" under that name specifically. But the Bible is a book about the Middle East. One would think it would say something about the empire that ruled the Holy Land for centuries. And it does. But the identity of Turkey's ancient ancestors has to be uncovered first. Comparing the biblical account together with secular records reveals that the Turks descended from the ancient Edomites. (Read "Is Turkey in the Bible?" from our sister website, WatchJerusalem.co.il)
The Edomites, descended from the Patriarch Esau. The Israelis (along with the Americans, the British and other modern peoples) descended from the Patriarch Jacob. Jacob and Esau were brothers, and they had a terrible rivalry. Bible prophecy states that modern Edom will betray his brother.
Psalm 83:1-8 links Edom with a conspiracy with Assur, the ancestor of modern Germany. This conspiracy will lead to a military invasion against the people of Israel. (For more information on biblical prophetic identities, request The United States and Britain in Prophecy and Germany and the Holy Roman Empire.)
The book of Obadiah is directed specifically to Esau (verse 8). Verse 10-14 prophesy:
For thy violence against thy brother Jacob shame shall cover thee … In the day that thou stoodest on the other side, in the day that the strangers carried away captive his forces, and foreigners entered into his gates, and cast lots upon Jerusalem, even thou wast as one of them … neither shouldest thou have rejoiced over the children of Judah in the day of their destruction .. Thou shouldest not have entered into the gate of my people in the day of their calamity … neither shouldest thou have stood in the crossway, to cut off those of his that did escape.
These prophecies indicate a betrayal against the Israelis at the hands of the Turks.
Keep your eye on Turkey. Turkey's Islamist shift is going to play a role in a massive conflict, centering on Jerusalem. This conflict will engulf not just the Middle East, but the whole world. To learn more about Turkey's role in Bible prophecy, read "Turkey: An Act of Revenge!"