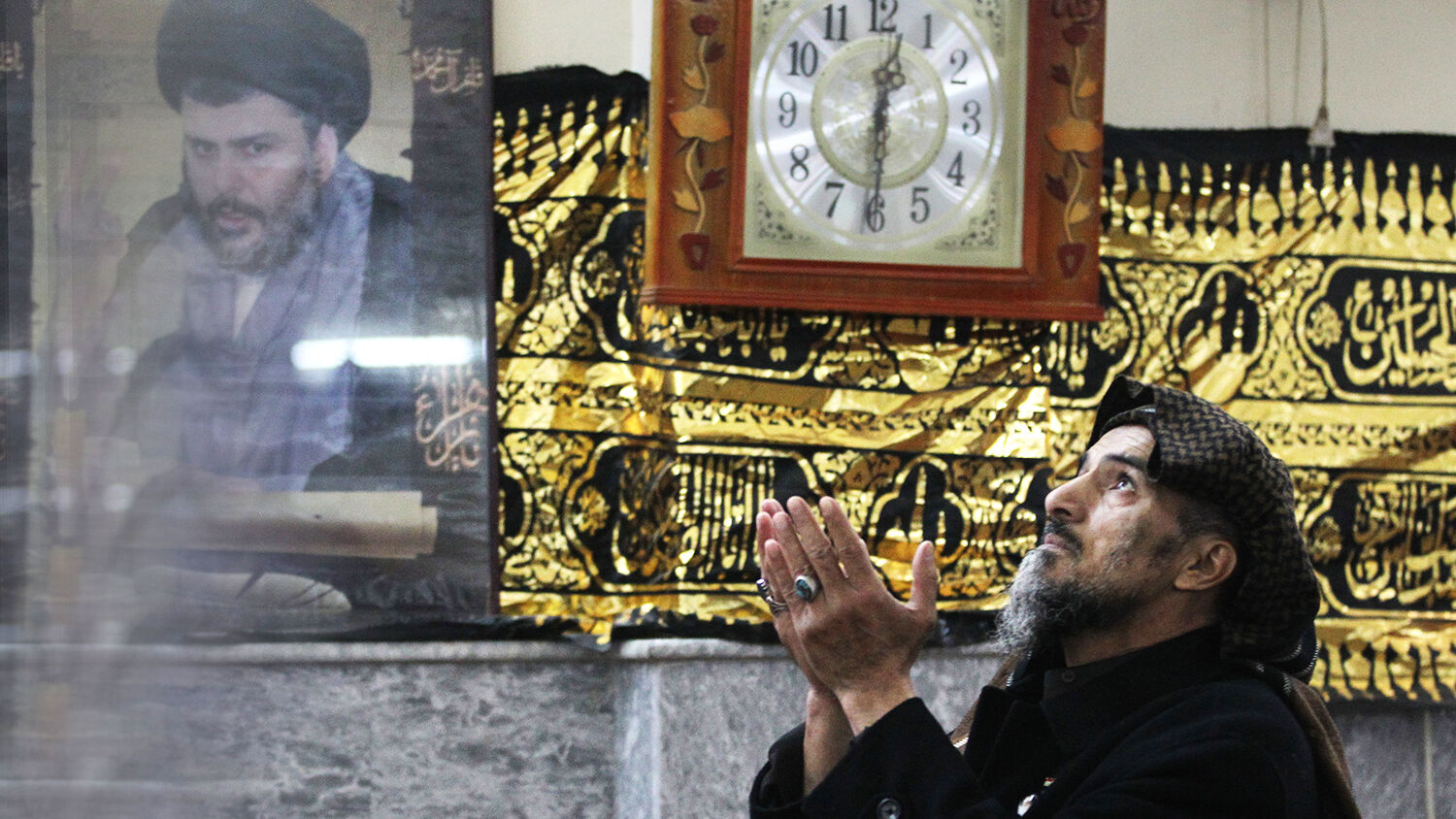 Radical Islam Hijacks Iraqi Politics
Popular Iraqi leader seeks Iranian support to overthrow Iraqi prime minister.
Populist Iraqi Shiite cleric Muqtada al-Sadr met with Iranian leadership in Tehran on September 10, reportedly to discuss the replacement of Iraqi Prime Minister Adil Abdul Mahdi.
During the meeting, Sadr sat between Iran's Supreme Leader Ayatollah Seyyed Ali Khamenei and Quds Force Cmdr. Qassem Suleimani. The meeting came as a shock to many because Sadr is widely known for his criticism of Iranian involvement in Iraq. The meeting may signify a coming change in Iran-Iraq relations.
The meeting occurred on Ashura, the Shiite holy day commemorating the death of Mohammed's grandson during the Battle of Karbala, which solidified the Sunni-Shiite divide. Sadr's meeting with Khamenei highlights the spiritual connection that links Iran and Iraq: their shared belief of Twelver Shiism—a radical branch of Shiite Islam that seeks to cause Armageddon to spur the coming of their messiah.
"Sadr's public presence between Khamenei and Suleimani is a clear sign that Sadr is discussing a political project with Iran," wrote Al-Monitor. It had "learned from a high-ranking, anonymous source in [Sadr's] office that he is trying to convince [the] Iranians to replace Adel Abdul Mahdi with a stronger prime minister."
Before leaving for Iran, Sadr said, "If the [Iraqi] government does not take decisive actions, I'll withdraw my support from it."
Why would an Iraqi cleric go to Iran over his own government? Because Iranian support was a significant factor in Mahdi's ascent to premiership.
In the May 2018 general elections in Iraq, the political wings of several Shiite militias—which were either created, funded or trained by Iran—formed the Fatah Alliance coalition and won 48 of the 329-seat Council of Representatives, losing only to Sadr's Sairoon coalition. Controlling the second-largest number of seats in Iraqi parliament gave Iran significant influence over Iraqi politics. Fatah and Sairoon jointly nominated Mahdi for prime minister, who claims to be an independent, as a compromise candidate. In doing so, they skipped forming a majority coalition. This put the Iraqi government into a very weak state—one even more susceptible to Iranian influence.
Although from different political blocs, in February this year, Fatah and Sairoon "formed a joint committee" as they worked together to help form a government. But now, Mahdi is too weak for Sadr.
"The bottom line is that Mahdi is too weak," wrote Foreign Policy. "The prime minister has the support of no political party. He controls no voting bloc in parliament. He got his position through a negotiated compromise in which Iran and its proxies had a major hand." Iran was instrumental in putting Mahdi into office, and Sadr knows that Iran is the only power that can take him out of office.
In "Is Iraq About to Fall to Iran?" Trumpet editor in chief Gerald Flurry wrote: "History shows how Islamic extremism can dramatically change the politics within a country, and it gives us an indication of the kind of power Iran could be very close to achieving."
Radical Islamic extremism toppled the shah of Iran in the 1979 revolution, it influenced the election of Mahdi in 2018, and now the leader of Iraq's largest political party is looking to the head of radical Islam for another change in government.
Mr. Flurry continued:
The stage is being set for an Islamic group of nations, almost certainly to be led by Iran as the prophesied king of the south, to push at the king of the north, the European Union. Iran has a foreign policy with a lot of "push." … It may seem shocking, given the U.S. presence in the region right now, but prophecy indicates that, in pursuit of its goal, Iran will probably take over Iraq. At least, it will have a heavy influence over the Iraqi people.
Mr. Flurry predicted this Iranian takeover in 2003, when the whole world was looking at Iraq!
Daniel 11:40-43 say that at "the time of the end" a radical Islamic group of nations led by Iran, called "the king of the south," would "push" at a united Europe. We wrote in History and Prophecy of the Middle East that "with the support of many other Islamic nations, like Iraq, Algeria, Egypt and Libya, Iran will be able to deliver a formidable 'push' against the king of the north."
In The King of the South, Mr. Flurry writes: "Iran is working through standard political and diplomatic channels to position itself to be able to hold stock in the new Iraq, working with the Iraqi government, cementing economic ties and exploiting other diplomatic channels" (emphasis added).
A popular Iranian slogan during the Iran-Iraq War was "the path to Jerusalem runs through Karbala," the location of Shiite holy places just south of Baghdad. Iran knew radical Islamic extremism was the key to conquering Iraq. Now, over three decades later, Iran's conquest of Iraq is finally beginning to be realized.
For more information, please read "Is Iraq About to Fall to Iran?"