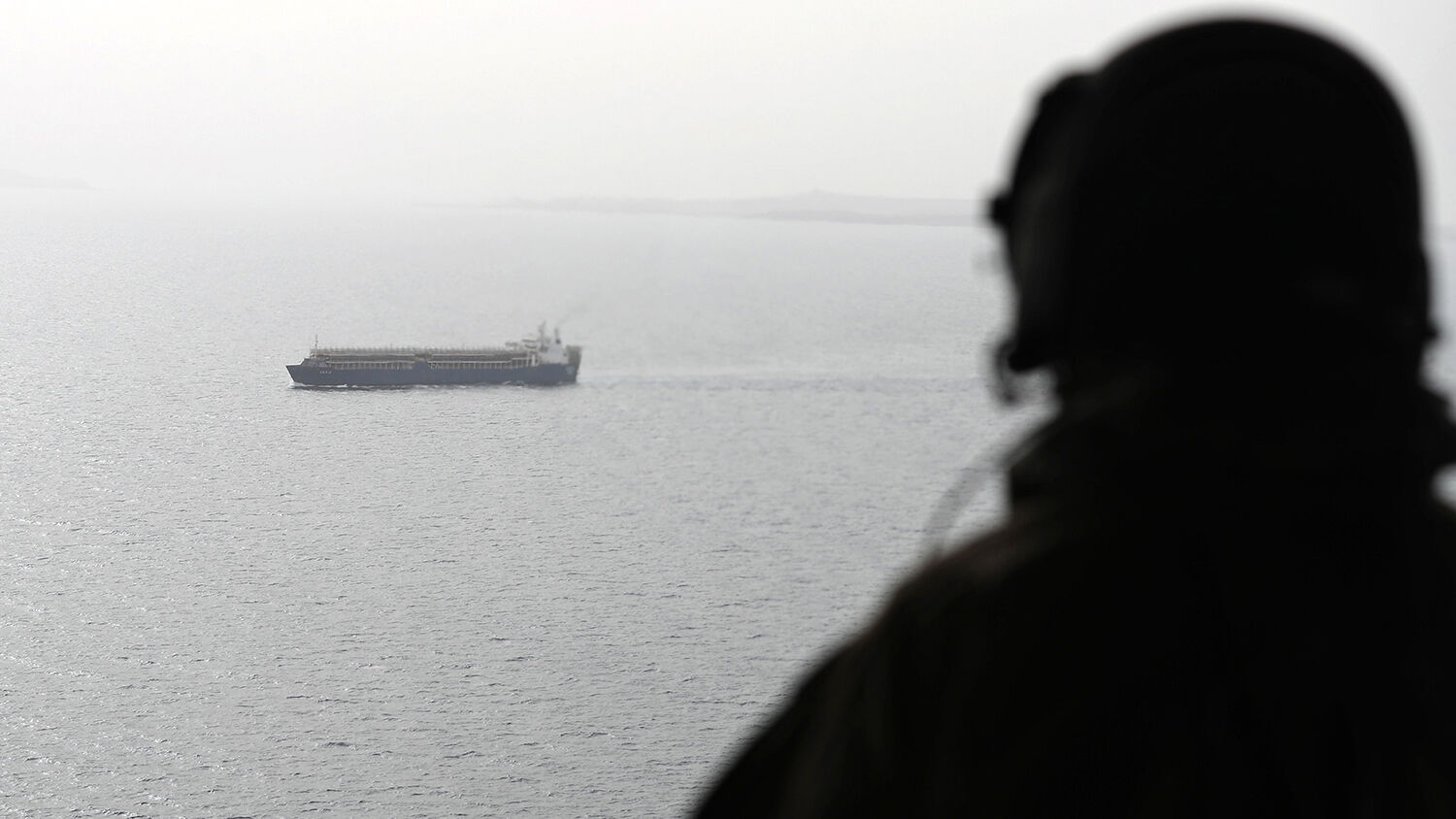 Iran Eyes Vulnerable Shipping Route, Posing Threat to Israel
Renewed interest in the Red Sea to alleviate tensions in Persian Gulf
Billions of dollars' worth of Israeli trade travels through the Bab el-Mandeb strait. As Iran shifts its focus to the Red Sea to alleviate tensions in the Persian Gulf, this vulnerability poses a direct threat to Israel's stability.
London-based Saudi newspaper Asharq al-Awsat reported on August 13 that Iran summoned Houthi Foreign Minister Mohammed Abdel Salam Felita to Tehran to assign the group a new terrorist mission in the Red Sea.
Following the meeting in Tehran between Houthi spokesman Yahya al-Saree and Felita, with commanders of the Islamic Revolutionary Guard Corps and Iranian Foreign Minister Mohammed Javad Zarif, Houthi rebels threatened to use a new Iranian-made air defense system, which would enhance their military capabilities.
The Houthi rebel army heavily relies on Iran to supply it with drones and missiles to conduct its terrorist attacks against Saudi Arabia, the United Arab Emirates and Yemeni government forces. Many of these targets also coincide with American military bases in the region.
A March 2017 report by Conflict Armament Research titled "Iranian Technology Transfers to Yemen" found that "Iran continues to provide enhanced military capabilities to Houthi and Saleh-aligned forces." According to the Wall Street Journal, United States defense officials say that Houthi rebels receive "significant Iranian support" and have increased "the lethality and range of their systems."
In return for its funding and support, the Houthis have more or less pledged their allegiance to Iran. As a result, the rebel movement has become an operational arm of the ayatollah's regime. In recent months, the Houthis' war against Saudi Arabia, Iran's archenemy, has heated up. In light of that, the new air defense system almost seems like a reward for its dedication.
Islamic Revolutionary Guard Corps Naval Cmdr. Alireza Tangsiri warned on August 12 that "any illegitimate presence by the Zionists [Israel] in the waters of the Persian Gulf could spark a war." Israeli Foreign Minister Israel Katz announced that Israel would be supporting the United States-led Operation Sentinel by providing it with intelligence support. Iranian Defense Minister Amir Hatami stated that Israel's involvement would have "disastrous consequences." As a result, Iran is looking to get back at Israel, possibly through its new terrorist mission in the Red Sea.
Saree indicated that the new developments to the air defense systems would boost the terrorist group's ability to conduct operational tasks in various areas—tasks which could soon be directed against vulnerable Israeli vessels in the Red Sea.
Houthi Aggression
In an interview with the Times of Israel, Prof. Shaul Chorev, a rear admiral who heads the Maritime Policy and Strategic Research Center at the University of Haifa, noted that, although Israel doesn't sail through the Strait of Hormuz, it does sail through Bab el-Mandeb. "[W]e are vulnerable there," noted Chorev, adding that Iran "can directly target us."
On August 1, Houthi forces launched two missiles against two separate nations. In the first attack, a long-range missile struck Dammam, Saudi Arabia, after it flew 800 miles from its origin. In the second attack, a medium-range ballistic missile struck a military parade in the southern Yemeni city of Aden, killing at least 51 and injuring dozens more.
On May 14, seven Houthi drones attacked two oil facilities along the Saudi Aramco East-West Pipeline. The attack caused minor damage but halted oil flow through the important pipeline for several days. This attack was a statement to the Saudi kingdom that none of its oil is safe—whether it travels through the Strait of Hormuz or not.
Although Houthi drone attacks are a large aspect of its military capabilities, the August 1 attacks show that its missile arsenal is also improving. The Iranian-made Fateh-110 class of missiles was designed to target ships. When it was first released, Iranian tv played a propaganda video depicting the missile striking a simulated U.S. warship. The Fateh-110 has even been retrofitted with "active seeker" technology to better detect ships at sea. In August 2018, Iran test-fired one of these missiles against a ship, claiming it to be a success. Iran has already given its newest and most accurate model of the Fateh-110 to its Shiite militias in Iraq. How long until that missile ends up in the hands of the Houthi rebels?
In July 2018, Saudi Arabia suspended all of its oil shipments through the southern choke point of the Red Sea after two giant oil tankers were attacked by the Iranian-backed Houthi militia. Founding editor of the Times of Israel, David Horovitz, said that the attacks "underlined that Israel needs to worry. A third of our trade is with the Far East."
Will Iran attack trade traversing through Bab el-Mandeb in its new terrorist mission in the Red Sea? Bible prophecy indicates it will.
Red Sea Strategy
A prophecy in Daniel 11 says that at "the time of the end" a powerful Middle Eastern power bloc will arise. This regional power is called "the king of the south." Trumpet editor in chief Gerald Flurry identified this power bloc as radical Islam, led by Iran. (For proof, request your free copy of his booklet The King of the South.) In The King of the South, Mr. Flurry writes:
The blatantly bold and aggressive foreign policy of Iran must lead to war. It will either conquer or be conquered. Bible prophecy makes it clear that Iran will be conquered—but not at the hand of America and Britain.
This prediction comes directly from the Bible. Daniel 11:40 states: "And at the time of the end shall the king of the south push at him: and the king of the north shall come against him like a whirlwind, with chariots, and with horsemen, and with many ships; and he shall enter into the countries, and shall overflow and pass over."
Mr. Flurry said that this push would likely revolve around Jerusalem—possibly cutting off its oil supply. Israel imports 28 percent of its crude petroleum and approximately a sixth of its refined petroleum from Asia—most of which would traverse the Bab el-Mandeb, and therefore be vulnerable to Iranian attack. Though this threat is very real to Israel, it is primarily a push against "the king of the north," or a German-led Europe that heavily relies on oil flowing through the Bab el-Mandeb, Red Sea and Suez Canal. Regarding this Red Sea shipping route, Mr. Flurry writes:
The two nations of Libya and Ethiopia are mentioned in Daniel 11:43, along with Egypt. These two nations are the key that unlocks the strategy of radical Islam. That strategy is going to shake the U.S. and Europe to their foundations! … They are on the two seas that comprise the most important trade route in the world! … But what if you have radical Islamic nations along this sea trade route with real airpower—including missiles? That could give Iran virtual control of the trade through those seas. Radical Islam could stop the flow of essential oil to the U.S. and Europe!
Iran wants to control this vital trade route, and Yemen is in a crucial position for Iran to achieve this goal. Yemen provides Iran with a cover and a launching pad from which to interrupt international trade.
In recent months, cracks have appeared in the Saudi-led coalition. Infighting has even occurred between the Emirati-backed separatists and the Saudi-backed exiled government forces. Meanwhile, Iran continues to support, strengthen and establish the Houthi rebels as a military power.
It looks as if the Houthis are there to stay. And soon, with its new air defense system and increased missile capabilities, the militia may begin to target oil vessels in Iran's new terrorist mission in the Red Sea.
For more information about this coming conflict in the Red Sea, read The King of the South, by Gerald Flurry.