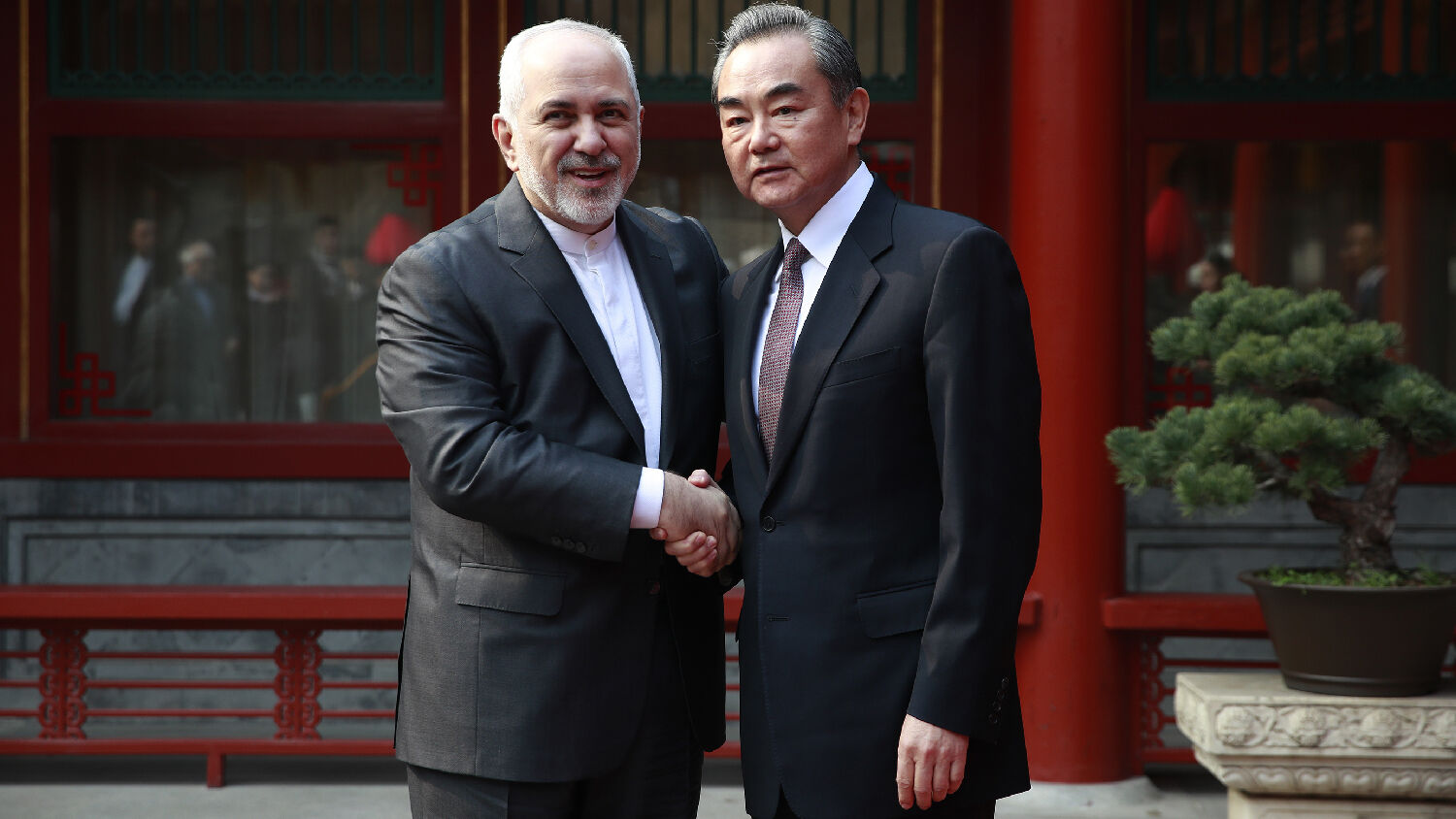 Iran Ready to Join China's Belt and Road Initiative
Economic ties with China keep Iran's economy afloat.
A report by Iran's government-affiliated Tasnim News Agency on February 20 stated that Iranian Parliament Speaker Ali Larijani said his nation is prepared to cooperate with China's Belt and Road Initiative. Iran served as an important trading hub in the ancient Silk Road between East and West for millennia; it has far greater potential in the new Silk Road.
Larijani said, "On behalf of the Iranian nation and representatives of people, I express the Iranian parliament's readiness for using the parliamentary potential of Iran and China for materialization of and mutual cooperation in the One Belt, One Road project."
Accompanying Larijani to Beijing was Iranian Foreign Minister Mohammed Javad Zarif, who met with Chinese State Councilor Wang Yi. Wang emphasized the importance of an augmented "strategic partnership" between the two nations. According to Reuters, Wang stated, "I would like to take this opportunity to have this in-depth strategic communication with my old friend to deepen the strategic trust between our two countries and to ensure fresh progress of the bilateral comprehensive and strategic partnership." Zarif replied, "Our relationship with China is very valuable to us. We consider the comprehensive strategic partnership between Iran and China as one of our most important relations."
President Xi Jinping's One Belt, One Road infrastructure project (now called the Belt and Road Initiative, bri) was launched in 2013. The $1 trillion project seeks to connect China to the global market by linking Asia and Europe via a set of land and maritime trade routes. Iran is at the geographic and logistical center of the new Silk Road trade route.
Geographically, Iran is the only connection between the Persian Gulf and the Central Asian nations, a market of about 65 million people. It also lies in a direct path from China in the East through Turkey to Europe in the West. Therefore, the bri high-speed railway is planned to run through Tehran.
China sees Iran as an inevitable partner. According to a Foreign Affairs article, China considers Central Asia its "exposed underbelly that needs to be closely integrated into China's economic and political sphere" (Nov. 1, 2017). Iran has focused on exporting its Islamic message to the Arabs in the Middle East and has had limited influence in China; whereas, China has feared, in the past, that Sunni-majority states would export terrorism to East Asia. The Foreign Affairs article continued:
[D]espite huge volumes of trade, China cooperates very little with the Arab states of the Gulf in the security realm. … In contrast, China has had a series of security and defense talks with Iran, and Chinese-Iranian military ties run deep, dating back to the early 1980s.
The proposed 2,000-mile (3,200-kilometer) route of the new Silk Road begins in Urumqi in western China and continues to Tehran, where it would eventually continue northwest through Turkey into Europe.
The Tehran Times reported last May that the electrification of the Tehran-Mashhad rail line would begin by the end of spring 2018. The 575-mile line is a crucial step in linking Iran with the bri. Tasnim News Agency reported that the scheduled implementation of the project would take place over the course of 42 months. All electrification of the railway is planned to be completed by 2025. The electrification of the Tehran-Mashhad line will reduce commute time between the two cities from 12 hours to about 6 hours, linking Tehran with Iran's second-largest city, Mashhad, in the east near its border with Turkmenistan and completing just under a third of the proposed bri line required to link Tehran to western China.
In June 2017, the Financial Tribune estimated that the new Silk Road between Iran and China would become a "tailwind" of long-term bilateral trade of as much as $600 billion per year.
Last November, United States President Donald Trump imposed sanctions on Iran's crucial shipping and oil sectors in response to its aggressive ballistic missile development and failure to comply with the Joint Comprehensive Plan of Action (jcpoa) nuclear deal. Since Mr. Trump announced renewed sanctions on Iran's oil sector, its oil exports have dropped about 60 percent.
On February 13, Foreign Policy described the current state of Iran's economy:
The currency has depreciated, inflation is rampant, and unemployment is high, while gdp [gross domestic product] contracted last year and looks set to shrink even further this year. Dwindling oil exports have cut into government revenues, and U.S. sanctions on financial transactions have chilled economic activity in a number of other sectors, including autos and humanitarian goods like food and medicine.
"The economy is even worse than they let on," said Alireza Nader, the ceo of New Iran, a nonprofit organization that analyzes Iran with the stated purpose of informing U.S. policymakers. "This idea of the resistance economy is totally false."
While the U.S. is working to crush the Iranian economy, China is looking for ways to keep Iran in business.
An additional stipulation to November's sanctions stated that the U.S. would apply sanctions to any nation trading with Iran. For fear of shocking global oil prices, the U.S. granted eight nations a waiver allowing them to trade with Iran without incurring economic sanctions themselves. In January, as many European nations halted Iranian crude purchases, China offered Iran a $3 billion oil field deal.
In his booklet The King of the South, Trumpet editor in chief Gerald Flurry describes the 2016 nuclear deal—signed by Iran along with China, France, Germany, Russia, the United Kingdom, the United States and the European Union to curb Iran's nuclear growth—as the "worst foreign-policy blunder in American history." He writes:
January 16, 2016, marked the implementation of the nuclear deal with Iran. The U.S. and the European Union lifted sanctions on Iran, released over $100 billion in frozen assets, and welcomed Iran into a whole rush of economic deals. And they received nothing in return. Iran changed nothing in its policies of aggression, subversion and sponsoring terrorism.
China's relationship with Iran today is a direct result of having opened up a path for Iran to the global market. Since that day, Iran has become so intertwined in the global economy that it can't be cut off.
For example, look at the growth of Iran's oil industry. According to a report by Brandeis University, from December 2015, the month before the jcpoa was signed, to January 2017, Iranian oil production increased by 30 percent. Then by an additional 3.7 percent over the next seven months. In 2017, Iran was the sixth-largest supplier of oil, producing 4.8 percent of the world's oil supply.
Asia, specifically China, India, South Korea and Japan, has become Iran's largest trading partner. Even Europe is trying to hang onto the remains of the 2016 nuclear deal and work around U.S. sanctions.
Mr. Flurry forecast this outcome in The King of the South. He continues: "Why was Iran so eager to jump into major business deals with Europe? Because it wants to get so involved in the global economy that nobody would dare try to push it back out."
How did Mr. Flurry know this in advance? Because he bases his forecasts on specific prophecies in the Bible. The Prophet Daniel wrote of a "king of the south" that would rise in the last days.
"And at the time of the end shall the king of the south push at him: and the king of the north shall come against him like a whirlwind, with chariots, and with horsemen, and with many ships; and he shall enter into the countries, and shall overflow and pass over" (Daniel 11:40).
Mr. Flurry identified this "king of the south" as radical Islam, led by Iran. This radical nation is described as being very aggressive in its foreign policy, until it pushes at a European empire that retaliates with overwhelming force. The primary way Iran pushes is through state-sponsored terrorism. Iran couldn't become the dangerous and aggressive power prophesied in the Bible without a strong economy to keep it operational. That is where China's Belt and Road Initiative comes in. Under current U.S. sanctions, Iran needs this trade relationship with China to remain relevant. Otherwise, its crumbling economy might have already collapsed.
Keep watching this trade relationship between Iran and China grow as China's Belt and Road Initiative progresses.
For more information about Iran's pushy foreign policy and its role in Bible prophecy, request your free copy of The King of the South.