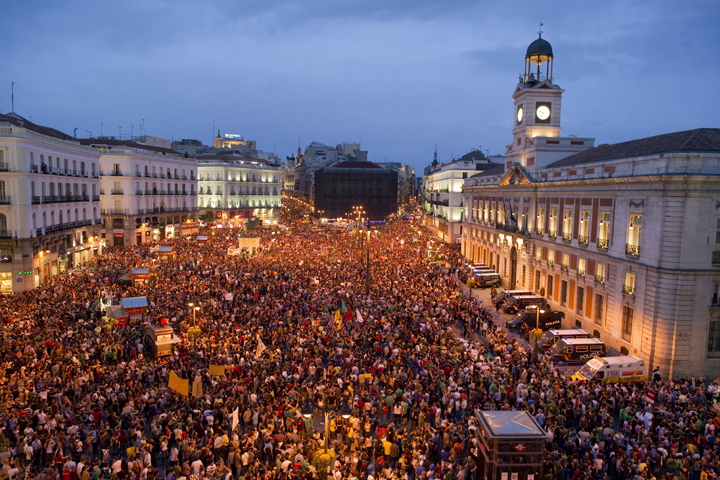 Spain, Italy, Portugal—First of the Ten?
Pedro Armestre/AFP/Getty Images
An interesting scenario is building in Europe involving Spain, Italy and Portugal. It could accelerate the rise of the prophesied 10-nation combine.
Students of Bible prophecy have watched for the fulfillment of a particular prophecy forecasting the separation of 10 "kings" in Europe all yielding up their power to one overarching authority.
The current euro crisis is providing a possible answer as to how this situation may occur.
Greece may well provide the test case for demonstrating the point.
This Greek Orthodox nation's economy is virtually up for grabs for all takers. Yet the nation in the box seat for "winner take all" is Germany.
Consider the following.
Since the onset of the euro crisis, the European Union and the international community has pumped approximately $312 billion into the Grecian economy. At the same time, Berlin has imposed onerous austerity measures on Greece. Yet, given that Greece was in dire financial straits, Germany and France still held its feet to the fire and forced the nation to pay for military hardware that Greece had contracted to buy from them. The only way that Greece could fulfill this demand was to channel back to Germany and France an amount of the bailout funds that it had received, for debt relief, in full payment for those contracts. This was all done to the net gain of the German and French economies, and a net loss to the Greeks.
Germany followed this up with a demand that Greece begin selling off its state assets to offset its unpayable debt. In the wake of that demand, a team of German investors descended on Greece to look over the spoils and consider appropriate fire-sale prices to purchase that nation's key infrastructural and industrial assets.
The washup to this nasty deal will be that Germany emerges virtually owning Greece lock, stock and barrel. This all flies in the face of a refusal by Germany to pay for multibillion euros' worth of damage it wreaked during its World War ii occupation of that Balkan state.
It's a murky business. Yet it's one way to take over a most strategically placed Mediterranean nation without having to shed much Grecian blood, as Nazi Germany did when it plundered Greece 70 years ago. This time, by taking over the nation's assets and preserving its population, Germany gains a very cheap labor force to continue to operate its newest Balkan acquisition.
Now, consider Spain, Italy and Portugal, three traditional Roman Catholic nations, and three of the most significant economies within the European Union.
Each of these nations, it is said, is in significant economic difficulty.
In all probability, given the nature of their respective histories, their culture, economies and religion, they stand to be integral to the prophesied 10-nation combine depicted in Revelation 17:12.
Of those 10, notice that the very next verse states: "These have one mind, and shall give their power and strength unto the beast."
Germany is recognized as the current paymaster of Europe. It is said that "he who pays the piper calls the tune." The prophecy indicates that 10 kings are destined to dance to the tune of one power which is simply termed "the beast"—they "shall give their power and strength unto the beast."
Why would not Germany, under appropriately assertive leadership, agree to "bail out" those slated as the next EU nations in line to fail economically—Spain, Italy and Portugal—in exchange for a takeover of national assets similar to that which they have imposed on Greece?
The 10 are destined to "give their power and strength unto the beast." A nation's power and strength is vested in its national assets—its raw materials, its industry, its military capability and its population. These all need to be sustained, their ongoing operation paid for.
Germany is Europe's paymaster. While EU nations' economies languish in crisis, Germany's economy grows, even beyond expectations: "The German economy grew five times faster than expected in the first quarter of the year, jumping 0.5 percent. … The year-on-year increase was 1.7 percent, beating expectations of a 0.8 percent jump" (Financial Times, May 15).
Add to Germany's continuing superb economic performance the tremendous bullion backing the nation possesses and you have the most powerful growth economy in the world, its imperialist elites salivating over the opportunity to commence doing deals to enable steady possession of whole national economies on the European continent.
As we have continually said, one major factor delaying this process is the dearth of strong leadership in German politics. It's not so much that the personalities to successfully bring off such a scenario are non-existent. They definitely are there, but remain largely behind the scenes. It's just that they have not yet taken the opportunity to arise. It's all about very careful timing.
But, their time will come—and, according to all present indications, it is likely to come sooner rather than later. Conditions economically and socially are ripening in Europe for the rise of that particular demagogue who will enable final fulfillment of the major prophecies in your Bible leading to the grand-smash climax at the close of this morally torpid age, and the entry of the world into that thousand-year millennial reign of peace and plenty that the prophets of old forecast as inevitable.
Watch the fallout of the Greek crisis. Watch the domino effect in Spain, Portugal and Italy, plus the ongoing ripple effect all across Europe. The outcome is foreordained. Knowing this outcome beyond all doubt is why we at the Trumpet face the future with supreme confidence as to the end result, despite the intense global trauma that is prophesied to precede it.
If you really want to dig into this subject and learn more in preparation for that future, read and study our booklet Daniel Unlocks Revelation.