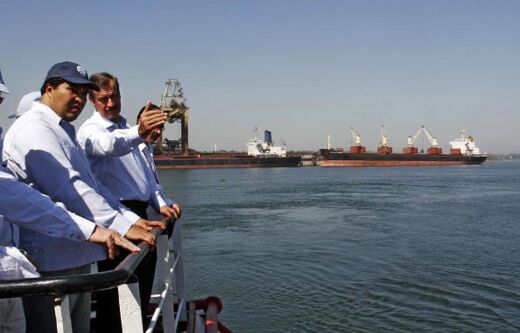 The Danger in China's Mexican Port Grab
Once the United States begins regularly receiving containers from the Far East by way of Mexico, America will become beholden to its southern neighbor—and China.
A Chinese company closely aligned with Beijing is rapidly expanding its Pacific port operations south of the American border. This is yet another example of China's increasing global stranglehold on strategic ports and sea-trade gateways. For Americans, there are important security and national self-sufficiency implications.
The Trumpet has repeatedly warned about China's long-term strategy to control the world's most strategic seaways. The U.S.-built Panama Canal, arguably one of the world's most strategic waterways, is under Chinese control. So too is Freeport in the Bahamas, which China developed into one of the world's largest shipping terminals. China has also extended its Caribbean sea-gate control in Ecuador, where China owns that nation's only natural deep-water port.
However, amid China's many overt Latin American takeovers of strategic trade chokepoints and shipping facilities, its rapidly growing presence in Mexico, America's next-door neighbor, has gone largely unnoticed and underreported. There, Hutchison Whampoa Ltd., the huge Chinese shipping conglomerate (which also controls the ports on both ends of the Panama Canal and the other above-mentioned facilities), controls several major ports, including those in Manzanillo, Veracruz, Michoacan and two ports in Ensenada.
Mexican officials, as well as Hutchison Whampoa, are also reportedly studying the feasibility of developing the sparsely populated bay of Punta Colonet, which is 150 miles south of the U.S. border, into a "superport" rivaling those of Los Angeles and Long Beach.
But of most immediate interest may be Whampoa's Pacific port at Lazaro Cardenas, which is undergoing a massive expansion involving a new specialized container terminal, set to become the largest of its kind in Mexico. Lazaro Cardenas is also Mexico's deepest port and upon completion of its expansion will be capable of handling even the largest of container vessels.
In economic terms, China's Mexican port expansion could benefit U.S. consumers. First, the Mexican ports are much lower-cost import locations than are Long Beach and Los Angeles, which currently handle 80 percent of imports from Asia and 40 percent of all the cargo shipped into the United States. For example, U.S. longshoremen in Long Beach and Los Angeles typically earn over $100,000 per year; their Mexican counterparts may earn only $10,000. Reduced port costs could be passed off to the consumer. (However, some of this benefit probably would be negated eventually by the fact that American-made goods would then have to compete with even less-expensive imports.)
Second, expanded Mexican ports would provide alternative shipping routes into the U.S. in case the functioning of any American Pacific port was interrupted (by a terrorist attack, for example). In the future, when the longshoremen decide to strike, expect them to have significantly reduced bargaining power since more imports will be able to be redirected through Mexico.
However, though consumers may benefit in the short term, there is a very real negative ramification associated with increased imports entering the U.S. through Mexican ports.
By becoming more reliant on Mexico to keep America's imports flowing, the U.S. subjects itself to the increasing influence of yet another trade partner. Just as Belarus, Poland and the Ukraine control the pipelines that bring much of the oil and gas into the European Union, Mexican ports could increasingly regulate a greater proportion of the goods that flow into the U.S. It is like adding a middleman into the equation whom you now have to keep happy.
Moreover, China's inroads into Mexican port operations are no accident. China has already taken control of vital sea gates through which resources must travel into the U.S.—the Panama Canal and Freeport, Bahamas. The greatest concentration of U.S. oil refineries, terminals and storage facilities is in the Gulf of Mexico region, which means that much of the oil must pass through the Caribbean—a route now significantly controlled by China. In addition, China is establishing a huge deep-water port in Gwadar, Pakistan, at the entrance to the Persian Gulf.
Thus, China's expansion of its Mexican port operations is clearly part of a much larger strategy aimed at gaining control over global trade routes—and giving it the advantage in any future disputes.
On the other hand, lack of control over strategic gateways together with over-reliance on foreign nations—especially those not particularly friendly to Washington—puts the U.S. in a vulnerable position.
Is it realistic to believe that the U.S. could ever face the possibility of foreign powers, blockading supply lines, shutting the gate on trade? If you believe not, perhaps you also believe that world peace has finally arrived and America will never face another war.
At one time, America and Britain owned virtually every strategic sea-lane trade route and chokepoint around the globe. Today, almost all those gates have passed to foreign ownership or control, and most of America's and Britain's own domestic port complexes are now foreign-owned.
According to biblical prophecy, there is a time coming when America will be blockaded by many of its former trade partners, unless the nation repents and turns to God. Read it for yourself: "They shall besiege you at all your gates until your high and fortified walls, in which you trust, come down throughout all your land; and they shall besiege you at all your gates throughout all your land which the Lord your God has given you" (Deuteronomy 28:52; New King James Version). Believe it or not, that prophecy relates directly to the Anglo-American peoples.
True superpowers are self-sufficient, not critically reliant on other nations. Trends show that America's days as the world's singular superpower are numbered. Biblical prophecy confirms and describes for us how it will occur.