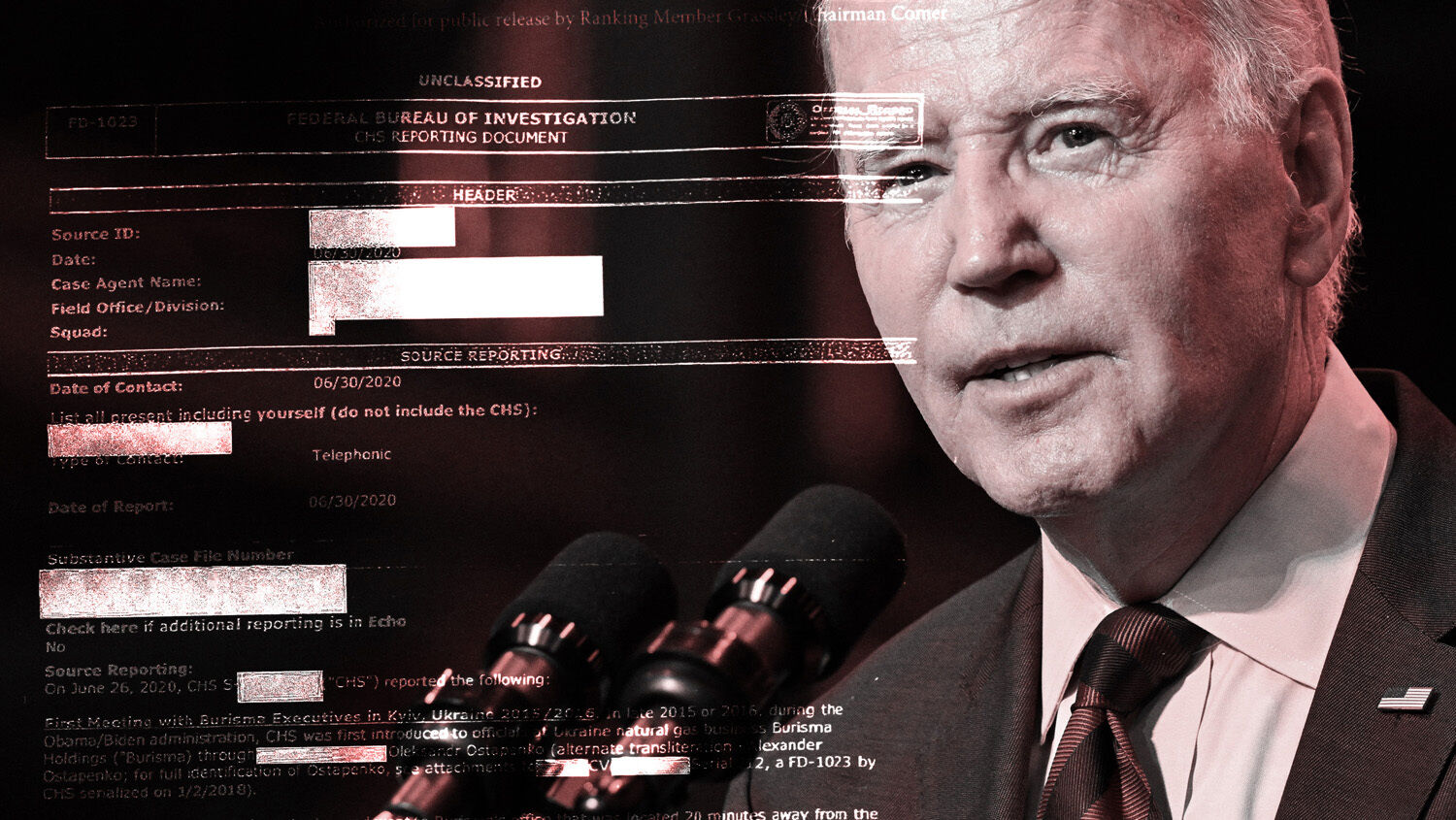 Republicans Release Form Exposing Biden Bribe Scheme
Republicans in Congress released a document on Thursday exposing the Bidens for coercing a Ukrainian businessman in 2016 to pay them millions. In exchange, they helped fire the prosecutor who was investigating his company.
Background: In May, a whistleblower informed Iowa Sen. Chuck Grassley and Kentucky Rep. James Comer about the unclassified FD-1023 form. The two Republicans issued a subpoena for the Federal Bureau of Investigation to release the document, which it refused to do until Comer threatened to hold fbi Director Christopher Wray in contempt of Congress. The fbi allowed all members of the House Oversight Committee to see the form last month. Yesterday, Grassley released the form to the public.
Bribery and blackmail: The form contains an interview between the fbi and a confidential human source (chs), a trusted informant who has been used by the fbi since Obama's administration. The chs detailed multiple meetings they had with Mykola Zlochevksy, the ceo of Burisma Holdings Ltd., a Ukrainian oil and gas company that Hunter Biden was on the board of directors for at the time.
Burisma wanted to break into the United States market by acquiring a U.S. energy company. In a 2016 meeting, the chs raised concerns to Zlochevksy about this, due to Ukraine Prosecutor General Viktor Shokin's public investigation into the company. According to the chs, Zlochevksy's response was essentially, "Don't worry. Hunter will take care of all of those issues through his dad." This conversation took place when Joe Biden was the vice president and had the leverage to make Shokin go away. He did so by withholding $1 billion in aid from Ukraine until Shokin was fired. He then publicly bragged about it.
The chs suggested to Zlochevksy that he hire an attorney to end the investigation. Zlochevksy said "he/Burisma would likely lose the trial because he could not show that Burisma was innocent." He then added that "it cost $5 (million) to pay one Biden, and $5 (million) to another Biden." Zlochevksy called Hunter "stupid" but said that he needed to keep him to end Shokin's investigation into their corrupt dealings.
In a follow-up phone call between the two, Zlochevksy expressed dissatisfaction with Trump winning the election. He said he was "forced" to pay the Bidens and had text messages and recordings of both Joe and Hunter Biden to prove it. If that is true, this is not just a bribery scheme. It's blackmail.
Trump impeachment: President Donald Trump was impeached the first time in December 2019 for "abuse of power" and "obstruction of Congress." On July 25 that year, Trump had a phone call with Ukrainian President Volodymyr Zelenskyy in which he asked him to look into all of the "talk about Biden's son, that Biden stopped the prosecution." Trump continued, "Biden went around bragging that he stopped the prosecution so if you can look into it …. It sounds horrible to me."
The left accused Trump of coercing Zelenskyy into investigating his political rival or else America would withhold military aid. These allegations came from a whistleblower who was not a witness to the call. When Trump unexpectedly declassified the phone call transcript, it didn't match the left's narrative, so they acted like it didn't matter. The whole impeachment was based on lies.
With the release of the FD-1023 form, it is clear why they attacked Trump so violently. He was getting too close to uncovering Joe Biden's illegal dealings, so the Democrats rushed in to bury it. That's why their lies were so transparent: It was a frantic attempt to hide the corruption.
Who were they really covering for? Joe Biden was the vice president at the time, but it's doubtful Biden was doing such deals without then-President Barack Obama knowing about them.
Deep state: This is treason at the highest level. Trumpet editor in chief Gerald Flurry outlines the corruption in the U.S. today in his book America Under Attack, which examines these events in light of Bible prophecy. It exposes the evil like nothing else. You need to read this book. Request your free copy today.