Breathing Fire on the Trans-Atlantic Alliance
And European elites are ready to help it burn.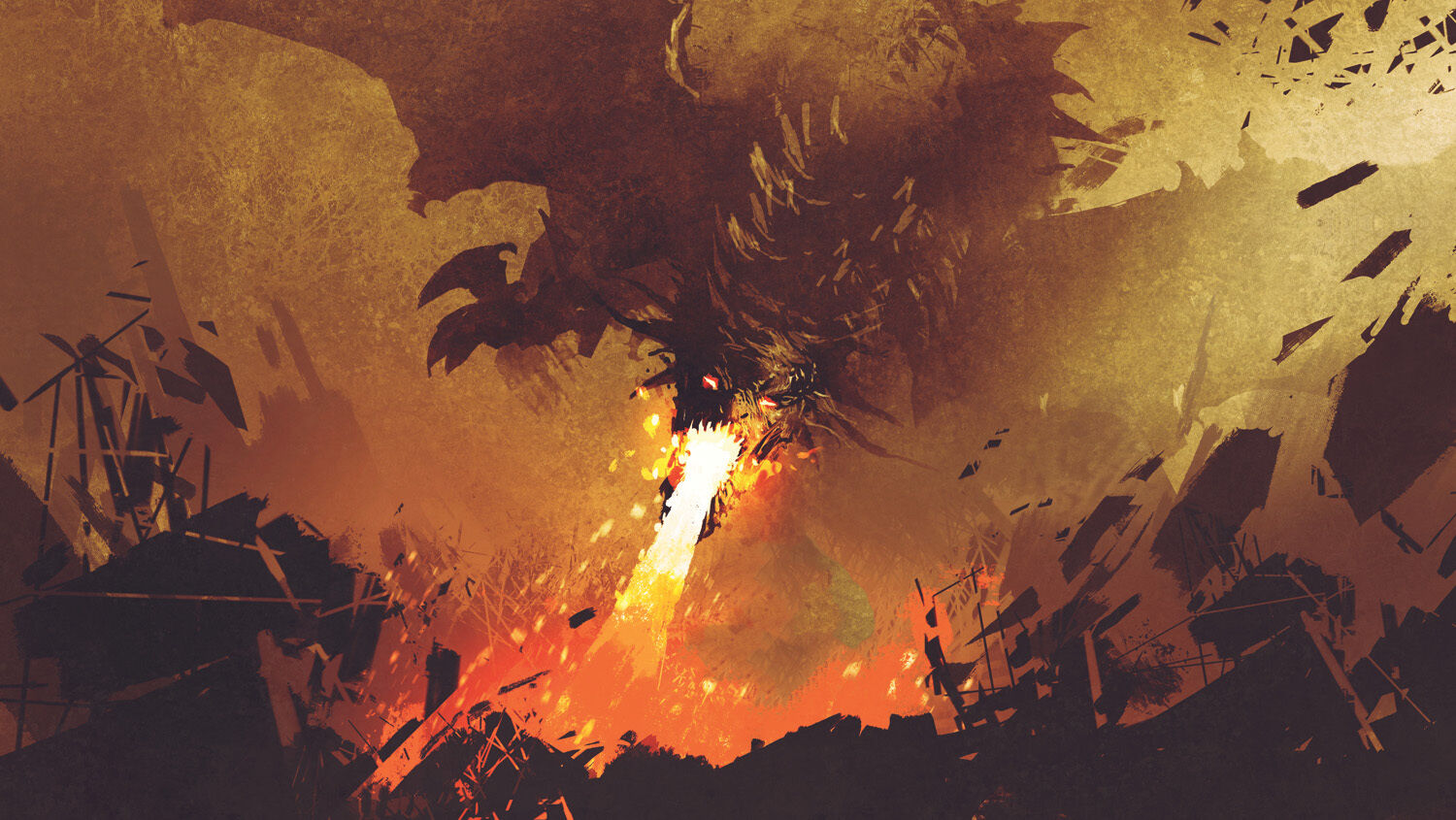 Breathing Fire on the Trans-Atlantic Alliance
And European elites are ready to help it burn.
Europe "should take control of its own destiny." That was the assertion of the Global Times, a mouthpiece for the Chinese Communist Party. "[I]f the EU wants to enhance autonomy and maximize its own interests …, it should think more of pragmatic interests in cooperation with China rather than having ideology, abstract values or another major power dominate the agenda …" (April 3).
This statement was published days before French President Emmanuel Macron, European Commission President Ursula von der Leyen and other high-level European leaders visited China in April. "Another major power" is a clear reference to the United States, and this was basically an open declaration that China is determined to convince the Europeans to look east instead of west.
Chinese General Secretary Xi Jinping understands that as long as the European nations remain aligned with America, China will struggle to achieve both its immediate goal of conquering Taiwan and its long-term goal of dominating the world. This long-term goal may sound hyperbolic, but both the policy papers and the actions of the Chinese Communist Party in recent years make it inescapably clear. Even the name China calls itself, Zhongguo, means "Middle Kingdom," connoting that China is not only the geographic middle of the world, but should also be the center of its economics, culture and government. This Sino-centrist worldview dates back centuries and has been making a major comeback under Chairman Xi. And he understands that to achieve it, Europe must be pulled out of its alliance with America.
So Xi is working furiously to draw the Europeans away from their historic ally and over to his dictatorial Communist regime. And what is most alarming is that some in the upper echelons of Europe's leadership are ignoring history, winking at the dark heart of the Chinese Communist Party, and succumbing to Xi's advances. In fact, some European elites have long hoped and prepared for just such a shift.
Macron Kowtows to Xi
Xi gave the French president the full red-carpet treatment in Beijing's Great Hall of the People, hailed him with a military parade in Tiananmen Square, and shared a lavish tea ceremony with him in Guangzhou. Altogether, he spent six hours personally with Macron.
During the flight back to Paris on April 9 aboard the French presidential plane, Macron revealed increased eagerness to realign European geopolitics. "The worst thing would be to think that we Europeans must become followers and take our cue from the U.S. agenda," he told Politico, adding that Europe needs "strategic autonomy." The clear way to do that is to replace U.S. partnerships with Chinese ones.
In many ways, Europe is the "middle kingdom" in this situation. It lies between the U.S. and China in terms of geography and world trade. Its historical and cultural identity is, of course, very much its own, but now it has two strong alternatives pulling it in opposite directions. One power is democratic, the other dictatorial.
Macron and other European leaders strive to portray themselves as champions of democracy, human rights and international labor standards. The French claim to stand for the three pillars of their national motto: liberté, égalité, fraternité. But Macron is showing that he is willing to overlook the fact that the Chinese Communist Party is made up of a gang of unelected Marxist thieves and that Xi is a dictator-for-life who is committing genocide against China's Uyghurs, enriching his party via slave labor, and supporting Russia's brutal invasion of Ukraine. The French president pointedly avoids criticism of China's covid-19 culpability, reckless domineering activities in the South China Sea, illegal crackdown on Hong Kong's freedoms, global police stations, brazen espionage, predatory loans to poor nations, "wolf warrior" diplomacy, systematic theft of intellectual property, abysmal human rights record, and active preparations to invade the free democratic island nation of Taiwan.
Why would the president of France ignore Xi's egregious tyranny? Macron himself gave the answer in the same interview: Europe's goal, he said, is to become a "third superpower." At present, he and other European elites with superpower ambitions feel tightly constrained by America, which has outlived its usefulness to them. But they calculate that with China's blessing, they can pull free of Washington and give the Continent its rightful place on the global stage as a political, economic and military juggernaut.
To win the blessing of the Chinese dragon, many European elites turn a blind eye to the numerous manifestations of Chinese Communist Party malevolence. In their intensifying disdain for the U.S. system, they essentially cheer for the predatory Asian dictatorship and make plain that they will not stand in the way of its dark ambitions.
Macron's recent talks with Xi are reminiscent of those he held with Russian President Vladimir Putin as Russia was amassing troops around Ukraine in 2021 and early 2022. At that time, Macron at least gave the impression that he sought to prevent war. Now he appears interested only in eroding U.S. influence and empowering China. This was made painfully clear by the green light Macron gave Xi to invade Taiwan without European intervention. He said: "Europeans cannot resolve the crisis in Ukraine; how can we credibly say on Taiwan, 'Watch out; if you do something wrong, we will be there'? If you really want to increase tensions, that's the way to do it."
Such an illogical and geopolitically naive statement would have sounded in Xi Jinping's ears like exhilarating war drums. And that's what Macron intended. He understands that European involvement could shred tens of billions of dollars' worth of Europe-China trade deals. More sinisterly, he also knows that a successful Chinese takeover of Taiwan would be a devastating blow to the image and influence of the island nation's main security ally, the United States. If America, already staggering after debacles like Afghanistan, sustains many more blows, it will be forced to retreat from diplomacy even further, creating the space necessary for Europe to become the unrestrained superpower that leaders like Macron yearn for it to be.
This French display of blatant anti-Americanism should be a wake-up call to Washington. Even more alarming, Europe's main economic powerhouse shares the same sentiment—if that were not the case, France would not dare speak against the U.S. as it does. In this sense Macron acts more like a mouthpiece for the reality that Germany created.
Enter Germany
Four days after Macron returned to the Élysée Palace, German Foreign Minister Annalena Baerbock took her turn visiting the "Middle Kingdom." In interviews and press conferences, she took a saner and more dignified stance than Macron, voicing concern over the Chinese Communist Party's human rights violations and condemning China's military advances against Taiwan. "A unilateral and violent change in the status quo would not be acceptable to us as Europeans," she said.
To many onlookers, her visit seemed to provide reassurance that Europe still stands on the side of freedom, Western values and the U.S.-led global order.
Europe is trying to have it both ways. But the cold truth is that many German elites share Macron's goal of ending the U.S.-dominated era and making Europe an unchained geopolitical colossus. And toward this end, while America works to decrease economic dependence on an increasingly lawless and aggressive China, Germans are increasing trade ties with China.
There is often talk of reducing dependence on China, but at the same time Germans see the massive Chinese market as the future for German industry. China has been Germany's largest trading partner for seven consecutive years, and the two sides aim to further build that relationship. Much of this is happening not despite the fact that it pushes the U.S. into the lonely corner of the geopolitical triangle but because of that fact.
"We've allowed China to drive a huge wedge between the U.S. and Europe," Reinhard Bütikofer, chairman of the European Parliament's delegation on China, said of a China-Europe trade deal called the Comprehensive Agreement on Investment. Since the deal aimed to open Chinese markets to Europe's industries while blocking out those of America, the European Commission called it "the most ambitious outcome that China has ever agreed with a third country or economy." This agreement is currently stalled, but German Chancellor Olaf Scholz and several other German elites are determined to push it through. Scholz said recently that he hoped the agreement "will take effect as soon as possible."
Germans understand that to make Europe the superpower they envision, they need to tap more deeply into the Chinese market. Germany's green agenda makes closer cooperation with China far more urgent. China controls the production of most of the cobalt, lithium and rare earth elements that are critical for Germany's transition to clean energy. In mid-April, Germany's last nuclear power plant was shuttered, making Germany even more dependent on China.
At the same time, China's vaunted Belt and Road Initiative is building all manner of infrastructure along the thousands of miles between Beijing and European capitals. The purpose of all the highways, rail networks, bridges and ports is to reduce transportation costs and expand trade volumes, and China has invested a trillion dollars toward that end. Several EU countries have signed on, including the Czech Republic, Greece, Hungary, Italy, Poland and Portugal. Germany does not have a direct part in the initiative, but it is allowing China greater inroads into its borders. Last year, a state-run Chinese firm was allowed to purchase a 24.9 percent stake in a container terminal at Hamburg, Germany's largest port. And the infrastructure for-ever greater trade continues to be laid.
These trends prompted the New York Times to headline on April 12 "As U.S. Tries to Isolate China, German Companies Move Closer." The article calls particular attention to German chemical behemoth basf and carmaker Volkswagen. Both of these megafirms have shifted into overdrive to increase their already vast manufacturing operations in China and their sales to China's 1.4 billion-strong market. German companies such as bmw, Mercedes-Benz, Siemens, Kreditanstalt für Wiederaufbau, Deutsche Telekom, Allianz, Daimler and e.on are on the same basic path.
Reducing trade ties with China would be "unthinkable for almost all of German industry," Mercedes-Benz ceo Ola Kallenius told Bild on May 1, adding that "decoupling from China is an illusion."
So instead of following the U.S.'s lead and working to move away from China, Germany is taking exactly the opposite path. The reason is not that its economy can't survive without China—but rather that China gives Germany an opportunity for growth. And growth, the Germans know, is vital to the goal of making Europe the "third superpower."
China Needs Europe
Leaders of nations such as China and Russia have long sought to bypass the U.S. dollar in international trade. After seeing the dollar weaponized against Russia to punish it for its war against Ukraine, this desire greatly intensified. The Global Times wrote on April 26, "Facts have proven that the hegemony of the U.S. dollar can be broken."
But the facts also show that the dominance of U.S. markets, along with macroeconomic inertia, would make this a tall order, particularly if the plan is for China's currency to take the dollar's place.
The U.S. dollar's share of global payment transactions in January, according to the swift banking system, stood at 45 percent, well ahead of any other currency. China's renminbi was in eighth place, with just 1.3 percent. Meanwhile the dollar still dominates currency reserves held by the world's central banks, constituting about 60 percent of the total. The renminbi is fifth, with 3 percent.
China is no doubt an economic heavyweight. But since the Chinese Communist Party manipulates the nation's currency with a heavy hand, finance ministers in other countries look upon the renminbi with a jaundiced eye. Chinese leaders know this and understand that if they end up in a trade war with the U.S., they need an accomplice who wields a currency that has far more international confidence. The euro fits that description.
In global payments, the euro came second in January with an impressive 33 percent. And in currency reserves held by central banks, the euro again takes second, with 20 percent.
In 2013, the People's Bank of China and the European Central Bank created a landmark bilateral currency swap. The move was designed to lower the cost of financial transactions between the two, help them secure liquidity in the event of stress, and most importantly, let them bypass the U.S. dollar. Last October, the deal was extended for three more years in a decision the Global Times called, "a fresh sign of closer ties between the two major currencies amid mounting pressure from a strong U.S. dollar."
For China, having Europe as a major trade partner is more than merely vital to its export-driven economy. It is also crucial for China's broader geopolitical goal of pushing the U.S. dollar out of world trade. And many Europeans are preparing to assist this Chinese push. As his plane flew back to Paris, perhaps somewhere over Central Asia, Macron said he agreed with Xi Jinping that Europe must fight against the "extraterritoriality of the U.S. dollar."
China and Russia are leading the global push for a de-dollarized world. Both seek the freedom to invade their neighbors and expand their territory without facing dollar-based sanctions such as those currently bedeviling Russia's economy. When the two trade with each other, it's now mainly in renminbi, and they're imploring other nations to follow their example. Argentina, Brazil, India, Iran, Saudi Arabia and Singapore are all divesting from the dollar.
So far these efforts have only created minor vexations. But as more Europeans buy into the vision of leaders such as Macron and join China's and Russia's rejection of the dollar's "extraterritoriality," the currency's days will be numbered.
Two Superpowers Against One
T. H. Tetens wrote Germany Plots With the Kremlin just eight years after World War ii and noted, "[The Nazis] are dreaming of building a new third power bloc and declared that this new power combination would plunge the United States down from its present dizzy heights."
That's exactly what we are seeing happening—what's more we should have been expecting it in light of Bible prophecy. Some 2,700 years ago, God inspired the Prophet Isaiah to prophesy of a staggeringly powerful multinational trade bloc that would emerge in our modern times. And he specified who the main members of this bloc would be.
In Isaiah 23:1, he calls one of the main players "Chittim." Trumpet editor in chief Gerald Flurry explains the meaning of this name in his booklet Isaiah's End-Time Vision: "Kittim is synonymous with the Chittim of Isaiah's prophecy. … After their migration through Central Asia, the Kittim made their appearance in modern-day northeastern China and Mongolia …." So this refers mainly to modern China.
Isaiah also says "Tyre" will be a major member of this trade alliance. Mr. Flurry explains: "The spiritual center of the [modern European] Holy Roman Empire is called Babylon in your Bible (Revelation 17:5; 18:1-3). But here in Isaiah, the Bible refers to Tyre (and its allies Zidon, etc) as the commercial center of this European power" (ibid).
Isaiah 23, along with a sister passage in Ezekiel 27, shows that Russia and other Asian powers will also join this globe-girdling economic bloc. Together, this alliance of European and Asian countries will seize control of global trade in the near future. Passages such as Deuteronomy 28:52 show that they will use that control to suffocate America and some U.S. allies.
"The Bible contains many prophecies of that European power attacking America," Mr. Flurry continues. When the attack occurs, "there will be no help or sympathy from Asia." In fact, "Russia, China and Japan" will enter into a "brief alliance" with Europe. "All of them are going to besiege America, Britain and the Jewish nation."
"This is why Isaiah's prophecy of an end-time 'mart of nations' that includes both European and Asian powers is so intriguing. And why the trend of collusion between these two great economic blocs is worth watching" (ibid).
The geopolitical shifts we are now witnessing in China and Europe go beyond economic considerations. It is all leading to the rise of two mighty superpowers dead set on ending the era of the America-led order. China and Russia are increasingly belligerent and are uniting Asia through trade and force. At the same time, Germany is building a European economic powerhouse with the ambition of making it what Macron called a "third superpower" with an EU military.
Many around the globe today are alarmed by Russia's war on Ukraine and China's increasingly clear plan to conquer Taiwan. But few recognize that the mighty United States, oceans away from its main adversaries, could be similarly brutalized. These prophecies show that this is what lies ahead for America. And in light of them, we should not be surprised to see Europeans willing to overlook the Chinese Communist Party's cruelty in order to partner with it. We should actually expect China-Europe ties to keep growing stronger.
And even as China grows more powerful, belligerent and aggressive, we should expect Europe to increasingly side with Beijing—and against the U.S.
Bible prophecies make plain that these trends will culminate in a time of extreme calamity and heavy darkness. But that is not the end of the story.
The Scriptures also show that the age of darkness will be brief and will then be overcome by light. At that time, a fundamentally different chapter of history will begin—far brighter than any mankind has ever experienced.
"[T]hat trading partnership won't last long," Mr. Flurry writes. "Soon they will clash, just before Jesus Christ returns and destroys both of them" (ibid).
The Creator of man will return to Earth and decisively end our lawlessness, rebellion, tyranny, destructiveness, human rights abuses, genocide, oppression, covetousness, greed and other evils. He will usher in an age of light and peace for the peoples of China, Europe, America and the entire world. "Thank God," Mr. Flurry writes, "there is great news beyond the bad news."
Isaiah had a prophecy for the end time that was twofold. He delivered his message to the temple priests and to the people of Israel. Did you know that most of Isaiah's temple prophecies are also addressed to God's own Laodicean Church in the end time? The Laodiceans' rebellion revolves around God's government. They don't want God to rule them. Isaiah has a powerful vision for the Laodiceans, the nations of Israel—and even the whole world. You won't find a more inspiring, far-reaching vision in all the Bible. It pictures a beautiful and peaceful Earth. The vision reaches out into the universe. This prophet also reveals how Satan successfully destroys that vision for many of God's own people. Those who overcome Satan's deception will be the most honored people ever on this Earth. They will become the Bride of Christ!