How Germany Can Repent
The nation will soon be haunted again by its past. There is only one way to alter history.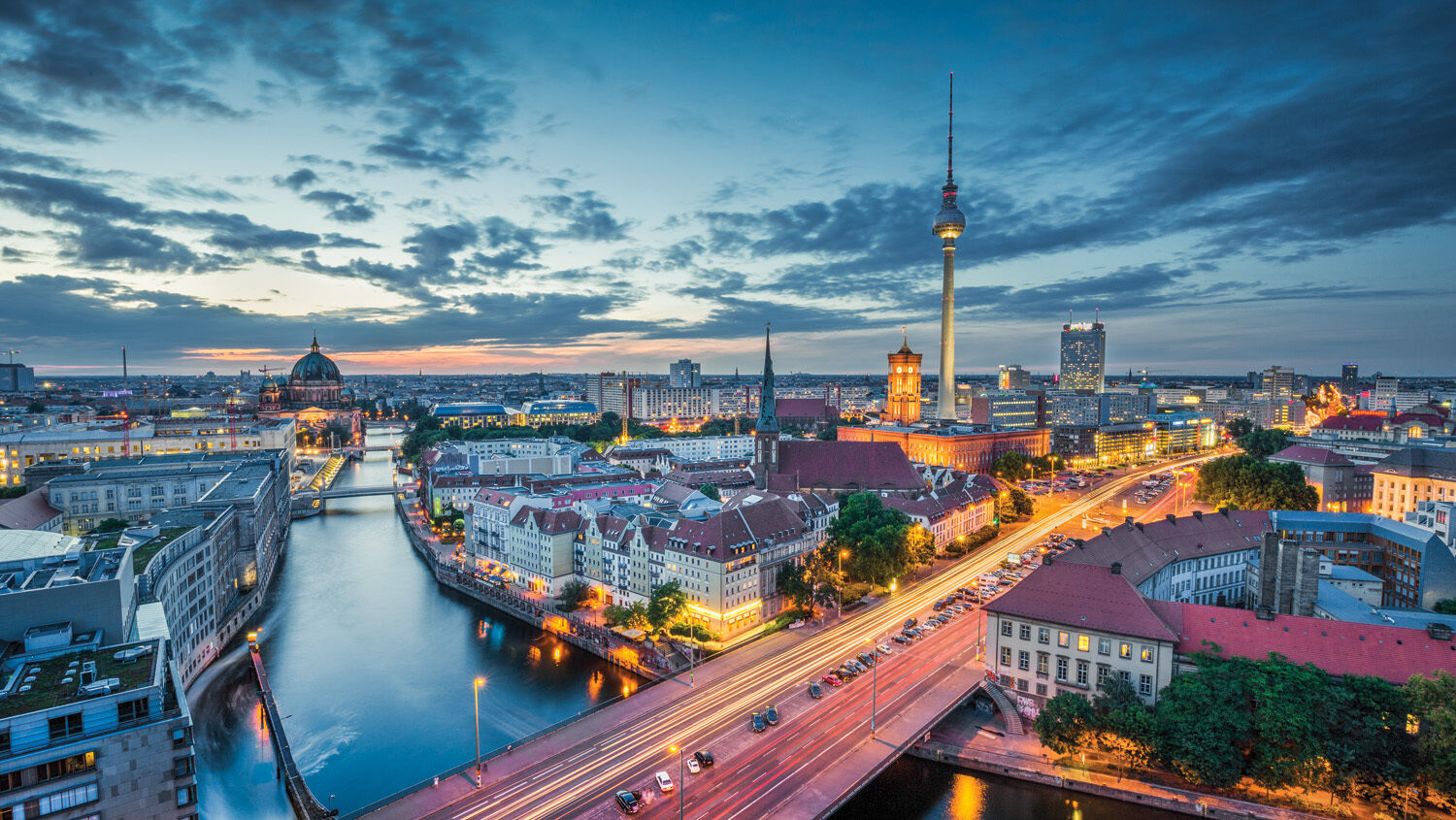 How Germany Can Repent
The nation will soon be haunted again by its past. There is only one way to alter history.
Germani. "War men." That is how the Romans described the tribes they encountered in the heart of Europe. They warred among themselves, they warred against surrounding nations, and they warred against Rome—and won. They would go on to make war as the Holy Roman Empire of the German Nation. They would plunge Europe and the world into the Great War. They would initiate the horrors of Nazism and World War ii. And even before that war concluded, they began planning the next round. The world is well acquainted with the warring of these "Germani."
It is assumed that Germany today has repented of its past genocide and aggression, that it is thoroughly denazified, that it has transformed into a gleaming example of a modern peaceful nation. This view overlooks the fact that, as recently as the 1990s, Germany conquered the Balkans in what Trumpet editor in chief Gerald Flurry called "the first conquest of World War iii." It ignores the reality that Germany has strong elements of extremism and anti-Semitism, and the people are demanding military dominance and even an authoritarian leader. It overlooks the fact that Germany has cooperated closely with Russia, enabling its war against Ukraine.
Sadly, the Germans remain unrepentant war men. But like all peoples, repentance is exactly what they need most.
Did you know that Germany once had a national, legal holiday called a Day of Repentance and Prayer? Given the nation's history, it is clear that this day has never caused a true change of course and national healing. But its history and meaning do point to a real solution.
'Day of Repentance and Prayer'
Former Bundestag President Wolfgang Schäuble bemoaned in 2019 that this holiday had been abolished in 1994. "Repentance is healing, but unfortunately rare in our everyday lives," Schäuble said (Trumpet translation throughout). It helps against "fantasies of omnipotence," he added. Ironically, it was during the time that Germany was conquering Yugoslavia and indulging in a "fantasy of omnipotence" that this day was abolished.
First officially established in Prussia in 1893, this Protestant church holiday became a national day of remembrance in 1934. Five years later, Germany plunged the world into war for the second time. The Nazi regime reduced the importance of the day by moving it to Sunday.
After the war, the day was reintroduced, but was abolished in Communist East Germany in 1966. After Germany reunited in 1990, it became a nationwide work-free holiday. Just a few years later, Germany was looking to abolish a holiday to create more workdays. Except for the German state of Saxony, the nation decided to sacrifice this meaningful day for health insurance improvements. It was again moved to Sunday, as it had been under Adolf Hitler.
This has had a genuine impact on the nation's perception of its own circumstances.
"If we lived 200 years ago, we probably would have observed one Day of Repentance and Prayer after another during the coronavirus pandemic," Germany's Merkur.de stated in 2021. "In times of crisis, such as emergencies or wars, the Protestant church at that time scheduled several days of repentance and prayer in one year. The people were supposed to collectively ask for forgiveness and repent together."
Luther2017.de noted that the word repentance (from the German word Buße usually translated "penance") should not be understood here "as a way of making amends for wrongs committed. Rather, the holiday gives people the opportunity to self-reflect, repent or reflect on a change of heart and mind. Since the Day of Prayer and Repentance is now a working day, services are usually celebrated in the evening hours. They often focus on social and political problems to encourage communal self-reflection."
In other words, any time such a day was called in the past, it caused the people to consider how they as a nation could repent, or turn from their sinful ways. The problem is the people as a whole never turned from their warring nature.
Though Protestant churches since the time of Martin Luther have always venerated this day more than their Catholic counterparts, they did not invent it. The tradition precedes the Protestant Reformation, before the Middle Ages, before Charlemagne in the eighth century, all the way back to antiquity when similar days were kept (Luther2017.de).
This day is said to be inspired by the example of the city of Nineveh's response to the warning of Jonah. To this day, both Protestant preachers and Catholic priests often refer to the example of Jonah in their messages when commemorating this day in their churches.
Example of Nineveh
The example of Nineveh is one that Jesus Christ drew on during His ministry, saying, "[T]hey repented at the preaching of Jonas; and, behold, a greater than Jonas is here" (Matthew 12:41). Jesus Christ at the time lamented that the people in Judea did not repent as the Ninevites had done.
Nineveh was the ancient capital of Assyria. Just like modern Germany, Assyria had a history of war. In fact, its whole economy depended on successful military campaigns. To scare visitors, the city was decorated with the skins of its enemies. The people of this once great city knew nothing but war—until a foreign prophet walked into their midst.
He claimed to have a message from God—who would destroy them in 40 days for their abominable wickedness. Likely astonished by the prophet's courage, they recognized the great God behind the man, believed the message, submitted, obeyed and repented. Historical references indicate that the king did not go to war that year.
This example has not only been recorded in the Bible but has evidently been seared into the nation's memory.
After Jonah's time, Assyrian tradition records incidents when fasts were proclaimed based on his preaching. Malankara World notes that local Assyrian tradition in the sixth century a.d. recounts that the people of Nineveh again responded to a plague with fasting; the spiritual leader at the time referenced the example of Jonah. Various churches in the region commemorate the "Fast of Nineveh" as a tradition to this day!
As our booklet Germany and the Holy Roman Empire explains, ancient Assyrians mainly settled into Central Europe, where Germany and Austria are located today. Could it be that these peoples carried with them this tradition of nationwide repentance through the millennia all the way from Nineveh?
The few Germans who do keep this day and hear messages about the repentance of Nineveh do not realize that the people who set this wonderful example were their very own ancestors.
This lack of historical understanding has grave consequences. After World War ii, many have contemplated what proper national repentance would look like. But nobody decided to proclaim a national fast and collective repentance the way the rulers of ancient Assyria did. Germany failed to repent because it failed to see the example of ancient Assyria as its own history, Mr. Flurry explains in Jonah: A Strong Warning to God's Church.
But this example reveals the only kind of repentance that could enable Germany to break from its warlike history.
Genuine Repentance
The people of Nineveh asked: "Who can tell if God will turn and repent, and turn away from his fierce anger, that we perish not?" (Jonah 3:9). "True repentance moves God deeply," Mr. Flurry writes in his booklet on Jonah. "Who knows when God may change His prophecies against an evil nation? Who knows if God will save an empire or nations? Our message could save the whole world from destruction if it would only repent!"
The book of Jonah reveals the key to such repentance.
"So the people of Nineveh believed God, and proclaimed a fast, and put on sackcloth, from the greatest of them even to the least of them" (verse 5). "Here is an amazing truth," Mr. Flurry comments. "Carnal-minded people who didn't even believe in the true God knew this message came from God! The people of Nineveh proved that everybody throughout the ages should heed God's warning messages. …
"The king and the nobles took the lead in repentance. And that is what the kings and presidents of this world should do today! Are they too proud to fast, wrap themselves in sackcloth, and sit in ashes? Are they ashamed of God and His message? Must they experience nuclear disaster before they repent?" (ibid).
"The Prophet Jonah warned the Assyrian city of Nineveh to repent. It is the only biblical example of a city or nation ever repenting. About 150 years later, the Assyrians returned to their evil ways," Mr. Flurry writes in Nahum—An End-Time Prophecy for Germany. Germany could stop repeating its bloody history by again heeding God's message. And even though there are currently no indications on the world scene or in Bible prophecy that Germany will repent in the imminent future, there is still hope beyond.
Prophecies for Modern Germany
Rising before our eyes is a Germany that has not learned from its past. As crises around it intensify, we see a push from Germany to turn its economic and industrial might again into a powerful war machine. Bible prophecy indicates that, once again, a strongman will rise to use Germany's incredible might to inflict incredible evil.
Nahum 1:11 reads, "There is one come out of thee, that imagineth evil against the Lord, a wicked counsellor." Daniel 8:23-25 add, "And in the latter time of their kingdom, when the transgressors are come to the full, a king of fierce countenance, and understanding dark sentences, shall stand up. And his power shall be mighty, but not by his own power: and he shall destroy wonderfully, and shall prosper, and practise, and shall destroy the mighty and the holy people. And through his policy also he shall cause craft to prosper in his hand; and he shall magnify himself in his heart, and by peace shall destroy many: he shall also stand up against the Prince of princes; but he shall be broken without hand."
As Mr. Flurry explains, a strongman is about to rise in Germany who will lack the humility to repent. In fact, he will have the audacity to set himself up as a god. This man will revive German militarism on a scale not seen before. He will repeat the bloodshed of ancient Assyria multiplied by the power of modern weaponry. He will inflict a holocaust greater than Hitler even dreamed of, and he will be responsible for the death of nations.
But the good news is that all this will lead to the return of Jesus Christ, the Prince of princes. He will intervene in this final conflict to end German warmongering forever and lead mankind into worldwide repentance. Germany and the nations it conquers—and is conquered by—will finally repent.
The book of Nahum contains one of the strongest warnings directed against any nation, but it also contains hope for peace! This prophecy shows that the German war machine will be destroyed and the German people will repent. Perhaps that is why God is choosing the German people to fulfill this prophecy.
Germany is soon to inflict great destruction on this world. God will use that nation—called Assyria anciently—as His tool to punish the nations of Israel today—mainly America and Britain. Then, about three years later, God will use the Russians and Chinese to destroy Germany. Finally comes the battle called Armageddon, when Jesus Christ returns to rule this Earth. The dreadful Day of the Lord is dangerously close! But we must also look beyond that time to the glorious rule of God!