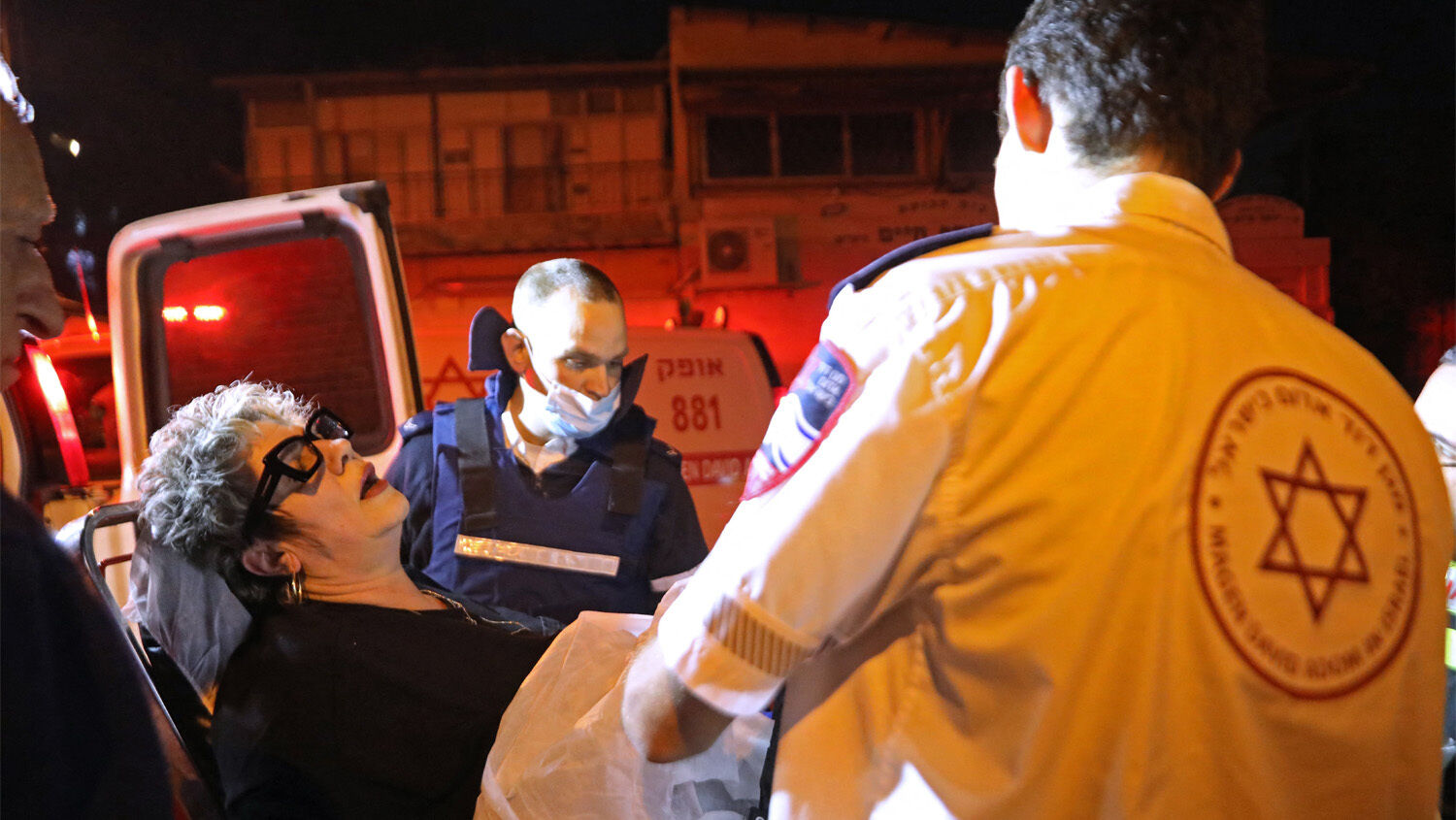 Seeing Hope in Israel's Terror Attacks
How Jerusalem finally will become the 'city of peace'
Israel has suffered one of the most intense periods of terror attacks it has seen in years. Tensions between Jews and Arabs are reaching a boiling point, with many on both sides having died since March 22. This all comes as the Islamic holy month of Ramadan coincides with the Jewish festival of Passover. Because of the interreligious tensions, many fear the violence is just beginning.
The first attacks occurred in Jerusalem. A Jewish man was stabbed by an Arab while jogging on March 19. The following day, two police officers were stabbed. According to the Times of Israel, an apparent relative of the March 20 assailant claims "the incident was a brawl, and not a terror attack as police have charged."
On March 22, a Bedouin from the southern city of Beersheba murdered four people and injured two women. Mohammed Abu al-Kiyan rammed a cyclist with his car then drove to a gas station, where he stabbed one person. He then went to a shopping center to attack more people. The carnage ceased when a bus driver shot Kiyan dead. Jamal Al-Huwail, a Palestinian politician, praised Kiyan as a manifestation of Palestinian Arabs' fight for control of the Holy Land.
On March 27, two Israeli police officers were murdered in the city of Hadera. Two gunmen fired at a bus station in the city. He was shot dead by two undercover officers who happened to be in the vicinity. The Islamic State claimed responsibility.
On March 29, a Palestinian mowed down four people with an assault rifle in Bnei Brak, a Tel Aviv suburb. A shootout then commenced between the gunman and police. A police officer and the gunman were killed. The gunman, identified as Diaa Hamarsheh, previously was in prison for six months due to a "security incident."
"The world always tells us, 'You need to sit and negotiate,'" said Moshe Waldman, a witness of the attack. "But that's not the reality here. We are getting killed because they hate us."
Hamas, the Islamist group that controls the Gaza strip, said they "express our blessing to the Tel Aviv operation."
On March 31, the Israeli military conducted a raid in the West Bank town of Jenin, "a center of Palestinian militancy," according to the Wall Street Journal. The Israeli Defense Forces (idf) were looking for three men suspected of involvement in the Bnei Brak attack. The idf stated "a number of violent incidents" complicated the raid. "Palestinian assailants fired toward the troops, who returned fire. Three assailants were hit." According to the Palestinian Authority, two Palestinians were killed and another 15 were injured.
On April 1, in the city of Hebron, Palestinians rioted against the Israeli authorities. One man, who was throwing Molotov cocktails at Israeli soldiers, was shot dead.
On April 2, Jerusalem's Old City experienced unrest. Rioters clashed with police at the city's Damascus Gate. Four rioters were arrested.
After the Bnei Brak attack, Israeli Prime Minister Naftali Bennett said in a video statement, "After a period of quiet, there is a violent eruption by those who want to destroy us, those who want to hurt us at any price. What is expected of you, Israeli citizens? Vigilance and responsibility."
During his speech, Bennett suggested something that exposes how anxious Israelis are getting: "Whoever has a gun license, this is the time to carry a gun."
Last year's Ramadan saw riots at Jerusalem's Temple Mount and a war with Gaza. Time will tell if a similar eruption of violence will occur this year as well.
The New York Times called this wave of terror "the deadliest in seven years" for Israel. Al-Monitor stated that "Israel has not experienced such an intense terrorism spree since the second Palestinian intifada some 20 years ago." That may be an exaggeration. Thousands died from both sides in the bloody conflict from 2000–2005. But this shows the anxieties many are having.
Israel has been struggling to get along with its Arab neighbors since it became a country in 1948. As tragic as the recent bloodshed is, it's hardly anything new.
There is cruel irony in the latest attacks. Both Jews and Arabs claim common descent from the Patriarch Abraham. Arabs claim Abraham's son Ishmael as their ancestor. Jews claim Abraham's other son, Isaac. Many of the attack sites have common history with both biblical figures.
It was around the area of Beersheba where God blessed Ishmael to become a great nation (Genesis 21:14-20). God made a similar promise to Isaac at Beersheba (Genesis 26:23-25). Hebron is the location of Abraham's tomb—where Isaac and Ishmael buried him together (Genesis 25:9). Jerusalem is Judaism's holiest city, and Islam's third holiest. Jerusalem's name even means "city of peace."
You would think this kind of shared heritage would bring brothers together. Instead, they're at each other's throats.
The latest terror attacks weren't the first and won't be the last. Everybody knows this. It may be hard for many to see hope that circumstances will improve. But there is hope. And it comes from what is, to many, an unexpected source.
Both sides claim to worship the God of Abraham. Both sides claim the biblical heritage as their own. Both sides claim Jerusalem as their own. But what some may not realize is, God also claims Jerusalem.
In Zechariah 3:2, God reveals Himself as "the Lord who has chosen Jerusalem (Zechariah 3:1; Revised Standard Version). He says in Zechariah 2:17, "the Lord will again comfort Zion and again choose Jerusalem" (rsv).
"There is no city on Earth God talks about in the way He talks about Jerusalem," Trumpet editor in chief Gerald Flurry writes in The Eternal Has Chosen Jerusalem. "God Himself chose Jerusalem. He didn't choose Paris or London or New York—He chose Jerusalem. Imagine—a city God has chosen!"
But why has God chosen Jerusalem? The answer lies at the heart of the solution to the Arab-Israeli troubles.
Mr. Flurry writes: "[O]h how God loves Jerusalem! Mainly He loves the Jerusalem that is to come. Over the centuries, through His prophets and apostles, God has inspired a multitude of prophecies about this extraordinary city, many of which reveal His glorious, imagination-stretching plans for it."
One of those prophecies is in Micah 4: "But in the last days it shall come to pass, that the mountain of the house of the Lord shall be established in the top of the mountains, and it shall be exalted above the hills; and people shall flow unto it. And many nations shall come, and say, Come, and let us go up to the mountain of the Lord, and to the house of the God of Jacob; and he will teach us of his ways, and we will walk in his paths: for the law shall go forth of Zion [a mountain in Jerusalem], and the word of the Lord from Jerusalem. And he shall judge among many people, and rebuke strong nations afar off; and they shall beat their swords into plowshares, and their spears into pruninghooks: nation shall not lift up a sword against nation, neither shall they learn war any more" (verses 1-3).
Here is another prophecy: "Rejoice ye with Jerusalem, and be glad with her, all ye that love her; rejoice for joy with her, all ye that mourn for her. … For thus saith the Lord, Behold, I will extend peace to her like a river, and the glory of the Gentiles like a flowing stream … As one whom his mother comforteth, so will I comfort you; and ye shall be comforted in Jerusalem" (Isaiah 66:10, 12-13).
God reveals in His Word that He has an awesome plan for Jerusalem. He intends to make it a real "city of peace"—a city leading the whole world to abandon war. A beacon to show the world—including every Jew and every Arab—the way to peace.
"Fix your eyes on this city as [God] does," Mr. Flurry writes. "If you can get God's view of Jerusalem, it is the most inspiring vision you will ever have! If you see it as God does, you will understand the greatest vision in the entire Bible. It will keep your life filled with hope—as it does God!"
To learn more, please request a free copy of The Eternal Has Chosen Jerusalem.