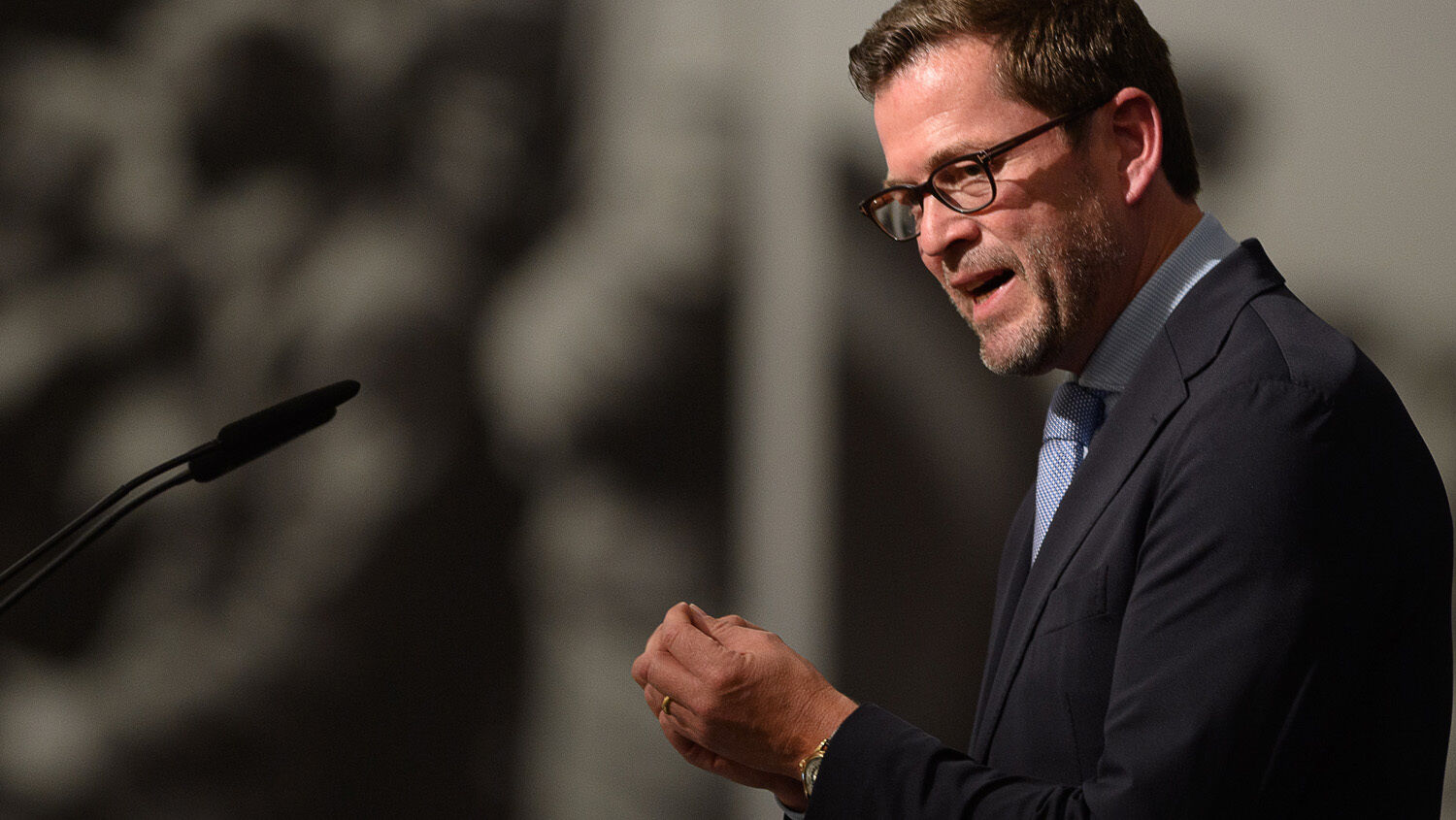 Guttenberg on Ukraine
An overarching leader is about to rise in Europe. This may be too late for Ukraine, but it could help fortify Europe in the future.
Former German Defense Minister Karl-Theodor zu Guttenberg is reaching out to Ukrainians, many of whom feel betrayed by Germany. In an interview with Maria Bartiromo on March 18, Guttenberg noted that he is in contact with "the heroic Klitschko brothers in Kyiv." Boxing legend and mayor of Kyiv Vitali Klitschko wrote in an article for Bild on January 23: "Germany is betraying its friends!"
Guttenberg also lamented Germany's weak leadership. Concerning the phone call between German Chancellor Olaf Scholz and Russian President Vladimir Putin, Guttenberg said it was "fruitless" and there is "probably a big smile in the Kremlin if you ask for a ceasefire [as Scholz did]. At the same time, Lviv is being hit by missiles."
Bartiromo asked Guttenberg about Ukrainian President Volodymyr Zelenskyy's address to German lawmakers on March 17. Guttenberg said: "First of all I am deeply moved and impressed by Zelenskyy's leadership as so many are. At the same time, it was a bizarre situation yesterday, watching his video appearance in front of the Bundestag and then seeing the standing ovation from the members of parliament for being bluntly criticized." Zelenskyy lamented Germany's lack of support for Ukraine. The German parliamentarians applauded but have done little to change the circumstances.
Guttenberg also talked about the economic repercussions of the refugee crisis and the fact that his family has accepted eight Ukrainian refugees into their home.
Just two months ago, before the invasion, Guttenberg was one of the few who warned about Putin. In an address to around 1,000 guests at the digital annual kick-off event of the private bank Merck Finck, he criticized Germany's leadership, saying they were "delivering … a remarkable egg dance." Instead of sending 5,000 helmets to Ukraine, one might as well have sent towels, Guttenberg mocked.
Around the same time, Klitschko said: "Five thousand helmets are an absolute joke. What will Germany send next in support? Pillows?"
Current German Defense Minister Christine Lambrecht, who was responsible for approving the 5,000 helmets, is increasingly criticized for faux pas and a lack of expertise. The local paper Fraenkischer Tag noted, "Guttenberg, for example, would certainly have acted more briskly." Wirtschafts Woche said that Guttenberg has been speaking "less as the head of an investment firm and more as a former German defense minister."
In "Is KT zu Guttenberg About to Come to Power?", Trumpet editor in chief Gerald Flurry wrote:
Though he hasn't been in politics for some years now, KT zu Guttenberg is keenly tuned in to world events. He has impressive political, economic and military understanding, and he frequently writes articles and gives interviews for some of America's and Europe's biggest news organizations. Guttenberg is a brilliant man in many ways, and for about a decade now I have indicated that he could be the next leader of Germany—and really, of Europe.
As crises increase, European leaders may very well look to Guttenberg for leadership. It may be too late for Ukraine, but it could certainly help fortify Europe in the future.
End-time prophecies in Daniel and Revelation speak of the rise of an overarching strongman in Europe. Daniel 11:21 says: "And in his estate shall stand up a vile person, to whom they shall not give the honour of the kingdom: but he shall come in peaceably, and obtain the kingdom by flatteries."
Daniel 8:23 warns: "And in the latter time of their kingdom, when the transgressors are come to the full, a king of fierce countenance, and understanding dark sentences, shall stand up."
Revelation 17:10 predicts: "And there are seven kings: five are fallen, and one is, and the other is not yet come; and when he cometh, he must continue a short space."
One overarching leader is about to rise in Europe. To learn why we believe this man will be Karl-Theodor zu Guttenberg, read Mr. Flurry's article "Is KT zu Guttenberg About to Come to Power?"