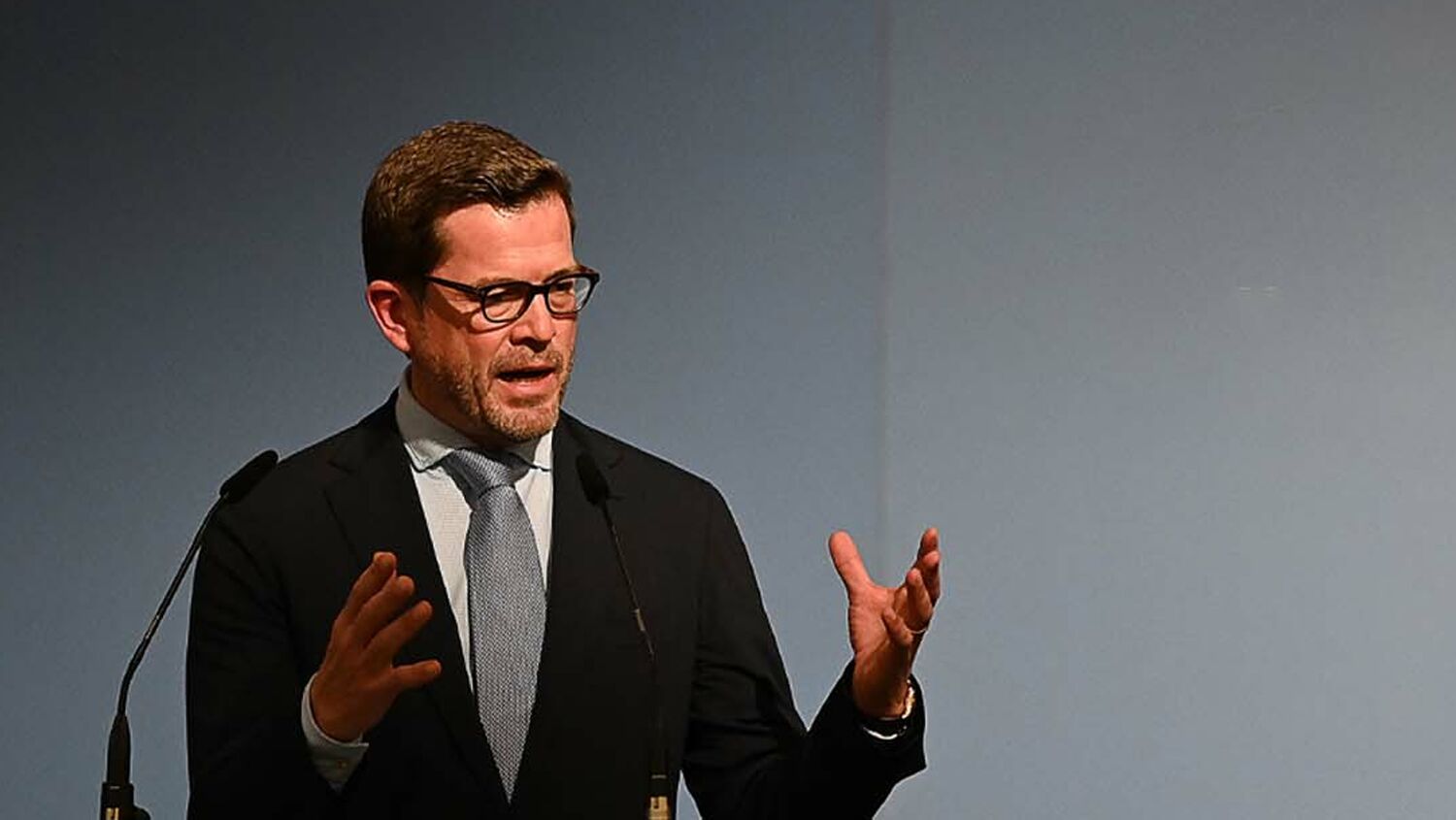 Former German Defense Minister Speaks Out
The way Karl-Theodor zu Guttenberg speaks about the leadership vacuum in Europe may indicate he wants to fill it.
In a leaderless world, men like Russian President Vladimir Putin have free rein, warned former German Defense Minister Karl-Theodor zu Guttenberg. On January 27, Guttenberg addressed around 1,000 guests at the digital annual kick-off event of the private bank Merck Finck. He was introduced as chairman of the investment firm Spitzberg Partners, but rather than give investment advice, the main topic of his talk was "the political world order of the future," Wirtschafts Woche wrote (Trumpet translation throughout).
Guttenberg warned at great length about the dangers that arise from a lack of leadership. Could it be he wants to fill Europe's power vacuum?
Many Germans don't often think about Guttenberg today. Some even call him a fraud. The article from Wirtschafts Woche often mentioned his lack of credibility. Yet leaders in industry and media often request that he speak at their events. He is asked for private audiences with high-ranking politicians and has deep connections in Europe and across the Atlantic.
Even the January 27 event reveals something about Guttenberg. Merck Finck is a subsidiary of the banking group Quintet Private Bank and is under the control of the Qatari sheikh family, al-Thani. Guttenberg has various connections to the Middle East from his time as economics and then defense minister of Germany and his recent work as an investment consultant. For the January 27 meeting, Guttenberg was in Switzerland and connected online to speak at the event.
It's not uncommon for Guttenberg to bring geopolitical topics into his discussions. At this event, however, the geopolitical implications dominated his talk. "He spoke less as the head of an investment firm and more as a former German defense minister," Wirtschafts Woche noted.
His talk was probably unlike anything his audience heard that day. But to Guttenberg, it was the most important topic. Due to America's inward focus and China's struggle with its zero-covid policy, Putin is able to exploit the "leadership vacuum," according to Guttenberg. He criticized Germany's recent involvement in the crisis. "What we are currently delivering is unfortunately a remarkable egg dance," he said about the German government's Ukraine response. Instead of sending 5,000 helmets to Ukraine, one might as well have sent towels, Guttenberg mocked.
In 2014, he wrote "Putin Is Basking in an 'Astonishing Leadership Vacuum.'" Since then, the vacuum has grown, and Guttenberg apparently feels drawn to it.
He also pointed out that the leadership vacuum in the German government is leading to the increase of tech companies' power—a trend he calls the development from "government to googlement." He said we live in a world controlled by Big Tech rather than government. Guttenberg, however, also romanticized about the metaverse, a sort of digital parallel world in which users can connect and even trade.
"For the investors and other participants in the Merck Finck stream … it was not entirely clear what Guttenberg's analysis actually meant for them," Wirtschafts Woche noted. All these investors expected something in relation to the future of banking, the use of new technologies, or tips to invest in developing markets. These are fields Guttenberg knows very well. He wrote a thesis about the history of correspondent banking and speculated how it could change with the use of modern technologies. Yet on January 27, Guttenberg warned politicians—of whom few, if any, were present at the meeting.
Wirtschafts Woche also pointed out that many still speculate about Guttenberg's potential political comeback, especially since one of his longtime acquaintances just went down that path: Friedrich Merz .
The Christian Democratic Union (cdu) delegates elected Merz, with 95 percent in favor, as their chairman. Merz struggled for years to get this position. Outside of politics, he pursued a similar career to Guttenberg. He served as the chairman of the supervisory board of BlackRock, the world's largest asset manager, in Germany. BlackRock doesn't have the best reputation in Germany. In 2018, the police investigated the firm in connection to the infamous CumEx tax scandal that cost billions in taxpayer money. The company is even accused of being the biggest investor in "climate destruction."
But after several years, in a seemingly desperate situation, the cdu finally accepted a leader they had rejected multiple times. Political comebacks are not impossible, even for those who have fallen in the disgrace of the public.
Guttenberg has had his fair share of scandal. But Europe's leadership crisis is even more urgent than that of the cdu's. Guttenberg may have delivered his January 27 speech as an application for Europe's highest office. One thing is sure, however: Guttenberg's keen interest in global affairs hasn't ceased, neither has his criticism for the current political class, nor his interest in shaping the future of the world.
The Trumpet has closely watched Europe's astonishing lack of leadership—and warned what it means for the world based on Bible prophecy. Habakkuk 1, Daniel 8 and 11, and Revelation 17 are all examples of end-time prophecies that speak of the rise of a strongman in Europe who will come to power through "flatteries." The Trumpet has said Karl-Theodor zu Guttenberg is the most likely candidate to fulfill this role. In "Is KT zu Guttenberg About to Come to Power?" Trumpet editor in chief Gerald Flurry noted:
Though he hasn't been in politics for some years now, KT zu Guttenberg is keenly tuned in to world events. He has impressive political, economic and military understanding, and he frequently writes articles and gives interviews for some of America's and Europe's biggest news organizations. Guttenberg is a brilliant man in many ways, and for about a decade now I have indicated that he could be the next leader of Germany—and really, of Europe.
The Bible gives a clue about how this man will come to power: "And in his estate shall stand up a vile person, to whom they shall not give the honour of the kingdom: but he shall come in peaceably, and obtain the kingdom by flatteries" (Daniel 11:21).
Guttenberg isn't currently running for a political office. In fact, he denies even the slightest interest in such an office. But the Bible reveals that Europe's strongman will come to power in an unprecedented way and that his office and the power he will hold will also be most unusual. Daniel 8:23-25 warn: "And in the latter time of their kingdom, when the transgressors are come to the full, a king of fierce countenance, and understanding dark sentences, shall stand up. And his power shall be mighty, but not by his own power: and he shall destroy wonderfully, and shall prosper, and practise, and shall destroy the mighty and the holy people. And through his policy also he shall cause craft to prosper in his hand; and he shall magnify himself in his heart, and by peace shall destroy many: he shall also stand up against the Prince of princes; but he shall be broken without hand."
Based on all these prophecies and current events, the Trumpet is watching Guttenberg closely. For now, there are not many indications he is planning a comeback. But the way Guttenberg speaks about the leadership vacuum in Europe may indicate he is flattering people into believing that he is the solution.
Please read "Is KT zu Guttenberg About to Come to Power?" to better understand why we have been watching Guttenberg for more than a decade. For a detailed study of these prophecies, also request A Strong German Leader Is Imminent. All of our literature is free and is most essential to understand the complex world we live in and its future.