WorldWatch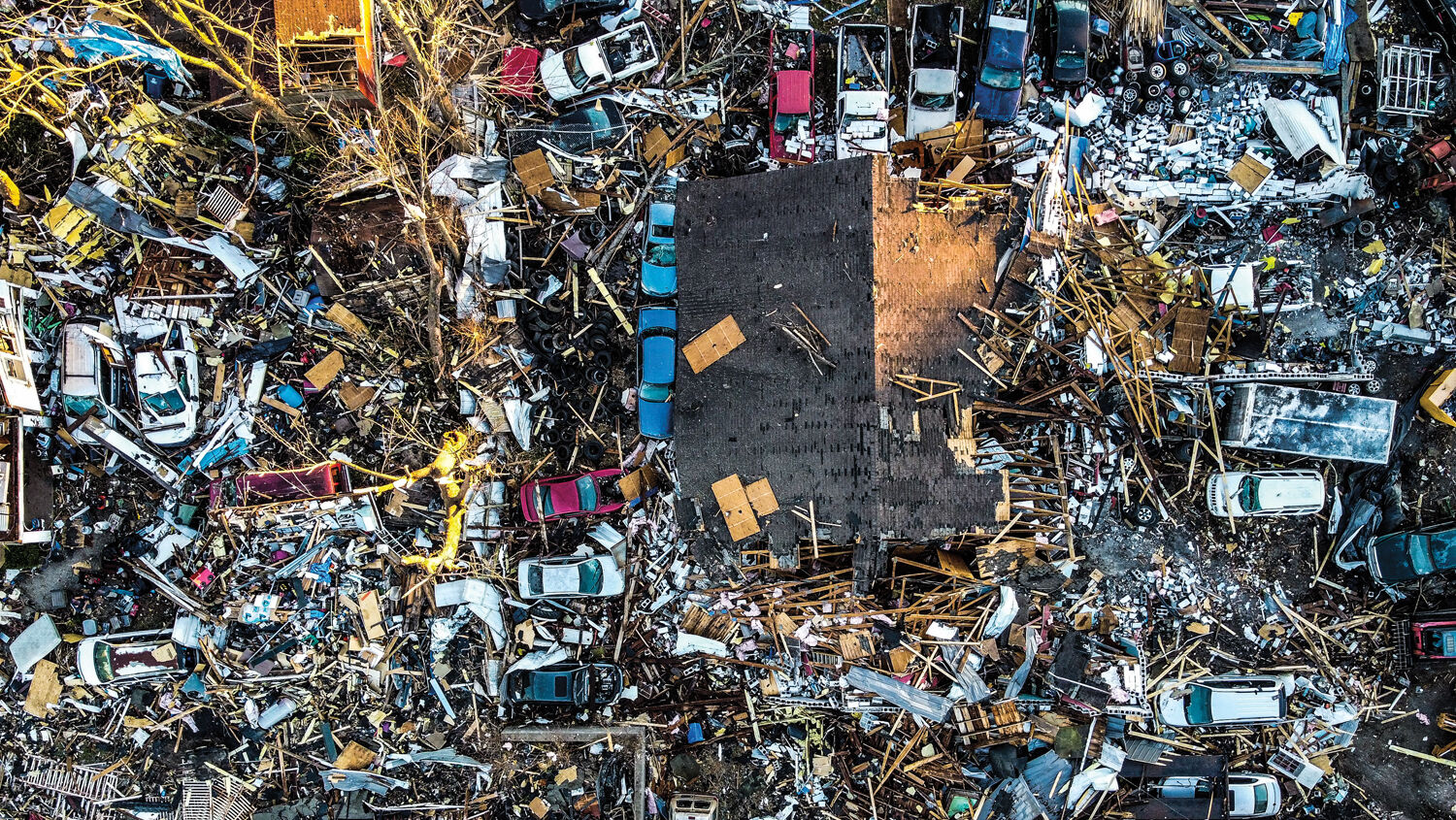 WorldWatch
It's all change for European leadership. German Chancellor Angela Merkel officially left office Dec. 8, 2021, to be replaced by Olaf Scholz. The new governing coalition has unveiled a program radically more left-wing than voters were led to expect at the election. Austria's former chancellor, Sebastian Kurz, announced his retirement from politics on December 2. His successor and close ally, Alexander Schallenberg, announced his resignation the same day. In October, Czech Prime Minister Andrej Babiš lost an election against a conglomerate of smaller parties. In France, President Emmanuel Macron is on the ropes and could be out at the next election. Europe is facing a clear shortage of strong leaders. As Trumpet editor in chief Gerald Flurry wrote, "Europe Is About to Be Hijacked!", this will intensify Europe's desire for a strongman.
Europe has grown even more authoritarian in recent weeks. Austria announced a nationwide vaccine mandate and a fine of $4,000 every three months for those who do not have proof of vaccination. Greece is fining those over 60 years of age who reject the vaccine more than $100 a month. Germany and Italy are excluding the unvaccinated from restaurants, cinemas and other public places, even if they provide a negative covid test. Germany's new government has indicated that it could soon follow Austria's example and mandate that everybody take the vaccine. As the Trumpet noted in "Coronavirus and the Holy Roman Empire," Europeans are becoming accustomed to tyranny. Watch for Europe's leaders to become even more authoritarian in areas far beyond public health.
Europe's ongoing immigration crisis has worsened as thousands of Middle Eastern migrants have crossed and overwhelmed Polish and Lithuanian borders. Belarus, which is ultimately controlled by Russian authoritarian Vladimir Putin, is flying in migrants from Iraq and Syria and pushing them across the border in a deliberate attempt to further destabilize Europe.
Putin is also threatening Europe in the Balkans. Serbs in Bosnia are threatening secession. Russia's threats to support a growing "greater Serbia" is a major point of contention between Europe and its imposing eastern neighbor.
Putin is also creating an energy crisis. Gas prices in Europe have risen 650 percent in the last year. Russia has closed one gas pipeline and cut the flow of another in half. Russian troops continue to support pro-Russia separatists in eastern Ukraine, and recently there has been a massive buildup of Russian troops on the border. "The growing necessity to protect themselves is going to drive European leaders to pare down the number of nations in their union and empower a strongman!" Mr. Flurry wrote in 2014 in "The Crimean Crisis Is Reshaping Europe!"
Exactly as described in Gerald Flurry's article "This Isn't Incompetence. This Is Treason!", the Taliban are consolidating power and "Afghanistan Is Returning to Barbarism." In their first 90 days, Taliban leaders have seized girls even under age 15 as "wives" for their fighters, publicly executed women for failing to wear burkas, reinstated strict sharia law, ruined the economy and censored the media. Families are reportedly selling their young daughters. This is a distressing picture of what happens when a superpower dies.
In Israel, late November and early December brought a government-led panic over a new covid-19 variant, with leaders closing borders to all foreigners less than 24 hours after it was announced.
Meanwhile, analysts said that once Iran chooses to unabashedly pursue nuclear enrichment, it could have enough for a bomb within a month. A large explosion occurred at its Natanz nuclear facility on Dec. 4, 2021, but Iran claimed that it was a rocket test and its facilities are undamaged. Meanwhile, the U.S. government under Joe Biden says a nuclear breakout is essentially irrelevant until Iran makes more progress on its missiles and other delivery systems. "Forget Omicron, Iran Is Three Weeks Away From Nuclear Breakout" shows that this is part of Barack Obama's ongoing, deliberate effort to empower Iran.
In response to threats, particularly from Iran, Israel continues to increase its military cooperation with Germany. In November 2021, the Defense Ministry announced the first successful live-fire test of its Trophy system fitted on the German Leopard 2 tank. But "Former Nazi Companies Buy Israeli Military Technology" is a reminder that the series of weapons deals now underway involves German companies that not only helped fuel Adolf Hitler's Nazi war machine but also used concentration camp slave labor. Facing threats on all sides, Israel is prophesied to turn not to the God of Israel but rather to the perpetrator of the Holocaust.
German-Israel Military Coordination
Dec. 2020 Israel receives first of four new Sa'ar 6 Corvettes made by Germany's Thyssen-Krupp Marine Systems.
Feb. 2021 Germany signs an agreement to purchase the Israeli-made Trophy Active Protection System for its Leopard 2 tanks.
Aug. 2021 Israel Aerospace Industries signs a contract with German defense group Hensoldt to upgrade the German Navy's radars.
Sept. 2021 It was revealed that the German Federal Intelligence Service has been using the Israel-made Pegasus software to spy on thousands of cell phones.
Nov. 2021 German arms company Rheinmetall signed an agreement to arm all of its armored personnel carriers with loitering munitions made by Israel-based UVision.
China is multiplying its nuclear missiles, and Russia is aiming even higher. A Nov. 3, 2021, analysis by the United States Department of Defense forecasts that China's Communist regime could quadruple its nuclear arsenal by 2030. The report stated that China plans to "modernize, diversify and expand its nuclear forces" and to improve and increase its number of "land, sea and air-based nuclear delivery platforms."
Struggling to describe the buildup, commander of U.S. nuclear forces Adm. Charles Richard said that "breathtaking may not be enough." U.S. Joint Chiefs of Staff Chairman Gen. Mark Milley said, "We're witnessing one of the largest shifts in geostrategic power that the world has ever experienced."
Based on Ezekiel 38, Isaiah 23, Revelation 16:12 and 9:16, Gerald Flurry has written not only that "China Is Steering the World Toward War" but that it will combine its military, economic and diplomatic power with that of Russia.
Russian forces fired a direct-ascent missile into space on Nov. 15, 2021. It struck and disintegrated a 39-year-old Soviet Union spy satellite, blasting apart pieces in orbit that endanger other satellites and the International Space Station. The U.S. State Department called the weapons test "reckless," but what was left unsaid is far more significant. Russia (as China did in 2007 and India in 2019) has now demonstrated that it can destroy satellites in orbit. America's government, economy and military rely heavily on communications, navigation, surveillance and nuclear weapons satellites that are presumably just as vulnerable as the destroyed Kosmos-1408.
Bible prophecies about the modern nations of Israel, such as Isaiah 59:9-10 and Ezekiel 7:14, warn of a time when Americans and allied nations will "walk in darkness" and "grope for the wall like the blind," and when the alarm of war is sounded, "none goeth to the battle." America has been spiritually blind for some time, and will find itself largely physically blinded when the prophesied "Times of the Gentiles" are upon us.
Russia is also wielding its diplomatic power. In October 2021, the leader of Republika Srpska, the predominantly Serbian region of Bosnia-Herzegovina, announced that the region is withdrawing from the Bosnian judiciary, tax administration and military. This announcement, backed by Russian President Vladimir Putin, violates the 1995 Dayton Accords that ended the Bosnian War and would equate to secession in all but name. Putin has already seized Crimea from Ukraine and is conducting an ongoing eight-year unofficial war in support of separatists in eastern Ukraine.
Russia already trains Republika Srpska's security forces. As the Trumpet noted in "Tension in the Balkans, Again" in 2011, Bosnia-Herzegovina and other parts of the former Yugoslavia are a major point of friction between Russia and Europe. The European Union lists Serbia and Montenegro as candidate countries for membership, and Bosnia-Herzegovina is listed as a potential candidate. Russia can empower Serbs to block European integration, and Putin might be willing to start a war in the Balkans to try stopping EU or nato expansion there. But as we note in Germany's Conquest of the Balkans, Bible prophecy says the Germans will resurrect the Holy Roman Empire, including an eastern leg that includes the Balkans. Read "Why the Trumpet Watches Russia's Return to Superpower Status."
Culture, crime, finance and the military in America are moving in the same direction, and fast. The United States Navy has named a supply ship after Harvey Milk, the first openly homosexual city commissioner in the U.S. He was murdered by a fellow Democratic city official in San Francisco in 1978. The killing was over a political appointment, yet Milk has been used as a symbol for the homosexual agenda ever since. Among other things, Milk was, as journalist Tom Elliot summarized, a predator of "drug-addicted underage boys, whom he would bring into his apartment to rape/sexually assault. Many attempted suicide, at least one successfully." Yet Barack Obama awarded him a posthumous Presidential Medal of Freedom in 2009. Isaiah 3:9 warns America and the modern descendants of ancient Israel: "[T]hey declare their sin as Sodom, they hide it not."
New York City Hall removed a statue of Thomas Jefferson holding the Bill of Rights on Nov. 22, 2021, after 187 years, following a mayoral commission vote that it was "racist" and "offensive." The culture war was also seen in media censorship of the attack by career criminal, sex offender and Muslim black supremacist Darrell Brooks. Brooks accelerated his vehicle into a parade on Nov. 21, 2021, murdering six people and injuring more than 60. He had been released on a $1,000 bail by a district attorney who admitted years ago that its softer punishments on crime would inevitably lead to violence. Ezekiel 7:23 warns, "Make a chain: for the land is full of bloody crimes, and the city is full of violence."
News has emerged that Hunter Biden, Joe Biden's son, helped sell one of the richest cobalt mines in the world to China. He helped found Bohai Harvest RST in 2013, which helped China Molybdenum secure a cobalt mine in Africa from an American company. The company also financed an Australian coal-mining company that is ultimately controlled by the Chinese Communist Party and helped a Chinese defense conglomerate buy a U.S. manufacturer of auto parts with military applications. As we wrote in "Why Chinese Miners Are Smiling," China is racing to control a huge share of global manufacturing and valuable mineral production. The late Herbert W. Armstrong reminded Americans that their oil, coal and mineral reserves were blessings from God, but Americans no longer obey nor are grateful to God. So corrupt elites are selling these blessings for profit.
Canada is reporting statistics that reflect Prime Minister Justin Trudeau's pledge to "feminize" the nation's foreign policy, economy and culture. Forty percent of marriages end in divorce (2.7 million last year), and fathers receive exclusive custody only 7 percent of the time and joint-custody only 13 percent of the time, with mothers granted exclusive custody 79 percent of the time.