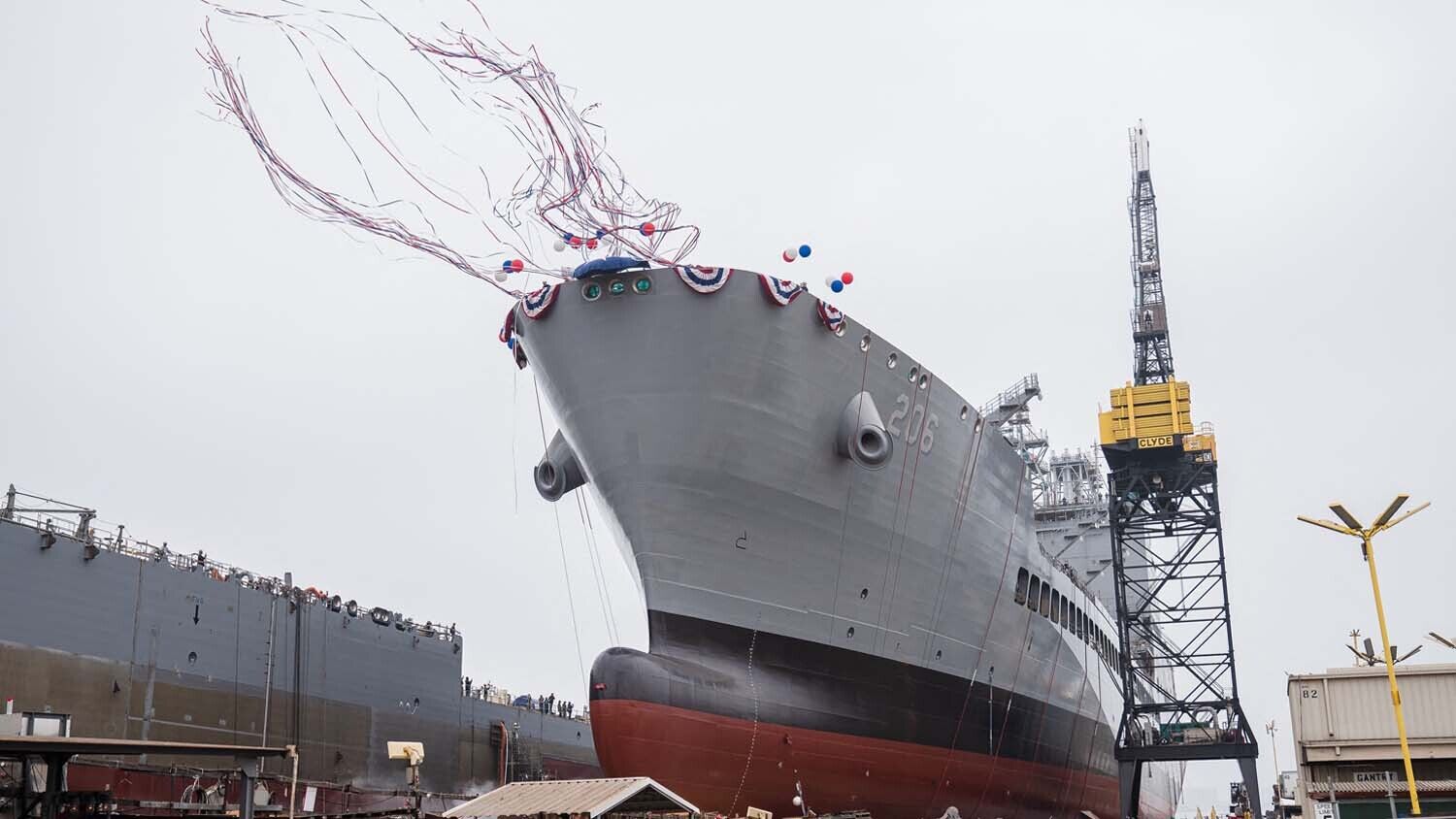 USNS Harvey Milk: 'May God Bless This Ship'?
"May God bless this ship and all those who sail in her," the former Navy officer said before breaking a bottle of champagne over the ship's hull in a November 7 christening service. While this appeared to be a standard service for the naming of a United States Navy vessel, a couple of things made this christening very different.
The Navy veteran who christened the ship was a long-haired, effeminately dressed, transgender veteran. And the new name of the ship? The usns Harvey Milk, in honor of California's first openly homosexual elected official and gay rights activist.
https://twitter.com/disclosetv/status/1457415026474618882
Harvey Milk is celebrated as an ambassador of the homosexual movement, a "visionary" of a "righteous world," and "the most famous and most significantly open lgbt official ever elected in the United States." He is also seen as a "martyr" following his assassination in 1978.
That is, of course, one view of the man whose name now adorns one of the most recent large vessels in the U.S. fleet. But there is another side to the coin. As journalist Tom Elliot summarized: "Milk preyed on drug-addicted underage boys, whom he would bring into his apartment to rape/sexually assault. Many attempted suicide, at least one successfully. Milk was a monster. Historical revisionism notwithstanding, he was murdered after slandering one of his Democratic rivals, not anything related to being gay …." (Elliot cites Darryl Cooper's "MartyrMade" podcast series—see the following episode from the 4:32:41 mark, as well as the following biography, for more on this subject.)
The christening of the usns Harvey Milk came barely three weeks after the much-lauded swearing-in of America's first "female" four-star admiral, Dr. Rachel Levine. But something, again, was similarly different about this event: Dr. Levine is a transgender individual who "transitioned" into a woman in 2011.
Welcome to the new United States Armed Forces. It's an organization where the highest-ranking officer, head of the Joint Chiefs of Staff, Gen. Mark Milley, vows to warn his Chinese counterpart in the event of a U.S. attack and highlights his desire to "understand white rage," and the second-in-command, Secretary of Defense Lloyd Austin, outlined earlier this year the military's "top priorities" as "defeat covid-19" and "tackle the climate crisis." (Part of fulfilling the first priority will be discharging soldiers who refuse to take the experimental covid vaccines—what could amount to thousands of soldiers.)
Additionally, the U.S. military has a new "Project Inclusion" initiative, which aims "to improve diversity, equity and inclusion across the force," with an emphasis on uncovering "possible racial disparity." This more inclusive military supplies "maternity flight suits" for pregnant pilots and costly gender-reassignment surgery, which can easily run into six figures. This "benefit" even extends to those imprisoned on charges of treason, courtesy of the endlessly generous taxpayer.
It's also a military that uses colorfully animated gay and lesbian relationships (the United Kingdom is taking a similar approach) to draw in new recruits. But such recruitment videos, statistically, only make sense when considering population data. Polling variously places the number of young adults in the U.S. identifying as lgbtq+ from 1 in 6 to as many as 1 in 3. In the wider adult U.S. population, roughly 14 million identify as lgbtq+. That makes up 5.6 percent of the population—a percentage point rise over the last Gallup poll four years ago (and is equivalent to the entire adult population of the state of New York—the third-largest in the Union).
As for the U.S. military itself, that representation is slightly higher: 6.1 percent identify as lgbtq+ (roughly 84,000 service members), with the Navy branch standing out as the highest, with 9.1 percent (roughly 30,000 members). With those figures in mind, it would thus seem the usns Harvey Milk is an aptly named ship reflective of the United States military.
Meanwhile, hostile powers have been working on military developments of their own. Most notable among recent weeks is China, with the successful test of a space-launched hypersonic missile that caught analysts completely by surprise. Highlighted as a "game-changer," this new missile is capable of breaching U.S. missile defense systems. Further, China is set to become the world's top manufacturer of missiles this year.
Experts worldwide recognize that war is on the horizon. (That is, except for General Milley, who is confident the Chinese Communist Party will not attack Taiwan any time soon.) If war were to break out, who would come out on top? Whose national military developments will prove most effective?
The Bible has specific language for this geopolitical picture we now see. It identifies "kings of the east"—the powers of the Asian continent—fielding forces of hundreds of millions of warriors (Revelation 16:12; 9:16). It identifies a multinational union in Europe (Daniel 2:41). It also identifies the Anglo-Saxon powers, in particular the United States and Britain, under a chillingly apropos name: Sodom (Revelation 11:8; Isaiah 1:10).
Isaiah 3 contains an end-time prophecy that we quote often, one that aptly describes the state of our people today—including, specifically, the armed forces. "For, behold, the Lord, the Lord of hosts, doth take away … The mighty man, and the man of war, … The captain of fifty, and the honourable man …. And I will give children to be their princes, and babes shall rule over them. And the people shall be oppressed, every one by another, and every one by his neighbour …. The shew of their countenance doth witness against them; and they declare their sin as Sodom, they hide it not. Woe unto their soul! for they have rewarded evil unto themselves. … Thy men shall fall by the sword, and thy mighty in the war" (verses 1-5, 9, 25).
Barely a decade ago, the lgbtq+ community was kept, at very least, hidden within the military system. "Don't ask, don't tell" was the policy (much could be said about that line of reasoning). But now, the United States of America, including the military, openly "declare[s] their sin as Sodom."
The Bible assures, to a nation and military that declares their sins as Sodom, that they will receive the same fiery fate as that biblical city—in fact, worse (Lamentations 4:6). Also among the prophesied curses are those specifically applicable to the military: "I will even appoint over you terror …. [Y]e shall flee when none pursueth you. … [Y]e shall have no power to stand before your enemies" (Leviticus 26:16-17, 37). Does this not sound like mighty America fleeing before the ragtag Taliban? Joe Biden often concludes his speeches with "May God bless our troops." Is the U.S. military being blessed? It's a question that ought to be asked. These scriptures—and the record of the last 70 years—tell a different story.
God pleads with America to return to Him (Ezekiel 33:11; Micah 6:2). For an in-depth study of these prophecies and how they relate to the end-time nations of Britain and the United States, request our free book The United States and Britain in Prophecy, by Herbert W. Armstrong. For a biblical study into the deadly deceit behind same-sex "marriage," request our free booklet Redefining Family.
The transgender veteran declared on November 7: "In the name of the United States of America, I christen thee Harvey Milk. May God bless this ship and all those who sail in her." Will God bless this ship? We're about to find out.