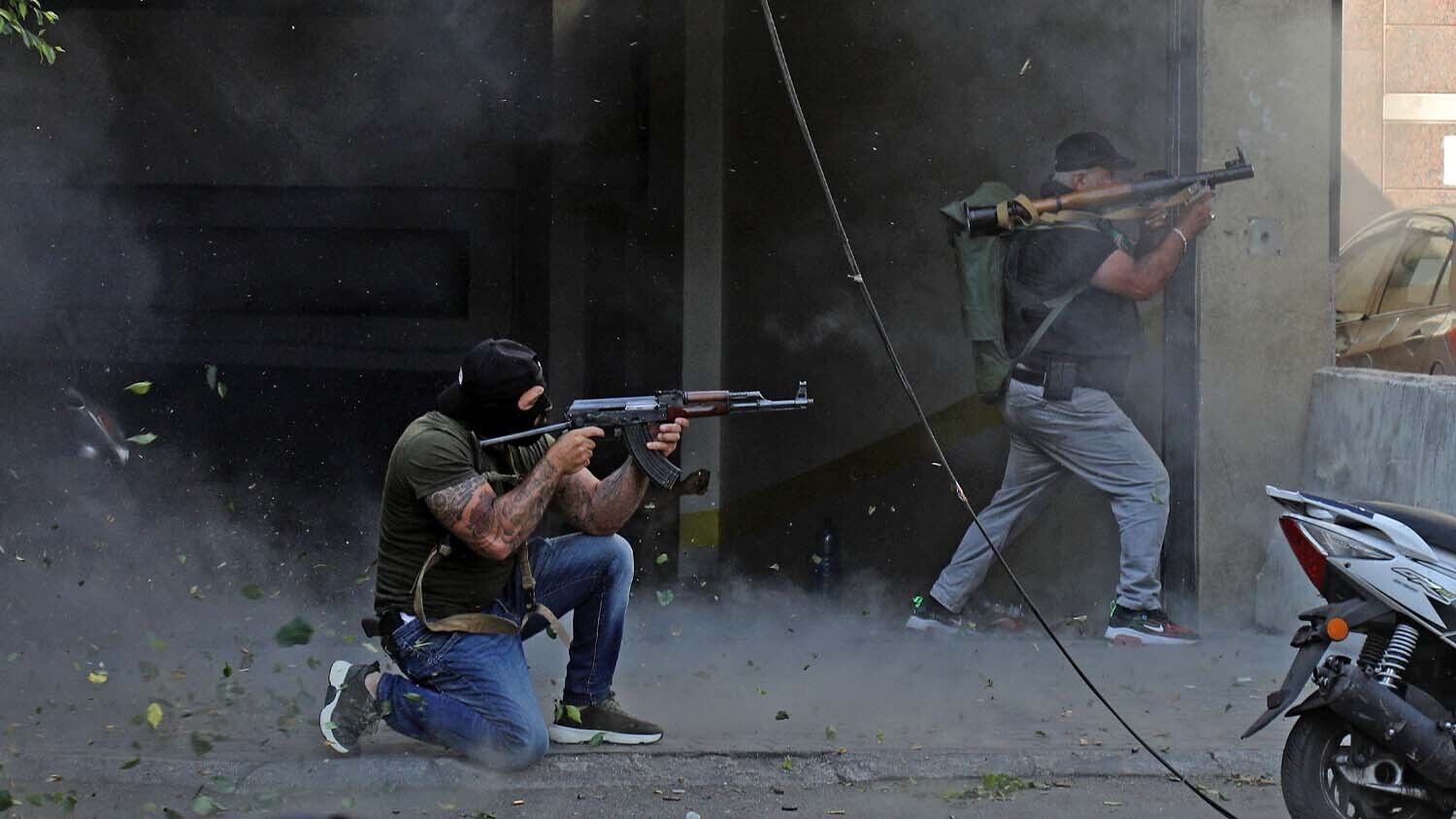 Civil War Is Simmering in Lebanon
This is why we told you to watch Lebanon.
Armed sects in Beirut, Lebanon, clashed with each other on October 14, killing seven. Beirut's Tayouneh neighborhood saw gunfire between two Shiite groups—Hezbollah and the Amal Movement—and the Christian Lebanese Forces. Over 32 were injured.
According to eyewitnesses, several young men came to the neighborhood chanting Shiite slogans. They started talking with other young men from the area. A fistfight broke out. One of the locals pulled out a Kalashnikov rifle, while the Shiite protesters got weapons—including rocket-propelled grenades—from their vehicles.
Hezbollah also alleges that, during the clash, the Lebanese Forces were using snipers. The Lebanese Forces deny this.
The two Shiite groups were originally protesting the selection of a judge investigating the origins of the Port of Beirut explosion of ammonium nitrate that killed over 200 in August 2020. Many Hezbollah supporters, including Hezbollah leader Hassan Nasrallah, call the investigations of Judge Tarek Bitar politically motivated. Given its control of the port and past use of ammonium nitrate in terrorist attacks, Hezbollah is most likely trying to cover its tracks. Earlier in the week, Bitar issued an arrest warrant for Ali Hassan Khalil, a former finance minister and Hezbollah associate.
Four hours after the start of hostilities, the Lebanese Army had deescalated the situation. The day after the shooting, Lebanon observed a day of mourning. Schools and businesses closed.
The location for the clashes couldn't have been more symbolic. Tayouneh was one of the worst-hit neighborhoods during the Lebanese Civil War (1975–1990). During the war, Beirut was divided into zones controlled by competing warlords. Christian and Muslim militias tussled in the streets for control.
Many worry that this latest clash is a harbinger of things to come. Many are afraid civil war could come again.
"It is not acceptable for arms to return as a language of communication between the Lebanese parties because we all agreed to turn this dark page from our history," Lebanese President Michel Aoun said in a speech. Aoun called the violence "painful and unacceptable."
Hezbollah supporters—including Iranian state media—blame Samir Geagea, leader of the Lebanese Forces, for what happened. According to the Jerusalem Post, a pro-Hezbollah medium claimed "militants from the Lebanese Forces led by Samir Geagea were the main perpetrators of the attack." Iran's Fars News Agency referred to "the plan of Samir Geagea, the leader of the Lebanese Forces, [with the] American-sponsored al-Qaeda" to counter Hezbollah's protest.
Nasrallah called the clash a "new stage" for Hezbollah. Hezbollah has warned Geagea that 100,000 Hezbollah fighters now oppose him. "The biggest threat to the existence of Christians and the security of the Christian community in Lebanon is the Lebanese Forces," Nasrallah said.
Lebanon has for years now teetered on the verge of political instability. But while other Arab states—like Iraq, Syria and Yemen—have fallen into civil war, Lebanon was spared. Beirut has so far been able to (barely) keep its head above water.
The latest clashes could be a sign that this is going to change soon.
"On August 4, [2020,] the world was shocked by a massive explosion that destroyed much of downtown Beirut, the capital of Lebanon," wrote Trumpet editor in chief Gerald Flurry in "Why We Told You to Watch Lebanon." "It quickly became clear that this blast will likely ignite a radical political change within the nation."
Fast-forward a year later, and the Beirut blast's fallout is still having a tremendous effect on Lebanese society.
Hezbollah currently exerts an enormous amount of influence in Lebanon. The militant Shiite group is a proxy of Iran and an enemy of the West. But the Beirut blast—and Hezbollah's implication in the incident—is alienating the group from many Lebanese.
Nasrallah has led Hezbollah since 1992. Geagea has led the Lebanese Forces since 1986, during the Lebanese Civil War. Both have been around for a long time. Perhaps they have old scores to settle.
About two thirds of Lebanese are Muslim (split about evenly between Sunnis and Shiites). Roughly a third are Christian, most of them Catholic. Lebanon's religious medley makes it particularly volatile in the turbulent Middle East.
Will Lebanon descend into civil war? And if a civil war did break out, what would it mean for Lebanon in the long term?
Taking into consideration the nation's large Christian population, a civil war could turn into a religious war like what happened in the former Yugoslavia. This could turn into a humanitarian catastrophe.
Also, one should consider the civil wars in Syria and Iraq. Between the bloodshed, the rise of terrorism, and the exodus of refugees, the civil wars forced outside players—America, Europe, Iran and Russia—to get involved.
Europe would be the main player to watch for this time around. The Syrian refugee crisis impacted Europe heavily. Even though Lebanon has a smaller population than Syria, any threat to its Catholic population would catch Europe's eye. After last year's blast, French President Emmanuel Macron made a high-profile visit to Beirut. His presence was so welcomed by the Lebanese that many wanted Macron to make Lebanon a French colony.
Finally, if public anger against Hezbollah were to boil over, a civil war could finally force Hezbollah—and, by extension, Iran—out of Lebanon.
Mr. Flurry said in a 2014 television program, "That means there's going to be now a civil war, a bloody civil war in Lebanon for control of Lebanon, and you're going to see Lebanon and the European power prevail in that battle."
This is why we told you to watch Lebanon. And the latest clashes are signs this prediction is about to be fulfilled.
To learn more, please read "Why We Told You to Watch Lebanon," by Gerald Flurry. Also read "The Beirut Blast: Catalyst for Biblical Prophecy," by Jerusalem correspondent Brent Nagtegaal.