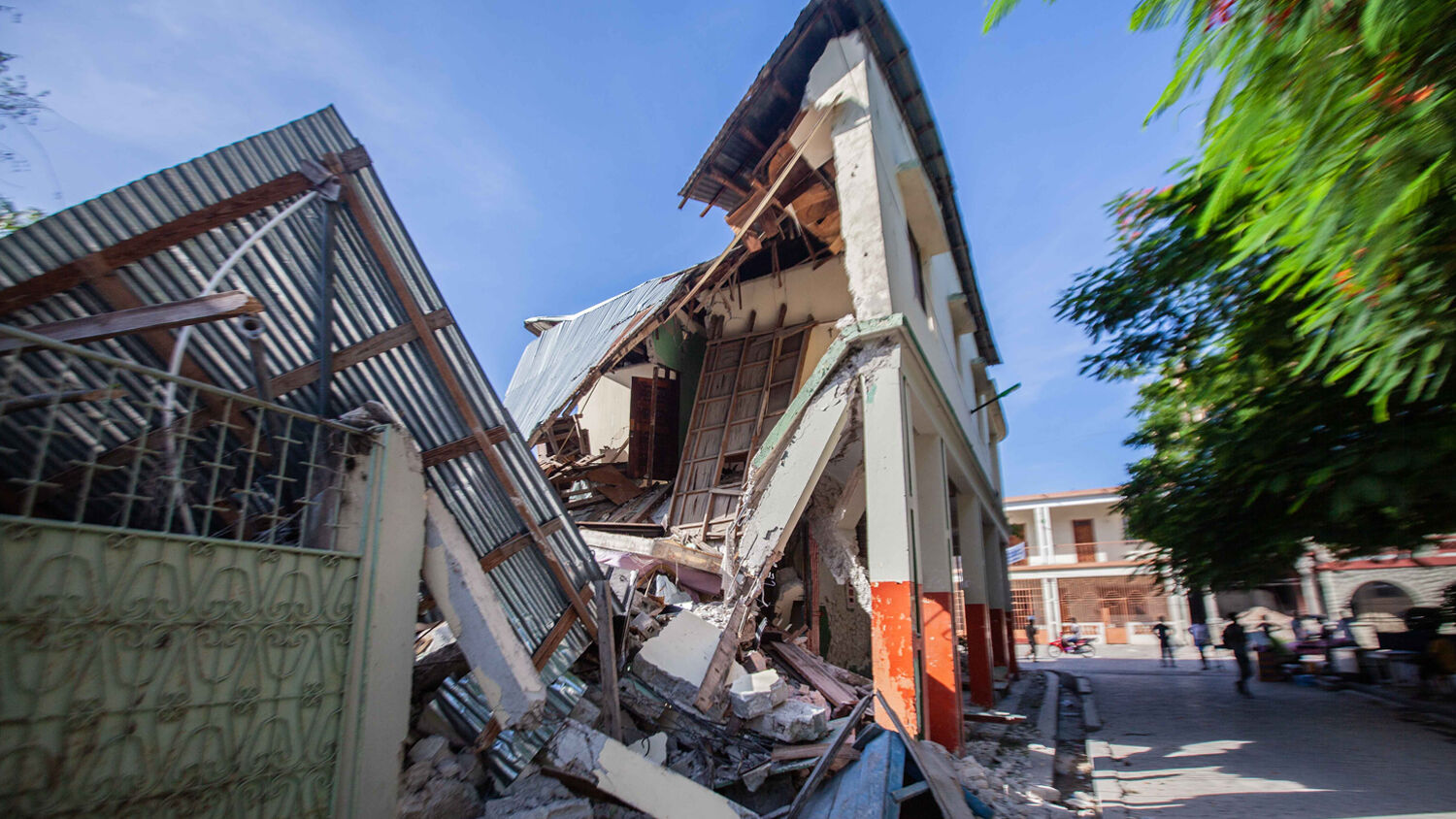 Earthquake Rocks Haiti
Another crisis in the Caribbean
An earthquake hit Haiti on August 14, causing massive amounts of damage and loss of life. As of August 15, at least 1,297 are confirmed dead, another 5,700 injured. The earthquake registered a 7.2 magnitude on the Richter scale, larger than the 7.0 earthquake that hit the island nation in 2010.
The town of Les Cayes, in the west of the country, was especially hard-hit.
The large number of injured is overwhelming Haiti's hospitals. It's estimated that there are only 30 doctors in Haiti's west. Orthopedic surgeon Edward Destine works from a makeshift operating room made of corrugated tin in Les Cayes. "I'm the only surgeon over there [at the operating room]," he said. "I would like to operate on 10 people today, but I just don't have the supplies." Two other surgeons at Les Cayes's General Hospital had to turn most patients away the day after the quake for lack of supplies.
The earthquake also damaged much infrastructure, and Haiti's road system wasn't the best to begin with. Landslides blocked roads with rocks and rubble, hampering rescue and reconstruction even more.
Fenicile Marssius, the mayor of Marceline, another community affected, said: "We have had no assistance from the government. Maybe they have so much to do in the cities that they cannot reach us in these remote areas."
The destruction of supply lines can turn a deadly situation even deadlier. Dr. Destine predicts that, unless medical supplies reach affected areas fast, thousands may contract dangerous infections. Broken supply lines also bring fears of malnutrition in an already impoverished area.
Dealing with a major earthquake is bad enough. But as of August 15, Haiti is facing landfall from tropical depression Grace within a couple of days, potentially causing more destruction and hampering rescue efforts. And with so many homes destroyed, the many who are sleeping outside are all the more vulnerable.
Then you have Haiti's chaotic political scene.
On July 7, Colombian mercenaries assassinated Haitian President Jovenel Moïse. Moïse, an increasingly ironfisted ruler who dissolved most of Haiti's Parliament in 2020 and ruled by decree with an appointed prime minister, was fighting with his opponents on whether his term ended this year or next. But his death settled that question.
Christian Emmanuel Sanon, a Haitian-American doctor and minister of religion who claimed to be "sent on a mission of God" to replace Moïse, hired the mercenaries and is implicated as one of the "masterminds" of the attack. He is currently in custody in Haiti, but many details of the assassination still remain unknown.
Upon Moïse's death, three men simultaneously claimed to be the rightful president: outgoing Prime Minister Claude Joseph, appointed Prime Minister Ariel Henry, and Senate President Joseph Lambert. An agreement was made where Henry would be president and Joseph foreign minister. An election is scheduled next month to settle the issue.
Between literal and political earthquakes, it seems that Haitians can't get a break.
The 2010 earthquake was much more catastrophic. The United States government pledged millions of dollars to rebuild Haiti.
"At this moment, we're moving forward with one of the largest relief efforts in our history—to save lives and to deliver relief that averts an even larger catastrophe," said then-U.S. President Barack Obama. "The two leaders with me today will ensure that this is matched by a historic effort that extends beyond our government."
"[Haiti is] one of the most remarkable, unique places I have ever been," said former President Bill Clinton. "And they can escape their history and build a better future if we do our part."
Eleven years and millions of dollars-worth of investment later, not much has changed. Whatever response the international community gives Haiti this time isn't going to change anything. Haiti will remain a crumbling, impoverished country with endemic political instability and corruption.
Is there any hope for the Haitian people?
Humanly, Haiti looks like a lost cause.
But there is hope for Haiti—and it is sure.
It's a hope that will bring an end to political instability, an end of assassinated presidents, of selfish politicians competing with one another, of foreign soldiers gunning down public figures, an end of poverty, of malnutrition, of illiteracy—even an end to earthquakes and hurricanes.
"You don't have to believe it!" wrote late educator and theologian Herbert W. Armstrong in his free booklet The Wonderful World Tomorrow—What It Will Be Like. "It will happen, regardless. It is sure—the world's only sure hope. This advance good news of tomorrow is as certain as the rising of tomorrow's sun. …
"Utopia? Why not. Why should it be an imaginary or impossible pipe-dream? There is a cause for today's world chaos and threat of human extinction. That cause will be supplanted by that which will bring a utopia that is real, that is successfully functioning!"
Find out what that hope is for yourself by requesting a free copy of The Wonderful World Tomorrow—What It Will Be Like.