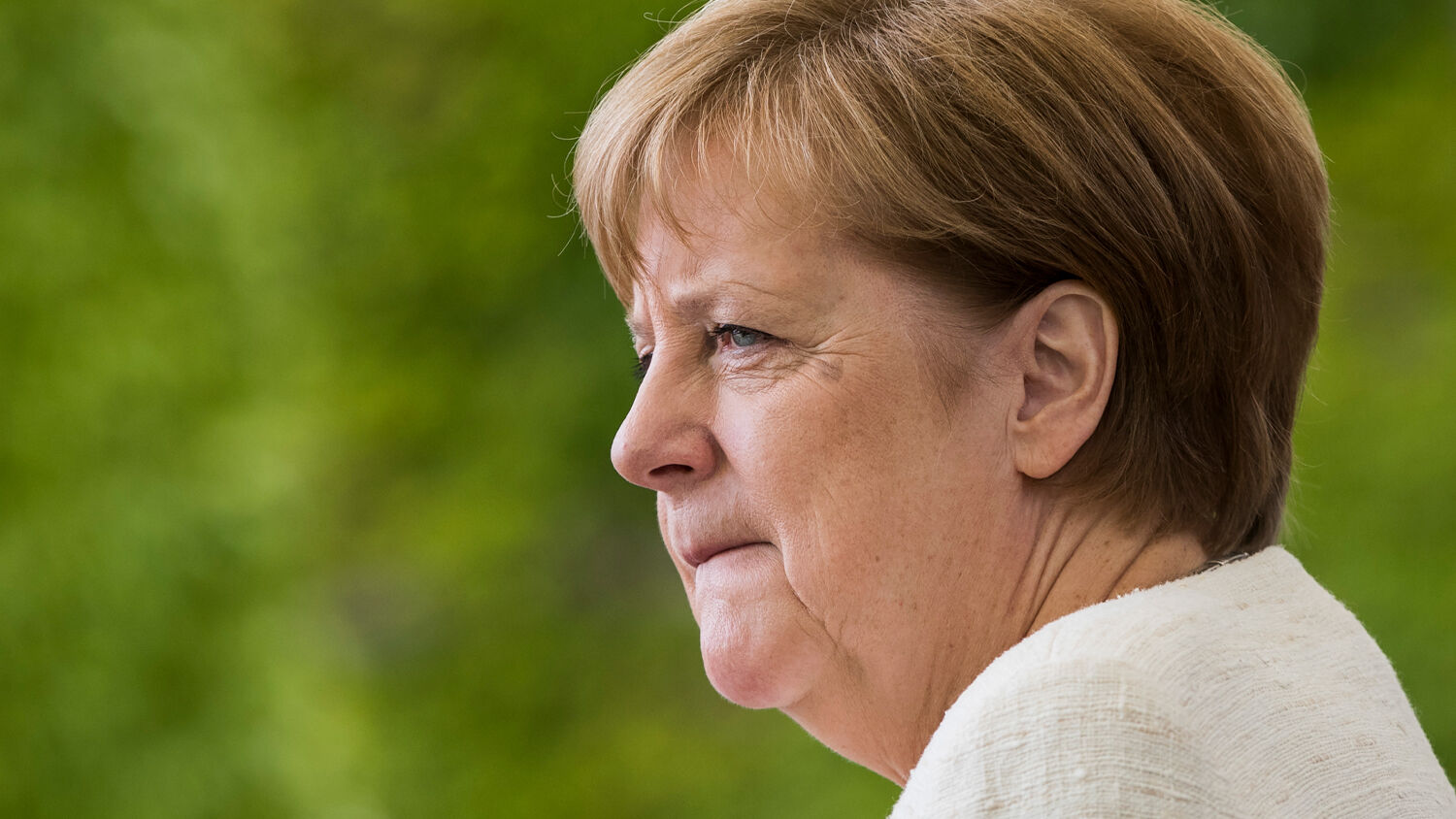 European Democracies Search for a Savior
We cannot afford to ignore what is happening in Europe.
German Chancellor Angela Merkel has reversed her stance on previously announced lockdown measures for Easter. Earlier this week, the so-called Easter lockdown was debated by the chancellor and the various state premiers. The public backlash to the planned closure of churches and shops over Easter weekend prompted Merkel to issue a public apology on March 24: "I apologize to all citizens. To put it bluntly, the idea of an Easter shutdown was designed with the best of intentions, because we absolutely have to slow down and reverse the third wave of the pandemic. But it was a flawed idea. This mistake is solely my fault, because in the end, I have the ultimate responsibility as chancellor."
Some are now urging for a vote of no confidence against Merkel. The Telegraph noted: "The planned Easter shutdown has become a lightning rod for public anger over the government's botched vaccine rollout and the fact Germany is still facing restrictions after almost five months of lockdown."
Germany's government is facing increased pressure to act. And people are becoming increasingly dissatisfied with the current leadership.
Over the weekend, the German public learned that Burda GmbH sold more than half a million ffp2 masks to the Ministry of Health. This wouldn't be a controversy were it not for the fact that Health Minister Jen Spahn's husband lobbies for the Burda representative office in Berlin. When confronted on the matter, the involved parties explained that the deal unfolded without the lobby work of Spahn's partner. But it still doesn't look good.
Der Spiegel wrote in its March cover story, "Merkel's Conservatives Mired in Scandal and Incompetence": "The union [the Christian Social Union (csu) and the Christian Democratic Union (cdu)] has been in turmoil ever since it became known that conservative lawmakers are thought to have enriched themselves with business deals involving medical protective equipment—at a time when workers across the country were fearful of losing their jobs, when the self-employed were facing ruin, and when doctors and nurses were risking their health."
Some politicians face prosecution over dubious mask deals, and some have resigned. On March 25, the police searched the office of ex-cdu Bundestag member Mark Hauptmann, who is being investigated by the Thuringia Regional Criminal Police Office on charges of mask deals.
This corruption is exposing the hypocrisy within Germany's politicians. While Spahn supported a ban on gatherings, he has hosted a dinner for donors. Other politicians have advocated for businesses to shut, causing people to lose their jobs, while enriching themselves with lucrative side businesses. While openly condemning dictators, leaders throughout Europe have enforced dictatorial measures and secured deals with autocrats.
This hypocrisy is hurting the mainstream parties. The Christian Democrats are suffering record-low popularity. A recent poll indicated that only 26 percent would vote for the cdu-csu, down from 37 percent seven weeks ago. (Yet according to newly elected cdu party leader Armin Laschet, in times of crisis, it is not useful to look at the polls; instead, leaders need to focus on making decisions, even if they prove unpopular.)
Elections are in September. Fringe parties could prove to be the most popular. Current polls indicate that the Greens have a chance at becoming the strongest party in the next election. This would be damaging, not only because of the Greens extreme views, but also because of their lack of government experience.
While the cdu-csu union has always dealt with corruption in its ranks, it remained popular because of its ability to get things done. But this is now changing. Der Spiegel noted:
Germans are tired, and the acceptance of coronavirus rules is crumbling. And … the rules apparently don't apply to everybody. The timing [of this] is dangerous.

A majority of the population, though, might be inclined to overlook such missteps if things were actually working. If people had the feeling that the government was doing its job protecting the population from the virus and ably leading the country through the pandemic. But that is not the case.
Discontentment is growing within Germany. The same trend is playing out across Europe.
Take cases of corruption and disastrous coronavirus measures in the Netherlands, for example. Following the wrongful prosecution of 20,000 parents and their consequential financial despair, the Dutch government resigned in January only to be reelected. Opposing parties were too fractured to present any alternative. According to Der Spiegel, "[T]he incumbent Prime Minister Mark Rutte is defying disastrous coronavirus numbers and scandals." Many have turned to rioting in the streets, only to be met with brutal force. Citizens are being abused and beaten in the name of democracy.
For years, Italy has been a prime example of failed democracy. On January 13, the Italian government's ruling coalition collapsed, the second time within two years. No elections were held, and an unelected technocrat took over Italy. Mario Draghi, former head of the European Central Bank, is now Italy's prime minister, leading the 67th Italian government since World War ii.
French President Emmanuel Macron, entangled in a web of scandals and seeing his reelection bid threatened, allegedly sought to manipulate the system by introducing an early vote. His proposal was so suspicious that the Senate stopped it in its infancy.
In Austria, the lockdowns ordered by Chancellor Sebastian Kurz were among the strictest in the world; at times, they were purposely miscommunicated to scare the population into blind obedience. Kurz and his government have remained silent, even though despair and economic failure have resulted.
Many are blaming democracy for the issues within Europe. They want to be freed from the burdensome system. This is a trend we cannot ignore. It is leading to the fulfillment of a key Bible prophecy.
"And in his estate shall stand up a vile person, to whom they shall not give the honour of the kingdom: but he shall come in peaceably, and obtain the kingdom by flatteries" (Daniel 11:21). This Bible prophecy is about a king who will rise up in this end time. He will come to power in Europe, not by the normal democratic means but "by flatteries." In "Germany—A New King Is Imminent," Trumpet editor in chief Gerald Flurry explained: "Current conditions in Europe, including the refugee crisis and the turmoil in German politics, provide probably one of the greatest opportunities ever for a new leader to come into power 'by flatteries.'"
People are groaning for new leadership. But this prophesied new leader will only make matters worse. "And in the latter time of their kingdom, when the transgressors are come to the full, a king of fierce countenance, and understanding dark sentences, shall stand up. And his power shall be mighty, but not by his own power: and he shall destroy wonderfully, and shall prosper, and practise, and shall destroy the mighty and the holy people" (Daniel 8:23-24).
In the midst of corruption, this prophesied leader will offer solutions and peace, but his lust for power will engulf the whole world in war. (To lean more about these prophecies, request a free copy of A Strong German Leader Is Imminent.)
These terrible events lead to the time when God will "set up a kingdom, which shall never be destroyed: and the kingdom shall not be left to other people, but it shall break in pieces and consume all these kingdoms, and it shall stand for ever" (Daniel 2:44). God is about to put an end to mankind's destructive system of self-serving governments. As Mr. Flurry wrote: "In a world wracked by bad news, here is some excellent news for every nation and person on Earth." Please read his article "A New Government Is Coming!" and order a free copy of The Wonderful World Tomorrow—What It Will Be Like, by Herbert W. Armstrong, to better understand that excellent news.