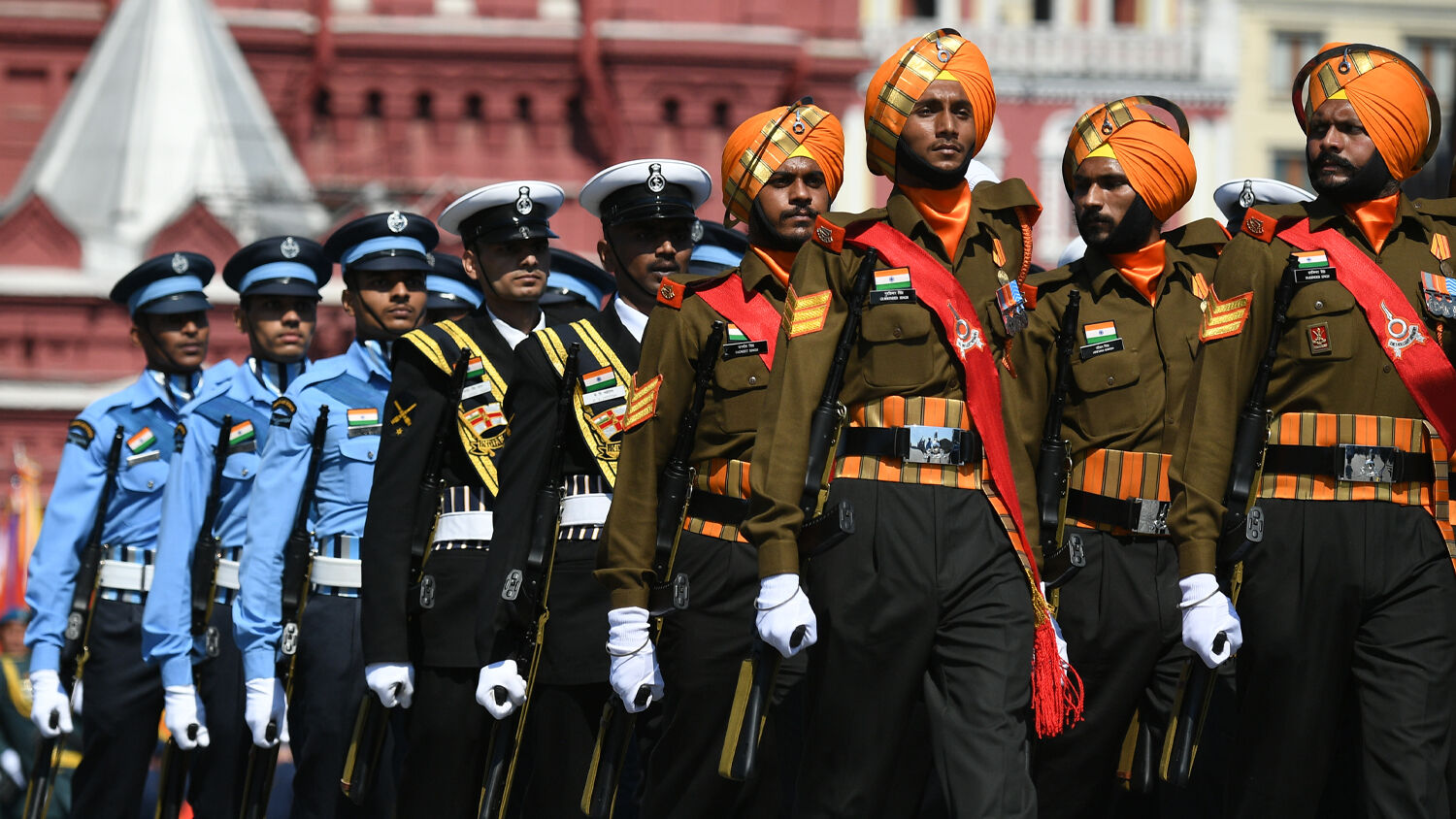 Russia and India Strengthen Strategic Partnership
Bible prophecy shows that somewhere along the way, it will take China along with it.
Russia and India have taken several significant steps strengthening military ties in recent weeks, in a way that reveals how one major obstacle to forming a pan-Asian military alliance will be overcome.
On February 3, tass news agency reported that around 100 Indian military specialists arrived in Russia to begin training for the operation of the S-400 Triumf missile air defense systems. The highly sophisticated S-400 was described by the Economist recently as "one of the best air-defense systems currently made." Capable of striking aircraft and incoming missiles midflight, it is the defense system of choice for Russia, Turkey and China.
The United States imposed sanctions on both Turkey and China under the Countering America's Adversaries Through Sanctions Act for purchasing the system from Russia. And despite a warning from the Trump administration in 2018 that a similar purchase may invite U.S. sanctions, India went ahead with a $5 billion deal to purchase five S-400 units.
The U.S. has been determined to foster deeper ties with India, mainly as a means of countering China. And after agreeing to a $3 billion defense deal last year, Indo-U.S. relations appeared to be strengthening. But India's S-400 purchase, and the recent arrival of Indian specialists in Russia, indicate that India is more committed to its relationship with Russia than with the U.S.
It is not difficult to see why. All together, Russia has supplied some 80 percent of India's military equipment, and the two are involved in numerous joint defense projects. The Su-30mki twin-jet, for example, is an India-designed, Russia-built superfighter. Under the "Super Sukhoi" project, the Indian Air Force's Sukhoi fighters are set for extensive upgrades courtesy of Russia. The upgrade is expected to significantly boost India's combat potential. Other joint ventures include those for the Kamov-26 helicopters, AK-203 rifles, Su-30mki, T90 tank, frigates, missiles and submarines. In addition, Russia's Tactical Missiles Corp. is presently training Indian specialists in operating and repairing various Russian missiles.
According to Russian Ambassador Nikolay Kudashev, Russian-Indian military cooperation has been the main pillar of the special and privileged strategic partnership between the two countries. And this partnership is underpinned by the "long association and friendship" between their leaders, Russian President Vladimir Putin and Indian Prime Minister Narendra Modi.
Longtime readers of the Trumpet are familiar with our forecasts about Russia and India forming part of a soon-forming alliance involving several other Asian powers, such as China, Japan and the Koreas. The intensifying hostilities between India and China, particularly over the last year or so, makes this difficult for some to believe. But when we understand that Russia, which is strengthening ties with both India (as shown by these recent developments) and China, will be at the head of this alliance, it looks far more feasible.
Ezekiel 38 prophesies about this multinational military alliance. In verse 2, it calls the leader of this alliance "the prince of Rosh, Meshech, and Tubal" (New King James Version).
In his article "Vladimir Putin Is the Prophesied Prince of Russia," Trumpet editor in chief Gerald Flurry explained that the names Rosh, Meshech and Tubal are all ancient names denoting Russia and its cities and capitals. The book of Revelation names this alliance "the kings of the east," with combined forces totaling 200 million men (Revelation 16:12; 9:16).
Mr. Flurry wrote:
Current events show this army taking shape already. You can see it in Putin's growing authoritarianism, and also in his outreach to other Asian powers. Russia has supplied China with many military armaments over the last decade or so; it also helped the Chinese go nuclear. For many years the Russians have been allied with China, at least to some degree.

But there will also be other powers involved. Ezekiel's prophecy says the Russia-led army will include "Persia, Ethiopia, and Libya …" (Ezekiel 38:5-6). … Ethiopia and Libya should be translated "Cush" and "Phut." Though some of Cush and Phut migrated to African nations, the rest settled in parts of India. The context of this passage shows that it refers to modern-day Indians (and perhaps Pakistanis) rather than Africans.

This is significant because India has a population of 1.2 billion people—plus an advanced nuclear arsenal! When you put India and Japan together with Russia and China, it is easy to see how an army of 200 million soldiers could be formed. With other Asian nations joining in, you quickly reach combined populations of 2.5 to 4 billion people! Under extreme circumstances like those described in these end-time prophecies, it is not hard to imagine 1 in 10 or 20 people going to war.
China and India are not currently partners. In the past 12 months alone, their forces have clashed at the Ladakh border. But Russia's position of influence will be like the parent that forces these two bickering children to make peace. Once this happens, watch for "the kings of the east" to dominate the world in a way never seen before.
To fully understand this prophecy and how the Asian alliance will come together, please request your free copy of Mr. Flurry's booklet The Prophesied 'Prince of Russia'.