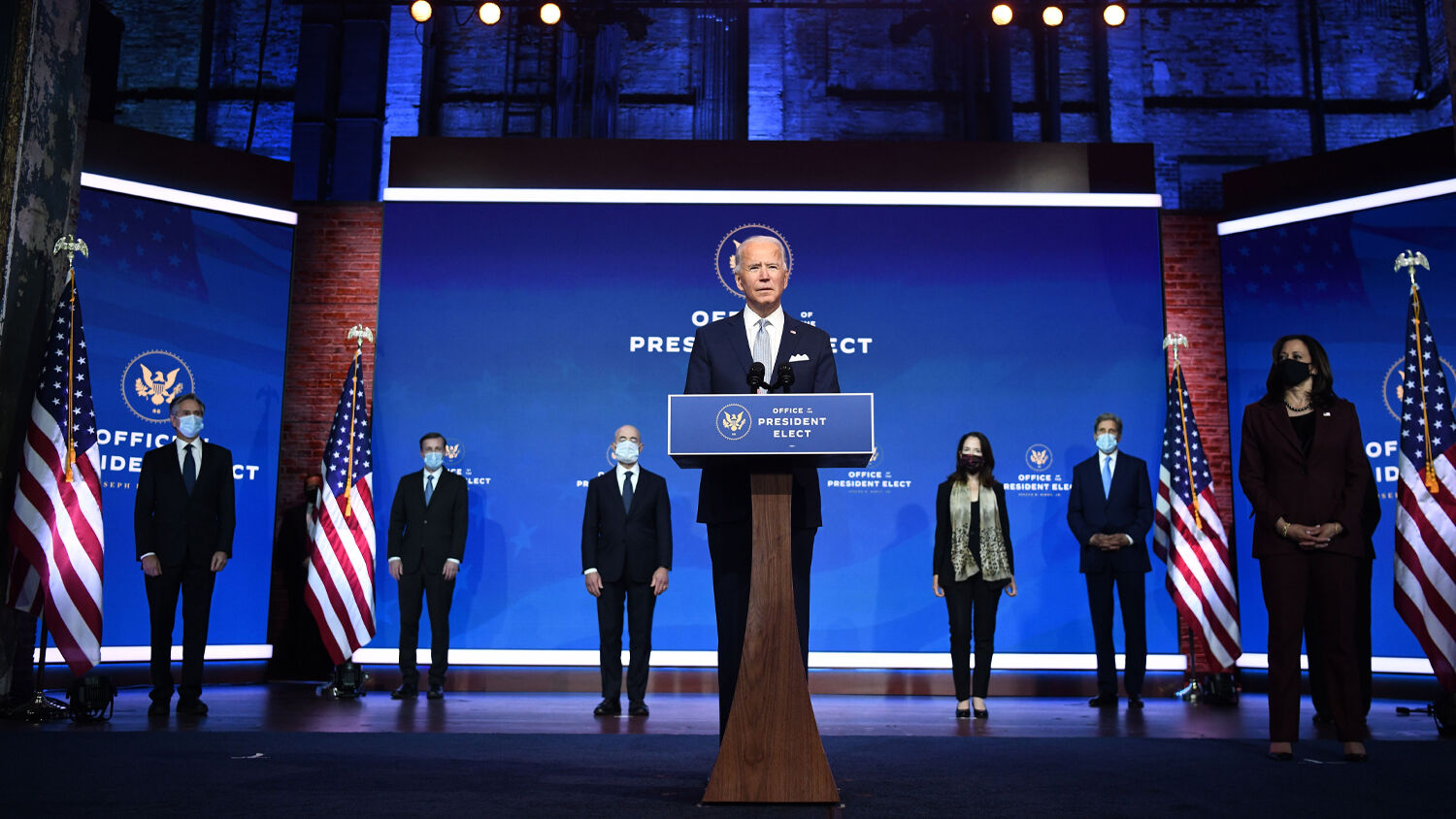 The Biden Files: Who's Who in His Cabinet
Biden's picks show a return of Obama's 'old guard.'
Most of the coverage on the United States presidential transition between Donald Trump and Joe Biden has focused on Biden and Kamala Harris. And rightly so. But who are the others Biden is bringing to Washington? Here are profiles of some of Biden's top federal employees and nominees.
Secretary of State: Antony Blinken
Blinken and Biden go a long way back. When Biden was a senator, Blinken served as one of his closest advisers for six years. He later served as a member of Biden's vice presidential staff. President Barack Obama made Blinken his deputy secretary of state in 2014; Biden has now given him the top job. According to the New York Times, Blinken was "an influential behind-the-scenes player in the negotiations with Iran over its nuclear program." Despite this, and despite Iran's recent expansion of its nuclear program, Blinken recently stated that America won't renegotiate a deal until Iran goes back to its old obligations under the 2015 nuclear deal. Given how Tehran has undermined the provisions of the old deal since it went into force, this is unlikely.
Chief of Staff: Ron Klain
Klain is a longtime associate of Biden and a Democratic establishment figure. He worked for then Senator Biden in the 1980s. After that, he became chief of staff to Vice President Al Gore. Klain was Gore's man in Florida during the 2000 election recount to monitor the situation there. Regarding the U.S. Supreme Court voting in favor of Bush, Klain said: "I am not over it. I don't think I'll ever be over it." He later became Biden's chief of staff (some suspected he would become Obama's chief of staff eventually). According to nbc, during the 2020 election campaign, Klain and Biden talked "almost every single day." The Washington Post often calls him a "fixer" for the Democratic Party (see here, here and here).
Director of National Intelligence: Avril Haines
Haines is Obama's former deputy national security advisor and Central Intelligence Agency deputy director. She is very close with Obama's former cia director, John Brennan. She helped Brennan form Obama's controversial drone strike policy. Before that, she worked for the Senate Foreign Relations Committee when Biden was its chair. In 2014, a scandal occurred where cia agents were accused of hacking into the computers of the Senate Intelligence Committee. The cia inspector general recommended that the agents in question be disciplined. cia Deputy Director Haines refused to follow through.
Secretary of Homeland Security: Alejandro Mayorkas
Formerly Obama's deputy secretary of Homeland Security, Mayorkas was born in Cuba. His family fled the 1959 Cuban Revolution when he was a baby. He was, according to nbc, "instrumental in shaping" Deferred Action for Childhood Arrivals (daca). daca was the Homeland Security immigration policy of deferring deportation to child illegal immigrants. The Washington Times called him "the architect of daca." He created it within 60 days of becoming Obama's immigration head. He was also a member of Obama's team sent to renew diplomatic relations with Cuba. On one trip to Cuba, he had a meeting with Cuba's Ministry of Interior. Part of his discussions were about, according to the Washington Post, "aviation security, combating drug trafficking and cybersecurity." The Post stated that Mayorkas said Washington and Havana hoped "to develop memorandums of understanding to increase cooperation in those and other areas."
Secretary of Health and Human Services: Xavier Becerra
Becerra got his job as California's attorney general when then Attorney General Kamala Harris won her Senate seat. He has little experience with the health-care industry. His pick as Health and Human Services secretary seems slightly surprising—until one learns he has a history of health-care activism. Becerra led the infamous arrests of activists David Daleiden and Sandra Merritt for secretly recording Planned Parenthood workers discussing how much money the organization could make from selling body parts from aborted babies. He also sued the Catholic elderly care home provider Little Sisters of the Poor for refusing to comply with President Obama's mandate that organizations provide contraceptives to their employees. He recently sued the Trump administration for opening up over a million acres in California for fracking. He claimed that it was to protect the health of nearby communities. The land in question is federal property.
National Security Advisor: Jake Sullivan
Sullivan was Biden's former national security advisor as vice president. He will be "the youngest national security advisor in nearly 60 years." Sullivan was a longtime aide for Hillary Clinton; he was her staffer when she was Secretary of State. Another Clinton aide, Philippe Reines, said "he's the only human being who went to 112 countries with Hillary [Clinton]." He was Obama's point man for the Iran nuclear deal. Sullivan was sent to secret meetings with the Iranian government in 2012, and he had several higher-profile meetings with Iran in 2014. He's pretty eager to restart negotiations with Iran, even though Tehran has stated it isn't interested in a new deal. Regarding Sullivan's relationship with Klain, Reines says "no two people know each other better, have worked more closely, overlapped more, or have a better working relationship on day one than any chief of staff-national security advisor pair before them."
Secretary of Defense: Lloyd Austin
Austin was in charge of U.S. Central Command (centcom), the division of the U.S. military overseeing operations in the Middle East. Austin is, like many of Biden's cabinet picks, an associate of his. He was in charge of the U.S. occupation of Iraq during the early Obama administration. Biden's son Beau was one of the soldiers under Austin's command, and the two got along well. Austin and Beau, both Catholics, "attended mass together and sat next to each other almost every Sunday," according to the Washington Post. Biden wrote that Austin "played a crucial role in bringing 150,000 American troops home" in the 2011 withdrawal from Iraq. Because of the U.S. vacuum, the Islamic State terror group sprung up in Iraq. American troops were sucked back into the conflict zone as a result.
Noticing a pattern?
An incoming presidential administration often chooses many governors, senators, congressmen and other politicians for cabinet positions. Biden has very little of those. Instead, he's been choosing all of his old aides when he was vice president. People like Klain and Mayorkas generally aren't high-profile elected officials. Rather, they're longtime Biden and Democratic Party insiders. These characters are the people behind the scenes who established many of Barack Obama's hallmark policies, disastrous policies like the Iran nuclear deal and the withdrawal from Iraq. Even those who weren't in Obama's administration per se, like Becerra, have a track record of fighting for the same causes Obama did.
We're basically seeing Biden transplant his vice presidential staff over to his presidential administration. But more than that, we're seeing the movers and shakers of Obama's cabinet being given the top jobs.
We're seeing a third term of Barack Obama.
In a recent interview with Stephen Colbert, Obama said:
People would ask me, "Knowing what you know now, do you wish … you had a third term?" and I used to say, "If I could make an arrangement where I had a stand in, a front man or front woman, and they had an earpiece in and I was just in my basement in my sweats looking through the stuff, and then I could sort of deliver the lines, but somebody else was doing all the talking and ceremony, I'd be fine with that."
As Trumpet editor in chief Gerald Flurry wrote in his article "Barack Obama in Bible Prophecy":
This is the term Freddy Gray, editor of Spectator usa, used to describe a possible Joe Biden presidency. "Obama sounds a bit of a World King these days, but you can't blame him for feeling chipper. He has his third book of memoirs out … he's making millions through publishing and Netflix deals, his great nemesis Donald Trump appears finally to have been vanquished —and his gang is taking charge of Washington again" (Nov. 28, 2020).

Barack Obama was pleased when Biden began announcing his selections for various positions in his administration. In a November 23 interview with Politico, he said, "You're seeing a team develop that I have great confidence in." Of course he has great confidence in them—they're his people!
"In fact, the incoming Biden administration is arguably more Obamaish than the original Obama administration was," Gray wrote. One Biden campaign staff member even told Politico, "The Obama staffers are now cutting out the people who got Biden elected."
With all of Obama's hidden middle-management occupying the top jobs, it's as if we have a front man—a President Joebama—sitting in the Oval Office right now.
To learn more, please read Mr. Flurry's article "Barack Obama in Bible Prophecy."