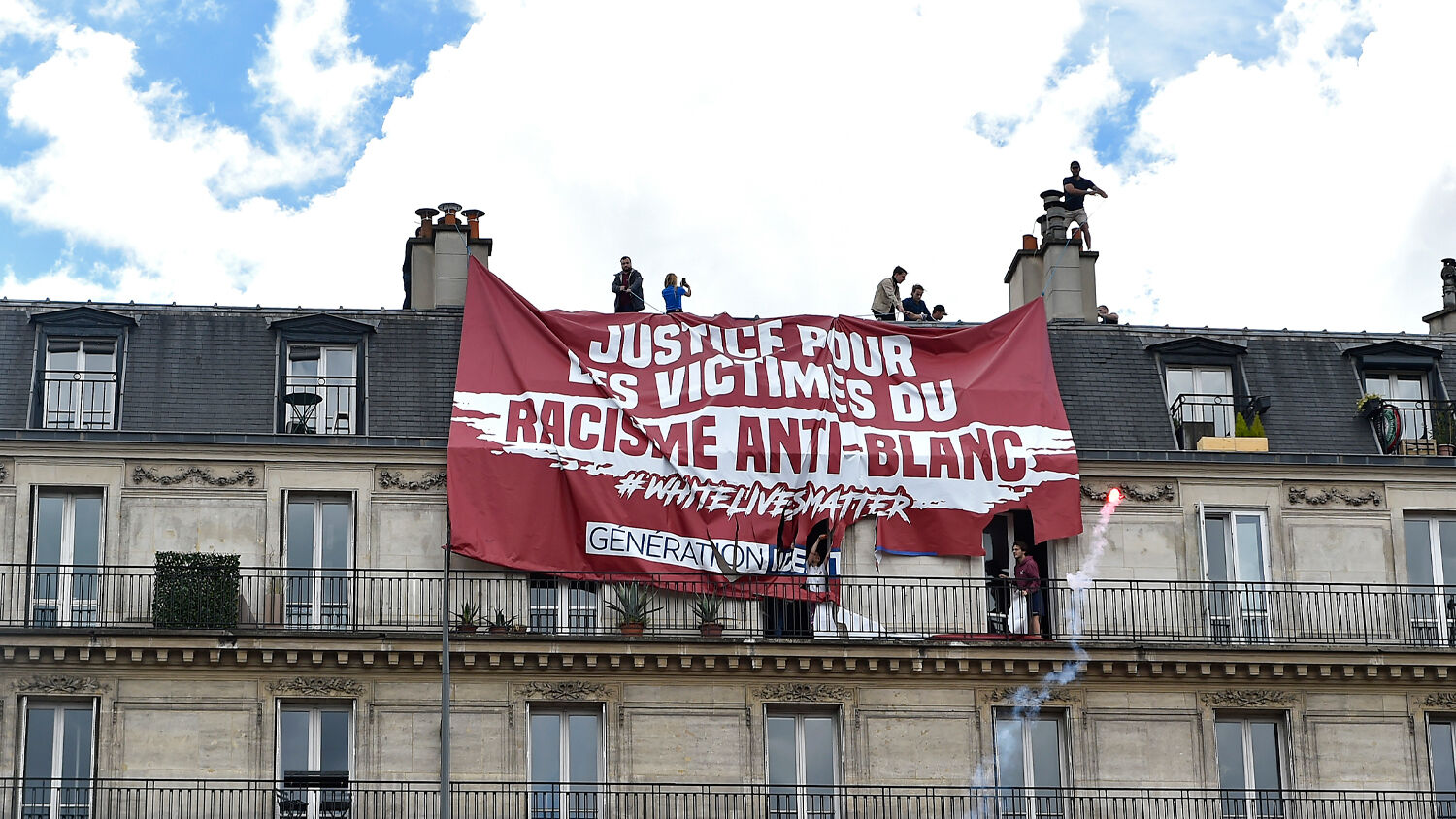 Anti-Racism Protesters Condemn 'Dirty Jews'
As the world takes a knee for Black Lives Matter, it's business as usual for anti-Semitism.
French protesters gathered in Paris on June 13 at the Place de la République square carrying banners with anti-Zionist and anti-Semitic slogans, such as, "Israel, laboratory of police violence." The protests were initially against police brutality, but they eventually targeted the Jewish population. The protesters repeatedly shouted, "Dirty Jews," while waving Palestinian flags and wearing "Justice for Palestine" T-shirts. Some banners read, "Stop the massacres by Israel. Liberty and justice for Palestine."
French-Jewish educator Bernard-Henri Levy asked, "Why are there anti-Israeli banners at this demonstration? What does this have to do with the fight against racism whose victims are black people?"
Post-war anti-Semitism has evolved, especially in recent years. Author Yaroslav Trofimov explains (emphasis added):
Jews in Europe, the U.S. and elsewhere are regularly blamed for Israel's treatment of the Palestinians—a minority within one country being held accountable for the policy decisions of the government of another. Sometimes this dynamic can take on softer forms, such as when Jewish students on American college campuses—where the movement to boycott Israel is strong—face pressure to repudiate any connection to the Jewish state. Sometimes, it can become violent. During the 2014 Gaza war, some pro-Palestinian protesters in France—unable to attack Israeli interests—burned down several Jewish-owned businesses instead.
"When you diabolize the State of Israel, you end up diabolizing the Jews," said Francis Kalifat, president of the Representative Council of French-Jewish institutions (crif).
This is not the first time unconnected French protests have inexplicably manifested anti-Semitic characteristics. In February 2019, the yellow vest protesters eventually targeted Jews, calling them "dirty Zionists" and a "filthy race."
This year's protests demonstrate "a desire to infiltrate a just and universal cause—anti-racism—with hatred of the Jews and Israel," crif stated. It went on to denounce anti-Semitism, remarking that "there cannot be a fight against racism which indirectly tolerates anti-Semitism in its ranks."
In his article "The One Minority Society Loves to Hate," theTrumpet.com assistant managing editor Richard Palmer wrote: "Previous surges in anti-Semitic violence in the West have occurred in tandem with major events in the Middle East surrounding the Jewish nation of Israel: the Second Intifada or a war in Gaza, for example," he wrote. "In recent years, there has been no trigger. Soaring anti-Semitism is just the new normal." He continued:
The statistics are all heading in the wrong direction. In France, anti-Semitic acts were up 74 percent in 2018 compared to 2017. In the U.S., they doubled. In Germany they rose 20 percent, with violent attacks up 60 percent. The United Kingdom has set new records for the largest number of anti-Semitic incidents in each of the last three years.
There is a reason anti-Semitism is being more widely embraced.
The god of this world, Satan, is behind the hatred for Jews (2 Corinthians 4:4). "Satan can stir up vicious hatred," Trumpet editor in chief Gerald Flurry explains in his book The Key of David. "Most people who hate the Jews don't even know why they do. Can we see Satan behind such lies and hatred?"
God has a plan that involves all mankind, and the Jews play a special role in it. This is the plan Satan hates, which is why anti-Semitism is getting worse.
To fully understand what is at the core of anti-Semitism and the special role that Jews play in God's plan for mankind, read our article "The One Minority Society Loves to Hate."