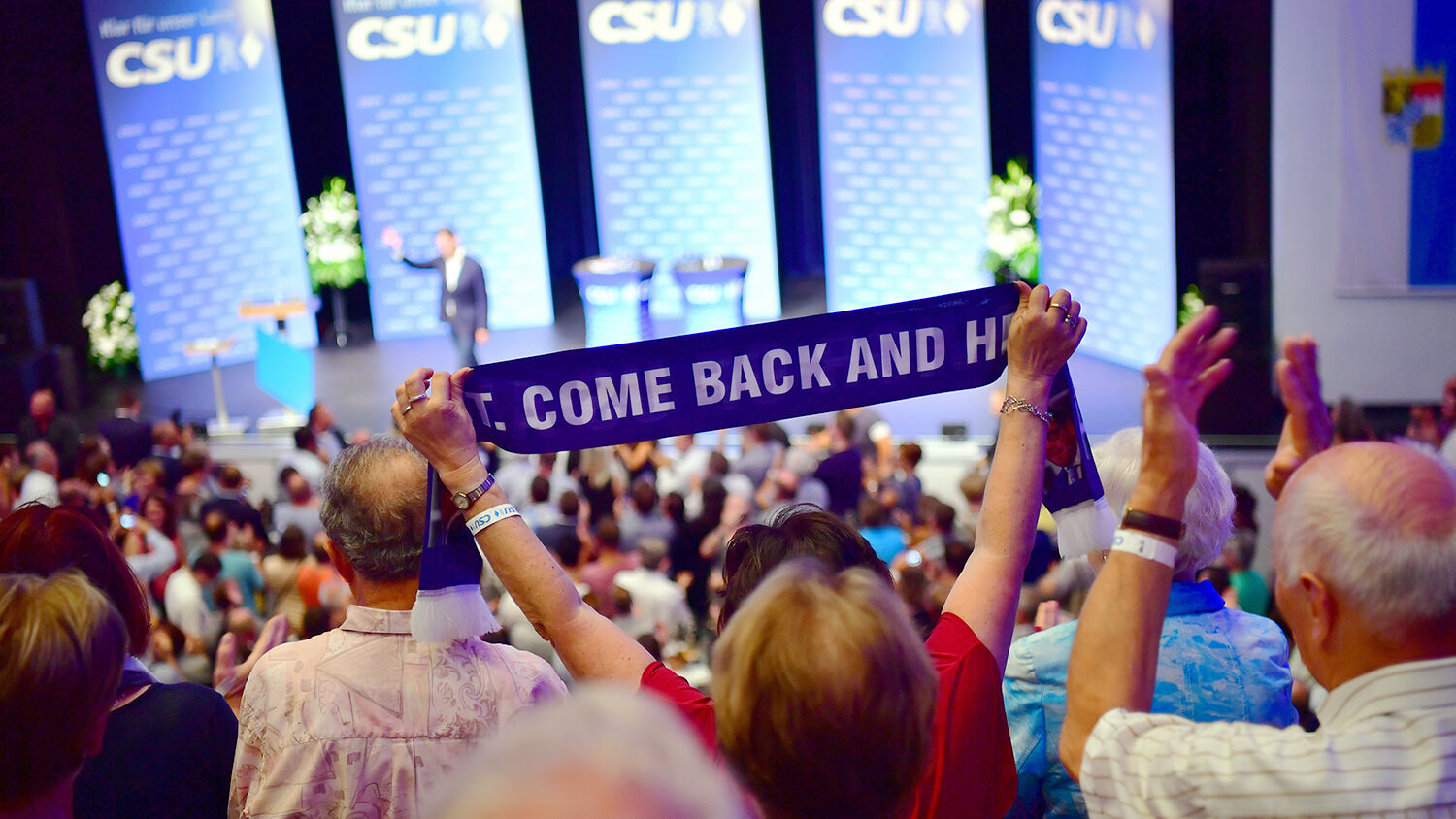 KT zu Guttenberg Returns to Germany
The days of self-imposed exile are over.
Former German Defense Minister Karl-Theodor zu Guttenberg is back from his self-imposed exile in the United States.
In February, it was rumored that Guttenberg had purchased a farmhouse in the state of Lower Saxony. Merkur.de headlined on February 23: "The Baron Is Planning His Return." That return has now been confirmed: "My wife and children wanted to return to Germany after being in the U.S. for almost eight years," Die Welt quoted him saying in a speech on September 20 (Trumpet translation throughout). In 2011, Guttenberg moved his family to America, following a plagiarism scandal. The Guttenbergs have now settled in the district of Osnabrück in the area of the Teutoburg Forest. Baron Guttenberg is reestablishing his presence in Germany at a time when the country is in urgent need of strong leadership.
The baron and his wife, Stephanie, have taken on the patronage of the riding club St. Martinus Hagen, in which his two daughters participate. Besides his love for equestrian sports, Guttenberg is also still keenly interested in political, digital and social trends and regularly participates in talks and discussions, frequently voicing his opinion. He also continues to operate his U.S.-based advisory and consultation firm, Spitzberg Partners.
German news media is taking note of the beloved baron's return. SAT.1 published "Karl-Theodor zu Guttenberg Is Back!" and posted a discussion video about his return, exclaiming: "For a long time, it was quiet around Karl-Theodor zu Guttenberg. But now he dares again to step into the spotlight!" Bild invited him to the Bild100-Fest in the Dachgarten-Restaurant of the Bundestag as one of the "100 most important people." It wrote a corresponding article titled "Celebrities Stand Behind Hong Kong Hope." The noz Media Center invited Guttenberg to join its discussion commemorating the 80th anniversary of World War ii. In an interview with German public radio and television broadcaster ndr, he discussed his past work as defense minister and blamed Chancellor Angela Merkel for the spending cuts.
Guttenberg has visited Austria frequently. This past summer, he attended the Salzburg Summit, joined by former Austrian Chancellor Sebastian Kurz and more than 20 high-profile international speakers. Those in attendance discussed, among other things, Europe's digital future. Later, Guttenberg elaborated on his comments in an interview with Puls 4 Talk. Additionally, during Accenture in Alpbach 2019 on August 29, he discussed Europe's economic vulnerabilities with Telekom Austria ceo Thomas Arnoldner and Austrian People's Party leader in Vienna, Gernot Blümel.
Guttenberg frequently criticizes German and European leadership. He repeatedly pleads for Europe's digitalization to be led from its governments, lamenting European leaders' lack of commitment. He has also called for Europe to defend its culture and move away from the appeasing, apologetic stance.
All in all, Guttenberg believes Europe needs political unity and says the leaders have the wrong priorities.
The timing of Guttenberg's move is crucial. Angela Merkel announced earlier last year that she would not run for chancellor in the 2021 elections. Her favored successor, Annegret Kramp-Karrenbauer, has thus far failed to prove herself. Merkel's coalition government with the Social Democrats is also terribly fragile and threatens to break over almost any major issue. The European Union has also faced its greatest leadership crisis since its founding and has struggled to agree on whom to appoint as its next presidents.
Adding to the crisis in Europe's government is the unprecedented challenge imposed by Brexit, the administration of U.S. President Donald Trump, and a looming economic crisis.
Focus magazine revealed in October 2018 that Guttenberg's contacts in Germany and the U.S. agree that he has a comeback plan and is merely waiting for the right time.
Europe's culminating crises in 2019 may prove to be the perfect timing for the baron. Trumpet editor in chief Gerald Flurry wrote in "Germany—A New King Is Imminent":
Current conditions in Europe, including the refugee crisis and the turmoil in German politics, provide probably one of the greatest opportunities ever for a new leader to come into power "by flatteries." Chancellor Merkel is on her way out and is now a lame duck. Expect political and social crises in Germany and Europe, and public resentment and anger, to grow even deeper.

Then watch for a strongman to take advantage and make his way to power through flatteries!
Mr. Flurry was referencing a prophecy in Daniel 11:21 that reads: "And in his estate shall stand up a vile person, to whom they shall not give the honour of the kingdom: but he shall come in peaceably, and obtain the kingdom by flatteries."
"He inherits the throne of Europe 'peaceably,' obtaining his kingdom by 'flatteries,'" Mr. Flurry explained. "He is crafty and sly, with a brilliant mind and an engaging, attractive personality. The Jamieson, Fausset and Brown Commentary says 'the nation shall not, by a public act, confer the kingdom on him, but he shall obtain it by artifice, 'flattering.' In other words, a deceived public, or a group of European leaders, likely invites this man into power."
The book of Daniel contains prophecies for the time just before the return of Jesus Christ (Daniel 12:4, 9). In our free booklet A Pivotal Sign of the End Time, Trumpet managing editor Joel Hilliker explains in detail that we are living in this time today. The prophecy of a coming German strongman is one of the most crucial events to occur in this end time. Daniel reveals that this man will stand up against Christ Himself at His Second Coming.
For more than a decade, the Trumpet has been predicting that Guttenberg may be the man who will lead Germany and Europe in this final phase of man's rule over man. Even after Guttenberg's departure from politics, we continued to refer to this possibility. Our free booklet A Strong German Leader Is Imminent explains why we watch him so closely.
Baron zu Guttenberg's return to Germany at this crucial time means that this prophecy could be fulfilled very soon. This also means that Christ is about to return to bring lasting peace and happiness to this world. God's Word cannot be broken. It is our responsibility to watch and pray to be accounted worthy to escape the coming prophesied calamity that will precede Christ's return: "Watch ye therefore, and pray always, that ye may be accounted worthy to escape all these things that shall come to pass, and to stand before the Son of man" (Luke 21:36).