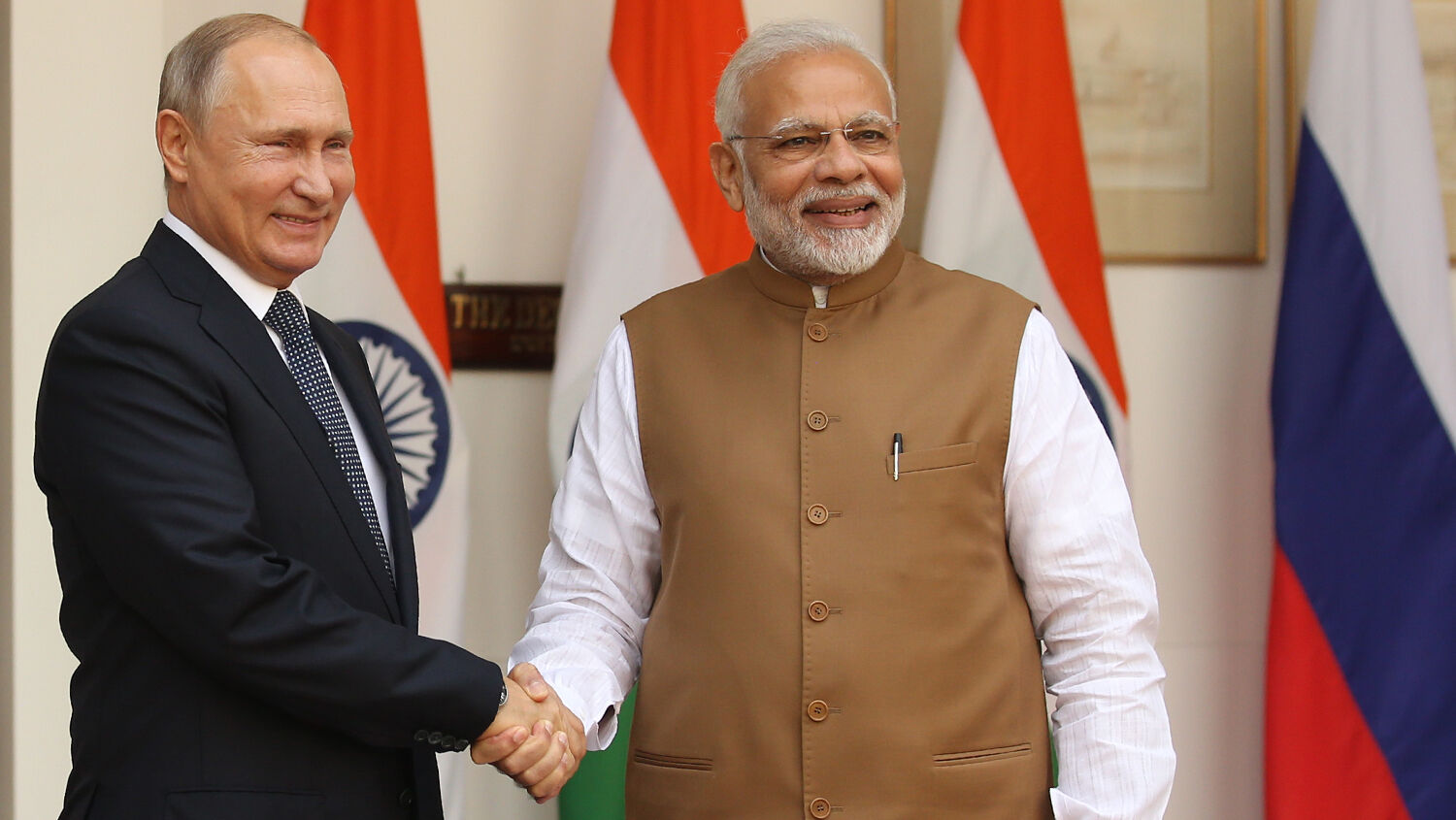 Largest Election in History Means India Will Turn Further Toward Russia
Prime Minister Modi's mandate is strengthened, including his policy toward Russia.
Following the largest democratic exercise in human history, Indian Prime Minister Narendra Modi has won a landslide reelection victory that could allow him to draw India closer to Russia.
Over the course of six weeks, more than 600 million Indians cast a ballot. They voted at over 1 million polling stations in megacities, on islands and in remote mountainside villages. Official data from the Election Commission published on May 24 showed that Modi's Bharatiya Janata Party won 303 of the lower house's 542 seats. This exceeds the 282 seats the party won when Modi first came to power in 2014, and empowers him to better pursue his nationalist goals inside and outside of India.
Modi campaigned as a hard-liner on foreign policy, drawing special emphasis to the tough stand he has taken against Pakistan. He has also built a reputation for deftly walking the tightrope between Russia and the United States. But there are indications that this balancing act could soon be replaced with closer alignment with Russia.
Russian President Vladimir Putin was among the first world leaders to congratulate Modi on his reelection. "I am convinced that, as the prime minister of India, you will further strengthen the centuries-old friendship between our peoples and the all-round development of a particularly privileged strategic partnership between Russia and India," Putin said.
The "centuries-old friendship" between Russia and India has become especially significant since the mid-1960s when the Soviet Union sold MiG 21 helicopters to India. In 2000, the two nations signed the Declaration on the India-Russia Strategic Partnership, establishing deeper cooperation in defense, security and economy. Around that time, India also became the biggest buyer of Russian military equipment.
By 2010, the Russia-India relationship had been upgraded to what was referred to as a "special and privileged" strategic partnership. From 2000 to 2014, Russia provided around 73 percent of India's military imports. By the time Modi became prime minister in 2014, India had no closer partner than Russia.
"Even a child in India, if asked to say who is India's best friend, will reply it is Russia, because Russia has been with India in times of crisis," Modi told Putin in 2014.
In the time since, the India-Russia partnership has grown stronger. From 2014 to last year, overall India-Russia trade increased from $6 billion to $10.7 billion. In October 2018, Modi and Putin finalized a deal for India to buy Russia's advanced S-400 air defense system. This landmark deal came despite warnings from the U.S. that the purchase could result in U.S. sanctions being placed on India. The Trumpet wrote at the time: "The fact that India quietly went ahead with the purchase despite U.S. threats shows that New Delhi may be willing to jeopardize its close relationship with America in favor of its relationship with Russia."
In 2018, Russia and India signed eight other major deals, including a milestone agreement securing Russia's partnership on India's ambitious "Skycraft" manned space mission.
Last month, Putin awarded Modi with Russia's highest civilian award, the Order of Saint Andrew the Apostle, for his work in strengthening ties between the two countries. Modi thanked Putin for the honor on Twitter, writing: "President Putin remains a source of great strength for the India-Russia friendship. Under his visionary leadership, bilateral and multilateral cooperation between our nations has scaled new heights."
One of Modi's first meetings after being reelected will be with Putin next month on the sidelines of the Shanghai Cooperation Organization summit in Kyrgyzstan. Modi is also planning to meet with Chinese leader Xi Jinping at the summit.
It is clear that Modi intends to further improve what Putin called the "centuries-old friendship" between Russia and India, and his strengthened mandate gives him the power to do so. This trend is significant because of what Bible prophecy says about India's direction in the "latter years." (This refers to the modern age, which you can prove by studying Trumpet executive editor Stephen Flurry's article "Are These the 'Last Days'?")
The Trumpet has often discussed an Oriental armed force with an army of 200 million soldiers, which Bible prophecy says will form in the "latter years." In our September 2014 issue, Trumpet editor in chief Gerald Flurry wrote about this future army:
The Bible gives some important details about this largest army ever assembled on Earth. It tells us which nations will contribute soldiers to it. It shows it will include the combined forces from several Asian nations. It refers to this Asian confederacy as the "kings of the east" (Revelation 16:12). …

A prophecy in Ezekiel 38 gives us some of these important details. "And the word of the Lord came unto me, saying, Son of man, set thy face against Gog, the land of Magog, the chief prince of Meshech and Tubal, and prophesy against him" (Ezekiel 38:1-2). …

Scholars generally agree that "Gog" is Russia, and that "the land of Magog" includes China. The descendants of Meshech and Tubal have been found together throughout history. In Assyrian and Greek histories, Meshech appears as Musku, Muski or Mushki—all names related to the Russian spelling of Moscow, as you can read in the International Standard Bible Encyclopedia. What about Tubal? On the eastern side of the Ural Mountains lies the city of Tobolsk, named after the Tobol River, derived from Tubal. Tobolsk was once the seat of Russian government over Siberia and was basically considered Russia's Asian capital.
It is clear that this colossal Asiatic military force will be led by Russia. Ezekiel 38:5 states that "Ethiopia and Libya" will also be part of this bloc. In this passage, these two names would more accurately be rendered "Cush" and "Phut," as the Darby Bible and Young's Literal Translation correctly translate them. History records that while some branches of the peoples of Cush and Phut settled in Africa, the remainder migrated to India. The context of this scripture shows that it is referring not to African peoples, but mainly to modern-day Indians.
With Modi's mandate strengthened, India is now better positioned to take its place among "the kings of the east."
In the near term, the deepening relationship between India and Russia shows that the world is headed for the most destructive war in mankind's history. But the trend is also intimately tied to the best imaginable news.
In his booklet The Prophesied 'Prince of Russia,' Gerald Flurry explains:
War is coming … on a scale that is hard to imagine! … But the Bible also prophesies that at the end of all of these wars, the world is going to see the greatest event ever in the universe: the Second Coming of the Messiah, Jesus Christ! … What we are seeing in Russia ultimately leads to the transition from man ruling man to God ruling man! And it is almost here! It is just a few short years away. …

We have to realize that this is all good news because Jesus Christ is going to return to this Earth at the very end of the coming world war. … Jesus Christ is about to return—biblical prophecy makes that clear. Surely we ought to be studying our Bibles and understanding these prophecies. They have such deep meaning and are so important to you!
These prophecies leading up to Christ's return are being rapidly fulfilled today. Seeing that God is bringing His prophecies to fulfillment should stir us to work toward "understanding these prophecies," as Mr. Flurry wrote. It should stir us to take action to get to know God and to work toward escaping the destruction that is quickly coming on the world.
To understand more about India and the end-time Asian military force that is already in the early stages of unifying, and the hopeful message that is at the core of these prophecies, order your free copy of The Prophesied 'Prince of Russia.'