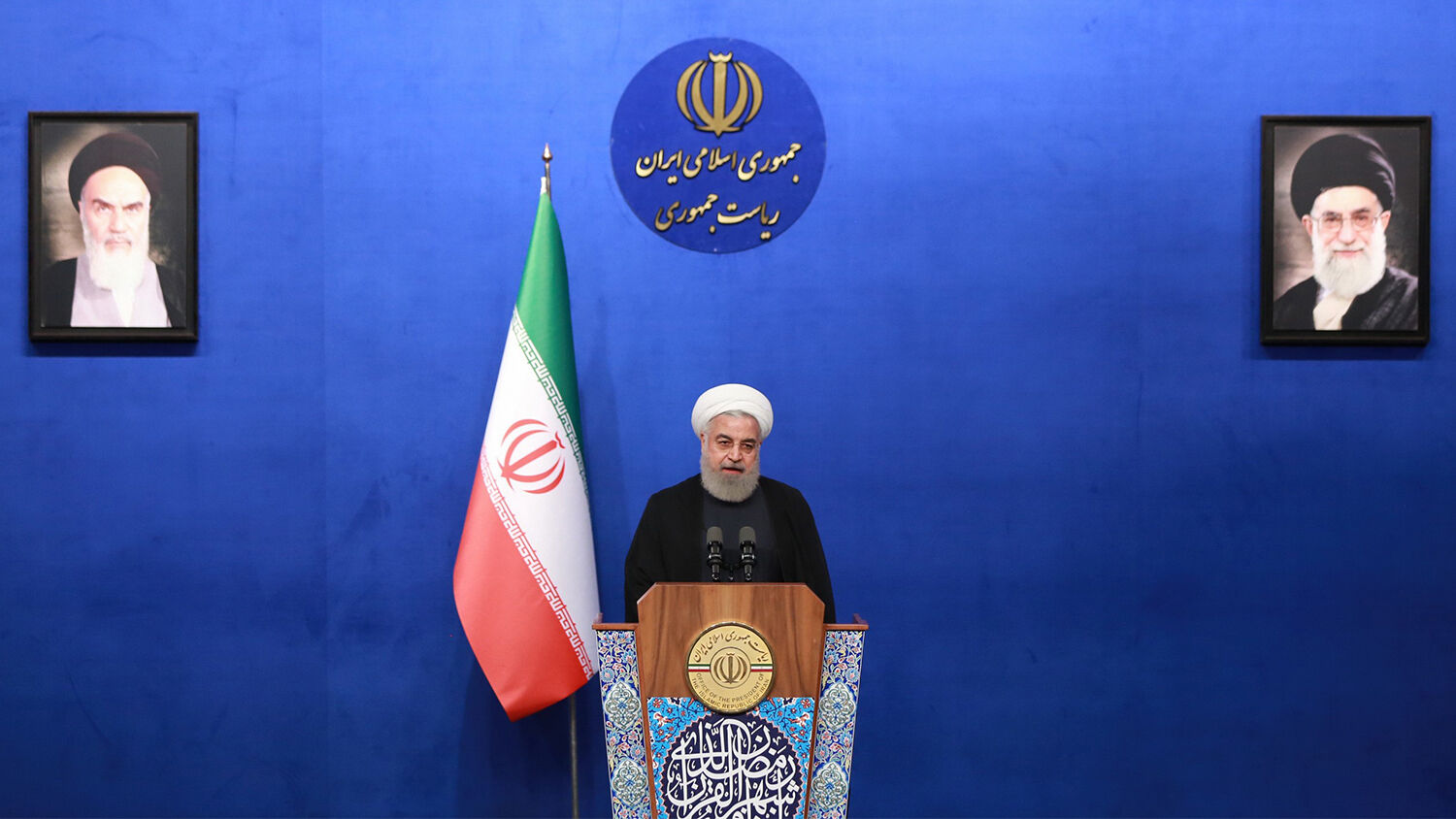 Iran Delivers Ultimatum to Europe Over Nuclear Program
Both sides are shifting from concession to confrontation.
Iranian President Hassan Rouhani has given European countries 60 days to "fulfill their commitments" to shield Iran from United States sanctions, or Iran's behavior will become "unpredictable."
Iran's Supreme National Security Council handed a letter that specified Iran's demands to five countries: China, France, Germany, Russia and the United Kingdom. The spokesman of the Atomic Energy Organization said that Iran's "patience" has run out. One year after the Trump administration withdrew the U.S. from the 2015 Joint Comprehensive Plan of Action nuclear agreement, the agreement may be completely abolished.
Rouhani's comments, given on May 8, continued: "Starting today, Iran does not keep its enriched uranium and produced heavy water limited." The nuclear agreement required Iran to limit its uranium enrichment to 3.67 percent, to sell off any surplus of 300 kilograms (661.4 pounds) of enriched uranium, and to keep no more than 130 metric tons of heavy water, which is used in nuclear reactors and centrifuges. Exceeding these limits is necessary for Iran to produce material for nuclear weapons.
Tim Morrison, special assistant to the U.S. president and senior director for weapons of mass destruction, called this "nothing less than nuclear blackmail of Europe." He quickly cautioned Europe against facilitating trade with Iran and called on the world community to condemn Iran's belligerent behavior.
On May 9, representatives of the European Union, France, Germany and the UK released a joint statement that said, "We reject any ultimatums and we will assess Iran's compliance on the basis of Iran's performance regarding its nuclear-related commitments under the jcpoa [Joint Comprehensive Plan of Action] and the npt [Treaty on the Non-Proliferation of Nuclear Weapons]."
On May 13, the European Union's foreign policy chief, Federica Mogherini, told reporters, "[W]e'll continue to support it as much as we can with all our instruments and all our political will." German Foreign Minister Heiko Maas said, "Our position remains that we want to stick by the agreement, especially to prevent Iran from gaining possession of a nuclear weapon."
Seth Frantzman at the Jerusalem Post described Iran's actions as a "full-court press." A European diplomat told Reuters that this could be a "ticking time bomb."
Europe is hardening its position against Iran. The last time an escalation like this occurred was in January, when Iranian officials slammed the door on the European delegation. The following day, the EU placed sanctions on Iran's intelligence agency. On January 20, after Iran launched a ballistic missile at an Israeli ski resort, the EU threatened to sanction Iran further if it did not halt its ballistic missile development. French Foreign Minister Jean-Yves Le Drian told reporters, "We are ready, if the talks don't yield results, to apply sanctions firmly, and they know it."
Europe is still deciding how firmly to deal with Iran. The EU's May 9 statement said, "We strongly urge Iran to continue to implement its commitments under the jcpoa in full as it has done until now and to refrain from any escalatory steps." The claim that Iran has kept its commitments is false, but designed as a conciliation toward Iran.
Before the nuclear agreement was signed by the Obama administration, along with the EU and five other nations, Alireza Jafarzadeh wrote in The Iran Threat, "Iran successfully hid its nuclear program for 18 years until my sources exposed it in 2002." If Iran managed to hide its nuclear program for 18 years, is it also hiding it now?
Numerous reports by the Institute for Science and International Security reveal Iran purposefully hid aspects of its nuclear program and lied to International Atomic Energy Agency inspectors. On Jan. 31, 2018, Israeli agents extracted from a secret warehouse in Tehran 50,000 pages of top-secret files and 163 compact discs containing information relating to Iran's development of nuclear technology. (For more, read "Iran's Nuclear Testing at Parchin Facility Confirmed.")
According to Jafarzadeh, experts were predicting as far back as 2007 that Iran was one year of nonstop centrifuge production from possessing enough enriched uranium to build one nuclear bomb. Now, estimates range from 7 to 12 months. That means that if Iran follows through with its threat to leave the nuclear agreement, it might build its first nuclear bomb by as early as February.
In his booklet The King of the South, Trumpet editor in chief Gerald Flurry writes, "Iran is extremely radical—the king over radical Islam. Where is this nation's pushiness leading? To war! Just as it has in the past. It's leading to terrifying war with weapons of mass destruction."
Nuclear confrontation is coming, and it will force Europe to respond. The Bible prophesies in Daniel 11:40 that there will be a military conflict between Iran and Europe:
And at the time of the end shall the king of the south [radical Islam, led by Iran] push at him: and the king of the north [German-led Europe] shall come against him like a whirlwind, with chariots, and with horsemen, and with many ships; and he shall enter into the countries, and shall overflow and pass over.
Iran's nuclear threat is pushing Europe to act. It cannot afford to sit back and let Iran develop a nuclear bomb. In the past, Europe has favored negotiations and concessions with Iran, but it is beginning to shift toward stronger confrontation. When Europe finally reacts, it will launch a full-scale invasion of the Middle East to root out radical Islamic terrorism once and for all. This clash of civilizations is leading to World War iii.
But there is hope. Before mankind utterly destroys itself in a nuclear fallout, the Messiah will return to stop the devastation. Hosea 6:1 says, "Come, and let us return unto the Lord: for he hath torn, and he will heal us; he hath smitten, and he will bind us up." Mankind will finally turn to the Messiah, and He will heal the land and usher in an era of peace and prosperity like this world has never seen.
To prove Iran's nuclear threat is pushing Europe toward war, please request a free copy of The King of the South, by Gerald Flurry.