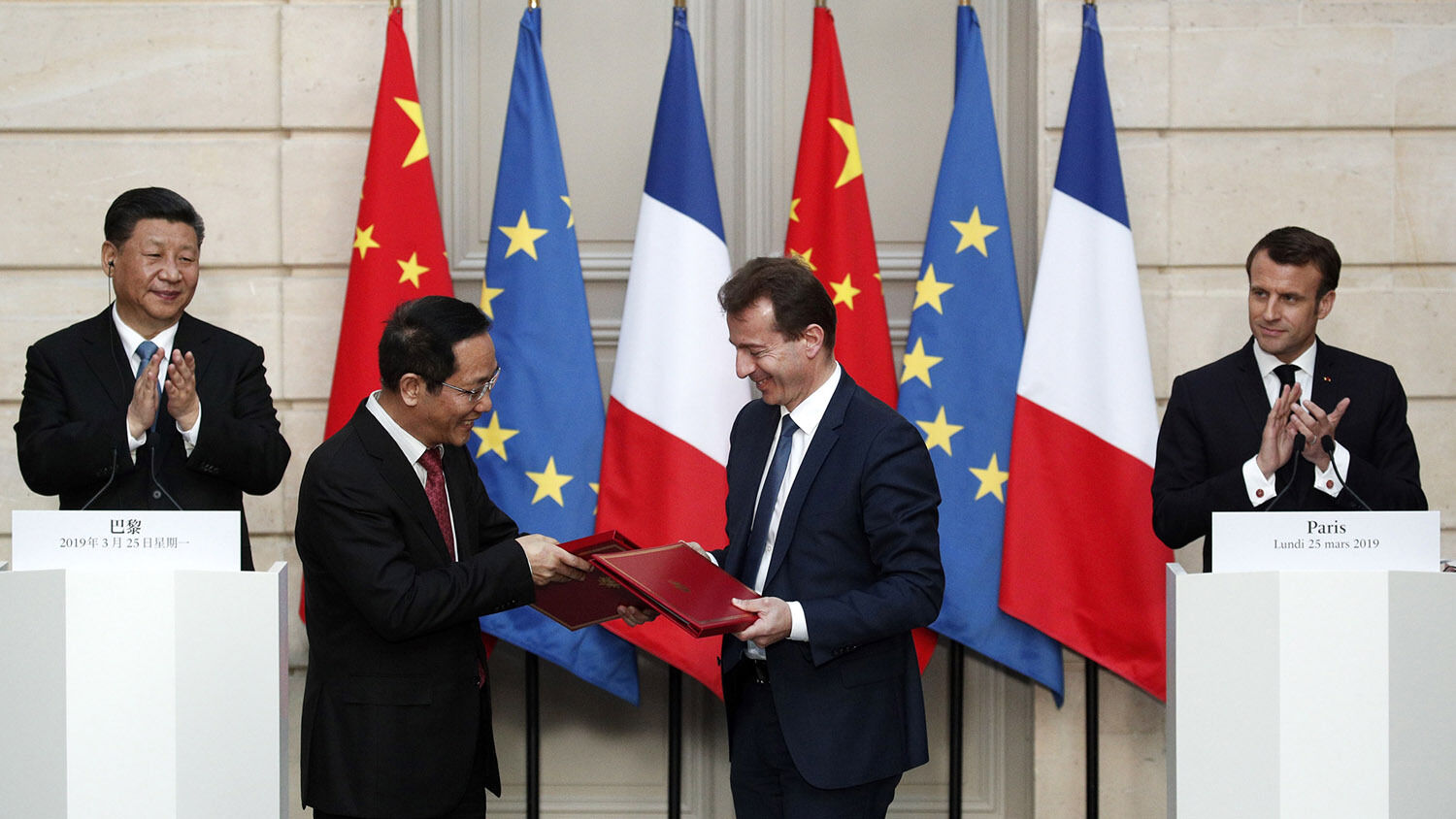 China's Xi Signs Deals With Europe Worth Billions
Europe is cautiously reaching out to China as its new trade ally.
Chinese President Xi Jinping visited Europe from March 21 to 26, meeting with European leaders from Italy, France and Monaco, and signing an important series of deals related to China's Belt and Road economic initiative.
On March 23, Italy became the first G-7 nation to sign on to the initiative. Xi and Foreign Minister Wang Yi with Italian Prime Minister Giuseppe Conte and Labour and Industry Minister Luigi Di Maio signed 29 deals on everything from banking to energy to sports, worth $2.8 billion. The China Communications Construction Co. will begin port management activities at Trieste and Genoa. Trieste is especially valuable to China's Belt and Road Initiative, since it provides access to the landlocked nations of Central and Eastern Europe.
On March 24, Xi arrived in France, where he signed trade deals worth $11.2 billion, in addition to a large $35 billion order for Airbus. The deal signals cautious but increasing economic cooperation between China and European nations. In total, the Chinese will receive 300 new airliners from the European aircraft manufacturer, a sizable order. The deal with Airbus is a disappointment for Boeing, following the grounding of its most popular medium-range plane, the 737 Max, across the globe following two fatal crashes over a five-month period, apparently related to flight control software.
Those involved in the deal were likely aware that the order is for the exact same number of planes China ordered from Boeing in 2017.
In France, Xi also met with German Chancellor Angela Merkel. Together with French President Emmanuel Macron, they discussed "renovating multilateralism," a veiled reference to shifting more world trade away from the United States. Xi, Macron and Merkel discussed their shared commitment to multilateral trade relations.
"None of us is naive, but we respect China," said Macron after the meeting. "We naturally expect our main partners also to respect the unity of the EU and the values it holds for itself and the world." He characterized the budding trade relationship as a "trust-based partnership."
Despite this recent avalanche of deals, the European Union remains wary of China on several fronts.
"Obviously the exercise of power in human history doesn't happen without rivalry," Macron said. His comments show what most EU nations believe: The deals with China can move forward, but with caution.
For the first time ever, the EU officially labeled China as an "economic competitor" and "a systemic rival promoting alternative models of governance," in a paper published March 12.
Then there is the debate over Chinese telecom company Huawei, and whether or not its infrastructure should be used in the 5G telecommunications networks that the EU is planning to construct. The EU looks unlikely to ban Huawei, but remains skeptical.
Even in Italy, the epicenter of recent deals, there is concern among politicians. Paolo Gentiloni, who served as Italy's prime minister from 2016 to 2018, remains skeptical of China. He warned that it was geopolitically "unwise" to give China so much control of Italian infrastructure, and pointed out that what happens in Italy will have consequences for the EU, stating, "Europe is showing its divisions toward China, and this is not something that will strengthen our position even on trade."
At this point in time, most analysts will say that the EU-China situation could go either way. China could draw nearer to the EU and make more deals, even to the point that America becomes alienated from the rest of world trade. Others will say that the EU-China trade will be short-lived.
Yet there is an often-overlooked source that predicted the Belt and Road Initiative, the cooperation we see today, and the friction that comes with it; and it did so thousands of years in advance.
The Bible predicts a trade relationship between European and Asian nations. In Isaiah 23, God describes a trade alliance between Chittim (an ancient name for China) and Tyrus (elsewhere called the king of the north, referring to Europe). He calls this commercial alliance a "mart of nations." (Read our article "The Great 'Mart of Nations'" to learn more, and order your free copy of Isaiah's End-Time Vision.) The relationship between China and the EU will be powerful, but also fraught with mistrust. The Bible says these two powers will ultimately drift apart again and confront each other militarily.
Before turning against each other, however, China and Europe will use their economic power to besiege America financially. The EU is already China's largest trade partner. The latest avalanche of deals is yet another step toward the fulfillment of this prophecy. In Ezekiel: The End-Time Prophet, Trumpet editor in chief Gerald Flurry describes the impact that the Europe-China alliance will have on America:
Prophecy indicates that the German-led European Union will soon join forces with Russia, China and Japan to shut the U.S. out of more and more markets (see Isaiah 23). …

The United States and Britain are going to be left out in the cold as two gigantic trade blocs, Europe and Asia, mesh together and begin calling the shots in world commerce. These nations of Israel are going to be literally besieged—economically frozen out of world trade!
This will be the result of China-EU cooperation. Europe's increasing participation in the Belt and Road Initiative will have grave consequences for America, and will dynamically change the world you live in. To read more about how this growing trade relationship will hurt America, request your free copies of Ezekiel: The End-Time Prophet and Isaiah's End-Time Vision.