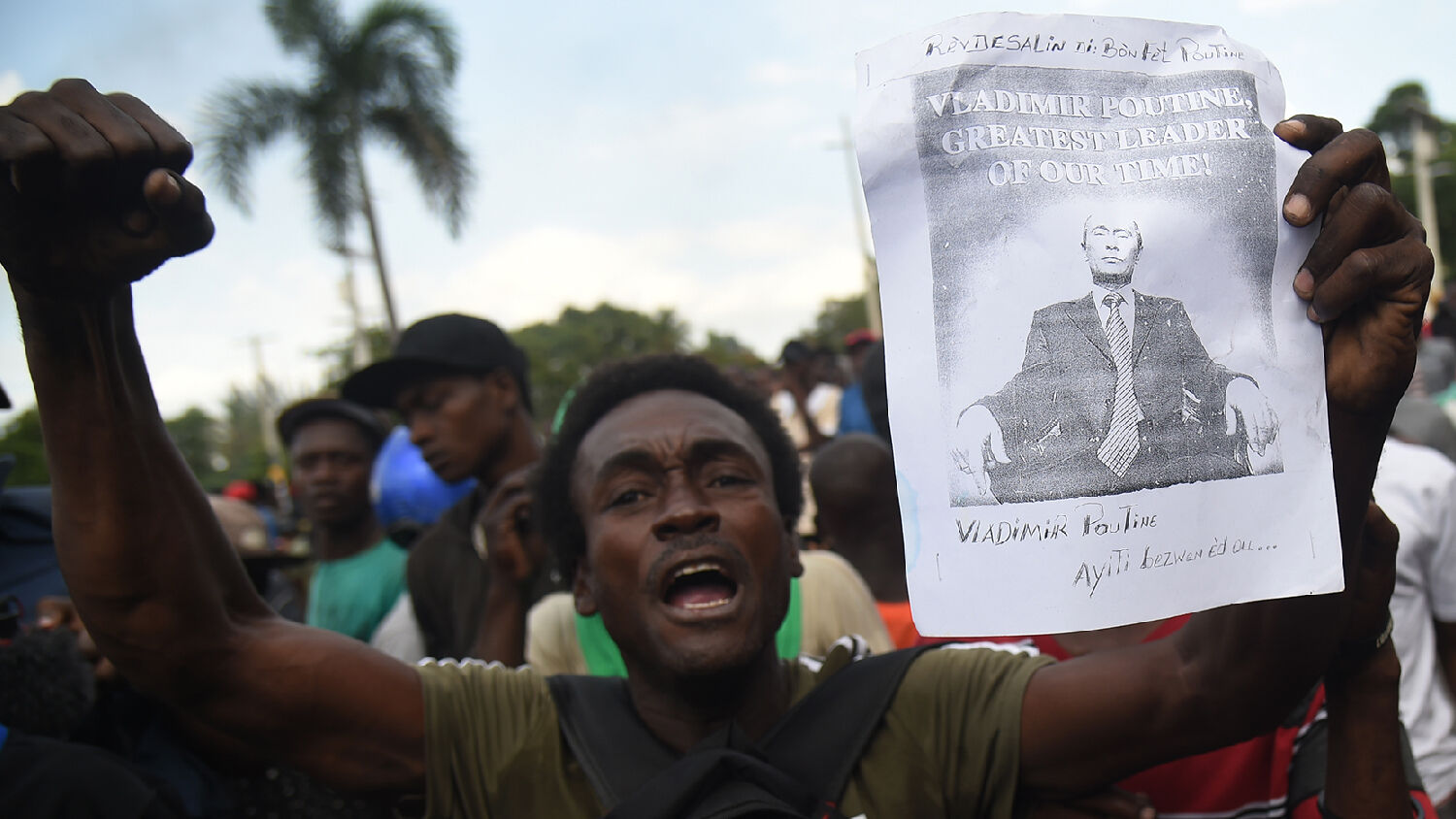 Haitians: 'Down With Americans, Long Live Putin!'
Anti-American sentiment is raging just 700 miles offshore.
Cities across Haiti have been locked down as protesters demand the resignation of President Jovenel Moise on charges of embezzlement and corruption. The president spoke on February 14 after protests left at least seven people dead. In a televised address, he said he would "not leave the country in the hands of armed gangs and drug traffickers." The United States has ordered the evacuation of "all non-emergency U.S. personnel" from Haiti.
Since President Moise is a U.S. ally, the protests against him have taken on a distinct anti-American tone. An Agence France-Presse report featured photographs of Haitian protesters burning American flags in the Haitian capital, Port-au-Prince, while calling for help from Russia to solve the country's problems.
During a February 16 demonstration, roughly 200 protesters chanted, "Down with Americans. Long live Putin!" One protester, who set an American flag on fire, told afp, "We are asking Russia, Venezuela and China to take a look at the misery we live in here. We mean that we divorce completely Americans" (Zero Hedge translation).
Many Haitians were already angry with the U.S. because of the impact Washington's oil sanctions on Venezuela are having on the island. Now the Haitian government has caved to U.S. pressure to cut ties with the socialist regime of Nicolás Maduro in Venezuela, which has exacerbated the anger of many Haitians.
It is uncertain whether President Moise will survive the political crisis. But it is certain that anti-American sentiment will continue to grow in the Caribbean as nations like Russia and China increase their influence in the region.
The late Herbert W. Armstrong explained in his landmark book The United States and Britain in Prophecy that the Anglo-Saxon peoples who settled the U.S. and Britain are descended from the ancient Israelites. This astonishing truth means that the Bible's end-time prophecies concerning Israel are primarily directed at the U.S. and Britain, as well as the Jewish State of Israel. His book further explains how God promised to give the end-time peoples of Israel control over the "gate" of their enemies (Genesis 22:17). A gate is a narrow passage of entrance or exit. When speaking nationally, a "sea gate" is a narrow choke point like the Panama Canal, the Yucatán Channel and the Straits of Florida.
God gave Britain and America these commercial gates, ensuring that they would become economic and military superpowers. But He also warned that if America and Britain did not obey Him, then not only would their sea gates be taken away, but they would be used against them (Deuteronomy 28:52).
The Windward Passage sea gate on the western coast of Haiti connects the East Coast of the United States with the Pacific Ocean via the Panama Canal. It is vital to U.S. military security because it allows the U.S. Navy to move assets between its east and west coasts. Losing control of this strategic gate would make it much easier for a foreign enemy to cut the U.S. Navy in half. Because of the area's strategic value to America, the Bible indicates that the U.S. is about to lose control of Haiti and the Windward Passage. These are chilling prophecies, pointing to dark days ahead for America and its allies. But Bible prophecy also shows that these events are actually divine correction that will be immediately followed by the most hope-filled epoch in man's history.
To learn more about why the loss of sea gates is so important, read our articles "Building Toward a World Catastrophe," by Trumpet editor in chief Gerald Flurry, and "Preparing to Storm America's Castle."