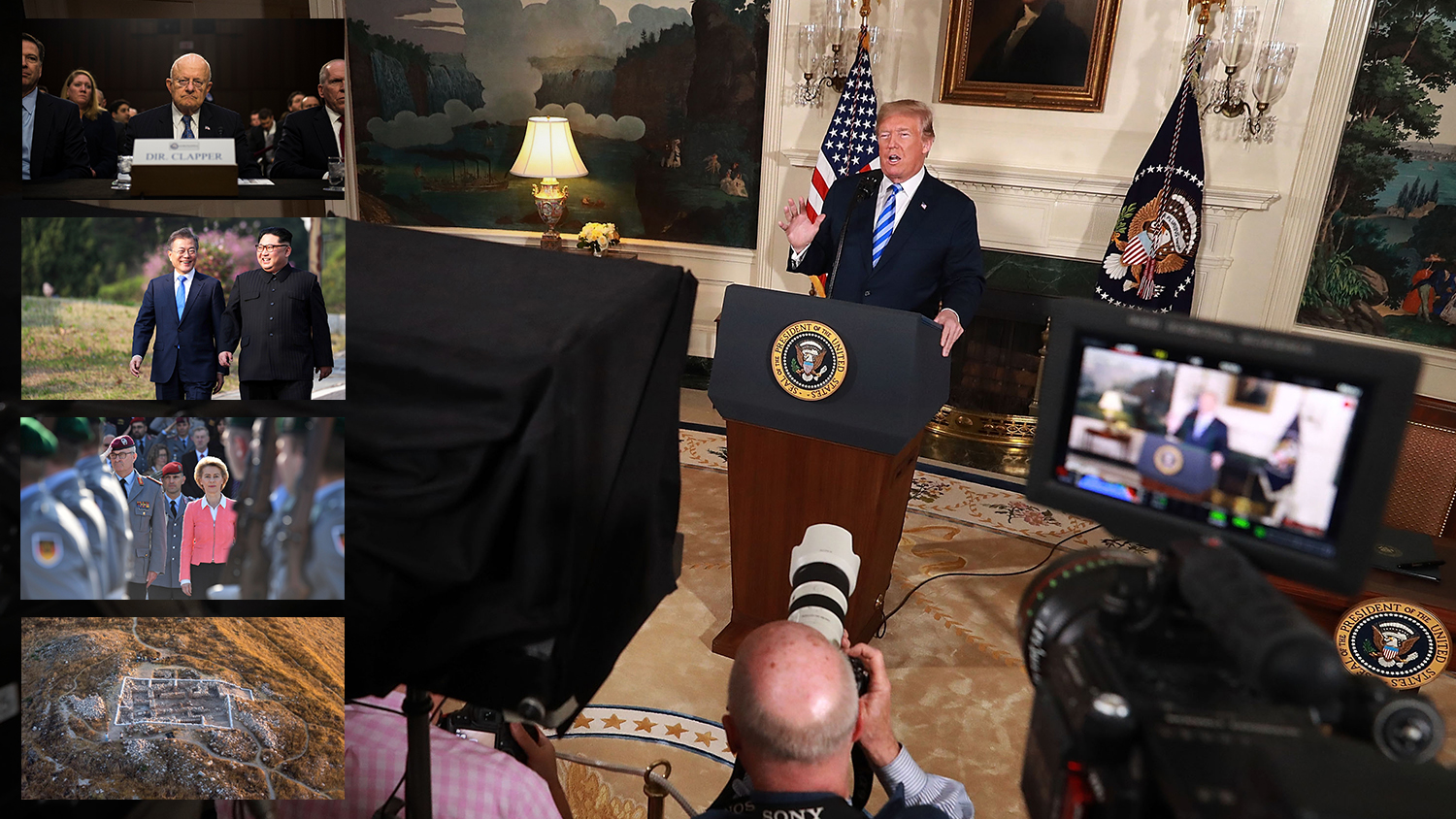 This Week: Five Events You Need to Know (May 12)
The Iran nuclear deal, history and prophecy of Korean Peninsula, deep state spies, and more
Here are five of the most important news stories this week, as well as relevant links to the full articles and videos here on theTrumpet.com.
On May 8, United States President Donald Trump signed an executive order for America's withdrawal from the Iran nuclear deal.
"The fact is, this was a horrible, one-sided deal that should have never, ever been made," President Trump said in a statement. "It didn't bring calm. It didn't bring peace. And it never will. In the years since the deal was reached, Iran's military budget has grown by almost 40 percent, while its economy is doing very badly. After the sanctions were lifted, the dictatorship used its new funds to build nuclear-capable missiles, support terrorism, and cause havoc throughout the Middle East and beyond. … If I allowed this deal to stand, there would soon be a nuclear arms race in the Middle East. Everyone would want their weapons ready by the time Iran had theirs."
President Trump "[proved] himself willing to take a stand where others have not," as editor in chief Gerald Flurry wrote in his latest Trumpet magazine article "Saving America From the Radical Left—Temporarily."
Late last month, North Korean leader Kim Jong un crossed the border into the South, marking the first time any North Korean leader has done so for as long as the two have existed as separate nations. Then in an unscripted moment, Kim took South Korean President Moon Jae in's hand and the two stepped briefly into North Korea, then back again. Kim and Moon then planted a tree together and agreed to formally end the Korean War by the end of the year. Kim also committed to "complete denuclearization."
"A new history begins now—at the starting point of history and the era of peace," Kim wrote in the Peace House guest book.
But the old history—North Korea's history of broken promises—should temper the optimism.
Over the past several months, cnn has hired several former intelligence agents: Former Central Intelligence Agency director Michael Hayden, retired cia operations officer Steven Hall, former Federal Bureau of Investigation agent James Gagliano, former deputy national security adviser Tony Blinken, former House Intelligence Committee chairman Mike Rogers, and National Security Council adviser Samantha Vinograd.
According to Attorney General Jeff Sessions, the Justice Department has more than tripled the number of active investigations of government leaks since the end of the Obama administration. Many former spies and intelligence officials are now working for the very news agencies that publish these leaks. As Tablet Magazine reported, "It's hard to imagine anything worse for a democracy than journalists coordinating with political operatives and spies who are paid by the press to leak information about American citizens."
German newspaper Bild reported on April 29 that Defense Minister Ursula von der Leyen is trying to hold the federal government to ransom to get more cash. In 2019, she says, the military budget should be increased by $3.5 billion; in 2020, by $4.7 billion; and in 2021, by another $5.9 billion. Those increases would raise Germany's defense budget by $14 billion, which would bring it up to nearly $70 billion.
"This is about the future capability of our armed forces and Germany's ability to stand by our allies," von der Leyen said.
It's also about Germany's prophesied role in Europe and in World War iii.
Excavations in the Judean city of Tel 'Eton have provided new evidence that verifies the biblical account of King David and King Solomon, according to a paper published recently in the journal Radiocarbon.
"The new discovery at Tel 'Eton seems to suggest that the highland kingdom [Judah] controlled larger areas than some scholars believe," archaeologist Prof. Avraham Faust told Breaking Israel News.
After Jerusalem and Khirbet Qeiyafa, Tel 'Eton is the third major site linked to King David.
"This Week" appears every weekend. To receive an update on our latest stories in your inbox ahead of time every Friday afternoon, subscribe to the Trumpet Brief daily e-mail. Sign up by clicking here or by visiting theTrumpet.com home page.