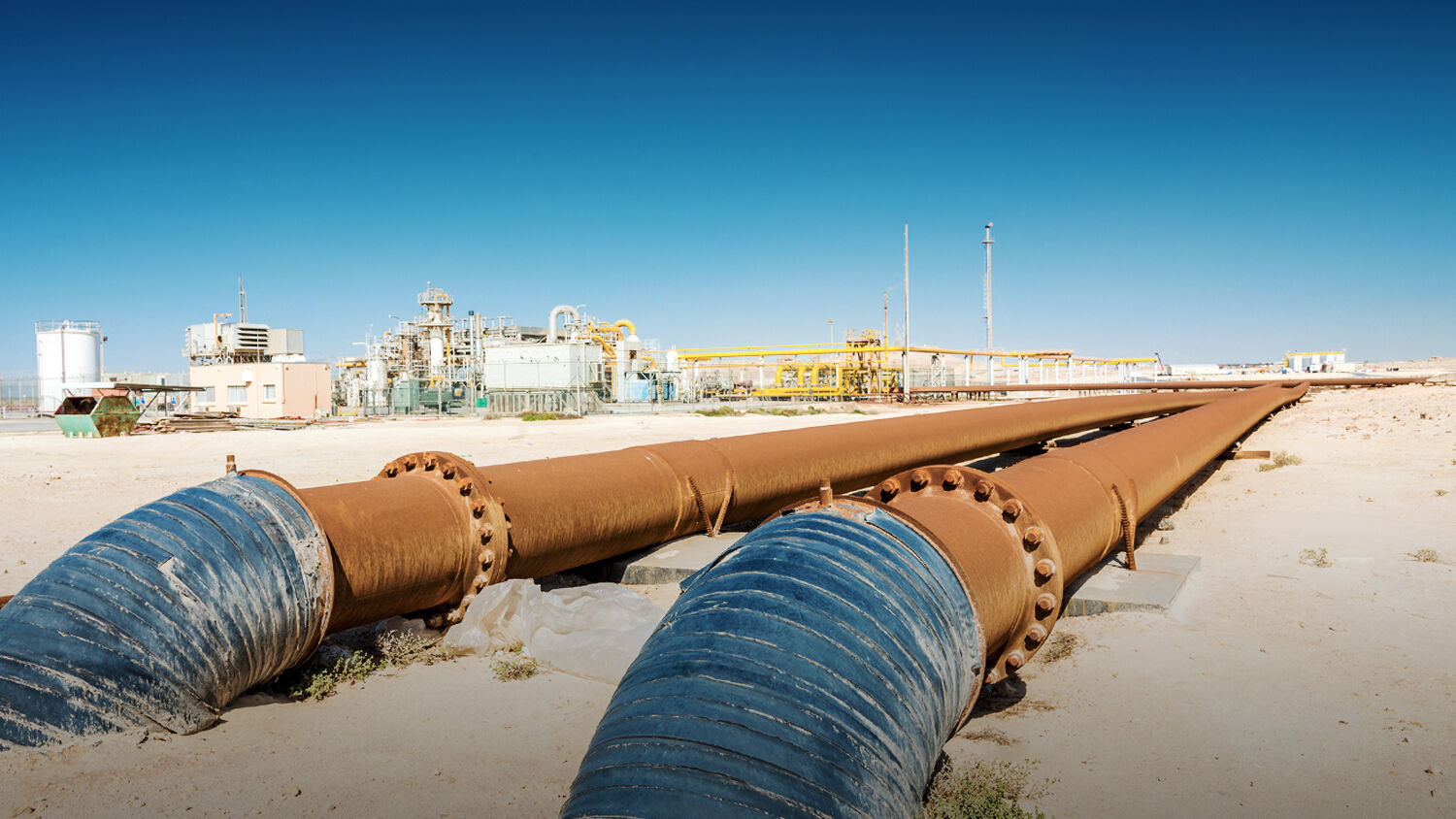 Bahrain Pipeline Explosion Implicates Iran
'Iran is targeting all of us.'
The explosion that blasted a major oil pipeline in a small village in Bahrain and engulfed its night skyline with flames and fumes on November 10 was an "act of sabotage and a dangerous act of terrorism," according to the Bahraini Interior Ministry. The ministry added that the blast was one of "the terrorist acts witnessed by the country in the recent period, [which] are carried out through direct contacts and instructions from Iran."
The explosion occurred near the village of Buri, about eight miles southeast of the Bahraini capital of Manama. It engulfed vehicles and nearby buildings and forced authorities to temporarily evacuate residents near the site.
For two days, the pipeline stopped delivering the daily 230,000 barrels of oil from neighboring Saudi Arabia. Bahraini Foreign Minister Sheikh Khaled bin Ahmed wrote on Twitter that "the attempt to bomb the Saudi-Bahraini oil pipeline is a dangerous Iranian escalation that aims to scare citizens and hurt the global oil industry."
He added, "Iran is targeting us all."
Iran is waging a much-publicized proxy war against a Saudi-led coalition of Arab nations. Lately, that war has been fought in Bahrain, Iraq, Lebanon, Yemen and Saudi Arabia. The Trumpet has been watching these developments because of what they portend for the security and geopolitics of the Middle East.
Historically, Iran has wielded heavy influence in Bahrain and claimed sovereignty over the island nation. In 1970, Iran renounced its claims following a pro-independence referendum in Bahrain. But the Iran that emerged from the Iranian Revolution of 1979 refused to recognize that renunciation. To this day, its leaders consider Bahrain to be "an Iranian province that was detached from the Islamic Republic of Iran due to the Western colonialism." For this reason, they say, Iran "must make efforts to bring Bahrain back into Iranian territory and transform it into a part of [its southwestern province of Bushehr]." Iranian operatives have funded and armed Shiite militants in Bahrain to this end. They have even trained them in bomb making and guerrilla warfare.
Bahrain, like Iraq under Saddam Hussein, has a Shiite majority ruled by a Sunni minority. Simply put, it appears that in Bahrain, Iran wants to create another Iraq in the Middle East: a Shiite majority nation ruled by Shiites and loyal to Iran.
Three days after the pipeline explosion, lawmakers in Bahrain issued a statement linking the incident to other examples of "Iranian meddling in the region." One of the most recent of those examples was when Tehran-backed Houthi rebels in Yemen targeted an international airport in Riyadh, Saudi Arabia, with an Iranian-made ballistic missile on November 4.
Some analysts linked the pipeline incident in Bahrain to a different battlefield in the Iran-Saudi proxy war. ihs Markit wrote that "it is more likely than not that Iran chose [the Bahrain attack] as a plausibly deniable response to Saudi Arabia's perceived recent escalation against Iranian influence in Lebanon."
The Washington Institute for Near East Policy's Simon Henderson cautioned on November 14:
In the Gulf region as a whole—still the most important source of oil for the world economy—all oil and gas installations are vulnerable to sabotage and particularly military attack. The Bahrain pipeline incident should be a wake-up call for all players not to take comparative calm—and consequent low prices—for granted.
Iran has also attempted to scare the United States military away from the Middle East. In October, one of Iran's generals suggested that the U.S. should transfer its regional bases to 1,200 miles away because "that is as far as the range of Iranian missiles." One of those bases within that range is the Naval Support Activity Bahrain, home to the U.S. 5th Fleet. It is only about seven miles from the pipeline explosion site, and, as the Washington Institute noted, it has been "a crucial component in deterring Iranian naval aggression."
Indeed, as Bahrain's foreign minister noted, "Iran is targeting us all." Just one attack on an oil pipeline near Buri Village is an attack that, in one way or another, categorically impacts Bahrain, Saudi Arabia, Yemen, Lebanon, U.S. military bases and the global oil market.
As the Bahraini official noted, Iran's "dangerous" escalation "aims to scare citizens and hurt the global oil industry."
A prophecy in the biblical book of Daniel describes the Iran of today as a nation with a penchant to "push" or to butt others, as with horns—to commit acts of war against others.
Many aspects of this prophecy are fulfilled every day in the Middle East. One specific aspect of it says that Iran will "push" at a European power so much that it responds with a decisive, crippling counterattack. That obviously hasn't happened yet. But the bolder Iran gets meddling in the foreign affairs of other nations, near and far, the closer that dramatic prophecy gets to its ultimate fulfillment.
It's a sure prophecy, and we'd like to challenge you to use your Bible and Iran's ancient and modern history to prove that for yourself. Our free booklet The King of the South can serve you as an effective study guide.