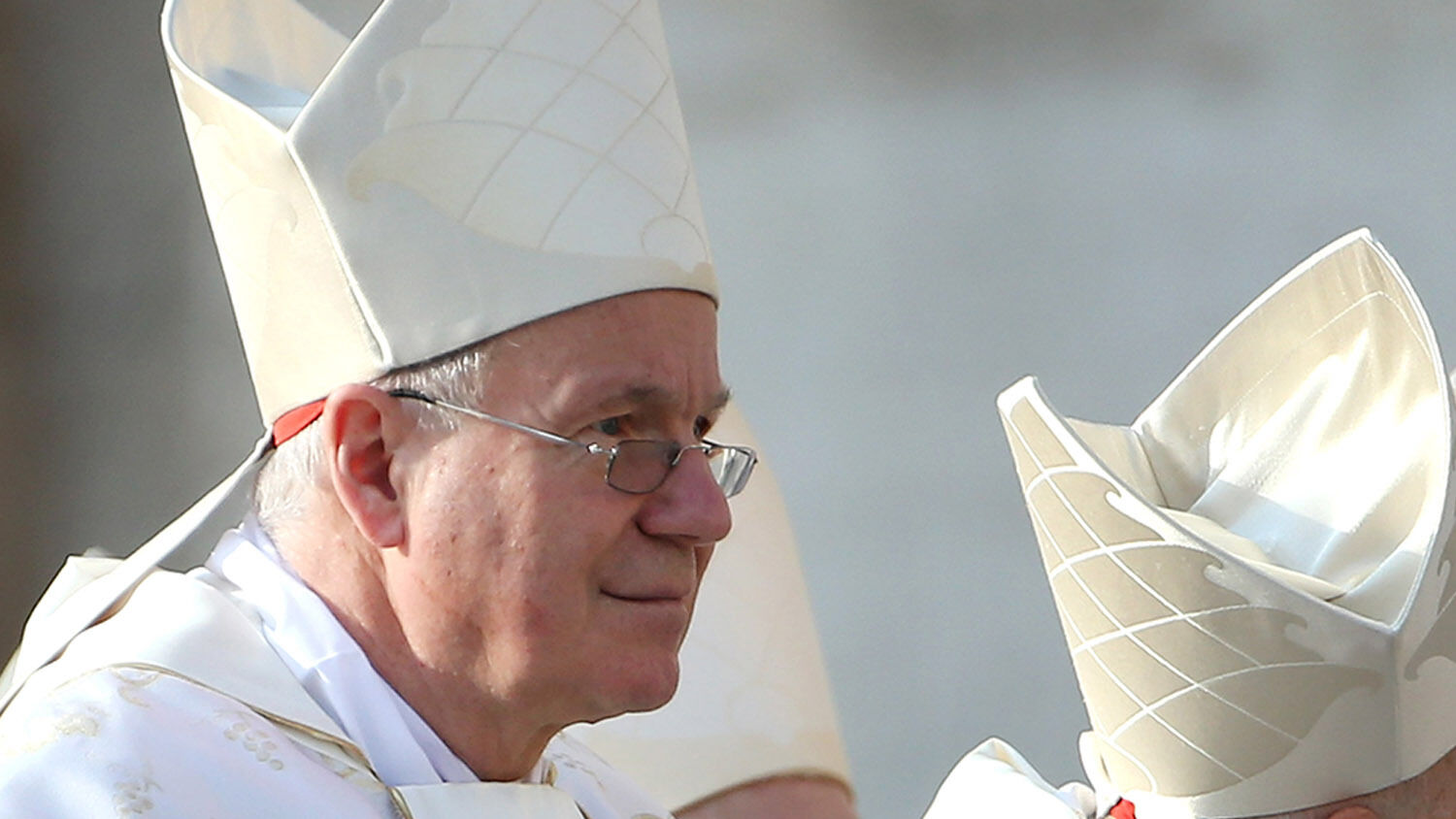 Why You Should Watch Cardinal Christoph Schönborn
The 'spiritual son' of Pope Emeritus Benedict XVI is emerging as a unifying figure in the Roman Catholic Church.
The Roman Catholic world is divided. On one side, progressive cardinals are promoting communion for Catholics who have divorced and remarried without receiving an annulment. On the other side, conservative cardinals are warning that bishops who flout Catholic dogma on marriage and sexuality are leading the church toward schism.
Ever since Pope Francis published an exhortation in 2016 that bolstered the progressive argument, conservative Catholics have looked to German Cardinal Gerhard Müller to defend Catholic dogma. But now Pope Francis has ousted Müller from office as prefect of the Congregation for the Doctrine of the Faith, the Vatican department charged with defending doctrinal orthodoxy. One leading German conservative, Cardinal Joachim Meisner, was so distraught by this news that he died praying his breviary the next day.
Cardinal Meisner was one of four cardinals who published an open letter to Pope Francis asking him to clarify some paragraphs of his exhortation Amoris Laetitia. The exhortation seemed to imply that bishops could use their discretion in granting communion to divorced Catholics who remarried in a civil ceremony. Pope Francis has not responded to this letter, but episcopal conferences in Argentina, Germany and Malta have already adopted guidelines allowing such Catholics to receive communion, using Amoris Laetitia as justification.
Many Catholic officials have condemned the cardinals who published their doubts about Amoris Laetitia as being insubordinate to the pope. But Pope Emeritus Benedict xvi had nothing but praise for his late friend Meisner, who retired as archbishop of Cologne in 2014.
"We know that this passionate shepherd and pastor found it difficult to leave his post, especially at a time in which the church stands in particularly pressing need of convincing shepherds who can resist the dictatorship of the spirit of the age and who live and think the faith with determination," Benedict wrote in a message read during Meisner's funeral on July 15. "However, what moved me all the more was that, in this last period of his life, he learned to let go and to live out of a deep conviction that the Lord does not abandon His church, even when the boat has taken on so much water as to be on the verge of capsizing."
Canon lawyer Kurt Martens has interpreted Benedict's message an "amazing yet diplomatic form of support" for the cardinals seeking to uphold the traditional Catholic teaching on divorce and remarriage. Indeed, Benedict's statement that the church is "on the verge of capsizing" seems to be the clearest indication to date that the College of Cardinals is currently divided between the "party of Francis" and the "party of Benedict."
Enter Christoph Maria Michael Hugo Damian Peter Adalbert, Count of Schönborn!
Vatican watchers have called Cardinal Schönborn the "spiritual son" of Benedict xvi and indicated he has a realistic chance of becoming the next pope. As a member of the noble family of Schönborn-Buchheim-Wolfstahl, he has deep connections to the aristocracy of the Austro-Hungarian Empire. From 1885 to 1899, his great-great-uncle served as archbishop of Prague during the reign of Emperor Franz Joseph i. In 2011, Schönborn conducted the funeral service of Franz Joseph's great-grandnephew, Archduke Otto von Habsburg.
Cardinal Schönborn currently serves as archbishop of Vienna.
Perhaps the most noteworthy fact about Count von Schönborn, however, is that he is a potential bridge-builder between progressive and conservative cardinals. He was originally a student of Joseph Ratzinger (later Pope Benedict xvi) at the University of Regensberg, and he co-edited the landmark Catechism of the Catholic Church commissioned by Pope John Paul ii. This gives him a certain level of credibility among conservative Catholics. Since the election of Pope Francis, Schönborn has become a leading defender of the moderate-to-progressive position regarding divorce and remarriage. In fact, Pope Francis has declared him to be the "authoritative interpreter" of Amoris Laetitia.
Schönborn insists that there is no discrepancy between the writings of Pope John Paul ii, Pope Benedict xvi and Pope Francis. Rather, he says, they form a single overarching work.
"I would say it's a kind of triptychon," he told journalists John Allen Jr. and Ines San Martin in an interview published in Crux magazine on June 2. "John Paul and Benedict in their pontificates had to secure the basics of Catholic teaching, which were seriously menaced. Pope Francis, as a deeply rooted Jesuit, brings this awareness of where people stand, where they are, how their lives are, and where they have to be led, patiently and with attention."
During a lecture in Limerick, Ireland, on July 13, Schönborn told journalists that Pope Francis was not changing Catholic doctrine, but was rather urging priests to use discernment in applying Catholic doctrine to "irregular" situations. "I fear those who have rapid, clear answers in politics and economy and also in religion," he said. "Rigorists and laxists have clear and rapid answers, but they fail to look at life. The rigorist avoids the effort of discernment, of looking closely at reality. The laxist lets everything possible go, and there is no discernment. They are the same, but opposite. St. Gregory the Great said the art of the pastoral accompaniment is the art of discernment. It is an art and it needs training."
If this explanation sounds confusing, that is because Schönborn is arguing for compromise. He quotes a sixth-century pope who is most famous for writing a letter advising Augustine of Canterbury to compromise with pagan beliefs in an attempt to bring Anglo-Saxon tribes into the Roman Catholic Church. While some cardinals still disagree with Schönborn's approach, it is clear that the archbishop of Vienna believes the Vatican has a more important task at hand than fighting over which Catholics get to take communion.
Last September, Schönborn warned of an "Islamic conquest of Europe." He was speaking on the 333rd anniversary of the Battle of Vienna, when Christian European nations joined forces to prevent Muslim Ottomans from conquering Vienna and continuing their expansion into Europe. "Will there now be a third attempt at an Islamic conquest of Europe?" he asked. "Many Muslims want that and say: Europe is at its end."
"God have mercy on Europe and on thy people, who are in danger of forfeiting our Christian heritage," Schönborn prayed, according to local media reports.
It is important to note that these words are not just against radical Islam, but against Islam as a whole. The European continent is currently caught between secularism and Islamism. Cardinal Schönborn believes a small number of devout Catholic families can win the Continent back to the Catholic faith, but only if they make it attractive to become Catholic. This is the primary reason he has called on the Catholic Church to be more understanding about divorce and homosexual relationships.
During the papacy of John Paul ii, theologian Herbert W. Armstrong warned that the Vatican might issue a new and more flexible moral code for Catholics. "The moral and spiritual trend in the world is toward more liberalism—more permissiveness …," he wrote in 1983. "Now even the Roman Catholic Church, in order to keep alive in an immoral and unrighteous world, is relaxing and giving people what they like to call 'their rights.'"
Now Pope Francis and Cardinal Christoph Schönborn are attempting to do just that.
The Vatican is far more than the headquarters of a religion; it is a nation-state participating in political machinations involving empires. Throughout its 2,000-year history, it has compromised with many nations, kings and cultures to maintain a position of political dominance. Regardless of the exact policies that the Roman Catholic Church implements in the near future, it is important to recognize that the pope and the College of Cardinals are actively working to establish a new system of world government. The Roman Catholic Church doesn't believe the Kingdom of God is a literal kingdom to be established on Earth by Jesus Christ at His Second Coming. The Catholic Church's position is that the Kingdom of God is a modern-day church, ruled by the "vicar of Christ."
Many claim that Catholicism may split over issues related to divorce, remarriage and intercommunion. But the Bible boldly forecasts that there will be no major schism in the Roman Catholic world. Rather, the Bible forecasts that Europe's Protestant denominations will be reabsorbed into the mother church, as Catholicism becomes the supreme authority uniting the nations of Europe in a crusade against radical Islam.
The church may have to compromise to bring about this church-state entity, but Revelation 13 and 17 clearly reveal that the old Holy Roman Empire will be resurrected one last time. As the migrant crisis intensifies, Cardinal Schönborn's warning of an "Islamic conquest" will resonate with more and more Europeans. He is a man to watch!
Most people are asleep to the danger, but a clash of civilizations is coming between an Iranian-led terrorist network and a Vatican-dominated empire. If you cannot see the connection between these powerful prophecies for our time, you should consider a deep study of Mr. Armstrong's booklet Who or What Is the Prophetic Beast? It contains information vital to understanding events happening in the world today!