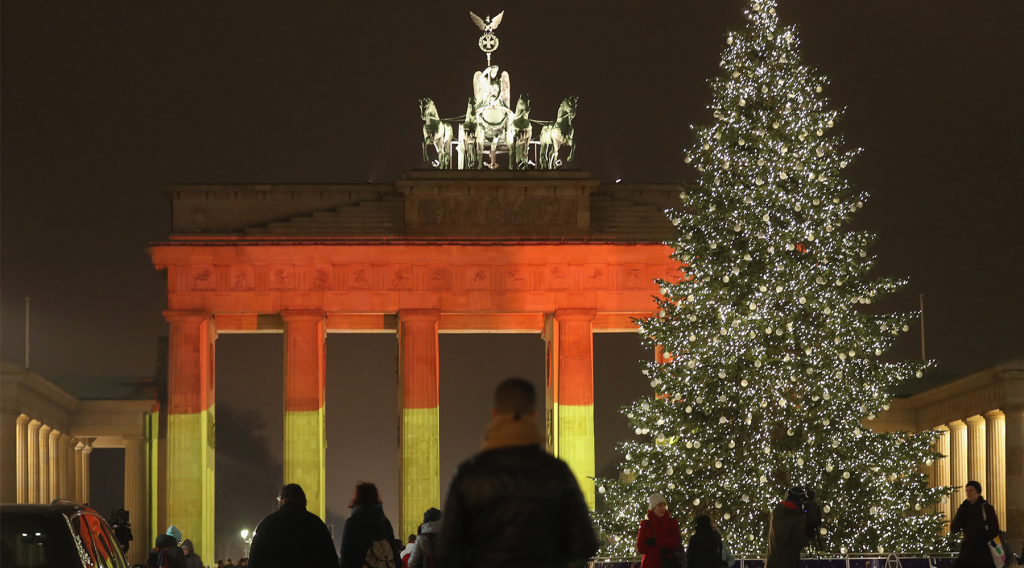 Europe: United in Terror
Faced with the unfathomable, Europe unites in fear.
The news of the terrorist attack in Berlin has not only sent shock waves throughout Germany, but it prodded all of Europe to the edge of its seat in anticipation of Germany's reaction. Suddenly, and at least for the moment, differences are being laid aside as Europe forgets its incongruities and becomes more unified to face the heartless monster of terrorism. "Europe will bond more than ever to prevent attacks on our society," said Austrian Interior Minister Wolfgang Sobotka (Trumpet translation throughout).
The horror in Berlin shows that it's not just Germany, France, Belgium, Austria or any individual European country that is under attack. Europe as a whole is faced with the escalating threat of terrorism. One can no longer say, "This is not my problem." All of Europe is affected. It has become the problem of each individual nation.
French President François Hollande, who faced a similar situation on July 14, has expressed grief and compassion: "The French share in the mourning of the Germans in the face of this tragedy that has hit all of Europe."
French Prime Minister Bernard Cazeneuve tweeted in German: "Ganz Frankreich steht an Deutschlands Seite," which means, "All France stands with Germany."
Former Greek Finance Minister Yanis Varoufakis expressed his feelings in the fashion of a Greek philosopher: "Pain and anxiety about our world and our soul—that is what we share today throughout Europe with Berliners."
Top European Union officials also see it as a problem that affects Europe as a whole. EU Commissioner Jean-Claude Juncker said, "My thoughts and those of the entire European Commission are with the families and relatives of all those who were killed and injured in Berlin. This news is all the more devastating as people had gathered to celebrate the Christmas season, which many associate with tranquility and peace. We stand united with the victims in deep sorrow."
The pre-Christmas season that used to unite Europe in peace, and even led to momentary truces in war, unites Europe once again. But this time, it does so not in peace but in fear.
Europeans from around the Continent are coming together in the aftermath of this terror. They are promising support for Germany in the fight against the rising evil in their midst. Many recognize that the problem can only be solved by cutting the head off the terrorist snake in the Middle East. Germany now has broad support to take such offensive action. But it lacks the leadership to do so, causing even greater fear among Germans.
After the 2015 Paris terrorist attacks, Hollande took drastic measures in an effort to protect his people; he even ordered air strikes on the Islamic State in Syria. He also asked for support from his European neighbors. The whole world is now looking to the German government for a similar response. United States President-elect Donald Trump called on Europe to act:
Our hearts and prayers are with the loved ones of the victims of today's horrifying terror attack in Berlin. Innocent civilians were murdered in the streets as they prepared to celebrate the Christmas holiday. isis and other Islamist terrorists continually slaughter Christians in their communities and places of worship as part of their global jihad. These terrorists and their regional and worldwide networks must be eradicated from the face of the Earth, a mission we will carry out with all freedom-loving partners.
The timing of the attack hit Europe particularly hard. Europe and Christian denominations around the world feel a deeper unity on this holiday, making this attack feel more personal. They are looking to Germany to act, but German Chancellor Angela Merkel hesitates. She stands shocked in front of a growing and heartless monster. She is losing the people's trust—not only among Germans, but all Europeans. The Continent is groaning for bold leadership.
French daily newspaper Le Parisien pinpointed the target of the attack—Europe, more specifically, Christianity:
The tragedy that happened yesterday in Berlin is, unfortunately, similar to the nightmare that all police officers in Western countries feared for years. For a long time now, Islamic terrorists have been targeting the symbol of the Christmas market, which unites the Christian tradition and the popular celebration. In France, deadly plans were thwarted, which aimed at the city of Strasbourg. Now it hit the German capital. But not a single country is hit: It hit the heart of Europe.
A similar response came from London. The Times wrote: "This is an assault not just against Germans or the Western world. It was also an attack on community, on families, on stability and on Christmas and Christianity."
"For 15 years now, we have reiterated that this war is also a war of cultures in which only the defense of our values of democracy, respect and solidarity can build a barrier against terror," Italian newspaper La Repubblica stated. But as Europe upholds its values, its tolerance and its love, terrorism dashes them with blood.
How then will Europe respond? Who will protect Europe's values? Who will defend Christianity in Europe and in the Middle East? Europe can't unite unless it has a leader—Merkel won't do it. As Europe grows more horrified and as its children become more terrified, they will cry out for a strongman. And Bible prophecy tells us that they will get one. For more about the impact of this attack in Berlin, read Trumpet columnist Brad Macdonald's article "Berlin Attack: Was This Germany's 9/11?"