Your Duty as a Mentor
Grow by helping others to grow.
If you've achieved any success in life, you've probably had help. It can be a huge boost to have someone teach you, guide you, provide an opportunity, or open a door as you progress through your education and career.
With experience and success comes a responsibility you may not have considered: to turn around and help those behind you. To give back by being a mentor.
A mentor is a trusted counselor or guide who teaches, helps or advises a less experienced, often younger person. Mentoring is a partnership between one person with knowledge and another who wants to learn. It is a relationship that builds up society. It is a principle of living that can change lives—including your own.
As Gen. Wilbur Lyman Creech, commander of the U.S. Air Force Tactical Air Command, said, "The first duty of a leader is to create more leaders."
There are probably many younger people in your life you could help if you will embrace this challenge. And it is a challenge: It takes time, energy, investment. But recognize that when a younger person is struggling or needs attention, it is not an imposition, but an opportunity.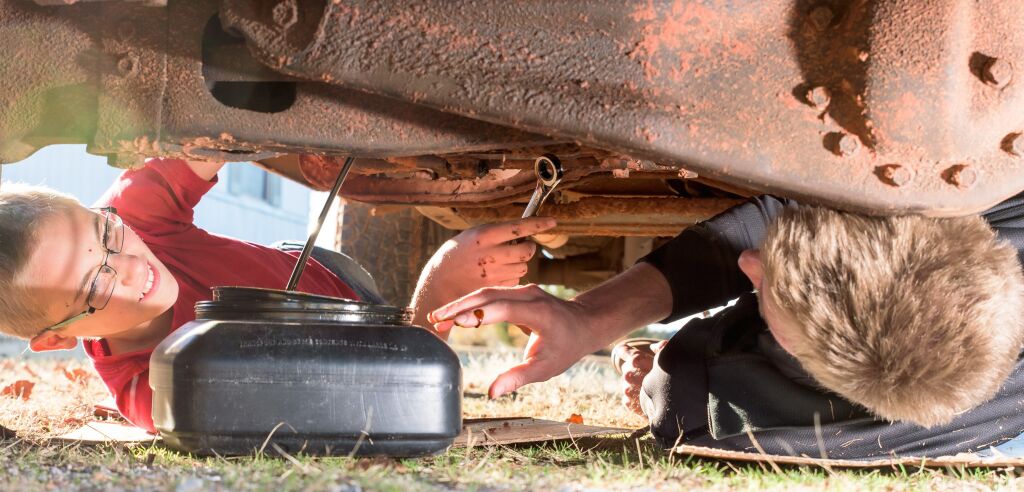 There is power in sharing knowledge. The Bible is loaded with admonitions about and examples of this teaching dynamic. Most revolve around teaching our children God's truth: "And thou shalt teach [these words] diligently unto thy children, and shalt talk of them when thou sittest in thine house, and when thou walkest by the way, and when thou liest down, and when thou risest up" (Deuteronomy 6:7; also read Deuteronomy 4:9 and 11:19 and Psalm 78:1-8). Ephesians 6:4 exhorts fathers to bring up their children in the nurture and admonition of the Lord. Titus 2 contains detailed instruction to older women, telling them to work not just with their own daughters but also with younger women in general.
The way you treat your children and other young people or those with less experience and expertise says a lot about your character. One quality of the great patriarch Abraham that impressed God was that he would teach, guide, counsel, advise, instruct—mentor! (Study Genesis 18:19.) When God commended him in this way, Abraham had only one son. You don't even have to have children to develop the mind-set of a mentor.
To think like a mentor, you must do two things: Recognize someone's potential; and recognize your own power to help him or her achieve it. These are difficult tasks. They require unselfishness, maturity and big-mindedness. They require seeing people the way God does, and then caring enough to actually help them.
Once you begin to build this mind-set, then you will see opportunities arise all around you.
The act of mentoring includes two components: providing guidance and providing opportunities. It is more than simply giving counsel, offering advice and delivering instruction. It also means arranging opportunities, opening doors and providing challenges—giving assignments that will help your students' growth.
A mentor asks himself these questions: What do I know that can benefit others? Who can benefit from this knowledge? What can I learn that will be useful knowledge to teach others? What do I wish someone had taught me? What opportunities can I provide?
If you have a son or daughter, start there. Double the amount of time you spend together. Look for every opportunity to do things together. Look for appropriate challenges to give him or her. Think of every little thing you can teach to prepare him or her for adulthood.
How much better equipped for manhood would a boy be, for example, if his father took the time to teach him how to stay focused on a task; how to tie a tie; how to build a fire; how to treat a wound; how to change a car's oil; how to fix a leak; how to hunt. Then of course are matters of relationships and character such as how to have meaningful conversation; how to treat a woman; how to be a man of your word, how to admit mistakes; how to build a relationship with God—and so on?
Once you make headway at home, look at other people you can help: people who work for you, your students, other young people in your community. Pay attention to them. Show interest. Develop a rapport. Think about whether you can include them in your work, in your plans. Look for opportunities to teach and pass along something of value. Young people have so many things they need to learn.
In addition to benefitting your student, mentoring also benefits you! You need opportunities to think beyond yourself. Mentoring requires genuine effort. It takes sacrifice and time—time you may not want to give, frustration you may wish to do without, sacrifice you would prefer not to make. But that is thinking selfishly. You need opportunities to think unselfishly, like God. The real joy in life comes from giving, not taking (Acts 20:35). Devoting attention to helping someone else grow, to struggle through setbacks and learn from mistakes, is truly a blessed act.
Your life isn't just about bettering yourself. It's about bettering yourself through bettering others! It's about growing by helping others to grow!
There are young people all around you who are waiting for you, needing you, and they don't even know it. But now you do. So wake up to your critical duty: being a mentor!