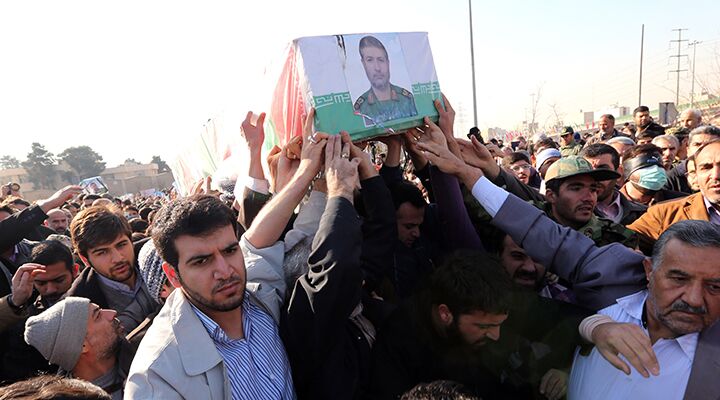 Iranian General Killed by Israeli Airstrikes
Iranian retaliation to follow.
Iran lost another high-ranking general during rocket attacks on January 18. This time, the attacker was not Islamic State militia in Iraq, but the Israeli Air Force in the Golan Heights, Syria.
Gen. Mohammed Allahdadi was killed along with five other Iranian military officers and six Lebanese Hezbollah militants in airstrikes. Israel has neither officially confirmed nor denied the strikes.
Israel will certainly pay for what it did.
IRGC
Cmdr. Nasser Soltani
Iran claimed that its officers were in Syria only to provide advisory services in the fight against the Islamic State. But Israel believes Iran had a different purpose.
Former deputy head of Israeli Defense Forces Northern Command, Maj. Gen. Eyal Ben Reuven, said on January 19 that these Iranian and Hezbollah officers were likely plotting a sophisticated attack on Galilee in northern Israel. "If the highest level of Hezbollah commanders were in the Golan Heights and the high level of Iranians, it means that their idea, [what] they're planning, could be a kind of operation, an act against Israel on a high level," General Reuven said.
Ironically, Iran is now using this foiled plot against Israel to incite even more attacks against Israel. A senior commander in Iran's Islamic Revolutionary Guard Corps (irgc), Nasser Soltani, vowed January 21 that "Israel will certainly pay for what it did."
irgc head Gen. Mohammad Ali Jafari was more specific: "The path of the martyr Allahdadi is unstoppable," he said on January 21. "It will continue until the liberation of the sacred Quds [Jerusalem] and elimination of the Zionist regime as a disgraceful blot in the region."
As the Trumpet has reported, Iran lately has been uncharacteristically open about the losses of its generals in foreign conflict zones. And it's using those losses as justification. General Jafari also assured: "These martyrdoms proved the need to stick with jihad. The Zionists must await ruinous thunderbolts." The irgc, he said, "will not rest easy" until Israel is destroyed.
Iran is using its loss of generals in foreign conflict zones to justify inciting more attacks against Israel.
Through its terrorist proxies, which include Hezbollah and Hamas, Iran is capable and willing to stir up violence in Israel, especially Jerusalem. Watch as Iran continues to use its fight against the much loathed Islamic State lunatics as justification for its increasing clout in the Middle East and its attack on Israel.
"Bible prophecy," wrote Trumpet columnist Brad Macdonald, "tells us that the Arabs will partially succeed in their quest for Jerusalem—and that this will actually be the trigger event leading to the fall of the state of Israel and initiating World War iii."
As Trumpet editor in chief Gerald Flurry said in our August 2012 Trumpet magazine, "Watch Jerusalem!"