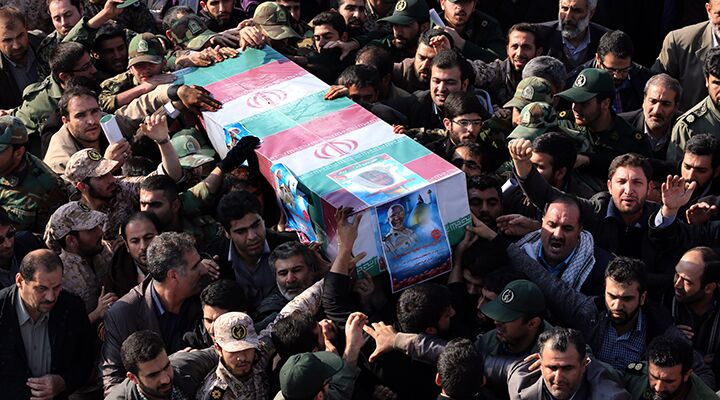 The Message Iran Sent Following the Death of Its General in Iraq
A candid revelation of Iran's past and future involvement in Iraq
Iran's Islamic Revolutionary Guard Corps (irgc) was not too bashful to admit one of its biggest losses in Iraq when it announced the death of one of its generals, Hamid Taqavi. Rather, the irgc widely publicized Taqavi's death—and for good reason.
Brig. Gen. Hamid Taqavi was killed Dec. 27, 2014, by an Islamic State sniper in the Iraqi city of Samarra, north of Baghdad.
Iran rarely announces such losses, but it did on December 28, marking the first time Iran has confirmed the death of a commander in Iraq. In fact, General Taqavi was the most senior Iranian to be killed outside Iran since the Iran-Iraq War of 1980-1988.
It appears Iran publicized Taqavi's death to send three subtle yet potent messages about its past, present and future infiltration of Iraqi national affairs.
1. Iran Is Deeply Involved in Iraq
Hamid Taqavi was a high-ranking general of Iran's Quds Force—the special ops arm of the irgc, which specializes in covert foreign operations. He was also a veteran of the Iran-Iraq War. According to Sepah News, the irgc's news agency, Taqavi "was one of the decision makers during the Iraq-Iran War, and he was a loyalist of the Islamic Republic of Iran." It added, "He was also one of the brave revolutionaries who combated the enemies of Islam."
Taqavi battled against "the enemies of Islam" primarily in Iraq. At his funeral, he was praised for helping create the Badr Brigade, which combated Saddam Hussein during the Iran-Iraq war. The Badr Brigade remains today as the most important pro-Iran militia in Iraq. Taqavi also founded the Iraqi mujahideen, which also fought against Saddam Hussein.
An Iranian official who eulogized at Taqavi's funeral on behalf of Quds Force, Cmdr. Qassem Suleimani, said that in recent months, Taqavi had prepared the anti-Islamic State operation in Samarra, protected regions around the Tigris River, and secured the road from Baghdad to Karbala, a city 60 miles southwest of Baghdad.
Suleimani has been widely credited for saving Iraq from falling to the Islamic State.
2. Iran Has a Right to Be Involved in Iraq
Iran's Ministry of Defense wrote that "Taqavi became a martyr while fulfilling his duty as a military adviser in the fight against [Islamic State] revisionist terrorists, a glorious end to a long valuable service to advance the cause of [Iran's 1979] Islamic revolution."
In Iraq, Taqavi trained Iraqi soldiers and Shiite militants fighting the Islamic State in Samarra. (Iran has also armed and trained Kurdish fighters in northern Iraq.)
Samarra is home to shrines regarded as holy by Shiites, and Iranian officials have insisted that those Shiite shrines are a red line that must never be crossed without repercussions. Samarra is just 80 miles north of Baghdad. It appears that the Islamic State's plan is to take Samarra, and then encircle and besiege Baghdad while undercutting Shiite Muslims by desecrating their shrines.
But Iran is countering those efforts—with Iraq's blessing. Iraq needs Iran's "help, participation and support," according to Iraqi Defense Minister Khaled al-Obeidi. "We see Iran's boosting support to Iraqi armed forces as a strategic necessity," Obeidi said on Dec. 29, 2014.
3. Iran Will Become More Deeply Involved in Iraq
The Kurdish media network Rudaw reported: "the Iranian opposition group Mojahedin-e-Khalq has warned of the growing number of Iran's Quds forces in Iraq, saying that Tehran uses the fight against [the Islamic State] to assert itself in Iraq."
Iran is asserting itself through elite ground forces, airstrikes, $1 billion worth of military aid, and more than 1,000 military advisers—advisers like Hamid Taqavi.
While the irgc's statements only said that Taqavi was "martyred" during his "advisory missions," indications are that's not all he did in Iraq. According to debkafile, Taqavi acted as "commander in chief of Iran's Iraq Shiite militias, who are fighting the Islamic State."
At Taqavi's funeral, Ali Shamkhani, the secretary of Iran's Supreme National Security Council, pointedly told mourners, "If Taqavi and his colleagues do not give blood in Samarra, we will have to give our blood in [the Iranian cities of] Sistan, Azarbaijan, Shiraz and Esfahan." In other words, Iranians may shed their blood in Iraq so that other Iranians don't have to shed theirs in Iran.
Little wonder Iranian President Hassan Rouhani derided the United States for ordering mere airstrikes against the Islamic State. "Are Americans afraid of getting casualties on the ground in Iraq?" Rouhani taunted Sept. 17, 2014, in an nbc interview. Clearly, Iran isn't afraid of deaths of Iranian military personnel on the ground in Iraq.
Writing for IranWire, Reza HaghighatNejad observed,
Taqavi and others might not be household names in Iran, somewhat remote from the everyday machinations of domestic military operations and the changing political scene. But in the shadows, they have prospered. And, just every once in a while, the public gets a glimpse of the scale of the power they command—and how they have helped shape Iran today, as well as its future.
There was a definite message that Iran sent about its involvement in Iraq, and the world will not be able to ignore it for long. Ali Khedery, a strategic consultant who advised several U.S. ambassadors in Iraq, warned that the Islamic State "will be defeated. The problem is that afterwards, there will still be a dozen militias, hardened by decades of battle experience, funded by Iraqi oil, and commanded or at least strongly influenced by [the irgc]. And they will be the last ones standing."
Iran is in Iraq to stay. Iran just lost a high-ranking commander to the Islamic State—arguably the most barbarous terrorist entity of late. Keep watching as Iran uses that loss to justify and legitimize its involvement in Iraq, both past and present. This is part of Iran's strategy to dominate Iraq and the Middle East.
As you watch, remember that Trumpet editor in chief Gerald Flurry wrote about this strategy over 20 years ago, based on Bible prophecy. For more insight, read Mr. Flurry's article "Is Iraq About to Fall to Iran?"