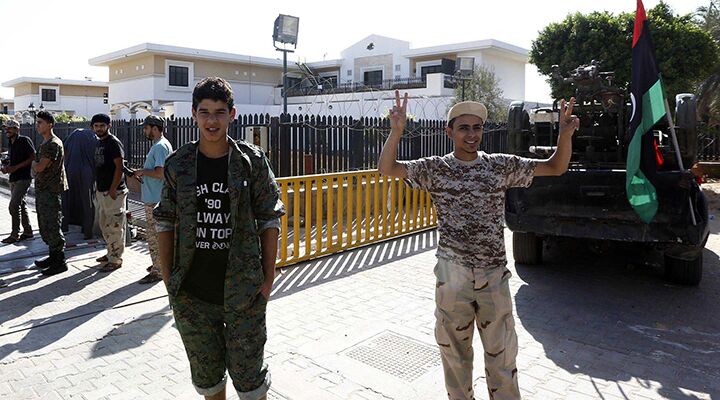 Pool Party for Militants at U.S. Embassy in Libya
Yet another symbol of America's failure and sinking influence in the Middle East
The backyard of an evacuated residential annex of the United States Embassy in Tripoli, Libya, hosted an apparent pool party for Islamist militants, as a YouTube video posted on August 31 paraded. The videotaped militants are part of the Libya Dawn coalition of Islamist fighters who have taken control of much of the nation's capital.
Some of the euphoric jihadists in the video were in military uniform; others wore casual summer attire. Some were armed with guns; some roamed the party with cellphone cameras. Others took turns swan diving from a second-floor balcony into the compound's pool.
The scene encapsulated how far the United States has plunged from its status of a reputed, resolute, decisive superpower.
When the U.S. led the invasion of Libya in Operation Odyssey Dawn in 2011, Trumpet readers knew exactly what to expect. Realizing the true victors of that operation, editor in chief Gerald Flurry warned in October of that year that "the government that replaces Qadhafi will be a thousand times worse. And you can prove this is going to happen!"
Operation Odyssey Dawn has given rise to Libya Dawn—a coalition of jihadi militia which has since taken over much of Tripoli, including the American diplomatic compound and Tripoli International Airport. Western intelligence reports distributed the last week of August show that 11 commercial airliners are missing from the airport, raising fears of 9/11-style terrorist attacks.
Libya Dawn operates separately from Ansar al-Sharia—the group that ransacked the United States' Benghazi complex in September 2012.
In addition to rival militia groups, Libya has rival governments—an illegitimate, Islamist one in Tripoli, and an elected one that fled the capital to Tobruk. A former Libyan general, Khalifa Haftar, has taken the fight to the various Islamist groups in the country. The elected, non-Islamist government neither endorses nor denounces him.
Since Qadhafi's ouster, Libya has grown so volatile that it no longer has a U.S. diplomatic presence. Marines evacuated American personnel to Malta on July 26.
Libya's chaos coupled with U.S. inaction has prompted other nations to act. Egypt and the United Arab Emirates clandestinely flew fighter jets to attack some of the Islamists' bases in Tripoli—completely ignoring the United States. The real significance of those airstrikes is huge, as Trumpet executive editor Stephen Flurry explained in a recent Trumpet Daily program.
A pool party at a deserted U.S. embassy annex is emblematic of how much Libya is "a thousand times worse" and how America has failed to stabilize the Middle East.
Millennia ago, God foresaw how national moral decline would lead to a leadership crisis in the end-time nations of Israel, leading to global consequences. For a better understanding of those prophecies, read "Egypt and Libya to Join Iran's Terror Network" and check out our Trumpet Daily video "Egypt, U.A.E. Strike in Libya, Ignore U.S."